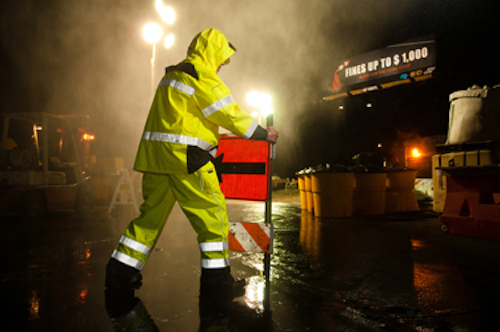 by David Graham
On utility job sites, traffic control is a critical component of a project. Establishing a safe job site before the project begins-and maintaining the highest level of safety throughout the project until it is completed-requires a deep understanding of the specific risks that utility job sites present. These risks not only include the vehicular traffic but also safety challenges related to electrical, gas and other non-vehicular factors.
Traffic Management Inc. (TMI) takes these safety risks into account when preparing for every project, including those for utilities' clients. In so doing, the company puts its full focus on training its team to understand the safety risks and how to mitigate those risks by being prepared with the right training, knowledge, experience and equipment.
Practicing the highest level of safety is the responsibility of every worker on a job site. Having a traffic control company at utility job sites is an important way to ensure regulations are being followed and all the safety risks are understood and managed appropriately. In addition, traffic control helps confirm the correct equipment is being used and that the most suitable personnel is assigned to the job.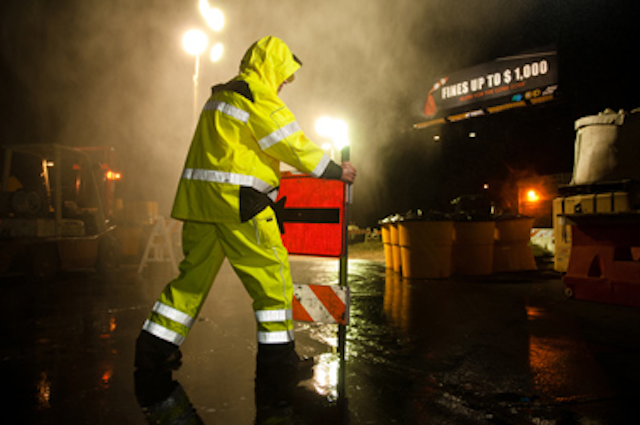 Electrical
At utility job sites, electrical hazards present the highest safety risks. Traffic control teams must be trained how to avoid electrical hazards and how to handle them if they occur. TMI trains its teams on electrical arcs and sparks and other potential hazards-ensuring each worker has a basic understanding of electricity and the dangers it can present. Workers must understand, for example, how to respond immediately and safely to a live wire falling to the ground during a job. Traffic controllers are also trained not to engage in electrical activities, keeping them focused on the role they are assigned to on the project-establishing a safety barrier from surrounding traffic, both vehicular and non-vehicular.
Non-vehicular Hazards
Non-vehicular hazards represent one of the top safety risks at utility job sites, and having a traffic control team that is trained to properly manage the traveling public is essential to establish a safe job site. Pedestrians, bicyclists and other non-vehicular traffic are at a higher safety risk when certain dangers are involved, including gas and electricity. Special consideration also must be given to disabled pedestrians-including the deaf and the visually impaired-that are near a job site and may need assistance to safely avoid the site's hazards and dangers.
When dealing with pedestrians and bicyclists, in particular, safety needs to be the highest priority, even when some travelers do not want to comply with the equipment and rules established at the job site. In these cases, hazard-awareness training is essential in ensuring the safety guidelines are met, whether or not pedestrians or bicyclists always want to cooperate. To manage the most common non-vehicular hazards, verbal commands and special signage are the most efficient ways to communicate with the public and maintain a safe job site.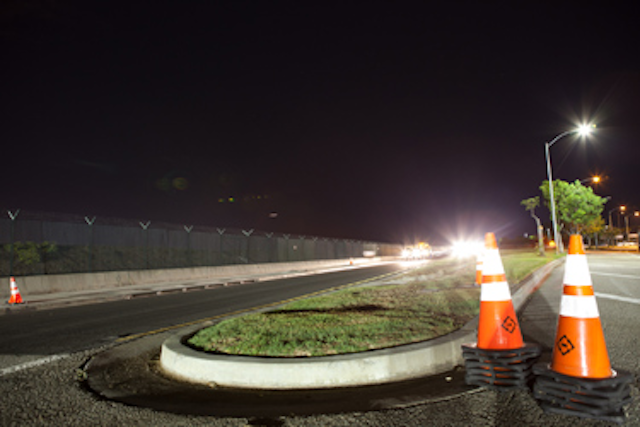 Worksite-specific Devices
As with any job, traffic control workers at a utility site must be prepared with the right gear to handle any situation. To ensure the safety of people with disabilities, special Americans with Disabilities Act (ADA) compliant pedestrian barricades are available. These barricades extend closer to the ground so mobility canes can easily pick them up, and their upper surfaces are smooth for hand trailing. In addition, signs unique to each worksite may be required when dealing with risky conditions. Proper signage will educate traffic about the hazards specific to that workplace.
Protecting the worker is also a key part of establishing job site safety. TMI requires workers to wear Class E-rated hard hats at appropriate worksites. These hats are proof tested to absorb 20,000 volts of electricity if a wire comes into contact with a worker.
Regulations
Each geographical region has its own regulations for traffic control and utilities' worksites. An experienced traffic control company will educate its workers about these regulations well in advance of the project start date. These regulations can be difficult to manage because they can be put forth by a variety of agencies on the state, municipal or county level, as well as local agencies. As a result, traffic management companies must be proactive and organized to ensure they are meeting all local regulations. In addition, appropriate permits and equipment are required.
Some states, for example, require workers to use a traffic control drum instead of the more widely used cone. Before beginning a new job, the utility company must work closely with its traffic control company to determine the safety needs for each location and take these factors into account to educate crews that will be on-site for the job. This ensures the smartest and safest crew is on location for every job, every time.
Training Programs
Perhaps the most diverse opportunity traffic control companies offer is their educational training. Because regulations vary based on project specifics or location, it is the responsibility of each individual management team to determine the safety education level necessary for its employees. Training sessions can range from a focused series to informal discussions about best practices for particular work sites as part of an overall hazard awareness program.
Within the traffic control industry, The Occupational Safety and Health Act (OSHA) establishes the standard for compliance. New employees must go through extensive OSHA training to ensure they understand safety standards. While this training is mandated, it is not regulated-so each company must design its own training program to educate and inform employees on how to practice the highest level of safety in the field.
Conclusion
Traffic controllers are responsible for establishing a safe work site that provides protection for the utility workers as well as the traveling public and job-site bystanders. At any job site, the right apparel and equipment are helpful in making a work zone safer, but the level of safety depends most heavily on the people involved in the project and working on the job site every day.
Planning ahead by understanding the job site, the scope of work and the permitting that is needed, and understanding how to prepare for and manage safety hazards are what will ensure the project team is prepared to practice safety on the job site and appropriately handle any challenges that arise.
---
About the author: David Graham is safety director at Traffic Management Inc. (TMI), located in Long Beach, California. Learn more about TMI at www.trafficmanagement.com.