Controlling Vegetation
There is no one-size-fits-all for keeping natural growth at bay.
Jun 16th, 2014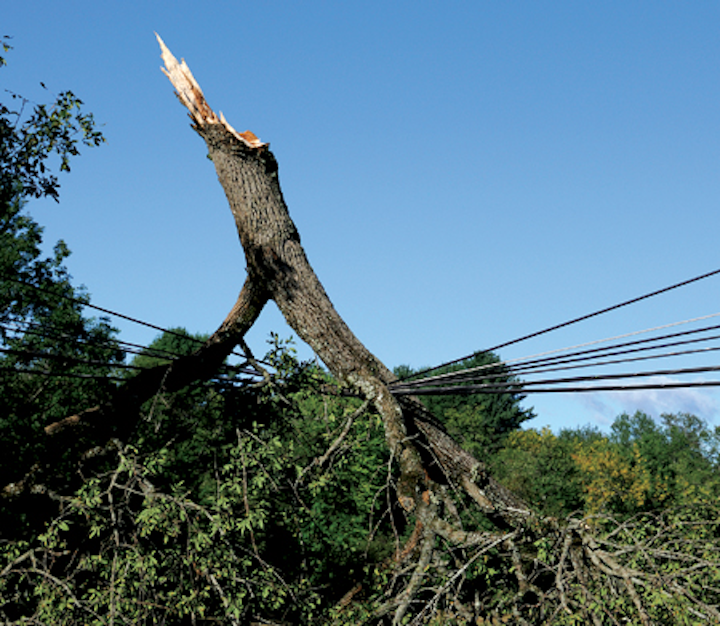 There is no one-size-fits-all for keeping natural growth at bay.
by Paul Hull
Every state, every county and every community has its own problems with vegetation. What is good for Alabama probably doesn't apply to North Dakota or Maine. The types of trees, shrubs and other plants that can threaten power lines vary from place to place. One thing is certain-nature keeps growing, even in places where you thought you eliminated everything three years ago. And, as long as natural items such as trees and climbing bushes keep growing, their threat to power lines will continue. Most utilities know that and schedule regular, planned campaigns to remove the obstacles. But, it will be more frequently in one place than in another.
This is how PSE&G explains it: "We are dedicated to delivering safe and reliable electrical service. One of the ways we accomplish this is by integrating a professional vegetation management program in our daily operations. Our arborists ensure that trees near power lines are properly maintained in order to allow reliable service. The tree trimming work differs based on whether a utility line is part of the distribution or transmission system. Each system has unique requirements."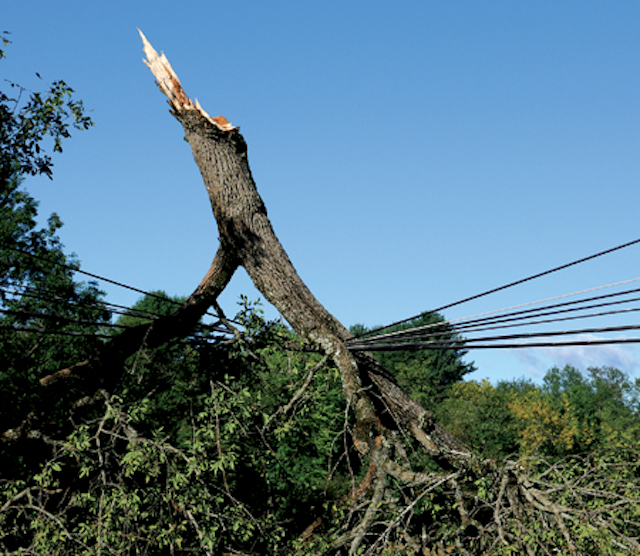 Do your customers know this information? Do you remind them regularly? Distribution lines are those lower voltage electrical wires. We see them on utility poles. They are beside roads and streets, and they are in easements along property lines. Trees that grow close to power lines like these must be cut back to ensure they don't cause power outages. Most utilities do this regularly, but are your customers aware of the dangers if they neglect their trees or don't report potential threats? Are children made aware of the dangers of climbing trees close to power lines? Transmission lines are high voltage wires. They go long distances and they transmit huge amounts of energy over wide areas. They typically are seen between tall towers and you seldom see trees nearby. In many parts of the country, vegetation that is less than three feet tall is allowed to remain below these kinds of wires.
Detecting vegetation that threatens good service (or the safety of everybody) is a constant task. In some locations, trees can grow at an alarming rate. Vegetation management in some counties is not something you do this week and again in a year or two. Think of how fast weeds grow in the garden.
Contracting the Work
Some utilities use their own people to trim trees, but many contract the work to outside companies. Cutting a tree limb doesn't seem too difficult, does it? If you have the right equipment and the right training, it isn't. Many householders have done similar work on their own property-cutting branches and trimming shrubs-but the proximity of dangerous power is seldom an issue. Field technicians for electric utilities are experts in electricity; field technicians for tree trimming companies are experts in trimming trees. If you need proof, watch experienced contractors at work. They are much quicker, much more accurate-it's their profession.
One of the best known and respected manufacturers of tree-trimming equipment is Jarraff Industries. Like utilities, this company puts great emphasis on safety.
"We want to make sure we are doing everything possible to ensure that our customers' crews understand how to operate the equipment safely," said Heidi Boyum, president of Jarraff Industries in St. Peter, Minn. "We make it a point to be part of the training process for them. It's important that everybody understands the safe operation of each machine."
Trees Inc., of Houston, provides vegetation management services for 28 states. The company started in 1953 and is one of the largest such companies in the US.
"We have crews in the Florida Keys and we have crews up in northern Minnesota so we go from one extreme to another," said George Leszkowicz, vice president of Trees Inc. "The trim cycle can vary from three or four months in some locations to 12 years in northern areas. The cycle can vary within the same state. In southern Minnesota, for example, the cycle is three to four years usually, but it's six up in the northern part of the state. This is just another reminder that nature is the real master."
It's an advantage for tree-trimming companies such as Trees Inc. to have a large territory because that means there is a large crew. That, in turn, means the company can tackle tree-trimming jobs of almost any size. Trees Inc. has more than 2,000 personnel, and 95 percent of those are field personnel. The projects undertaken will include right of way (ROW) maintenance and emergency storm restoration work.
Customer Education and Advice
This seems obvious, but it would be a good idea if your customers knew what they should and shouldn't do about all shapes and sizes of vegetation near your power lines. Dominion (in the Northeast) has excellent advice for customers. The company states it will cut and remove tree limbs and/or brush from property as needed to maintain reliable electric service. It also reminds customers they have responsibilities, too. Customers are responsible for trees and limbs that fall and are removed from wires or cut for service restoration. If customers are going to trim trees, they should make sure (before trimming) that the tree does not have power lines in or near it; they should never climb into or prune trees through which power lines or service lines pass. When it comes to landscaping, trees or shrubs that will grow taller than 10 feet should not be planted under power lines. If a customer wants to encroach on the utility's ROW with shrubs, vegetable gardens, etc., there must be written approval from the utility before any work begins. If a customer thinks that proposed landscaping may interfere with utility ROW, permission should first be obtained.
One of the vegetation management techniques that can cause the greatest concern among customers is the application of herbicides. Dominion's contractors (with all herbicide crews in Virginia and North Carolina qualified for the work) will vary the mixture of herbicides so plants do not develop resistance to a particular type. When used correctly, the herbicides are no more harmful to people or animals than common household products. For most of them, the usual mixture is 5 percent herbicide, 95 percent water. Utilities are careful about the area sprayed. The crews, for instance, will not spray vegetable gardens. I have seen small shrubs and bushes killed by people who spray solutions to make the grass greener and have been too careless with their spraying; this is unlikely for customers for whom some property (almost always brush) has been sprayed by utilities where it encroaches on the ROW.
Do computers play a role in this? They can. Asplundh Tree Expert Co.-which has given successful line clearance services to municipalities and utilities for some 90 years-offers software through its subsidiary, ArborMetrics Solutions Inc. Compliance with North American Electric Reliability Corp. (NERC) regulations for vegetation management, especially by transmission lines, make it important for electric utilities to identify threats from vegetation, to eliminate them, and to provide all the documentation required. That takes people, systems and processes to collect the necessary data and analyze it. Every utility, small and large, should have a plan for vegetation management. The Asplundh software and mobile workforce technology make this task much easier and more reliable for you. Your in-house or local software experts may know of other offerings in this area.
When you get to the fundamentals of vegetation management, the word that stands out above all others is safety. The trees are trimmed and the vines are cut back to prevent their interfering with the reliability of the power distributed. With all the natural growth that increases every year, it's also the people involved who must be safe: the utility field workers, the professionals who cut the trees and shrubs, your customers, and the children who want to climb trees and probably never think of the potential dangers nearby. No part of any vegetation management program should be entrusted to unskilled personnel (just to keep them busy?). If you can't count expert trimmers among your employees, hire a contractor who is skilled and experienced. If you haven't reminded your customers of the dangers of neglecting vegetation that grows close to power lines, this month, in most states, would be an excellent time to do so.