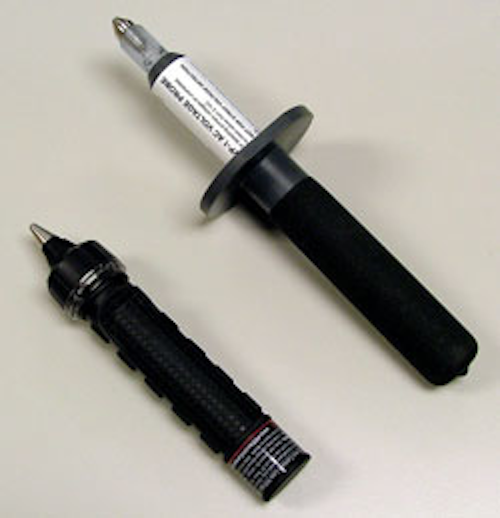 Digital Voltage Indicators
HD Electric Company's DVI-100 and DVI-500 Series Digital Voltage Indicators are designed to be used on both transmission and distribution systems in overhead and underground applications up to 500 kV.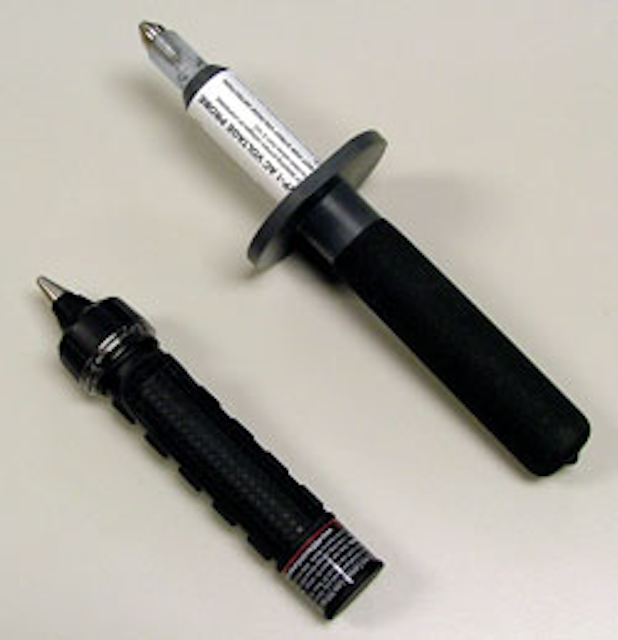 Voltage is displayed on a large LED display with a two-digit or three-digit readout. In addition, an audible alarm alerts the user to the presence of voltage above 100 Vac. Models are also available with an option to measure elbow test points.
A video is posted on our website showing how the Digital Voltage Indicators work.
HD Electric Co.
CIRCLE 114 ON READER SERVICE CARD
---
Elastimold Shrink-Fit Cable Joints Make Cable Splicing Easier
The new Elastimold Shrink-Fit Cable Joint from Thomas & Betts combines the convenience of pre-molded splicing with the range-taking versatility of cold-shrink methods into one, easy-to-install solution. The Elastimold Shrink-Fit Cable Joint features a single-piece body that can be quickly installed using a self-ejecting plastic support core, which can be easily removed by hand.
The Elastimold Shrink-Fit Cable Joint is made of high-quality, molded ethylene propylene diene terpolymer (EPDM) elastomer, offering the same high durability, quality and reliability of other Elastimold molded rubber products. The Shrink-Fit method uses no ripcords and no heat, making installation fast, simple and safe.
The Elastimold Shrink-Fit Cable Joint's four-piece plastic support core reinforces the openings at both sides of the joint. To create a splice, insert the joint. After preparing and joining the cables together with a connector, according to the instructions, cut the strapping bands on the elastomer Shrink-Fit joint and the joint will contour itself around the splice as it pushes the pieces of the plastic core out of both sides.
Thomas & Betts
CIRCLE 116 ON READER SERVICE CARD
---
Indian FEDCO 5-Gallon Poly Firefighting Pump Holds up to Harshest Environments
Forestry Suppliers' Poly tank is corrosion- and UV-resistant, and the sturdy base has no drill holes (no possible leaks), providing a strong base for heavy use and abuse. The large handle at the top of the tank enables easy handling and provides storage for the FEDCO all-brass pump when not in use.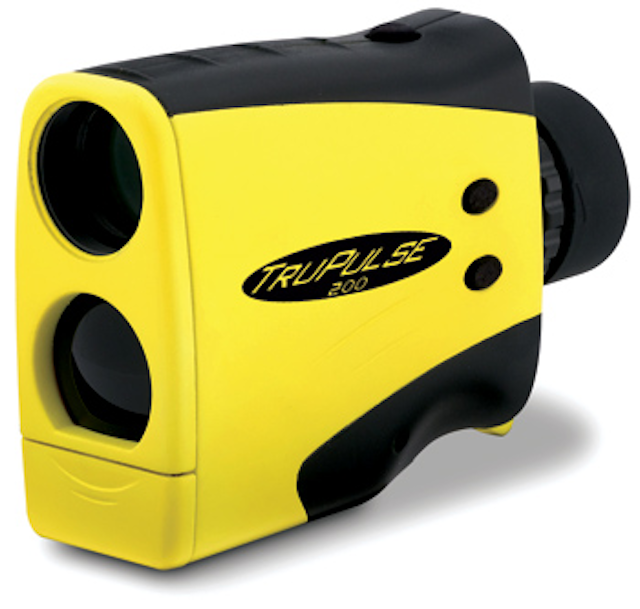 The pump features a rubber overgrip on the elbow end. Other features of the sprayer include a 4-in. filler opening and padded shoulder straps.
Forestry Suppliers Inc.
CIRCLE 113 ON READER SERVICE CARD
---
DogBone Wire Brush for Transmission, Substation, Distribution
MADI's DogBone Wire Brush encourages linemen to brush because it is designed to make wire brushing easier and more convenient. The DogBone has two designated brushing surfaces, one side for copper and the other side for aluminum. The ends are color coordinated to allow lineman to keep one tool with dedicated brushing ends for two different surfaces. The round wire brush covers conductors up to 1590 MCM. This covers most conductors and both wire brushes are easily replaceable.

The DogBone Wire Brush is durable, lightweight (weighs less than 1/2 pound) and is made of non-conductive material. The tool's design eliminates lineman hand and leg discomfort currently experienced with other wire brushes. The built-in snap ring makes it easy to store on belts or in bucket trucks.
Properly brushing all types of connections helps decrease outages and bad connections, which generates significant savings for utilities.
• Two brushes in one tool,
• One for copper and one for aluminum (up to 1590 MCM),
• Durable and made of non-conductive material,
• Lightweight-weighs less than 1/2 pound,
• Wire brushes are easily replaceable,
• Integrated brush design eliminates lineman hand and leg discomfort currently experienced with other wire brushes, and
• Convenient to carry on climbing belts or in bucket trucks.
MADI
CIRCLE 115 ON READER SERVICE CARD
---
Aluminum Conductor Steel Reinforced Ratchet Cutter
Hi-Line Utility Supply introduces its aluminum conductor steel reinforced (ACSR) Ratchet Cutter. This cutter cleanly cuts 336 MCM Linnet ACSR, 400 MCM copper, 600 MCM aluminum, and 2/0 triplex steel messenger cable. The patented two-step ratchet mechanism requires fewer strokes per cut, and the ratchet action holds cable tight and allows rapid, straight cuts with minimum effort.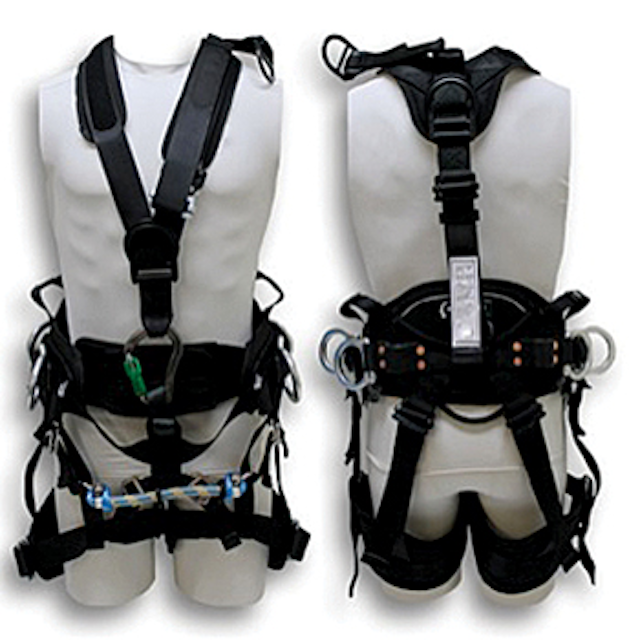 Hardened steel cutting blades provide lasting strength and sharpness. The cutter is a compact, lightweight tool that can be locked in a close position for carrying.
Hi-Line Utility Supply
CIRCLE 117 ON READER SERVICE CARD
---
SureTrace Circuit Tracers Save Time
IDEAL Industries Inc., a manufacturer and supplier of tools, connectors and testing products for the electrical and data communications markets, has introduced its SureTrace circuit tracer that lets electricians quickly locate wires or cables behind walls, pinpoint opens/shorts, and identify fuses and breakers on both energized and de-energized circuits from 0-600V ac/dc.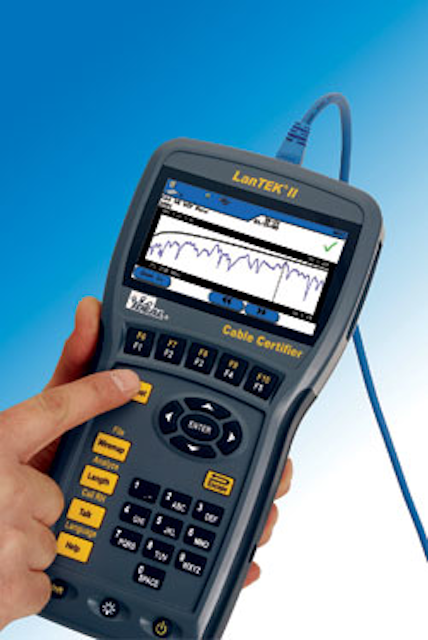 Designed to keep productivity high and operational costs low, SureTrace circuit tracers have four defined ranges to allow the electrician to select the proper sensitivity for a specific job. No circuit tracer has ever been so user friendly, it's reported. Rather than blinking lights and difficult-to-dicipher beeps, SureTrace's display provides a numeric value between 0 and 99 and a variable pitch/tone audible indication as fast-response tracing feedback, while its peak detector instantly registers signal strength. Another time-saving advantage is that handset signal communication is tuned tighter to reduce false signaling on noisy circuits, a common problem with competitors' circuit tracing devices.
IDEAL Industries Inc.
CIRCLE 118 ON READER SERVICE CARD
---
TimberAx Skid Steer Attachment for Cutting, Mulching
Loftness offers the TimberAx skid steer attachment as part of its VMLogix line of products. The TimberAx uses an exclusive knife system to efficiently cut grass, vines, brush or trees up to 6 in. in diameter, or intermittently cut material up to 12 in. in diameter.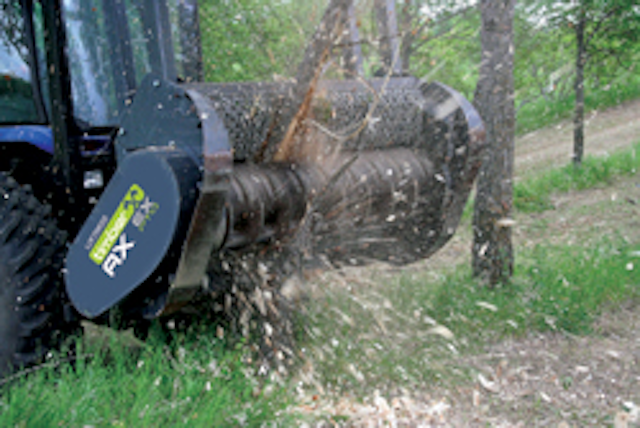 The 17-inch rotor of the TimberAx features a reverse-rotation design to lift material off the ground for proper cutting. Unlike forward-turning rotors, this design offers improved cutting performance and finer mulching without driving uncut material into the ground. The knives are constructed of durable, low-maintenance alloy and can be sharpened directly on the machine. An adjustable shear bar maintains a consistent distance from the knives to precisely control mulch size.
The TimberAx is available in 53-, 63-, 73- and 83-in. cutting widths and comes with a universal mount for attaching to all major makes and models of skid steers. Nine different hydraulic motor options are available to accommodate flow rates from 22 to 54 gpm.
Loftness
CIRCLE 119 ON READER SERVICE CARD
---
Newly Designed Kabgard Window Protector
Buyers Products introduces the newly designed Kabgard window protector to fit full-size pickup truck cabs. For use on trucks that regularly carry tools and heavy equipment, Kabgard window protectors provide a barrier that protects from items rubbing on, scratching or breaking cab windows.

Available in standard mounting or cross-body tool box mounting options, Kabgard window protector supports common lighting accessories, including spot light, beacon and several models of light bars.
The new design allows it to be more versatile in mounting capabilities while providing the window protection users need. Kabgard window protector is black, powder coated for high rust and corrosion resistance, and mounts in existing stake pockets for quick, no-drill installation.
Kabgard window protector mounting accessories available from Buyers include mounts for spot/flood lights, beacon lights, full-size light bars, traffic light bars and mini light bars. Buyers also manufactures a complete line of truck and trailer lighting accessories including LED lighting options.
Buyers Products
CIRCLE 120 ON READER SERVICE CARD
---
Insulated Work Platform Increases Use of Cranes and Digger Derricks
Responding to requests for work platforms capable of providing electrical insulation at voltages up to 765 kV, LineWise offers the IWP-765kV Insulated Work Platform. Designed to enhance worker productivity and increase job functions performed with hydraulic telescoping cranes and digger derricks, the platform permits bare-hand work and de-energized line construction, and reduces lineman fatigue by eliminating the need to climb towers.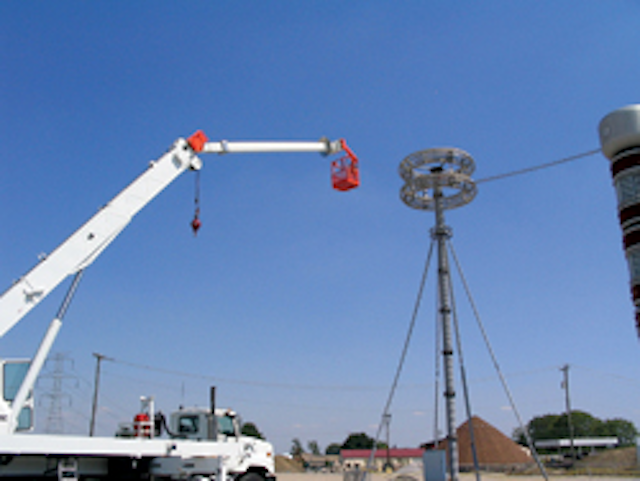 Featuring a proven design, the IWP-765kV provides electrical insulation to personnel working on live transmission lines and equipment at voltages up to 765 kV. The insulated jib consists of a main structural fiberglass member, which is filament wound with computer-controlled, continuous-roving epoxy/anhydride resin. It's also sealed with bulkhead covers to minimize maintenance and protect from contaminants that may reduce insulation properties. A desiccant canister detects any moisture within the sealed jib and is visible from the ground when the jib is in a stowed or un-stowed position. In addition, a high-performance, sharp-edge corona ring reduces current leakage and is rated up to 765 kV.
LineWise Div., Diversified Products
CIRCLE 121 ON READER SERVICE CARD
---
Swap Anti-fog Safety Glasses Double as Safety Goggles
Swap safety eyewear is a glasses-to-goggle eyewear solution from Gateway Safety for those who need the benefits of both safety glasses and goggles in their work environment. The cost-effective eyewear lets employers purchase one item instead of two. Swap provides the comfort and style of a safety spectacle but with goggle-like protection. Swap easily fills both roles with a simple switch of the temples for the goggle head strap, which is included with each pair.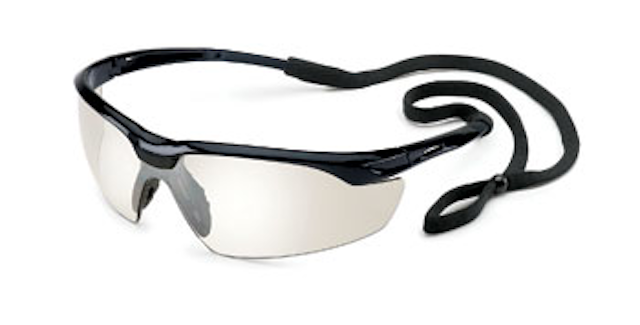 Lightweight and comfortable, Swap helps prevent fogging-a major problem for goggles and spectacles in humid environments and for jobs that require workers to move frequently from outdoor to indoor environments. Venting channels around the frame reduce the hot air buildup that causes fogging. In addition, all Swap lens colors come available with an anti-fog coating. The Swap lens is fully dipped into Gateway Safety's anti-fog formula, a process that coats both sides to help fight fog. The entire Swap frame is lined with soft foam that effectively blocks dust and debris.
Gateway Safety Inc.
CIRCLE 122 ON READER SERVICE CARD
---
Teredo Insulated Chore Coat
Tyndale announces the Teredo (K650T)-a new flame-resistant chore coat with classic, tried-and-true style. Made of an 11-oz. Amtex flame resistant (FR), 88 percent cotton, 12 percent nylon duck with 9-oz. FR insulation, this coat stands up to the demands of cold weather work and its generous cut layers well with other FR clothing.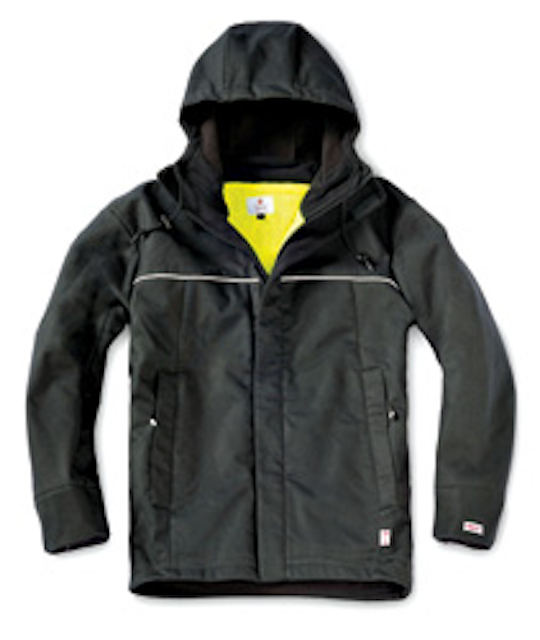 Its FR knit wrist cuffs, storm zipper flap and drawcord waist keep cold out while providing Hazard Risk Category (HRC) 4 and flash fire protection. An optional hood is offered separately. Available in brown and navy, and a full range of regular and long sizes, the Teredo is in stock and available for order.
Tyndale
CIRCLE 123 ON READER SERVICE CARD
---
New EDGE 3-Pt. Rotary Brush Cutters
CEAttachments Inc., a supplier of attachments and accessories for compact equipment, announces the addition of all new EDGE 3-Pt. Rotary Brush Cutter attachments for compact utility tractors. The EDGE 3-Pt. Rotary Brush Cutters are designed to make short work of your land maintenance needs.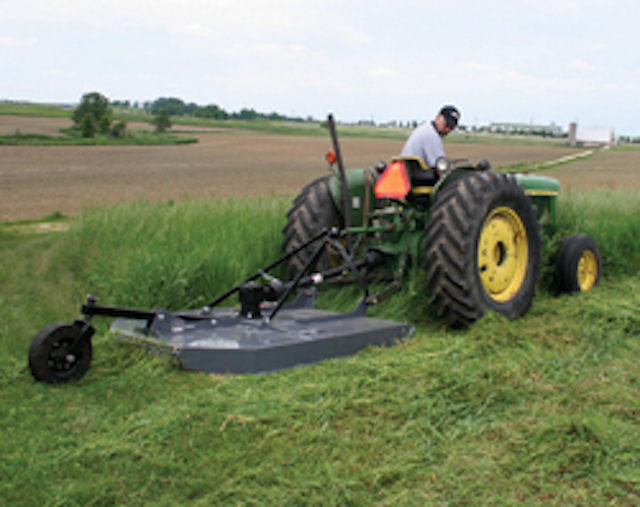 The cutters feature a beavertail style rear deck panel constructed of heavy-duty 11-gauge steel that deflects cut material downward as it cuts. Two heavy-duty 1/2-in. thick by 4-in. wide blades cut brush and grass efficiently, and are mounted to a tough stump jumper pan.
The rear wheel assembly features three height adjustment settings to cut grass and brush between 1-11 in. from the ground.
EDGE Rotary Cutters also feature shear-bolt driveline protection, side skid shoes to help the deck glide along the ground, and front and rear chain shielding to help keep material under the deck while being cut.
These standard-duty Rotary Cutters require 20-40 hp and are available in 60 in. and 72 in. cutting widths, ready to attach to your CAT I/II compact utility tractor.
CEAttachments
CIRCLE 124 ON READER SERVICE CARD
---
B300 Ultra Rugged Notebook Offers Improved Graphics Speeds and More
Getac Inc. is introducing the fifth generation of its B300 ultra rugged notebook with fourth generation Intel core processors, next generation graphics, the latest Wi-Fi and multi-carrier 4G LTE.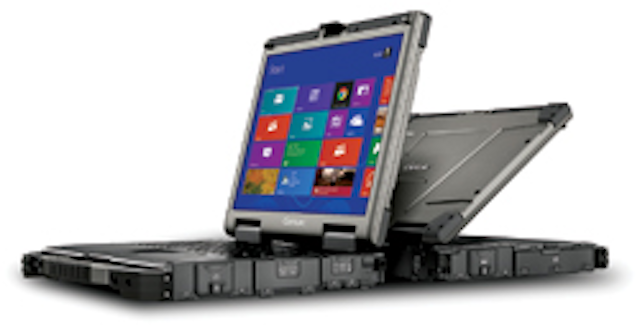 The Getac B300 incorporates the latest fourth generation Intel Core i5-4300M (2.6GHz) or i7-4600M (2.9GHz) processors, known as the Haswell platform and designed for speed and efficiency. Both CPUs feature Intel Turbo Boost technology, clocking maximum speeds up to 3.3 GHz and 3.6 GHz, respectively. In addition, graphics performance has increased by 34 percent because of the new Intel HD 4600 graphics, which supports DirectX 11.1, OpenCL 1.2 and OpenGL 4.0, and features an improved decoder for 4K videos and the fast Quick Sync encoder.
Access to wireless Internet is critical to many Getac customers whose jobs are in the field. The new B300 now offers built-in multi-carrier 4G LTE on a single chip. Large enterprise customers can now purchase a single B300 4G LTE configuration and choose which carrier is best, based on region or preference (data plan required).
Getac Inc.
CIRCLE 126 ON READER SERVICE CARD
---
New XHP1000 T4i Large, Portable Air Compressor
Doosan Portable Power has introduced the XHP1000 portable air compressor, meeting Tier 4i emission regulations. The XHP1000 has a free air delivery of 1,000 cfm and comes standard with dual pressure regulation, allowing it to supply compressed air at operating pressures of 365 and 250 psi.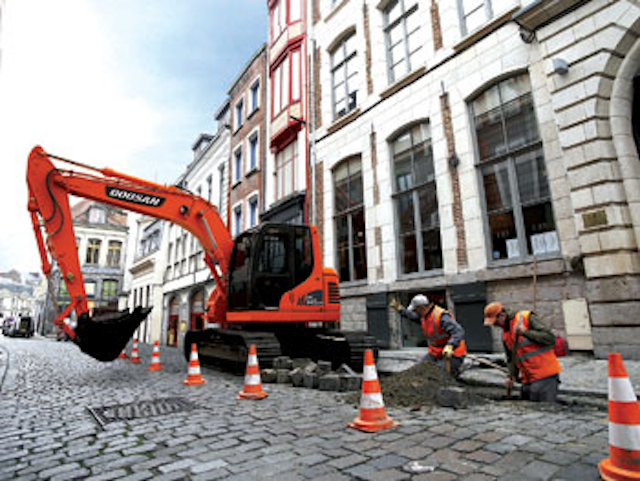 Dual pressure regulation expands the scope of applications for the XHP1000 compressor, which includes powering a wide range of machines. Compliance with Tier 4i engine emission regulations has given Doosan the opportunity to provide customers with a completely new design offering a higher return on investment. At 16.9 ft. long, 6.9 ft. wide and 8.3 ft. tall, the XHP1000 is 18 percent smaller than its predecessor Tier 3 model-meeting customer preference for compact size and easy serviceability while minimizing transport costs. The greatly reduced size also offers advantages for truck-mounted configurations.
New standard features on the XHP1000 contribute to very good service access, as well as increased reliability and durability. The XHP1000 includes single-row core heat exchangers, which creates ease of cleaning; a cool box (blower fan) to reduce component temperatures; a fuel cooler, which prevents fuel heating at low reservoir levels, thereby increasing fuel efficiency and power conservation; central drains; a galvanneal sheet metal enclosure for optimal corrosion protection; and a new enclosure design that minimizes rain entry.
Doosan Portable Power
CIRCLE 127 ON READER SERVICE CARD
---
PATMDCUT-L Battery Operated Pole Cutters
BURNDY, a manufacturer and provider of connector solutions to the industrial, energy, construction, telecommunication, petrochemical, data center and transportation industries, announces the addition of the all new battery powered Pole Cutters.

Designed for safety, convenience and function, these tools provide the same performance and reliability of the PATRIOT tools with the advantage of increased reach, making them highly versatile. They are available in three varying lengths (48 in., 60 in. or 72 in.) and in either LI or Ni-MH battery platforms.
BURNDY
CIRCLE 125 ON READER SERVICE CARD