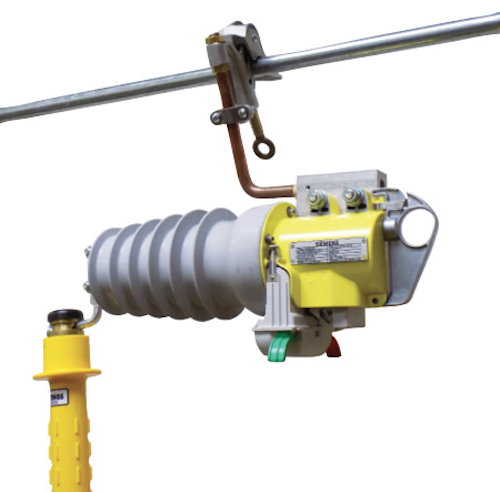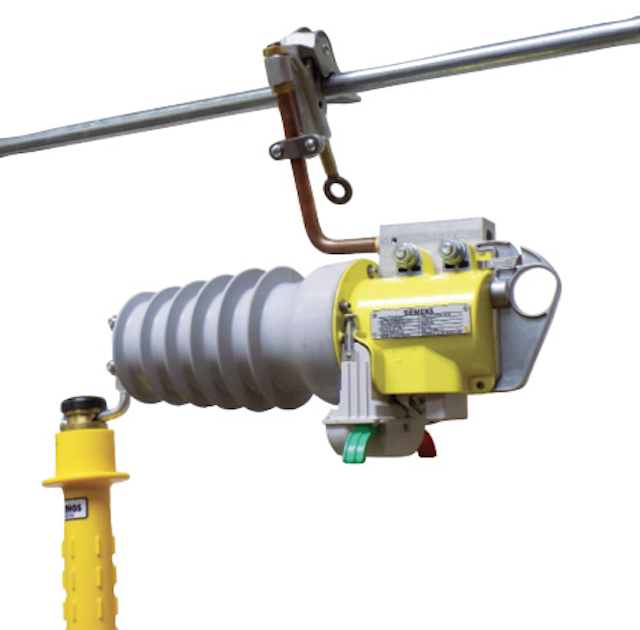 Safety Products:
Single-phase and Three-phase Load Pick-up/Break Switch
Hastings, a manufacturer of hot line tools and equipment, has introduced load pick-up/break switch products in single- and three-phase versions to its diverse catalog. The break switches allow a lineman to install a temporary switch anywhere on their system.
The single- and three-phase versions are built to last and can be used in any weather condition because of the vacuum bottle design featuring high-grade silicone rubber and marine-grade aluminum.
These battery-operated products can be controlled manually using "one touch" button function or operate wirelessly with a Siemens Connect USB Antenna. The battery modules are removable, allowing for easy replacement if needed.
Siemens Connect Software is included with these products, allowing users to wirelessly operate and monitor real-time system information such as line voltage, amperage, and more through a laptop.
Hastings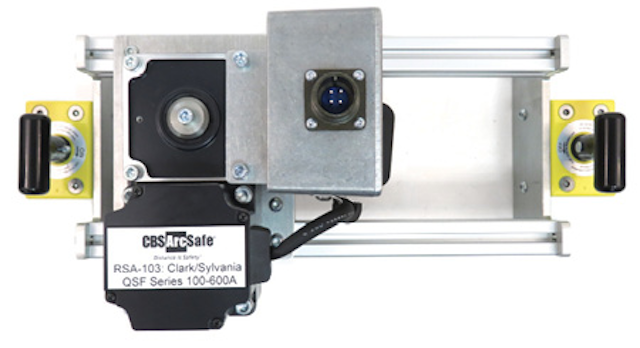 Energy Management:
Remote Switch Actuator Introduced
CBS ArcSafe, a manufacturer of remote racking and switching solutions for low- and medium-voltage switchgear, introduces its remote switch actuator (RSA) for the Sylvania/Zinsco QSF series of 100–600 A panelboard switches (PBSs). The lightweight, portable CBS ArcSafe RSA-103 allows technicians to remotely close or trip a Sylvania/Zinsco PBS from a safe distance of up to 300 ft., well outside the arc-flash boundary.
Installation and operation do not require any modifications to the existing electrical equipment because of CBS ArcSafe's magnetic latching system. Typical applications include switching and protection of low-voltage AC-power distribution systems. When compared to other arc-flash mitigation alternatives, the RSA-103 is a cost-effective solution for keeping operators safe when using Sylvania/Zinsco QSF series 100–600 A switches.
Optional features include radio remote with a range of up to 300 ft., 24 Vdc LED light, wireless video camera system with LCD monitor, and rugged protective case assembly. All RSA units are portable, fast and easy to set up; offer mechanical and/or electrical safety protection; are adjustable to fit unique electrical equipment configurations; reduce the requirements for personal protection equipment; and meet NFPA 70E arc-flash safety compliance standards.
CBS ArcSafe
Utility Supplies:
PATRIOT IN-LINE PATMDCUT98 Series Pole Cutter Tools
BURNDY, a manufacturer and provider of compression connector solutions to the industrial, energy, construction, telecommunications, petrochemical, data center and transportation industries, announces the newest addition to the BURNDY PATRIOT IN-LINE battery actuated tooling line—the PATMDCUT98 Series of Pole Cutter Tools.

The Pole Cutter has been designed with a 98-in. overall length, offering users both increased flashover protection and extended reach for "live-line, hot-sticking" applications working from inside the aerial bucket or from solid ground. The new design also incorporates a fixed, non-interchangeable head for increased rigidity and user control. The PATMDCUT98LLIF builds on the BURNDY PATMD IN-LINE line of tools and is powered by Makita Li-ion batteries for long-lasting power.
Designed for safety, convenience and function, the PATMDCUT98LLIF battery operated tool performs cuts in less than 6 seconds, minimizing exertion and time required when using similar manual or ratchet type models. Bring the control to your fingertips while safely working with hard to reach, energized overhead or underground lines.
The rocker trigger design allows controlled actuation of the tool when desired and features a safety lock feature to prevent accidental operation of the tool while not in use. Balanced weight distribution allows for a better ergonomic experience compared with similar tools on the market where the majority of the weight is at the top of the pole.
The PATMDCUT98 Series will accept multi-Ah Makita batteries ranging from 2.0Ah through 5.0Ah. It is offered with 3.0Ah batteries only.
BURNDY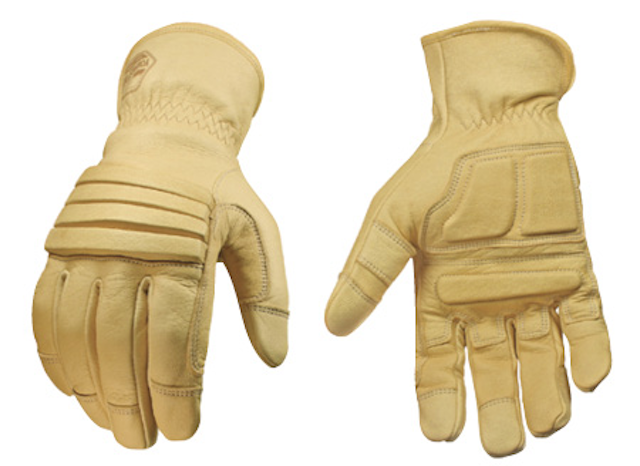 Work Gloves:
Knuckle Buster Anti-Vibe Glove
Youngstown Glove introduces what is cited to be the world's first arc rated anti-vibration and impact protective work glove. We took our top selling Ground Glove design and added FR Gel to both the palm and top of hand. The palm-side gel reduces vibration caused by impact tools while the top of hand gel dampens against unexpected impacts.
The glove is made of a double layered goatskin and sewn into an ergonomic, 3D pattern for superior grip, comfort and dexterity. This glove will not drip, melt or ignite if exposed to sparks or flames. It is arc rated to 23 cal/cm². Size Range S – 2XL. Part # 11-3210-10.
Youngstown Glove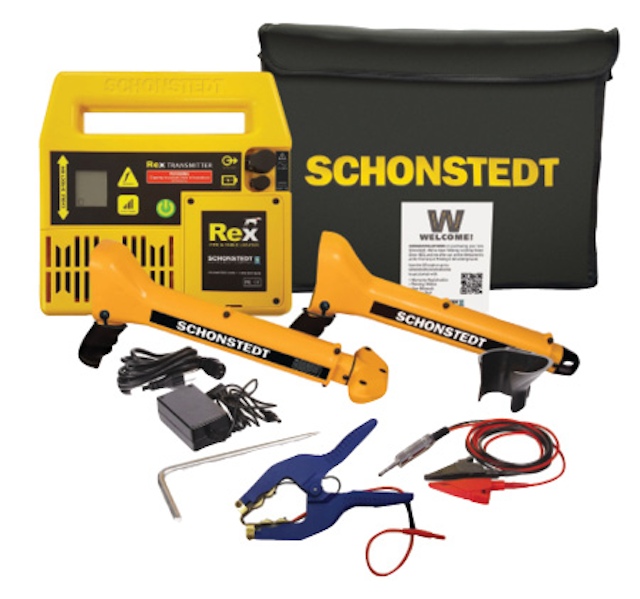 Safety Equipment:
Multi-frequency Cable and Pipe Locator Introduced
Schonstedt has launched Rex, its newest pipe and cable locator aimed at all underground utilities: electric, water and sewer, telecom and gas. Rex is a multi-frequency locator with a price tag comparable to single-frequency locators. The sleek design of the transmitter is less than 2 in. thick and weighs less than 4 lbs. The pistol-grip receiver extends for greater sensitivity and retracts for easier carrying and storage.
Both the receiver and transmitter easily fit into a custom shoulder bag—no more lugging of heavy cases, no more hand and wrist fatigue—even after a full day of locating. And Rex is so ruggedly built that it carries a three-year warranty.
Schonstedt is also offering Rex as a Multi-Purpose Combo Kit (MPC-Rex). Cited to be the first of its kind, this kit includes a GA-92XTd Magnetic Locator and a Rex Multi-Frequency Pipe and Cable Locator. Projects calling for both pipe and valve locating now move faster, with less time lost. And purchased as a kit, the two-locator bundle reaps even more savings.
Schonstedt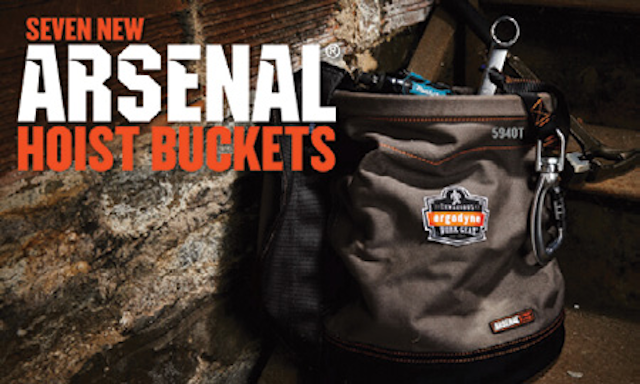 Utility Supplies:
New and Improved Hoist Buckets
Ergodyne has added hoist buckets to its ARSENAL Gear Storage Line. The seven hoist buckets include five models made of gray canvas and two others made of polyester. Two detachable polyester safety tops (5937, 5938) are available to secure the contents inside the buckets.
Five of the hoist bucket models (5930, 5935, 5940, 5945, 5960) are made of 24-oz. gray canvas with synthetic leather bottoms. The gray canvas is abrasion-resistant, looks cleaner, and lasts longer on the job than standard white/beige canvas. The synthetic leather bottoms are durable and can withstand the harshest environments.
The other two models (5970 and 5975) are made of lightweight polyester rather than canvas. Convenient nickel-plated Storm Drains allow liquids to drain and air to circulate in all of the new hoist bucket models.
Safety is the name of the game and these heavy-duty buckets can safely hoist up to 100 lbs. (5970, 5975) and 150 lbs. (5930, 5935, 5940, 5945, 5960) and are third-party certified statically to a 5:1 safety factor.
Ergodyne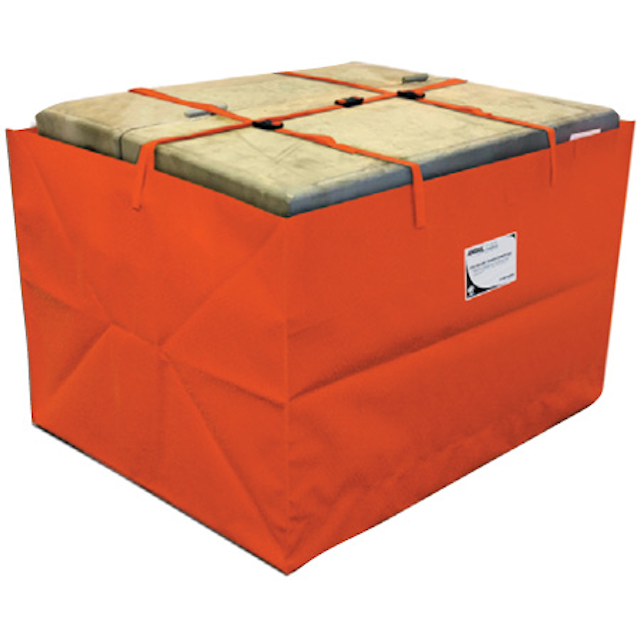 Safety Products:
Pad Mount Transformer Sac
Designed specifically to fit pad mount transformers, the Andax Pad Mount Transformer Sac is your complete containment and spill control solution. Once opened, it lies flat ready for installation. Just lift the transformer inches off the ground and slip the Transformer Sac up and around it.
• Contains all leaks and reduces cleanup time for equipment and on site,
• No more bulky trays or tubs,
• Avoid PCB exposure,
• Compact storage size, and customizable to your exact specs, and
• Ask about our Pole Mount Transformer Sacs.
Andax Industries LLC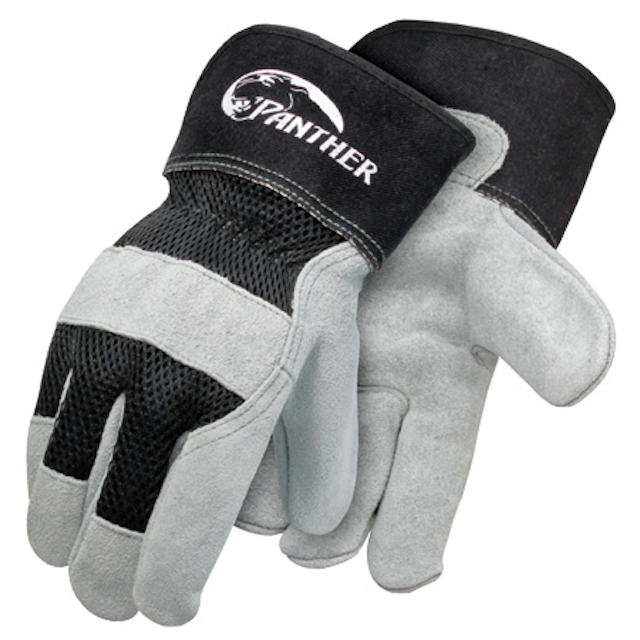 Work Gloves:
Panther Mesh Back, Select Leather
Palm Gloves With Safety Cuff
Galeton, a supplier of quality work gloves and personal protective equipment, has expanded its line of Panther Select Leather Palm Gloves to include the #12674 Panther Mesh Back, Select Leather Palm Gloves with Safety Cuff.
The Panther Leather Palm Gloves are made from select leather so they are strong yet supple. The Mesh Back keeps your hands cooler and drier in warmer working conditions. To reduce chafing, there is soft padding on the inside of the palms with soft absorbent material. The heavy duty rubberized safety cuff stands up well to abuse. Panther Leather Palm Gloves will far outlast regular work gloves while keeping you comfortable throughout your work day.
Galeton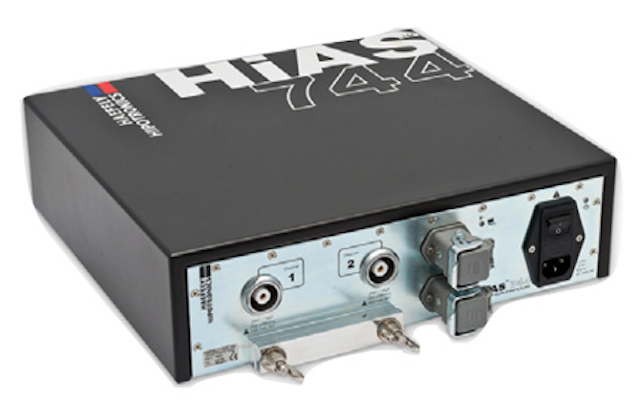 Test Equipment:
HiAS 744 High Resolution Impulse Analyzing System
HAEFELY HIPOTRONICS offers a high resolution impulse analyzing system, the HiAS 744. Tailor-made for the industry, the front-end solution provides a 16-bit resolution at 250 MS/s with the highest measurement accuracy. Software, which has been upgraded to suit the hardware, retains the comfortable interface proven and tested by many hundreds of satisfied users. It is also compatible with the former versions of data files of the HiAS, allowing data comparison to older measurements.
The optically decoupled front end provides complete galvanic isolation between control room and test field, affording personnel the highest safety level. In addition, it minimizes ground loop, resulting in a reduced interference coupling.
HAEFELY HIPOTRONICS
---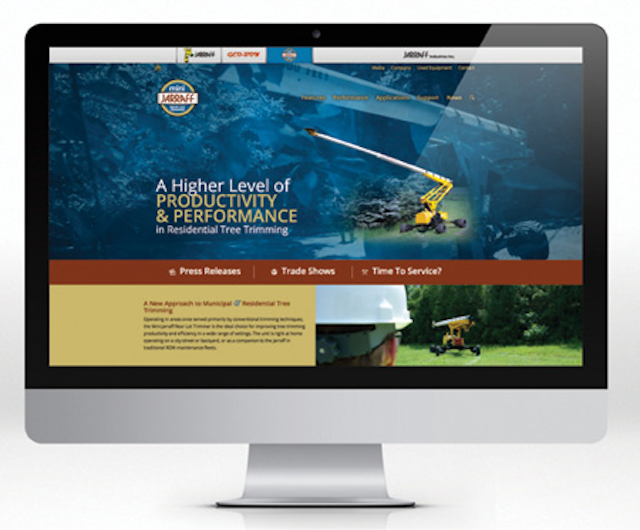 Mini-Jarraff Rear Lot Trimmer
Interactive Website
Line maintenance: Jarraff Industries, manufacturer of the Mini-Jarraff Rear Lot Trimmer, has launched a website for its Mini-Jarraff Rear Lot Trimmer at www.mini-jarraff.com. The easy-to-navigate, mobile-friendly site offers comprehensive information about the Mini-Jarraff Rear Lot Trimmer including technical specifications, operational features and capabilities.
Users can view photos and videos of the Mini-Jarraff in action. The website also provides access to the latest articles, press releases and newsletters with up-to-date information about the Mini-Jarraff.
The Mini-Jarraff is specifically designed for residential and municipal tree trimming. The unit offers a dynamic range of operation, while the boom delivers a 55-ft. vertical reach.
Jarraff Industries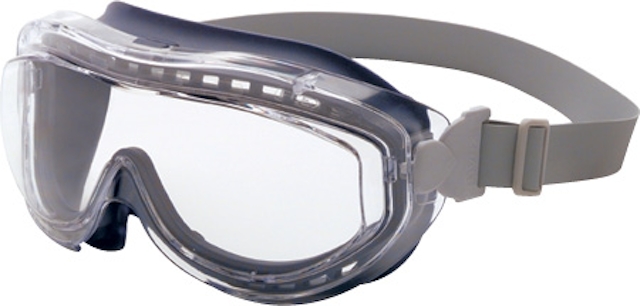 Eye Protection:
Uvex HydroShield Anti-fog Lens Coating Keeps Lenses Clearer Longer
Honeywell has expanded the number of eye protection products available with Uvex HydroShield anti-fog lens coating by seven new offerings. The performance of HydroShield is available on the Uvex Flex Seal Goggle in clear lens; Uvex Stealth OTG in clear, gray and amber lenses; and in three more lens tints on Uvex Livewire: amber, SCT gray and low IR. HydroShield is also available on Uvex styles including Hypershock, Genesis, Genesis XC, Protégé and Stealth.
Now, with more than 80 Uvex items and 13 lens tints featuring HydroShield, there's a safety eyewear solution that delivers our longest-lasting, most consistently clear anti-fog performance—and is suited for any indoor or outdoor work environment.
Uvex HydroShield effectively eliminates fog 60 times longer and resists scratching two times longer (comparative lens life test performed using a Bayer Abrasion Test method and may vary between environment and application) than any other Uvex coated product— even in the hottest, wettest, most demanding conditions. Its performance significantly exceeds EN166, the most stringent anti-fog standard. The dual-action coating is permanently bonded to the lens to withstand extended wear and repeated washings without wearing off.
All HydroShield anti-fog coated products meet ANSI Z87.1-2015 and are certified to the requirements of the CSA Z94.3 standards, except Hypershock. Genesis, Genesis XC and Protégé also meet the military ballistic impact resistance requirements for eyewear (MIL-PRF-31013, CLAUSE 3.5.1.1). All Uvex lenses offer 99.9 percent ultraviolet protection.
Honeywell
---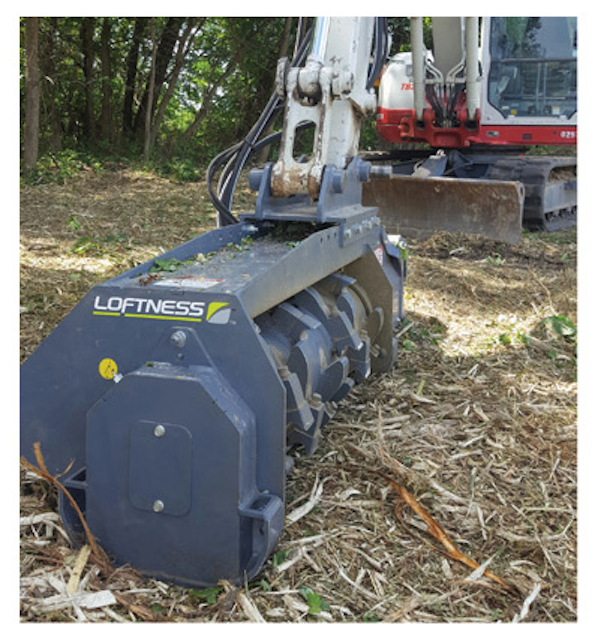 Battle Ax Mulching Attachment
7-Ton to 15-Ton Excavators
Loftness offers the Battle Ax mulching attachment for its 7-ton to 15-ton excavators to its VMLogix line of products. Featuring a new rotor, exclusive two-stage cutting chamber and direct-drive variable displacement piston motor, the heavy-duty Battle Ax is designed for highly efficient vegetation management, including right-of-way maintenance, land clearing, forestry applications and more.
The Battle Ax is available with 41-, 51- and 61-in. cutting widths. Its 17-in.-diameter rotor features built-in depth gauges, which function similarly to raker teeth on chain saws to prevent the attachment from engaging too much material at one time. This design is more ideal for managing the amount of material being fed into the attachment than competitive ring-style rotors, which many operators find to be overly limiting.
The variable displacement piston motor on the Battle Ax accommodates the output of various excavators. The motor is directly mounted to the rotor with an anti-vibration coupler to eliminate the hassle of drive belts and reduce overall maintenance concerns of the mulching attachment.
Loftness
---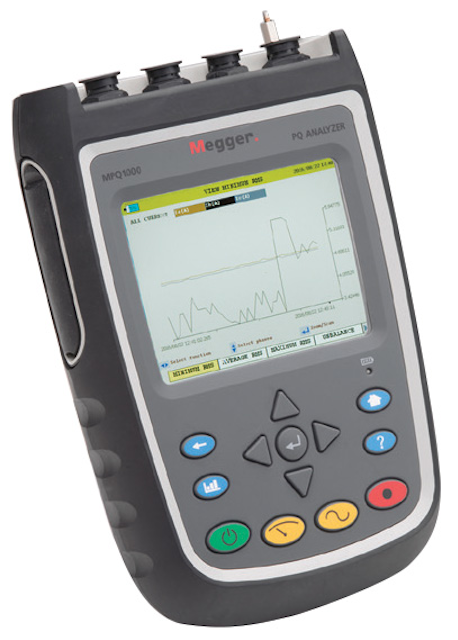 Energy Management:
Three-phase Power Quality Analyzer is Intuitive, Efficient
Megger's handheld, 3-phase power quality analyzer makes power quality analysis easier and more efficient. The MPQ1000 is Class A and is rated CATIV at 600V. It can be used for a wide variety of applications including substation monitoring, equipment and breaker tripping, load studies and load balancing as well as for switchgear and component failure.
This intuitive unit delivers high capability in a smart ergonomic platform. In both the scope and DVM modes, the MPQ1000 can record power, energy, RMS, sags, swells, transients down to 1 microsecond, harmonics, inter-harmonics, harmonic direction, THD, TDD, flicker, unbalance, rapid voltage change (RVC), mains signaling, phase angle deviation, as well as performs waveform analysis to the 128th harmonic in real time.
Data gathered during testing can be recorded with the MPQ1000 record verification by simply pushing a button. This feature automatically detects the current clamps, recognizes its range, identifies the nominal voltage and sets the triggers, as well as verifies that the unit is connected properly to what it is testing.
The MPQ1000 features on board data analysis. An SD card is used to expand memory and all data recorded can be viewed on the unit's color VGA display, or can be transferred to Megger's power quality analysis software through USB cable, USB stick, Ethernet or directly from the SD card.
Megger
---
TICK Tool and Equipment Tracker:
Tracks Anything. Survives Everything
Utility supplies: Milwaukee Tool introduces the TICK professional-grade Bluetooth tool and equipment tracker. Withstanding the harshest jobsite environments, the TICK can be easily attached and hidden from sight on any product, regardless of brand, providing users a way to track anything in their inventory through the ONE-KEY app.
The goal of ONE-KEY is to simplify the process of managing tools, removing costly or cumbersome methods used today. The ability to quickly identify a tool's location can save time and money if a tool goes down or is needed on short notice.
By harnessing the same Integrated Tool Tracking technology found within ONE-KEY enabled tools, we're giving users a way to track any tool, simply by attaching the TICK.
With its low-profile design, the TICK can securely attach to anything through glue, screw, rivet or strap. Its flat back enables a snug fit to a variety of surface types and its circular shape fits into a range of places hidden from view. Each TICK is also laser engraved with a serial number so users can easily identify and assign multiple TICKs. Once attached and hidden from view, the TICK makes tracking tools and equipment as simple as pulling out your phone.
Products with a TICK attached are paired through the ONE-KEY app. Tool records and locations are updated when any device with the ONE-KEY app comes within 100 ft. of the TICK. These location updates are transmitted through any ONE-KEY app that's in-range, regardless of whether the app is open or not, allowing users to pinpoint missing tools more quickly.
Milwaukee Tool
---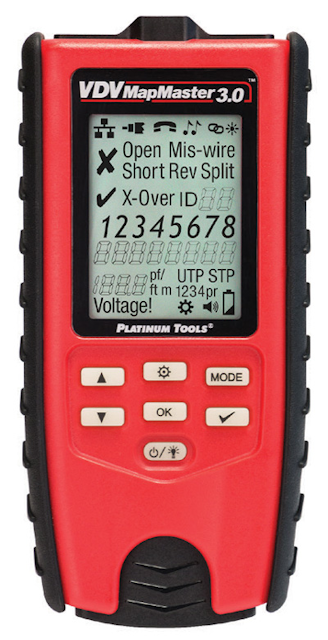 Test Equipment:
VDV MapMaster 3.0 Cable Tester
Platinum Tools, a provider of solutions for the preparation, installation, hand termination and testing of wire and cable, has launched the VDV MapMaster 3.0 cable tester.
Made in the USA, the VDV MapMaster 3.0 tests Cat7, Cat6A, Cat6, Cat5e, Cat5, Cat4, and Cat3 shielded and unshielded cables, voice and coax. The MapMaster 3.0 is capable of identifying and mapping 20 locations at one time. The large backlit display, glow-in-the-dark keypad, a built-in flashlight and audible beep verification also helps the professional work in the dark.
Platinum Tools
---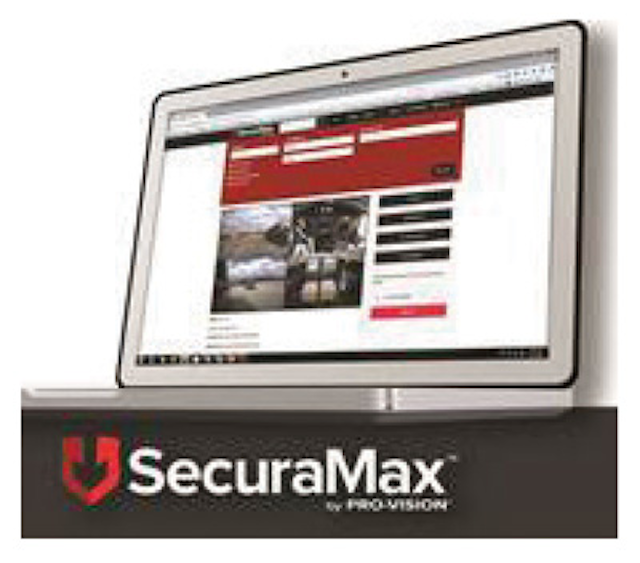 Fleet Management:
Video Management Software for Commercial Fleets Reduces Liability
PRO-VISION Video Systems offers SecuraMax—the reliable, simple and secure video management solution—for commercial applications. Developed with commercial fleets in mind, SecuraMax helps users upload, manage, protect and share video files. The software simplifies video management by allowing files to be automatically and securely uploaded through Wi-Fi to the cloud when a vehicle pulls within range of a configured network.
SecuraMax automatically categorizes event video based on customizable recording triggers, such as PTO activation or erratic driving, to make locating video files even easier. With the ability to customize video retention periods based on category, SecuraMax allows event video to be stored as long as necessary to reduce liability. Non-event video is automatically deleted when its custom retention period expires, further simplifying the management process and freeing up valuable storage space.
With the advanced file sharing options in SecuraMax, users can securely share files to anyone with an email address. File integrity is maintained through autonomous audit trails and usage reports that cannot be altered by users or administrators.
PRO-VISION Video Systems
---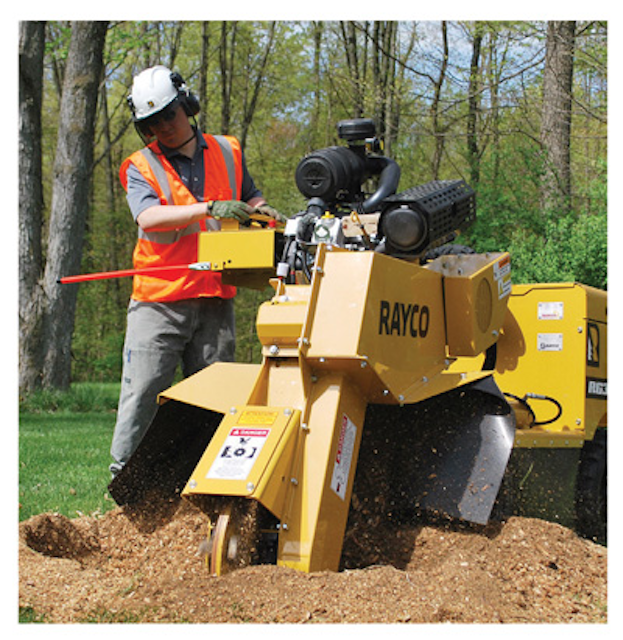 Stump Cutters Upgraded
37-hp Vanguard Big Block EFI Gasoline Engine
Utility tools: Rayco has added Electronic Fuel Injection (EFI) to its compact, self-propelled stump cutters. The models RG37 Super Jr and RG37T Trac Jr are powered by Vanguard 37hp Big Block gasoline engines with EFI, offering the user more convenience as well as improved horsepower and torque.
Vanguard designed the Big Block EFI engines to have more reliable starting characteristics, as well as improved load pickup, and fuel economy. These engine enhancements help you get the most out of your compact stump cutter. The RG37 Super Jr comes in 2-wheel drive or 4x4 versions and the RG37T Trac Jr rides on rubber tracks for traction and floatation. Both models come standard with Rayco-exclusive features such as swing-out operator control station and hydraulic backfill blade.
Rayco
---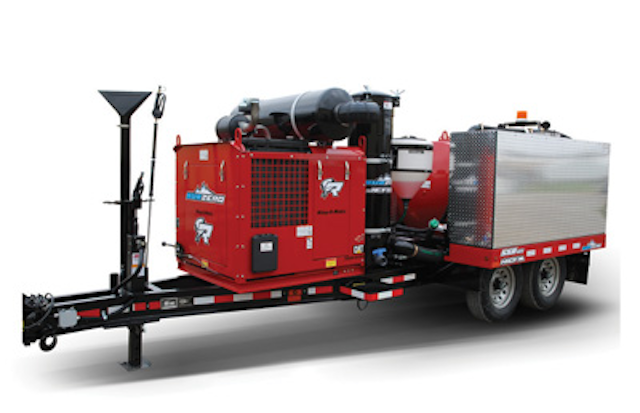 SubZero Vacuum Excavators
Full Operation in Below-freezing Temperatures
Construction equipment: Ring-O-Matic Inc. has released its SubZero Series line of vacuum excavators that allow full operation in below-freezing temperatures. The units are available as trailer-mounted or truck-mounted systems that can be customized to the owner's specifications.
The SubZero Series can be added to any standard VX Vacuum ranging from 150- to 3,000-gallon spoil tanks with a range of 600 to 3,000 cfm. Recommended, optional jetter capabilities are available for cleaning lines up to 12 in.
The units feature increased water capacity over standard units. A dedicated jetter pump delivers 18 gpm at 2,000 psi. The machine can also be equipped in the standard hydro excavation package with 4,000 psi / 6 gpm pump.
Other features include insulated water tank enclosures; heated valves; a fully enclosed water and jetter reel cabinet; power hose reels; heater; six-way power boom; and heavy-duty, 14,000-lb. torsional axles.
Ring-O-Matic Inc.
---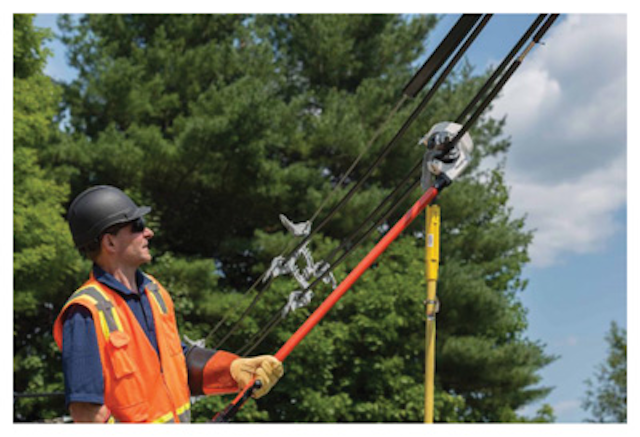 Safety Equipment:
Remote Mid-Span Stripper Tool
Ripley's Remote Mid-Span Stripper (RMS) tool is for mid-span removal of insulation from energized tree wire and spacer cables. The RMS tool is quicker and safer than hand tools designed for hot stick operation.
The RMS has a cable range of 0.60 to 1.75 OD and a voltage of 10 to 35 kv, and is designed for one-man operation from a bucket truck.
The tool head is made from insulated Delrin. It has an intermediate hot stick shaft, and the epoxy drive shaft maintains a 4-ft. approach distance from energized line.
The RMS mid-span strips any phase without removing conductor from spacers, and each bushing comes with a go/no-go style cable gauge—ensuring the proper bushing is used on the wire.
The kit includes a tool stop clamp (MTS) that works with a grip-all stick to maintain safe approach distance and also comes with bushings of your choice, a convenient carrying case with storage for additional bushings, and cable gauges. The RMS also eliminates the need for conductor covers and insulated blankets.
Ripley Tools LLC
---