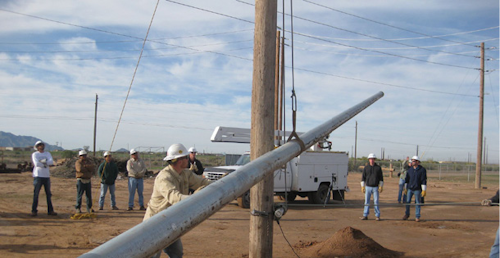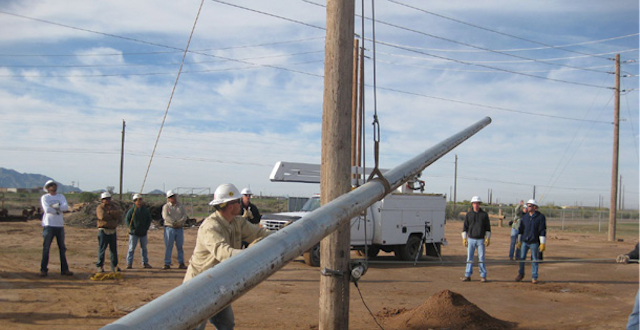 Installing a steel pole with nylon strap
By Keith Lindemulder
There are some 120 million utility poles in the United States delivering electricity to homes and businesses across the country. As utility companies install or replace approximately two to four million poles each year, some have begun converting wood distribution poles to steel. More than 600 electric utility companies in the US are using steel distribution poles to create a more reliable, durable, safe and sustainable distribution system.
One of the greatest benefits of steel distribution poles for utility companies is increased durability and reliability of the distribution system. Some of the highest threats to grid reliability come from catastrophic system failures, or the "cascading effect" that can start from a single downed pole. Steel poles are less susceptible to damage from extreme weather or other events, and may also be more easily repaired when damage does occur. Because of their durability, steel poles can reduce the risk of these cascading events, even when a single pole fails.
In theory, a wood pole of equivalent strength should function the same as a steel pole, but in reality, wood does not have the same consistent performance as steel. Steel utility poles are designed to American Society of Civil Engineers (ASCE) criteria, National Electric Safety Code (NESC) minimum load requirements, and use material and manufacturing to ASTM International specifications and welding to American Welding Society (AWS) specifications. The result is an extremely strong and reliable product with uniform dimensions and strength, but without twists, knots, splits or bows.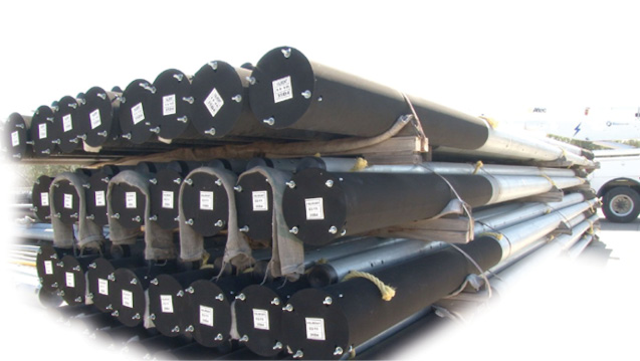 Stack of galvanized steel poles
Industry research and user experience show steel distribution poles cost less over the pole's life cycle due to more efficient installation requiring less labor, lower overall maintenance costs, with increased durability and reliability also factoring into overall cost efficiency. Through design, a steel pole is a lighter product—at least 30 percent lighter than a wood pole—which can reduce the cost of transportation, handling and construction, and simplify remote location installations. Steel poles can also be predrilled at the factory, which minimizes the time spent by construction crews preparing poles for installation. Jeff Hohn, manager of engineering for Farmers Electric Cooperative in Clovis, New Mexico, for example, found using steel for a 225-pole installation saved his company more than $50,000 by reducing time and labor costs required for installation.
Proven to retain their strength and shape over many years, steel poles require minimal tightening hardware to compensate for pole shrinkage. Inspections for damage caused by rot, insects or woodpeckers are also eliminated with steel poles because they are impermeable to these forces of nature. In Kansas, Rolling Hills Electric Cooperative Inc. recently replaced some 1,500 of its wood utility poles with steel poles. This replacement effort focused on poles at critical locations such as major intersections and at the middle of each line to act as a storm break. Before transitioning to steel poles, Rolling Hills' line crews worked an average of 15 hours to 20 hours of overtime per week to maintain reliability. Including steel poles in the network has helped the company reduce the need for overtime and decrease the life cycle costs of its distribution grid.
In Arizona, Tucson Electric Power has gradually converted most of its warehouse inventory from wood poles to steel poles based on total cost of ownership benefits. The company conducted a life cycle cost benefit analysis of steel vs. wood distribution poles. The analysis showed that while the cost of steel was initially higher than wood, the 60-year life expectancy of a steel pole was twice that of a wood pole, resulting in an equivalent life cycle cost with greater reliability.
Replacing wood utility poles with galvanized steel poles can also result in lower levels of greenhouse gas and aerosol emissions associated with global climate change, a lower burden on critical energy resources, and reduced impacts associated with hazardous emissions and wastes. The primary drivers for these findings are the longer life spans of steel poles, high steel recycling rates, and the overall ecological and land use impacts of growing, harvesting and replanting the forests used to produce wood poles.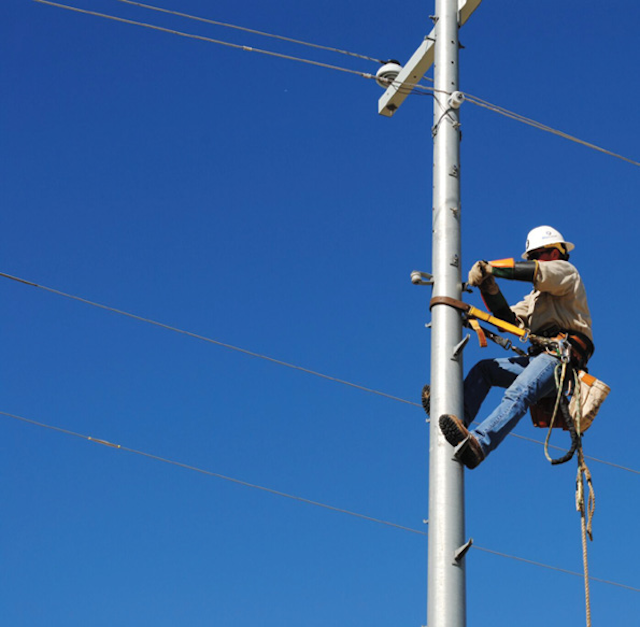 Climbing a galvanized steel pole with proper fall protection
Steel distribution poles also have safety advantages for both utility workers and the general public. Working with electricity can be dangerous for engineers, linemen, electricians and others who work on the distribution system. With minimal maintenance and inspection required, steel poles can reduce workers' risk of accidents, and while proper procedure is essential for working with live lines, steel poles are safe to install and maintain under hot line or energized working conditions. When impacted by a vehicle, steel poles will typically bend, rather than shear, keeping energized lines upright and away from the affected vehicle. And because steel poles are noncombustible, ground and pole-top fires are not an issue.
As executives and linemen at utility companies realize steel's important sustainability, life cycle cost and durability benefits, it is becoming a standard material for distribution poles. Training linemen on steel pole installation and maintenance procedures is essential to helping new and veteran linemen gain skills they will immediately use on the job. The Steel Market Development Institute offers complimentary online training programs for both students and instructors as well as for journeymen and apprentice linemen covering steel pole design, installation and safety as well as important information for utility engineering and purchasing managers at power utilities across the country. UP
About the author: Keith Lindemulder, LEED AP, is environmental business development manager for Nucor Corp. and serves as chairman of the Steel Market Development Institute's Steel Utility Pole Task Group.