By Bob Ashenbrenner
Worker mobility is not a new concept for utilities. Since industry inception, service technicians and even managers have spent most of their working hours in the field. The only real change to this decades-long constant has been how utility workers capture and communicate data--and how fast.
Pen and paper methods are tried and true. Even early technology solutions could suffice when necessary. But with the sense of urgency that has taken hold in today's high-speed tech society, the only acceptable way for utilities to operate is in "now" mode. They need notifications of issues now. They need access to data now. They need to be able to assess and make a resolution decision now. "Now" doesn't accommodate time-consuming trips back and forth to the office to access data or consult with decision makers.
The only way for utilities to guarantee these immediate reaction capabilities is to embrace the latest mobile tools and software available. The secret is to invest in mobile tablet PCs that extend the full computing experience from the office, to the vehicle and into the field without losing critical workflows, connectivity or speed. And more important is choosing the right mobile technology that will accomplish this goal now and remain viable six months or even six years from now as productivity demands change and utility assets evolve.
Perhaps that's one reason why Xplore Technologies' rugged mobile PC lineup, in combination with the recently acquired Motion rugged tablet portfolio, has remained one of the most sought after mobile computing tools by utilities over the past decade.
What's Good for You May Not Be What's Best for Me
We frequently receive request for quotes from utilities to deliver 100 tablets to field workers serving natural gas pipelines, or for 1,000 tablets for linemen. It's not the size of the order that's notable, but that they typically request one device for one group of workers--a single mobile platform with identical specifications (device form factor, ruggedness, software, etc.).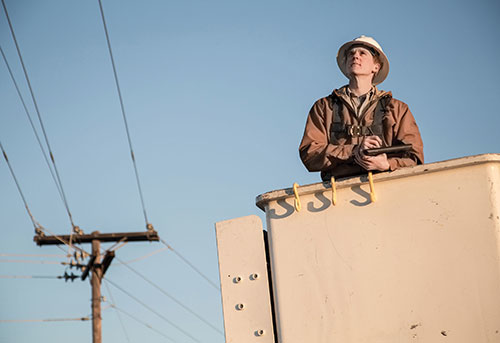 Utilities are not monolithic. They have workers with different skills and different responsibilities, and each has a unique mobility requirement whether they realize it. Workers who spend all their time in the field and supervisors who may split their time between the field and office don't require the same workflows, keyboarding requirements or even ruggedness levels.
And while utilities may be asking for bids for one type of worker (i.e. lineman), they may have a need for other devices for other workers (i.e. installers) in a year.
Xplore Technologies' solutions allow companies to meet all these needs, with devices and services that can be upgraded as needed and ensure interoperability, compatibility and overall function between multiple device form factors, operating systems and accessories--as well as compatibility with back-end systems and infrastructure.
Utilities in particular benefit from the more purpose-built rugged mobility solutions, both short and long-term. With the right tablet PC, utilities will be able to make incremental software or module upgrades to support new workflows without requiring an entire infrastructure overhaul--which in turn protects their device investments.
Why Portability is Not Mobility
The distinction between the two is crucial because some people view portable and mobile as synonymous, which limits their ability to see the value of a truly mobile device. While you can make a mobile product suitable for desk work, you can't make a portable notebook suitable for mobile work.
Portable laptops and notebooks are generally used while sitting. They are awkward to use while standing upright. No one stands with a notebook and comfortably types. And while they may be rugged, these devices are not mobile.
On the other hand, standing and working at the same time are the forte of almost any smartphone or tablet PC--which is why Xplore and Motion tablets have only been offered in a slate tablet form factor. That's also why each of the slate tablet models having starting weights between 2 pounds and 5.45 pounds.
Standards Matter When it Comes to Rugged Mobility
Not every smartphone or tablet PC is the right mobile computing tool for the utility environment--smartphones have not proven to be the best form factor for most utility technicians. Besides needing an OS, such as Windows, or keyboard input capabilities that replicate the desktop experience and provide a level of familiarity to workers, the devices that best fit a utility's work environment are ones that can resist a rainstorm, withstand a little chemical or dust exposure, or even survive a drop from a technician's hands--all hazards that often render the average device (smartphone or laptop) useless, including those devices touted as enterprise friendly.
In addition to being unaffected by extreme elements, any mobile tool put in the hand of utility workers must have a long battery life. Field technicians are most valuable when they're in the field, online and productive. If they have to frequently return to their vehicle to recharge or get a fresh battery, then work order completion times slow and productivity costs rise. That's also why the right mobile computing device should be light enough that a worker can handle it comfortably for long periods of time and include screens that are viewable in bright sunlight.
Utility technicians sometimes need to have a keyboard to type on while using their tablet PC, especially if using an older generation of software that is not yet touch-optimized--which is why the company offers removable keyboards, on-screen keyboards, and in-vehicle mounted keyboards.
Mobility Platform Is More Meaningful with the Right Apps
Regardless of which device ends up serving as the foundation of your mobility platform, the workflow itself will define the experience. Tablet PCs can run existing software, making the accompanying workflow immediately mobile. Using existing software as a starting point to add mobile functions is a more predictable path than the alternative of buying new software with new hardware.
The tablet--your primary mobile computing tool--is only as smart as the software powering it. And your workers can only be as efficient as the tools provided to them.
About the author: Bob Ashenbrenner is the solutions architect for Xplore Technologies.
More Utility Products Current Issue Articles
More Utility Products Archives Issue Articles