Composite Poles Prove to be Solution Providers for Utilities
The use of composite material for poles and crossarms is rapidly gaining acceptance and use throughout the utility industry. Composite poles are increasingly being used for many distribution and transmission applications.
Jun 22nd, 2015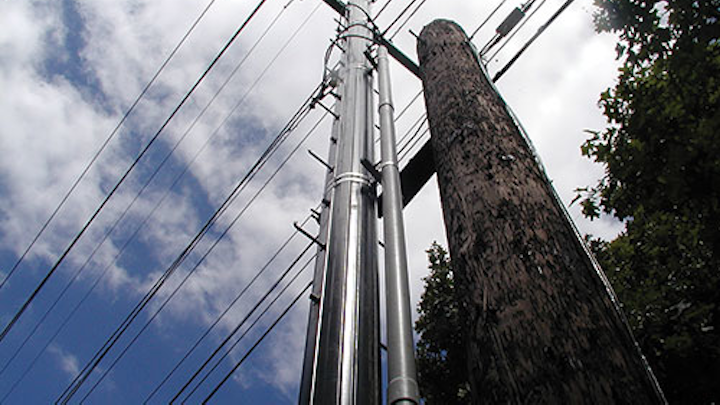 The use of composite material for poles and crossarms is rapidly gaining acceptance and use throughout the utility industry. Composite poles are increasingly being used for many distribution and transmission applications. To date, composites have been successfully deployed in remote locations with difficult access, restricted easement scenarios, areas where wood poles have been heavily damaged by woodpeckers, rocky terrain, environmentally-sensitive areas, unguyed (i.e., self-supporting) configurations, and dead-end and angle designs. Composites have proven they can accept most industry hardware and provide a compelling case as an alternative to wood, steel and concrete while saving money in the long run.
34 kV with a 12 kV underbuild. Wood pole replacement on an aging infrastructure.
Trident Industries is a composite utility pole company with thousands of poles in systems across the US, Canada, Caribbean and Africa. The company's poles have been used in a variety of applications from storm hardening/storm response, tangent, unguyed, dead-end, limited access, avian protection and lighting.
Storm Hardening/Storm Response
The strength and wind tolerance of composite poles have made them a good application for storm hardening. Utilities have used the poles to harden the grid and to prevent cascading of poles. The poles have also been used by utilities for storm restoration. Because of the poles' light weight and prefabrication, installation time is cut in half and power can be restored more quickly to customers. In addition, less manpower and equipment are needed to install the poles. One Midwestern utility has used a composite pole in every fifth pole to prevent cascading and used one of the company's multi-pole every 20th pole.
Environmental Concerns
Numerous utilities have joined the fight to protect the environment and think green. According to a report issued by the National Coalition Against the Misuse of Pesticides: "Under, around, in and on every preservative-treated utility pole is a toxic site that poses a real threat to clean air, water and land." Instead of using wood poles, which are protected against decay by chemicals that are banned for many other uses, the coalition said utilities should gradually introduce alternative materials or should bury the lines.
Composite poles are environmentally friendly and require no preservatives. They eliminate the need to harvest trees, which helps reduce greenhouse gas emissions, carbon consumption, and the degradation of ecosystems. In addition, composite poles demonstrate a longer lifespan. They can be repurposed or recycled at the end of their useful life.
Trident composite utility poles have low conductivity and are safer for linemen when they work on the poles.
Aging Infrastructure
Many wood utility poles were installed in the 1950s and 1960s, and are at the end of their useful life. Utilities have been delaying replacing the wood poles because of the cost. Composite poles have a lower life cycle cost.
Last fall a utility replaced one of its outdated steel sub-transmission towers with a Trident multi-pole. The steel tower was 90 years old and past its useful life. The 95-foot multi-pole provided the strength that was needed at a 60 percent savings of replacing the steel tower with another steel tower. The multi-pole provides the utility with the means to replace its aging steel tower infrastructure at a large savings.
Guy Wires
Utilities and their customers have been frustrated over the use of guy wires to add stability to their poles. Utilities receive many complaints about easements, safety and visual concerns caused by guy wires. It is also difficult and costly to obtain the easements. Because of the strength of composite poles, they can replace guyed wood poles and offer the same or better performance without guy wires.
Insect and Woodpecker Damage
Utilities and telephone companies spend millions of dollars each year replacing wood poles that are damaged and destroyed by insects and woodpeckers. The real damage is done to ratepayers who are forced to pick up the cost for constantly replacing the damaged structures. Utilities and regulators are realizing it is not prudent to replace wood poles with wood poles every few years. Composite poles are not susceptible to insect or woodpecker damage.
Copper Theft
Utilities across the country are experiencing an increase in the theft of copper wire from distribution and transmission poles, as well as substations. For the utility, it's an expensive problem that is passed on to its ratepayers. A recent report says US utilities spent more than $60 million and experienced over 456,000 outage minutes from copper thefts. In addition to the financial loss, there is a safety issue with the theft of copper wire. There have been numerous deaths and serious injury related to the illegal removal of copper wire from utility poles and substations. Utilities now find themselves turning to composite poles that are hollow and allow for the ground copper wire to be run inside the pole. The process is handled inexpensively at the factory and the utility receives pole shipments ready for installation.
Limited Access
Composite utility poles have a high strength to weight ratio. The poles are one-third the weight of equivalent wood poles. Utilities are finding it more convenient and cost-effective to transport and install composite poles in many locations including backyards, restricted access areas, and remote or difficult terrain sites.
Composite poles have been installed on rocky ridges using prefabricated, reinforced core baseplates where blasting for traditional poles was prohibited. And because it wasn't necessary to run additional lines, installing Trident products along the ridge saved time and money.
Regulators and customers are demanding increased reliability from their utilities. There is a recognition that the existing aging infrastructure has to be upgraded and replaced. Composites provide an alternative that will improve reliability and hold up under extreme storms.
More Utility Products Current Issue Articles
More Utility Products Archives Issue Articles