New Products Showcase
Jan 19th, 2015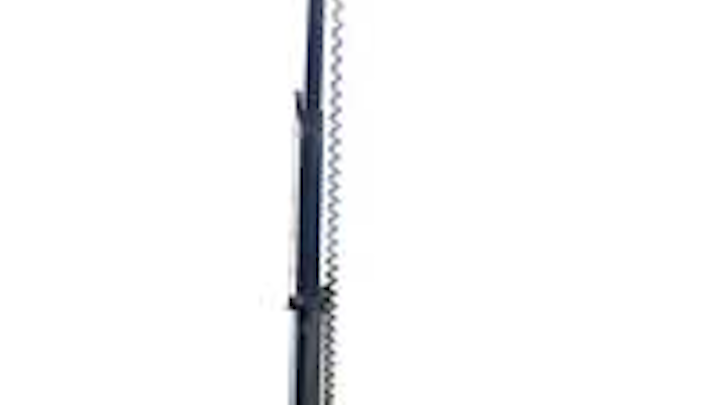 Light Tower/20-kW Mobile Generator in One Package
Doosan Portable Power has introduced the newly redesigned L20, a light tower and 20-kW mobile generator combined—providing a single solution for two important jobsite needs—power and light.
The L20 features a hydraulically powered vertical mast light tower perfect for illumination, while the 20 kW generator provides power for tools, heaters or a jobsite trailer. Two applications in one package eliminate the need for another machine in the often tight quarters of jobsites, it's reported.
The L20 light tower has four 1,000-watt metal halide lamps mounted on a vertical mast that extends to a full height of 25 ft., 8 in. in less than 30 seconds. Minimum stowed height is 8 ft. Each lamp easily adjusts with a locking pin system that provides simple, fluid movement. The light head can be adjusted horizontally and vertically and each light fixture can be maneuvered independently to provide optimal illumination.
The 20 kW generator is powered by an Isuzu 4LE2 direct injected engine, with a single-phase Leroy Somer alternator. This Isuzu engine provides a 14 percent fuel savings over competitive indirect injected engines in this power class. Proving that power doesn't have to be noisy, the L20 provides reliable, quiet operation at just 69 dBA.
The L20 is a model of durability, able to withstand winds of more than 65 miles per hour, and provide 57 hours of continuous operation at 100 percent load with a 70-gallon fuel tank. The unit comes standard with 110 percent fluid containment and includes a removable panel for radiator fill, a hooded exhaust cover and central drains. A detachable drawbar offers trouble-free towing, while convenient internal lamp storage provides protection during transport.
Doosan Portable Power
CIRCLE 106 ON READER SERVICE CARD
---
Aperture Safety Eyewear Offer Sleet, Cost-effective Protection
Galeton, a supplier of quality work gloves and personal protective products, has recently introduced the Aperture line of safety glasses. Aperture Safety Glasses are lightweight, sturdy, comfortable and attractive. You get extra side protection—temple vents for airflow plus rubberized head-hugging arms and nose pieces to keep them on your face. The safety glasses meet ANSI Z87+ 2010 and filter out 99.9 percent of UV rays.
Galeton
CIRCLE 107 ON READER SERVICE CARD
---
Allegro 2 Rugged Handheld Mobile Computer
Juniper Systems' newest rugged handheld, the Allegro 2, is now shipping. The handheld was announced as the latest of Juniper Systems' Allegro handheld line and is touted as having been "designed for the data-intensive." That means, according to Juniper Systems, that every aspect of the Allegro 2 was carefully designed to maximize efficiency and precision, making it a proficient tool for high-volume data collection.
The Allegro 2 features improvements such as a newly designed QWERTY and numeric keyboard with large, glove-friendly buttons for rapid—even non-visual—data entry. It has a new Sun-to-Shade display—20 percent larger than the previous Allegro—which offers high visibility in any lighting conditions. The Allegro 2 also features ramped-up battery power—providing 20+ hours of runtime, a new capacitive touchscreen with superior durability and imagery, enhanced GNSS performance, extended Bluetooth range, camera and video, and a faster processor. All of these features make it a powerful and versatile tool for a wide variety of utilities and public service uses.
Juniper Systems
CIRCLE 108 ON READER SERVICE CARD
---
New Quad Square Linemen's Wrench Makes Utility Work Easier, Safer
The new 8D-QS Quad Square Lineman's Wrench from Lowell Corp. offers a number of features to make work easier and safer for high line workers. Weighing 1 3/8 lb. and 13 in. long, the Quad Square is easy to carry up a pole on a tool-belt and is well balanced for easy and safe prolonged use. Its 200 lb-ft of torque delivers very good turning power. Low profile steel sockets with 36 teeth yield a 10 degree handle throw, making the tool especially useful for working faster and safer in tight spots. The investment cast steel sockets offer excellent strength and accuracy, and a new ratchet engagement design provides smooth operation and quick reversing.
There are four square sizes in the two-sided socket: 1 1/8 in. for 3/4 in. hardware, 1 in. for 5/8 in. nuts, 13/16 in. opening for 1/2 in. hardware, and a 3/4 in. size to handle 1/2 in. lag bolts.
The 8D Quad Square has a 13-in. ergonomic handle with a full-length grip, which lets a worker grab the wrench at any point on the handle. High-Vis sockets and grips make it easy to find the tool on a worksite or in a toolbox. The wrench also features Lowell's Bolt-Thru design that lets workers engage nuts on long bolts or all-thread rod.
Although the 8D-QS is designed for years of trouble-free operation, Lowell recommends that the tool be cleaned and lubed after each use to ensure long life and optimal performance. There is a conditional one-year warranty.
Lowell Corp.
CIRCLE 109 ON READER SERVICE CARD
---
Aerial Lifts: Double Elevator with Increased Capabilities
Altec Inc. launches the AN67-E100 and AN67E-E100 aerial devices to offer customers increased safety and job site efficiency. These new units were added to the Global Rental fleet this fall and are now available to order.
The AN67-E100 and AN67E-E100 incorporate the field-proven design and reliability of Altec's AA/AN Series Aerial Devices into a 100-ft. total platform height elevator for transmission applications. A high-flow hydraulic system and new independent controller for the elevator provide speed and multi-function capability. Standard platform rotator, available extended side reach and material handling jib offer more options to position the platform and get tools and materials to height. By reducing time required for setup and positioning, a crew's productivity is greatly improved.
The new elevator design features high-tensile steel and a modern box-boom design for improved strength-to-weight ratio. Depending on configuration, the new double elevator allows up to 3,900 lbs. of total payload on a 58,000 lb. GVWR all-wheel drive chassis. Optimizing payload allows crews to carry more materials, tools and accessories on the truck, which is key to the overall efficiency of the job, it's reported.
Altec Inc.
CIRCLE 110 ON READER SERVICE CARD
---
Safety Products: Coupler Pin Lock Fits Couplers From 1/2 Inch to 3 3/8 Inch
The only thing that beats staying organized when hauling valued cargo is keeping that cargo well secured while on the road. To assist, STRATTEC Security Corporation's BOLT product line has expanded with the BOLT Coupler Pin Lock, which features an adjustable pin, making it ideal for many types of couplers and offering travelers peace of mind when leaving hitched vehicles unattended.
The Coupler Pin Lock features STRATTEC's patented one-key lock technology, which streamlines travel by enabling the lock to be permanently programmed to the vehicle's ignition key—that means the driver can use a single key no matter how many BOLT locks are in play.
The weather-proof BOLT Coupler Pin Lock fits couplers from 1/2-in. to 3 3/8-in. and is adjustable in increments of 1/8-in., allowing for a snug fit in any size. The lock is designed to slide easily along the stainless steel pin and is engineered with no exposed shackle, helping further deter theft. It features a plate tumbler sidebar to prevent picking and bumping, and its stainless steel lock shutter helps keep out dirt and moisture.
The lock is easily programmed the first time the ignition key is inserted into the BOLT Lock cylinder where spring-loaded plate tumblers move up and down, coding the cylinder to that specific key.
STRATTEC Security Corp.
CIRCLE 112 ON READER SERVICE CARD
---
500 MCM Cable Cutter
Platinum Tools, a provider of solutions for the preparation, installation, hand termination and testing of wire and cable, offers the 500 MCM Cable Cutter. The compact ratcheted cable cutter is designed for simple one hand operation. It works well in tight spaces and tackles cutting larger cables with ease with ergonomic, non-slip comfort grip handles, it's reported.
The 500 MCM Cable Cutter cuts stranded, flexible copper and aluminum cable up to 500 MCM. It also features precision ground fixed and moving cutting blades for improved performance.
Among additional specifications:
Locking latch for safe, easy storage;
Quick blade release system in any position;
Cutting blades manufactured from high carbon tool steel;
Heat treated blades for added durability and extended life; and
Rust resistant black oxide finish.
Platinum Tools
CIRCLE 111 ON READER SERVICE CARD
---
AFS404 Hydraulic Puller-Tensioner: Construction Equipment
The AFS404 hydraulic puller-tensioner from Condux Tesmec provides utilities and utility contractors the ability to improve productivity and efficiency while limiting downtime and improving jobsite safety. The unit offers 10,116 lbf of pulling force and is designed for stringing one rope up to 5/8 in. in diameter or one conductor up to 1 5/16 in. in diameter. The bull-wheel groves on the AFS404 are made from high resistance interchangeable nylon sectors.
Condux Tesmec puller-tensioners are able to tension and pull at the same speed and force, and offer features such as negative self-acting hydraulic brakes, integrated hydraulic dynamometers, hydraulic cooling systems, advanced user controls and more.
A full line of productivity-enhancing conductor stringing tools and accessories is also available including anti-twist rope, conductor blocks, helicopter blocks, reel winders, reel stands and more.
Condux Tesmec
CIRCLE 113 ON READER SERVICE CARD
---
ComSTAR Full Duplex Headsets: Utility Tools
ComSTAR is a new line of full duplex wireless that allow up to eight users to communicate simultaneously just like on a regular telephone. These headsets are not voice activated and there is no delay when transmitting. They enhance industrial jobsite productivity and safety by providing instantaneous, hands free voice communications within an 800-yard range.
The XTreme is a specialty hardhat compatible ComSTAR headset that features miniaturized wireless circuitry and antenna installed inside the ear cup. This streamlined "all in one" design eliminates the need for cables and belt pack transceivers.
ComSTAR operates within the DECT, 1920 – 1930 MHz band allocated by the FCC for voice communications only. No FCC licensing required.
Eartec Co.
CIRCLE 114 ON READER SERVICE CARD
---
Test Equipment: Portable Power Analyzer Troubleshoots Power Quality Problems
IDEAL has expanded its extensive line of power quality products to include the Model 61-805, a highly portable, easy-to-use power analyzer built with the advanced features needed to address power quality issues. Key features include an energy/harmonics program, an RS232 interface for fast downloading, and one MB of internal memory to allow for longer periods of testing.
Unlike bulky power analyzers, the IDEAL Model 61-805 is compact. And more importantly, the Model 61-805 provides the high versatility. It contains five testing programs in all, which comprehensively analyze the power quality issues frequently faced in commercial and industrial environments. These programs can be uploaded in the field on the same unit and be programmed to run sequentially, saving the user time and money.
The Model 61-805 Power Analyzer's standard energy/harmonics program measures ac voltage; ac current; kW (true power); kVA (apparent power); kVAR (reactive power); power factor; frequency; total harmonic distortion; harmonic factorization to 51st harmonic and Min/Max. The optional disturbances program measures sags, swells, overvoltages, undervoltages, outages and Category 2 transients. An optional Fast Check program combines the analysis of energy parameters with the ability to capture transients caused by motor startups, or other internal or external factors. The optional Check Meter program measures the energy parameters and compares these readings to on-line mechanical or electrical energy meters.
IDEAL Industries Inc.
CIRCLE 116 ON READER SERVICE CARD
---
Protective Clothing: M12 Heated Jackets Provide All-day Heat
Milwaukee Tool has continued to expand its line of M12 Heated Gear. The line includes a ground-up redesign of M12 Heated Jackets, the introduction of the M12 Realtree Xtra Camo 3-in-1 Heated Jacket, and new M12 Heated Hoodie color options for on and off the jobsite.
Powered by M12 REDLITHIUM battery technology, Milwaukee Heated Gear distributes heat across the chest and back to actively warm core body areas. Durable carbon fiber heating elements woven in between rugged exterior materials and thermal insulating liners generate and maintain heat to reduce the need for bulky layers. Three heat settings (high, medium, low) allow the user to select the right amount of warmth for all weather conditions. All M12 Heated Jackets, Hoodies and Hand Warmers are now fully machine washable and dryable for extended use.
Redesigned for optimal fit, better heat retention and improved versatility, the Milwaukee M12 Heated Jackets feature an improved cut that provides an enhanced range of motion and keeps heat closer to the body. Now with a new two-tone color design, the rugged wind and water resistant shell keeps weather out, while improved insulation and a thermal fleece lining hold heat in to reduce the number of layers needed.
Milwaukee Tool
CIRCLE 115 ON READER SERVICE CARD
---
PUPI Pole Top Equipment Mount Joins PUPI Brand Electrical Transmission and Distribution Products
GEOTEK, the producer of PUPI fiberglass Utility Products, introduces the PUPI Pole Top Equipment Mount—a new assembly that joins the line of PUPI brand electrical distribution and transmission products.
The PUPI Pole Top Equipment Mount is used to mount antennas, receivers, transmitters and other telecommunications equipment above the tops of utility poles. The sturdy fiberglass structure is completely non-conductive and contains an internal conduit to route and protect wires and cables. The assembly's profile is a slim 2 in. by 4 in., but it has been tested to support typical telecommunications equipment subjected to hurricane-force wind loads.
Weighing 24 lbs., the PUPI Pole Top Equipment Mount is lightweight and simple to install. Pole-mounting hardware is available, or users can also provide their own. Custom lengths are available and predrilled mounting holes can be located to accommodate specific types of equipment.
GEOTEK
CIRCLE 117 ON READER SERVICE CARD
---
GTS-1930 Saber Cable Stripper: Stripping Tool Offers Control, Safety
Greenlee's new GTS-1930 Saber stripping tool is designed to cut 600V secondary cable three times faster than any tool currently in the utility marketplace. With some 40 percent of injuries in the utility industry associated with lacerations, it's in workers' best interest to eliminate blades when possible, it's reported. One tool that is a step in that direction is Greenlee's new GTS-1930, which replaces the need to use blades when stripping secondary cable.
The GTS-1930 Saber is developed with a one-way barring handle that allows users to maintain control of the cutback throughout the stripping process, ensuring the blade does not come into contact with the conductor. There are no additional tools needed for cut back set up. The tension grip depth stop has a four-inch laser-etched stop for precise articulation of cable cut back.
The GTS-1930 Saber comes with a spring-loaded retention pin that allows for quick attachment of cable specific bushings. Simply pull the pin and insert cable specific bushing size. Greenlee offers 39 pre-set individual bushings. Each bushing comes with a preset cutting blade for the specific cable diameter and jacket thickness.
Greenlee
CIRCLE 118 ON READER SERVICE CARD
---
Proximity Voltage Detectors are Non-contact
HD Electric Company's PRX Proximity Voltage Detectors are non-contact detectors with voltage ranges from 120V up to 500 kV. When voltage is detected, the PRX gives an audible and visual indication with a typical detection distance of 10 in. The PRX has the ability to detect voltage on most elbow test points at the 120V setting. With a rechargeable internal battery, the PRX can be charged quickly from 12 Vdc automotive outlets or from 115-240 Vac.
There are models available to detect voltages from elbow test points at the 120V setting up to 500 kV transmission voltages:
PRX-500 – Nine range settings from 120V to 500 kV;
PRX-69D - Seven range settings from 120V to 69 kV; and
Custom models are available, the PRX-4 was created with two range settings from 50V to 4 kV.
Proximity Voltage Detector features:
Sealed to resist water penetration in typical outdoor environments;
Voltage ranges from 120 Vac up to 500 kVac;
Detects voltages typically 10 in. or greater from source and most elbow test points;
Rechargeable battery with quick recharge, 15 minutes for a full day of use;
Weighs less than 1 lb.; and
Loud beeper and LED lights indicate voltage.
HD Electric Co.
CIRCLE 120 ON READER SERVICE CARD
---
iSCALE Control System Installed on Altec Boom Truck
Altec has begun outfitting their AC45-127S telescopic boom truck with the new Hirschmann iSCALE Control System. The Load Moment and Area Protection system, known as Altec's LMAP system, consists of a complete Hirschmann system package, which includes the vSCALE D3 display, cSCALE S6 control unit and various sensors.
Hirschmann customized the programming of the LMAP system to meet Altec's specific requirements. The console features a bright 7-in. color display with video capability and intuitive menu navigation. The crane operator can view all crane information including general configuration, crane geometry and engine parameters. The operator can also define audible alarm set points (area protection) and numerous user warnings, which help to improve awareness on the job site.
This reliable and robust system is the result of a partnership between Altec and Hirschmann to provide the crane operator with a dependable control solution.
Hirschmann Automation and Control
CIRCLE 119 ON READER SERVICE CARD
---
Scout Pro 2 Series Cable Test Equipment
Klein Tools advances its Voice/Data/Video (VDV) product line by offering the new Scout Pro 2 Series of cable testers. The Scout Pro 2 is a multi-functional tester that tests voice, data and video connections. It also locates cable runs with location ID remotes, supports multiple tones to decipher wires, and can measure cable length to a fault, on a reel or in a box. Scout Pro 2 is compatible with Klein Tools' new Test-n-Map remotes, which save time by testing, mapping and identifying a location in a single step. By using the tester and remotes together, the Scout Pro 2 Series will reduce installation verification time by up to 50 percent.
Scout Pro 2 Series cable tester: tests continuity on voice (RJ11/12), data (RJ45) and video (F-connector) connections; indicators include miswires wiremap, opens, shorts, split pairs; locates cable runs to wall outlets with location ID remotes; supports multiple tones and control of pins carrying tone with integrated tone generator; measures cable length in feet or meters (LT models only); and compatible with single-step Test-n-Map Remotes.
Test-n-Map remotes: test, map and identify a location in a single step; cut testing and identification time in half; test and identify up to eight locations at once; compatible with all Scout Pro 2 Series testers; and compatible with Scout Pro LT testers.
Klein Tools
CIRCLE 121 ON READER SERVICE CARD
---
RSA-174F Remote Switch Actuator for Low-voltage Molded Case Circuit Breakers
CBS ArcSafe, a manufacturer of remote racking and switching solutions for low- and medium-voltage switchgear, introduces its remote switch actuator for the ABB/Sace Tmax T7 low-voltage molded case circuit breakers with current ratings of 1000A through 1600A. The new CBS ArcSafe RSA-174F actuators are designed for Tmax T7 breakers equipped with over-toggle mechanisms and allow technicians to safely close and open breakers while stationed outside the arc-flash hazard boundary without any modification to the breaker. This new remote switch actuator is designed to mount directly to the Tmax T7 breaker, which may be recessed inside an electrical cabinet in many installations.
When accompanied by a CBS ArcSafe remote switch operator (RSO) control unit, the RSA-174F reduces the need for arc-flash suits and eliminates all hazardous manual contact with gear during operation by providing open and close operation from up to 300 ft. away. The actuator is lightweight, portable, simple to install and set up, and provides technicians with a simple solution for hard-to-access breaker locations. The RSA-174F requires no modifications to be installed and operated, and can be easily moved from one breaker to another quickly.
Optional features for the RSA-174F include a radio remote with a range of up to 300 ft., a wired or wireless video camera system with LCD monitor for remote viewing, and a custom-fit rugged storage case. When combined, these features make the RSA-174F easy to install and remove, allowing technicians to quickly and safely set up and operate different sets of the same electrical equipment.
CBS ArcSafe
CIRCLE 122 ON READER SERVICE CARD
---
Mach Series Mobile Column Lifts Increase Vehicle Access, Productivity for Vehicle Maintenance
Rotary Lift Mach series mobile column lifts provide unobstructed access to the underside of the vehicle to allow technicians to work while standing. This enables them to access frame-mounted components more comfortably and complete jobs more efficiently.
Rotary Lift Mach series mobile column lifts are available with capacities of 13,000 lbs. or 18,000 lbs. per column. They can be ordered in sets of two, four, six or eight columns, so customers can buy the right amount of capacity for the vehicles they service.
Rotary Lift Mach series lifts feature fast rise and descent times, so users spend less time waiting for the lift to get the vehicle in the air. Patented, intuitive controls are located on each column, so the technician can operate the lift from whichever corner of the vehicle is most convenient. Automatic steering systems that raise and lower without the need for pumping further reduce setup time. Mach lifts are available with a quick-connect horseshoe wiring or wireless.
Since they do not need to be installed in the ground, Mach series mobile column lifts can be seamlessly added to any shop and put into immediate use. For easy maintenance, the lifts feature inverted hydraulic cylinders that keep the chrome piston rod shielded from debris and damage.
Rotary Lift
CIRCLE 123 ON READER SERVICE CARD
More Utility Products Current Issue Articles
More Utility Products Archives Issue Articles