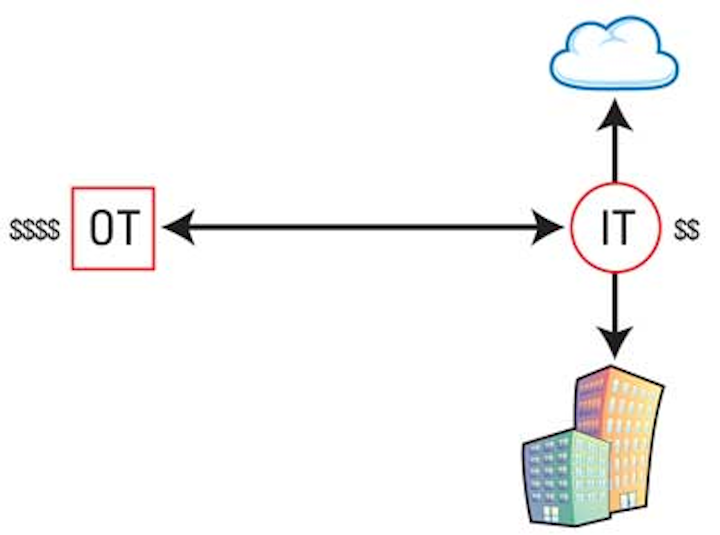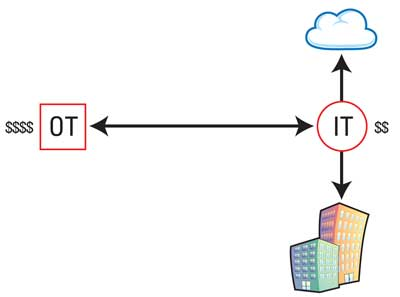 By Greg Jones
Operational technology (OT) includes devices, sensors and software that identify or trigger a change through monitoring and/or control of physical devices, processes and events in the enterprise. In general, operational technology helps a line of business manage its part of the organization to achieve specific line of business goals. The role of Information technology (IT) is that of achieving the goals of the entire enterprise by combining all necessary technologies to process, store, retrieve, transmit and manipulate data and to achieve and integrate OT with other IT systems such as finance, human resources and others.
Historically, IT solutions have been used to drive business processes and, as a result, most industries have developed and managed IT and OT as two independent domains.
In today's world of connectivity and real-time data, the alignment between IT and OT systems represents an opportunity to improve operational efficiency. Legacy hard-wired or proprietary OT systems are now being replaced by more complex, networked software and maintaining separate technology stacks, protocols and standards, and organizational units are becoming a thing of the past.
Because the convergence of IT and OT has the potential to bring clear advantages to enterprise organizations, including cost and risk reductions, enhanced performance and gains in operational flexibility, it has become clear that IT needs to better serve OT and the optimization of OT data.
One market with a significant opportunity to drive business process improvement through IT/OT convergence is the utilities market. Utility companies operate in one of the most asset-intensive industries with operational technologies monitoring and controlling infrastructure for the production and delivery of commodities to customers. Many of these operational assets, including transmission equipment, substations and smart meters, are becoming increasingly connected and intelligent, and the need to obtain detailed performance data, some of which can be collected in real time, has become a reality.
Utility companies have historically relied on IT to automate universal business functions, such as billing, customer service and accounting while using OT to deal with the operation of the grid—managing equipment in the field and running the systems to monitor and control these devices, such as SCADA and distribution management systems. This specialization was implemented by design, creating an organizational structure where IT and OT were distinct and managed separately. Because these data-collection systems are silos operating independently, they often speak different languages, both from each other and from the upstream IT systems that feed financial, customer and other corporate decision-making, including rapid response and crisis management.
As regulators and other stakeholders are increasing their scrutiny of utilities' ability to restore power rapidly and efficiently, IT/OT alignment becomes even more important. It's estimated that power outages cost more than $80 billion annually in the US, and substandard power quality exacts an economic toll of $15 billion to $24 billion per year. Integrating data from distribution management systems with outage management applications will allow utilities to discover outages more quickly than they could when relying solely on consumers to report a failure.
To take advantage of this new generation of connectivity and increased volumes of operational data, utilities should consider a new system architecture that can seamlessly integrate data from OT systems with their back-end IT counterparts. This architecture has the potential to create and improve communication and interaction between operational systems from different equipment vendors, which often use different networks and protocols. Similarly, and specific to the previous example, outage management systems can benefit from smart-sensor data on distribution equipment, such as switches and circuit breakers, allowing utilities to quickly isolate the area with the majority of outages.
When applied to the asset-intensive utility industry, this new system architecture will truly create smart utilities, providing improved returns on all infrastructure investments. Because utilities tend to be risk-averse and typically make capital investments over 20-year to 30-year cycles, introducing standards-based integration technology can reduce the technology risk associated with getting data from proprietary hardware and communications protocols and the business risk of having stranded assets. In this way, utilities can future-proof themselves from proprietary hardware systems such as advanced metering infrastructure and demand-response hardware, including load control devices and programmable thermostats from multiple suppliers. Asset management applications can also benefit from real-time monitoring to optimize maintenance schedules and prevent failures.
Advanced middleware is a critical part of a utility organization's systems architecture approach. Just as the market needs to move beyond OT and IT information silos, it also needs to move beyond monolithic IT platforms and toward more discrete, standard service-based architectures. These services, accessed by an open, standards-based development approach, can more effectively move data between operational and IT systems and lead to business process improvements. Simplified data integration will also allow software developers to become more productive by enabling them to more quickly create custom applications to share data with customers and business partners.
With the many new business opportunities being driven by IT/OT convergence, utility companies should consider the following benefits offered by bridging the gap between IT and OT systems with a new solution architecture.
Connect to all Your Data Sources
Utilities must deal with a diverse set of intelligent devices, and many equipment providers in this space have their own proprietary data formats and communication protocols. With a new approach, utilities can interact with all of their connected systems, devices and their related data, normalizing the interfaces to devices and systems connected to the Internet and ingesting their data in real-time and at high velocity.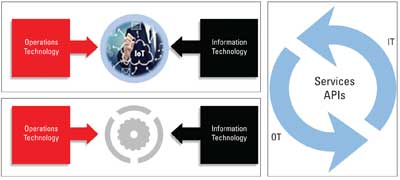 Interact with Data Points at the Edge—on Devices, in Networks and Everywhere in Between
As we move deeper into the network, closer to the edge, many of the newly emerging and legacy devices do not have the capabilities to communicate to a cloud service operating on a public or private Internet protocol (IP) network. It is important for utilities to implement a solution designed to integrate into multiple environments, including the public cloud, private cloud and embedded appliances, all with the flexibility expected from a feature-reach IoT solution.
Convert Data to Actionable Information and Events
Utilities have to manage increasing amounts of data from smart meters, workforce management systems, substation management systems, geographic information systems (GIS), outage management systems, smart homes, phasor measurement unit (PMU) sensors, and other devices and systems. The challenge is not just collecting the data but turning it into actionable information and events. Filtering the noise, exposing the essential and facilitating two-way interaction with operational systems can only be achieved with a new set of business intelligence tools.
Modern Development Tools and Systems
A modern and highly scalable data infrastructure will allow utilities to obtain more business value from its investments. It's no secret that application-programming interfaces (APIs) have become the building blocks and links of connected solutions, and, for the utility, APIs can provide a layer of abstraction that normalizes data access, provide a standardized way for utilities to share information with outside business partners, and simplify the development and operation of applications. Cloud-based service models also appeal to businesses such as utilities that want to reduce their capital expenditure and are constrained by their ability to hire and retain talent to design and operate complex technical infrastructures.
Create New Business Opportunities
A robust data and application integration architecture will enable utilities to create a single system of record, in turn, yielding a number of benefits. It will also make it easier to share information with stakeholders and partners outside the enterprise, including consumers and third-party service providers that operate demand response and energy efficiency programs on behalf of utilities.
Conclusion
Leading utilities are already progressing with initiatives to improve IT/OT integration. If a utility is not aligning IT and OT and better managing its systems and assets, it may become increasingly difficult to deal with the impact of the increasing number of connected devices and systems being used on the grid.
By improving levels of IT/OT integration, utilities will not only be able to fulfill their smart grid goals but also optimize operations across critical business processes and make quantifiable improvements to the efficiency and reliability of their entire network operations.
About the author: Greg Jones leads MachineShop's Architecture and Technology teams as well as manages implementations with MachineShop customers worldwide. Prior to co-founding MachineShop, in 2007 he joined SensorLogic as VP of Operations to help define their company transformation and launch as an industry leader in developing an Application Enablement Platform for the M2M (Machine-to-Machine) marketplace.
More Utility Products Current Issue Articles
More Utility Products Archives Issue Articles