By Mark Scott
Field workers are the backbone of an array of industries. That is why the most important duty for any business should be safeguarding its workforce.
Safety incidents can stall productivity, shut down operations and deliver a substantial blow to the corporate brand. For many businesses, Target Zero-zero safety incidents-is an elusive goal. They may be hindered by ineffective safety practices that will never be able to meet desired targets, or they may possess powerful technologies but not know how to make the most of them.
Mobile forms technology offers a solution to address safety compliance enforcement and reporting. It allows users to collect accurate and nuanced field data and share that information with key stakeholders in real time.
Help your business reach Target Zero. Make these five mobile forms features a regular part of your safety management system:
1. Rich media helps identify safety issues
Words sometimes can't fully describe a problem. Sometimes, only a picture can tell the whole story. Mobile forms technology allows safety inspectors to sketch and annotate onto job site photos to highlight specific safety concerns, with the end result seamlessly integrated onto a form. Images can also be pre-loaded onto a form for inspectors to reference, such as equipment and vehicle diagrams. Many mobile forms providers are beginning to offer audio functions as well, allowing inspectors to include even richer field data.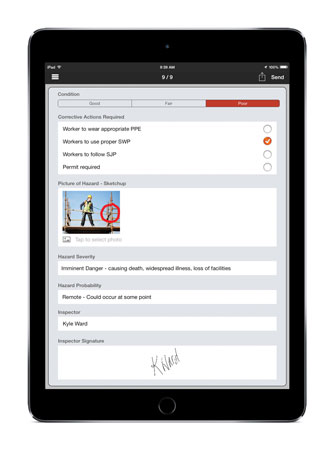 2. Decision-based logic and workflow ensures the right people get the right information at the right time
Mobile forms are a powerful tool for reaching and exceeding compliance standards. Data must be communicated effectively, but there still has to be an outcome-a real-world action that fixes a problem. Mobile workflows can be configured to send completed inspection forms to specific professionals. If an inspection yields an unsafe element, that form can be sent automatically to a professional who specializes in that area. Inspection forms can also be scored to determine the severity of a safety issue. If a major safety breach is revealed, key stakeholders can be called to action through SMS messages and social media.
3. Analytics tracks and compares historical safety trends
Reaching Target Zero means addressing the types of safety shortfalls that regularly impact your business. Analytics engines track and compare historical safety trends-information that businesses can leverage to respond to common safety issues. In addition, analytics reports can be scheduled for regular delivery to key stakeholders as required.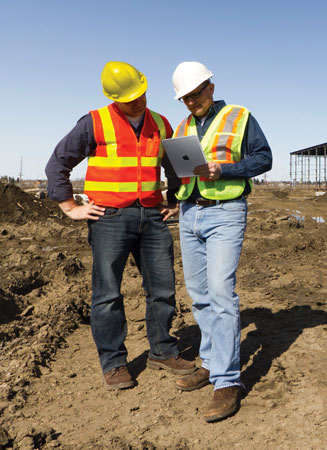 4. Dispatch safety inspections
Safety workers have to perform accurate and in-depth inspections, but they also need to move on to the next job. It's vital for all departments of any organization to improve efficiency and eliminate needless minor details, but it's especially critical for those tasked with protecting others. With mobile forms, jobs can quickly be dispatched to specific field users. This is a valuable tool for safety teams. Inspectors can avoid unnecessary trips back to the office to receive their next assignments, allowing them to conduct more crucial inspections.
5. Send calendar invites for safety follow-ups
Regardless of the size or effectiveness of your safety team, you still have to prioritize. High-risk safety issues need to be addressed immediately, while less critical issues can wait. Still, these low-risk concerns require a response. Many mobile forms solutions offer calendar invites, so any pending safety actions can be scheduled. It's easy to forget about non-pressing issues, but as soon as the concern is discovered, follow-ups can quickly be scheduled with safety technicians.
Now is the time to take your safety team to the next level. More organizations are adopting mobile technology to bring them closer to Target Zero. Ensure your business is not a laggard in workplace safety.
---
About the author: Mark Scott is vice president of marketing for ProntoForms and a contributor to Forbes Magazine on the topic of mobile applications for business and industrial use. He has written white papers on the topic of applications for data collection for Samsung, Panasonic, Toughpad, AT&T and BlackBerry.