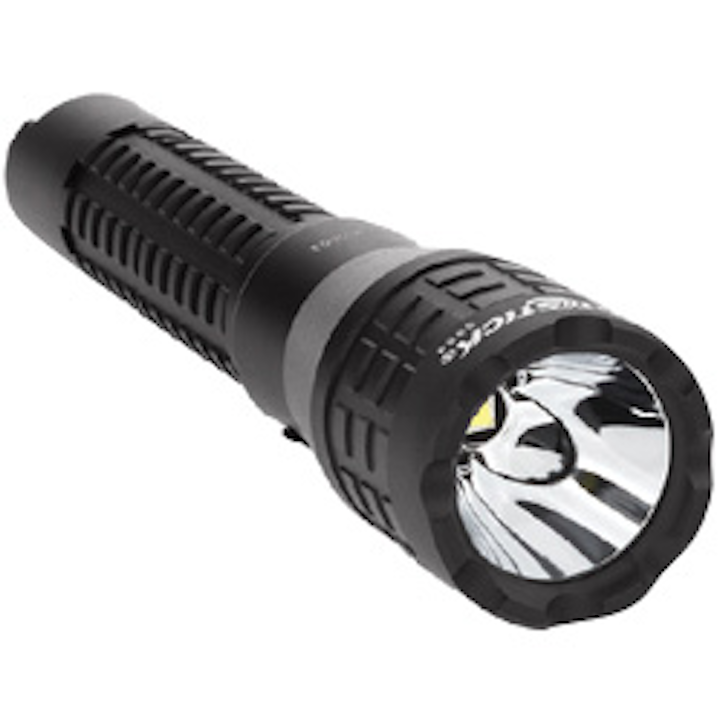 Nightstick Adds In-body USB Recharging Port
NSR-9854XL Tactical Dual-light Flashlight
Safety products: Bayco Products, a provider of professional grade lighting products, offers the 850 Lumen Nightstick NSR-9854XL LED USB Rechargeable Tactical Dual-Light Flashlight.
The in-body USB recharging port eliminates the need for external chargers and the need to remove the battery from the flashlight to recharge. No one else offers waterproof USB recharging capability directly into the flashlight body while also offering six different lighting modes including dual-light, it's reported.
The Nightstick NSR-9854XL USB Rechargeable Multi-Function Tactical Dual-Light Flashlight uses a CREE LED rated at 850 lumens to create a usable beam rated at 280 meters. A 200-lumen unfocused floodlight is integrated into the housing for close-up illumination. Both the flashlight and the floodlight can be used independently or at the same time in dual-light mode for maximum safety and versatility.
The NSR-9854XL also features a tail-switch that operates both the flashlight and floodlight in one configuration. The upper portion of the switch operates the flashlight that provides either momentary or constant-on functionality with high, medium or low-brightness settings as well as a disorienting strobe, and the lower portion of the switch operates a downward facing floodlight.
Bayco Products Inc.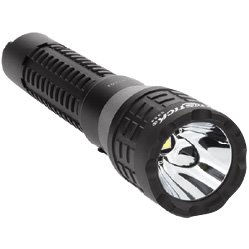 Interlocking Cribbing Product
Simplifies Setup for Utility Crews
Construction equipment: An engineered cribbing product from DICA simplifies setup of boom trucks, aerial lifts and digger derricks. ProStack Cribbing provides utility crews and municipal fleet operators with a ready solution for operating in uneven ground conditions.
Working along sloped roadsides or against curbs, utility crews are often faced with setting outrigger-enabled equipment on sloped or uneven ground. ProStack Cribbing has been developed with an interlocking design that safely provides additional height under outrigger floats when setting up in uneven ground conditions.
ProStack Cribbing has three basic parts: a base outrigger pad, interlocking cribbing blocks and a high friction top grip pad. The base ProStack Outrigger Pad is manufactured with a pyramid-shaped surface that interlocks with the cribbing blocks. On top of the base pad, operators stack layers of (two) 6-in. x 12-in. x 24-in. cribbing blocks with the pyramid-shape surface that lock into the base pad. Lastly, a ProStack Grip Pad is placed on top of the stack to protect the pyramid surface on the cribbing blocks and provide a high friction surface for the outrigger foot.
The ProStack system provides height for operators in environments where there are significant changes in grade. The system is designed to be used under boom trucks, digger derricks and aerial bucket trucks, or any equipment with outrigger loads that do not exceed 110,000 pounds.
DICA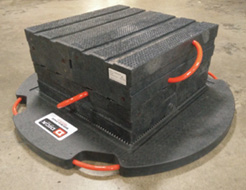 Bolted Wedge In-Line Disconnect Switch Line
Features Bolted Wedge Hybrid Connector
Utility supplies: BURNDY announces the expansion of the Bolted Wedge In-Line Disconnect Switch line with the addition of the WADM795 switch line. The product line now accommodates conductors from 1/0 ACSR to 795 (36/1) ACSR, originally 556 ACSR. The new switches still use the bolted wedge hybrid connector combined with industry standard components, making them especially useful for hot stick and gloved applications.
The Bolted Wedge In-Line Switch uses dual insulators to minimize switch movement during opening and closing of the blade. Installation steps are kept to a minimum because the switch can be snapped directly onto the line and secured with the BURNDY conductor pivot retainer. This retainer acts as a third hand to free up the line worker's hands to safely install the connectors.
The BURNDY bolted wedge connectors use bolted technology to provide a highly reliable mechanical and electrical connection and combines it with sliding wedge technology to ensure the connection stays tight even if the line experiences high mechanical loads. The hybrid design also takes some of the guess work out of tightening the hardware.
BURNDY

Extendobed Utility Truck
Bed Extender
Truck accessory: Extendobed truck bed extenders allow you to access all your equipment faster and easier. All Extendobed slide-out truck beds are built to last with all-steel frames, high capacity roller bearings, and 1,000 lb. to 3,000 lb. weight capacity. The first ever Extendobed unit is still operating in the field after more than 30 years of use.
All Extendobed units have more than 100 percent extension, giving you access to items and gear that are usually the hardest to reach—no more climbing into your truck bed to get those power tools. Extendobed makes it safe and easy to unload your truck by hand or with a forklift without the worry of damaging your vehicle with heavy machinery. In addition, all Extendobed truck storage units are fully customizable.
Extendobed
G6 Turbo Puller
Safely Pulls Loads up to 6,000 lbs. at Faster Speeds
Utility tools: Greenlee Textron's G6 Turbo puller improves contractor speed and efficiency. Capable of pulling 6,000 lbs. of force, the G6 Turbo model pulls up to 60 percent faster than the competition. (Results determined by external testing. Actual speeds may vary depending on pull conditions.)
The 120-volt AC drive motor can pull 6,000 lbs. of maximum force and 4,000 lbs. continuously. Dual capstans on the G6 Turbo puller deliver faster pulling speeds across the entire load spectrum of the pull. Control boards monitor the current draw of the G6 Turbo puller motor and protect it from over loading the puller. Built-in spring-loaded pins allow for quick changeovers, easy setup and eliminate loose pieces.
In addition, the G6 Turbo puller removes the need for conduit feedings. The operator simply clamps the puller to the conduit and starts the pull.
Greenlee Textron Inc.,
a Textron Inc. Company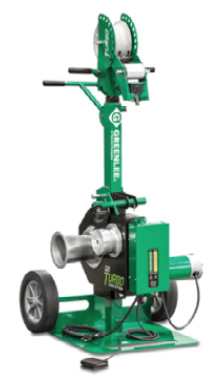 Rugged Tablet
for Budget Operations
Mobile computer: Rugged tablets routinely come prepared with military specs, built for a life few will ever endure, and with a price tag that few are prepared for. Most industrial and field operations that need a rugged tablet require something that can survive routine impacts and drops, occasional rain or spray, and provides connectivity for the field or office. Such customers will find the features they want in Estone Tech's MR-100 tablet, a 10-in. rugged tablet built for life in industrial or field environments. The system weighs 2.4 lbs. and features a 4-ft. drop rating, an IP54 Waterproof/Dustproof rating, and is available with 3G connectivity through SIM slot.
The MR-100 features plenty of power, with an Intel Bay Trail-T, 1.46 Ghz base, 2.39 Ghz burst quad core processor, integrated Intel HD graphics, and 2GB of DDR3L RAM. A 64GB EMMC HD and a MicroSD slot supporting up to 64GB provide plenty of active storage for any Windows 10 Pro apps a user may want to run. Users will find easy function on the bright (350 CD/M) 10-point capacitive touchscreen and plenty of runtime—more than 8 hours—with the 5000 mAh battery.
Estone Tech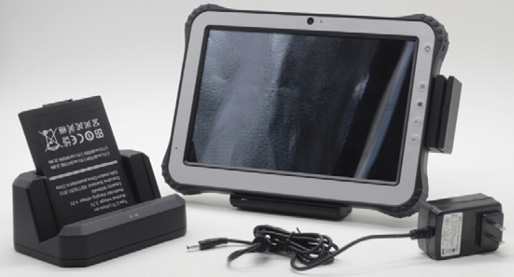 A-Frame Fault Locators
Simplify Locating Buried Conductor Faults
Safety equipment: Finding faults in buried conductors is easier for electrical contractors, utility repair, municipality and facility maintenance professionals with the RIDGID A-Frame Fault Locator.
Providing accuracy and operator safety, the locator uses low voltage to find the exact position of ground faults in direct buried insulated wire up to two megohms. Increased efficiency on the job is also a benefit of the RIDGID design—consisting of both a transmitter and receiver, it streamlines the fault location process to isolate problem areas in minutes.
Quickly finding fault line breaks is vital to restoring services that have been interrupted, and RIDGID has built the A-Frame to speed up the process for tradespeople who tackle these issues every day, it's reported. Problems can be located quickly and accurately from the first day they have it on their truck.
For use in electrical service, telecom, cable applications and more, the A- Frame Fault Locator can find faults up to three miles away from the transmitter and up to 20 ft. below the ground, depending on conditions. It has a durable, lightweight powder-coated frame, weatherproof membrane buttons, and provides a reference readout to aid in fault location.
The A-Frame Fault Locator's functionality compliments other RIDGID locators, including the SeekTech SR-20, SR-24 and SR-60 Underground Utility Locators. Made in the USA and backed by the RIDGID Lifetime Warranty, the A-Frame Fault Locator comes with the A- Frame receiver, transmitter, ground stake, test leads, batteries and carrying case.
RIDGID
Repel Footwear
Over-the-Shoe Rubber Slush Boots Keep Feet Dry
Protective footwear: Galeton, a provider of work gloves and personal protective equipment, has expanded its line of Repel Footwear Rubber Boots to include the #13073 Repel Footwear over-the-shoe rubber slush boots in black.
Slip on these 17-in.-high slush rubber boots over your everyday footwear for quick, 100 percent waterproof protection. Heavy, treaded soles provide good traction. Other features include full cotton lining and adjustable straps at top. Theses affordable boots are offered in men's sizes 7-17.
Galeton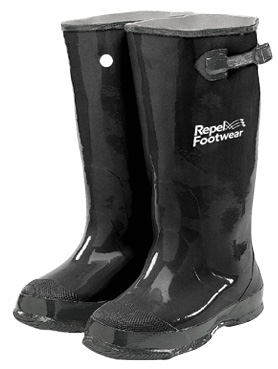 Mulching Knife
FGT Viking Sword Introduced
Line maintenance: Fecon Inc. announces the new FGT Viking Axe knife tool as part of its Viking Tool Series. This patented tool includes an integral, easy-to-use gauge that ensures proper cutting angles are maintained.
The tool is double sided and easily flipped for a new cutting edge when the first side is completely worn. This doubles the tool life in comparison to other knife tools. The thicker blade creates a more durable edge, increasing the overall life of the knife; the angle is also easier to sharpen. The knife's pointed edge allows the knife to flow through material better in an open drum and provides self-sharpening benefits while still being able to be sharpened. Ribs behind the knife's edge lend to increased strength and durability.
Fecon Inc.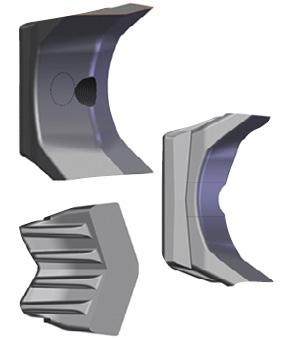 Wireless Temperature Probe
Added to Product Offerings
Safety products: Hastings, a manufacturer of hot line tools and equipment, has introduced a wireless temperature probe to its extensive product offerings. The probe can be used to measure the physical temperature of any energized or de-energized hardware or object, including transformers, conductors and connectors.
Intended primarily for use with Hastings' Tel-O-Pole Series products, the unit can transmit and receive measurements from distances of up to 100 ft.
Measurements are taken through direct contact with the end of the fiberglass probe. This direct contact feature eliminates the "emissivity effect" and produces more accurate readouts than non-contact sensors or thermal lensed cameras.
A spring-loaded guide plate on the probe helps position the device and offers retracting, allowing for use on any size round or flat objects.
An included LCD receiver reads real-time temperatures and allows for temporary memory storage for up to three separate readings.
Hastings

Kernmantle Horizontal Lifeline
Keeps Workers Safe
FallTech, a provider of fall protection equipment for workers at heights, has launched a Kernmantle Rope Temporary Two-Person Horizontal Lifeline that is a completely engineered system with all of the components necessary to quickly and easily install a horizontal lifeline.
The FallTech Kernmantle HLL includes the components required to easily set up a safe and effective temporary horizontal lifeline system for continuous fall protection for up to two workers and offers protection when an overhead anchor is not available. The Kernmantle HLL system is offered in spans of 30 ft. and 60 ft., and can be used on lengths in between.

The Kernmantle HLL includes all the components necessary to install a temporary HLL:
• Durable 11/16 in. Kernmantle rope with stitched thimble-eye end termination;
• Line tensioner allows for easy set-up and tear-down, and limits over tensioning of the system;
• Integral energy absorber to limit fall arrest forces;
• Two heavy-duty pass-through anchor straps and two carabiners provide a secure connection point at each end; and
• Two alloy steel connection O-rings.
The FallTech Kernmantle HLL is compatible with most horizontal lifeline stanchions and is compliant with OSHA 1926.502.
FallTech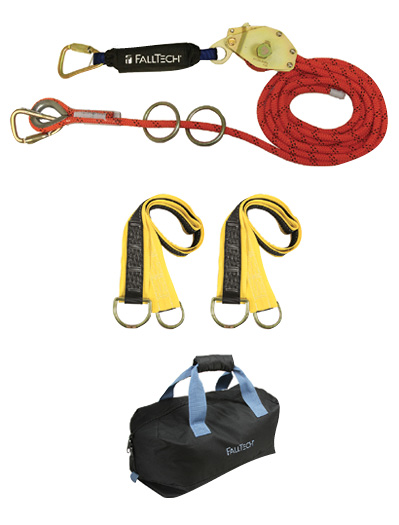 Cable Skinning Utility Knife
Replaceable Blade Saves Time
Utility tools: Klein Tools' Cable Skinning Utility Knife with replaceable blade helps power through difficult cable skinning tasks. This high-quality, durable lockback utility knife offers a replaceable sheepsfoot blade for fast and convenient replacement on the job.
Cable Skinning Utility Knife (Cat. No. 44218):
• Lockback knife is as solid as a fixed-blade knife,
• Replaceable 440A stainless steel sheepsfoot blade secures in place with a captive screw,
• Rubberized handle for a secure grip,
• Thumb stud for easy opening,
• Pocket clip for storing and easy access, and
• Replacement sheepsfoot blades available (Cat. No. 44219).
With electricians using their own pocket knives for cable skinning, many experience damaged blades and need to spend a great deal of time sharpening. Klein Tools developed a utility knife that can keep up with the rigorous demand of cable skinning and requires no blade sharpening. With a captive screw, the Klein Tools' Cable Skinning Utility Knife offers replacement blades that are as solid as a fixed-blade knife.
Klein Tools

Mulcher and Mulching Head
Line maintenance: Tigercat offers the 480B track mulcher and Tigercat 4061 mulching head. The Tigercat 480B tackles the toughest terrain with ease and offers durability and high uptime for large-scale, time-sensitive right of way and site preparation projects.
With a power rating of 411 kW (550 hp) at 1,800 rpm, the Tigercat FPT C13 Tier 4f engine offers quick load response, low operating costs and high-power density—combined with very good fuel economy. And Tigercat FPT engines are backed by Tigercat warranty and support.
The efficient, responsive closed loop track drive system delivers powerful tractive effort and performance with greater hydraulic efficiency in challenging terrain. The high-lift boom geometry means high productivity in slopes and gullies.
The 4061 mulching head offers durability and reliability in a package suited to the capabilities of the Tigercat 480 and M726 series mulchers.
The 4061 is manufactured to Tigercat's standards for robustness and quality. The housing features reinforced side covers and abrasion resistant skis. The housing is optimized with debris door cylinders mounted internally for protection and contains position references to aid in ski alignment.
Tigercat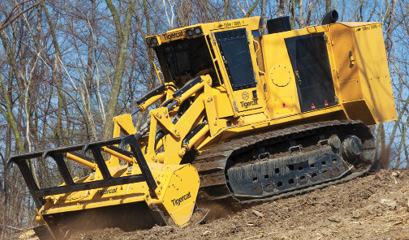 Smart Grid Network
Operating Software
Energy management: Landis+Gyr's Command Center 7.1 smart grid network operating software manages connectivity and control of electric, water and gas AMI networks.
Command Center 7.1 supports a growing global portfolio of Landis+Gyr and third-party meters and intelligent devices, as well as distribution line sensors, controllers and streetlight controls. System support for new and enhanced endpoints expands Landis+Gyr's ecosystem of connected devices and enables utilities to extend the value of their network.
The software highlights Landis+Gyr's ongoing investment in advanced metering solutions with enhancements for both RF mesh and PLX network solutions, as well as two-way gas capabilities. In addition, this release marks the general availability for Landis+Gyr's Prepay solution.
Command Center is the operating software supporting the Gridstream AMI solution, which provides an open-standards network solution for utility distribution system management, automation and consumer engagement applications.
Landis+Gyr
Voltclaw-12
Pulls, Bends, Moves Electrical Wires with Less Risk of Shock
Electrical tools: Nonconductive Tool's Voltclaw-12 provides safer, faster and more productive work methods for electricians, maintenance professionals and do-it-yourselfers. The Voltclaw-12 is a simple-to-use, low-cost tool that is nonconductive to allow for safer management of 12-gauge to 14-gauge electrical wiring within junction boxes, switch boxes, outlets, panels or anywhere electrical wires are installed.
Until Voltclaw-12, electrical wires were typically manipulated by hand or with tools designed for other purposes, such as a screwdriver or wire stripper. These methods put the electrician in serious danger of shock, especially when metal tools are used to move wires. Metal tools can also damage the insulation that protects the copper wire. Exposed bare copper wire greatly increases the chances of electrical malfunction or serious injury.
To solve this serious problem, Voltclaw-12 is molded from rugged, impact-resistant nylon. It has no metal parts and is nonconductive up to 1000V. Smooth edges allow an electrician to safely bend and move wires without damaging insulation, unlike with standard metal tools that can nick and break insulation.
Although Voltclaw-12 weighs just a few ounces and measures less than 9 in., it is a rugged and versatile tool. It is equipped with six functions that contribute to its value.
Nonconductive Tool Co.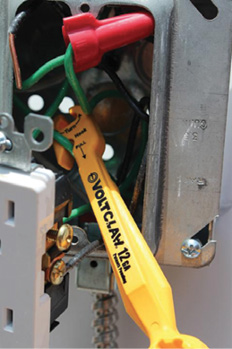 Condensed Aerosol Fire Suppression Solutions
Protect Underground Manholes, Vaults
Safety products: Fireaway's Stat-X condensed aerosol fire suppression solutions are for various types of manholes and underground vaults. Stat-X solution is designed to meet the size and condition based on the environment. Three options are available:
• Stat-X First Responder Emergency Fire Suppressor
Most utilities have service trucks on the road with a crew of two underground workers. These workers are not active fire fighters but will respond to manhole fires to try to restore service. The Stat-X First Responder aerosol, which is not harmful to trapped workers, is tossed into the burning manhole to suppress the fire and eventually restore service.
• Stat-X fixed fire suppression system for manholes and vaults not subject to flooding
In the event of a fire in the vault, the Stat-X thermal generators automatically activate by heat. The size of generator is determined by the cubic volume of the manhole/vault. The largest thermal generator is 1000 grams, covering a manhole or vault up to 565 cubic feet. The generator will be bracketed near or at the top of the vault aimed down to discharge and totally flood the manhole/vault, immediately extinguishing the fire.
• Stat-X fixed fire suppression system for manholes and vaults subject to periodic flooding
This fixed Stat-X system uses the appropriately sized Stat-X electric aerosol generator, a self-powered control panel, a discharge circuit disable toggle switch with cover, a NEMA 6P enclosure for the panel, Fenwal heat detector, prefabricated unistrut support, and a seal tight conduit with fittings.
Fireaway
Cable Tester and Tone Generator
in One Unit
Test products: Platinum Tools, a provider of solutions for the preparation, installation, hand termination and testing of wire and cable, offers the LANSeeker Cable Tester. LANSeeker is a fast, rugged cable tester and tone generator in one unit, displaying cable test results using LED indicators on the main and the self-stored remote unit. An easy-to-use professional grade tool, the LANSeeker is for installation and troubleshooting of twisted pair security and datacom cables, supporting both unshielded or shielded twisted pair, making it useful for residential and commercial cable installers.
The LANSeeker tests for shorts, opens, miswires, reversals and split pairs, and can display connection and fault information on a pair-by-pair basis. It also generates audio tones for use with tone tracers on all pairs. When the unit senses a connection between the main and remote unit, the battery-saving auto-on feature initiates test results within two seconds. The tester automatically powers off within five seconds of the cable being disconnected.
Platinum Tools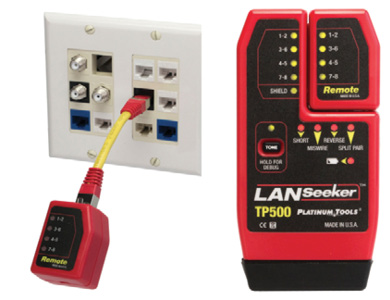 UCT-8 Underground
Cable Fault Tester
Test equipment: HD Electric offers its Underground Cable Fault Tester, the UCT-8, a lightweight one-piece tool that is used to test underground de-energized primary shielded voltage cables for faults.
The most significant advantage is that the tool will digitally analyze the data gathered during a test to declare a cable "good" or "bad," with zero interpretation required on the part of the end-user. To provide context, previous generations of this particular tool required the user to observe an analog needle gauge and form a judgement based on its movements. So, a bad cable may show up as a needle "jumping around" during the test or landing on a value that was slightly higher than expected. The UCT-8 takes the guesswork out of underground cable fault testing.
Test results for underground DC leakage are clearly displayed as an analog bar graph along with an indication of a good or faulted cable. A self-contained 8kV high voltage source powers the tester using a 9V lithium battery, making the UCT-8 a compact single hotstick operation tool for testing cable. There is also an integrated safety circuitry that detects cables that have not been properly de-energized, alerts the user of the problem, and shuts down the test to prevent system damage. An automatic shutoff feature helps the battery last longer.
HD Electric Co.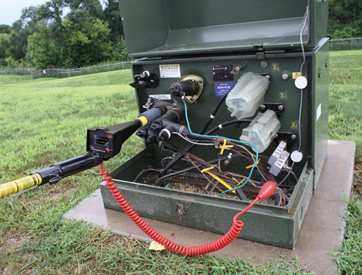 Utility Tool WS 68
Snap Power Driven End Stripper is Faster, Safer, More Accurate
Ripley Tools' Utility Tool WS 68 Snap Power Driven End Stripper is for use with low or variable speed power drills. The Utility Tool WS 68 Snap safely and precisely strips secondary utility cables with ease. The design has a quick release collar, making it fast and convenient to swap out bushings as needed even while wearing thick safety gloves—no hex wrench is required.
The WS 68 Snap is compatible with Ripley's standard precision bushings linemen have trusted for more than 40 years. Using Utility Tool strippers is cited to greatly improve user safety by reducing the risk of lacerations from traditional knives and by decreasing time and effort of repetitive stripping functions.
Ripley Tools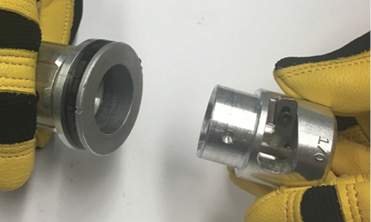 STORM SEEKER Headlamps
Offer Optimal Reliability, Brighter Beams for Truck Plows
Truck accessories: SnowEx's STORM SEEKER halogen headlamps offer significant durability and illumination improvements for users of SnowEx truck plows. The STORM SEEKER headlamps are designed to reliably deter water ingression. The reflector-to-housing seal features a built-in vent that allows moisture to exist, but not enter. In addition to fighting water ingression, an improved lens seal uses dual adhesive bead channels to ensure secure attachment of the lens. The lamps have passed an IPX9K pressure washing protection test. They have also passed a humidity test, due in part to improved venting through the use of GORE-TEX patches.
SnowEx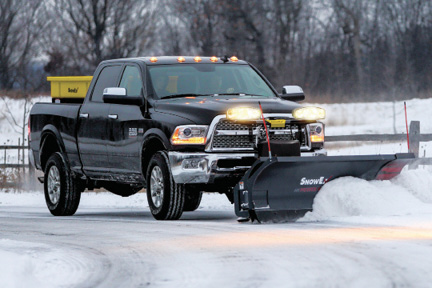 Dispatch and Scheduling Solution
Improves Real-time Visibility, Job Planning
Retriever Schedule is a multi-user web-based solution that enables efficient job planning, quick and reliable job assignments, and dynamic field connectivity alerting managers to when a field worker arrives on site and starts work. Schedule provides organizations with better visibility into how many workers they have in the field and how many are available for job requests. This can increase the company's responsiveness to ad hoc requests, such as equipment breakdowns or emergency situations, ultimately improving the customer experience. Its easy-to-implement capabilities make it well suited for dispersed service fleets.
The updates to Retriever Schedule allow sub-contracted workers to receive work in individual or bulk assignments, and data from the field is distributed to both the organization and subcontractor as one bill—streamlining the process for scheduling, managing and billing subcontractors.
Retriever Communications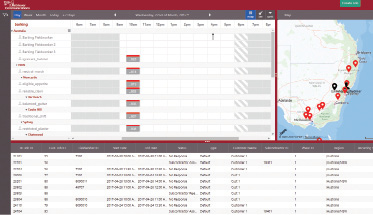 Fuse Cutout Indicator
Makes Finding a Dropped Fuse Cutout Quick, Easy
Safety equipment: Telescada's FireFly FCI—Fuse Cutout Indicator—makes finding a dropped fuse cutout quick and easy. When the fuse blows and the cutout drops to the inverted position, the FireFly activates a flashing high intensity Red LED. The fuse can be seen up to a mile away at night so line crews can keep their eyes safely on the road while searching for the fuse. No more hunting with a spotlight.
FireFly's electronics are encapsulated in UV stable moisture resistant epoxy. The FireFly's internal lithium ion battery will last up to 20 years in both hot and cold environments. In addition, the FireFly's clip design permits installation of the FireFly on an installed fuse with a shotgun hotstick.
Telescada designs and manufactures remote monitoring and control hardware, and SCADA software for electric transmission and distribution applications.
Telescada