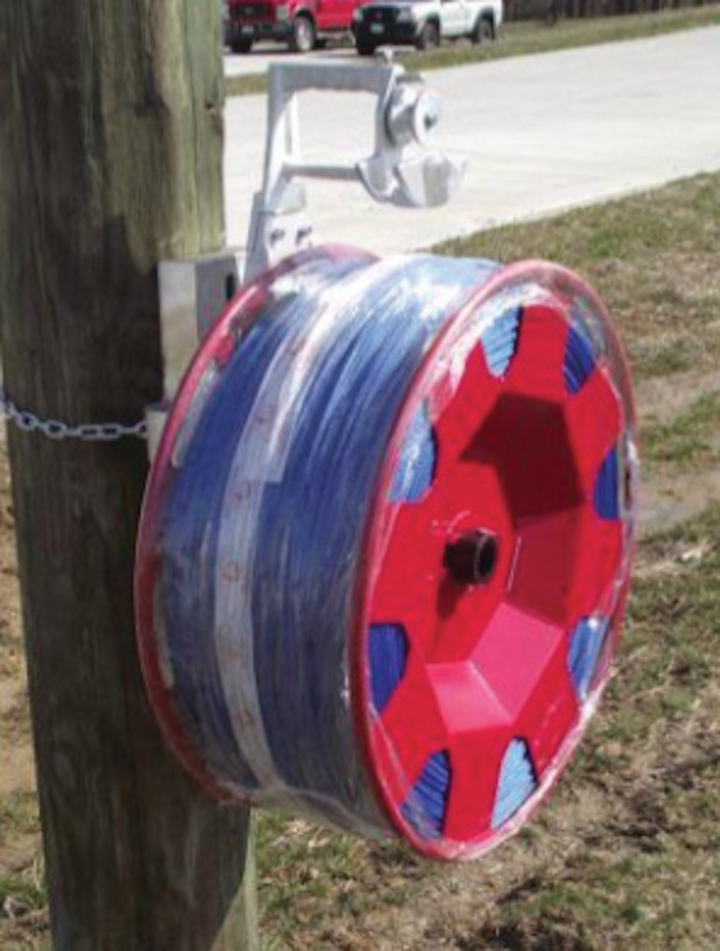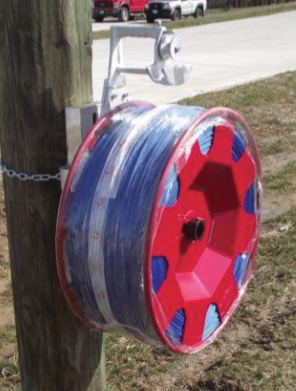 Stringing System

Provides Easy, Efficient Way to Install Pilot Lines
Utility supplies: The Eagle Line Tools stringing system provides an easy, efficient way to install pilot lines for overhead distribution. The controller can be mounted on either wood or non-wood poles with a lag screw, or an adjustable chain tightener.
The braking system allows for continued tension on the pilot line during installation. The reels are available with 3,000 ft. or 6,000 ft. of 5/16 in. poly plus 12 stranded pilot line. The reels are rated for 500 lbs. of line pull, and the rope has a minimum breaking strength of 3,600 lbs. Items and parts are interchangeable with another major brand.
Eagle Line Tools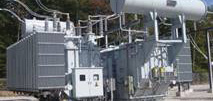 Uninhibited Transformer Oil

Provides Superior Protection for Electrical Equipment
Calumet Specialty Products Partners L.P., an independent producer of specialty hydrocarbon and fuel products, offers CALTRAN 60-00 Group U, a product that is the company's first uninhibited transformer oil.
CALTRAN 60-00 Group U is a naphthenic transformer oil that has been specifically engineered by the company's in-house product development group to meet the International Standard IEC 60296, ed. 4, 2012 General Specifications for uninhibited transformer oil; the technology has been independently verified by an accredited third party lab. Uninhibited transformer oil contains no additives, providing superior protection for electrical equipment.
CALTRAN 60-00 Group U is appropriate for use in distribution and power transformers and switchgear. In addition, CALTRAN 60-00 Group U offers:
• Superior cooling properties along with the wider heat exchange properties of a naphthenic oil
• Good oxidation stability under severe conditions, without the use of additives
• Fully miscible with insulating oils meeting IEC 60296:2012 and ASTM D3487 standards
• Meets IP 346 and Modified Ames Criteria for biological safety
Calumet Specialty Products Partners L.P.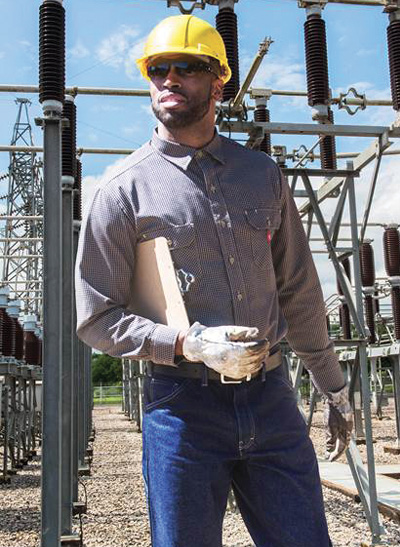 Dickies FR Flame-resistant

Shirt, Balaclava and Denim Pants
Flame resistant clothing: Workrite Uniform Company, a flame-resistant (FR) workwear manufacturer, has expanded its selection of Dickies FR products to include two additional denim pant styles, a new plaid shirt and a balaclava. These new items are now available for wear trials and/or purchase.
The denim pant styles combine FR protection with the look and relaxed fit of the Dickies X-Series. The two styles include a lightweight option featuring 1 percent Spandex for added comfort and an option with a higher arc rating that is designed for harsher work environments. Both options are built with double-stitched seams and bartacks at stress points for added durability.
The plaid shirt is made from lightweight, 5.3-ounce GlenGuard fabric, which is solution dyed instead of piece dyed to better retain color through laundering and sun exposure. The shirt is available in two different color combinations: navy/tan and cool blue/medium gray.
Each of the two jean styles and the shirt are UL certified to NFPA 2112 and built to withstand industrial laundering.
The balaclava, made from TenCate Tecasafe Plus fabric, features a double-layer hood and a single-ply bib in the front and back. It stretches to fit the face opening under most standard hard hats.
In addition to these products, the Dickies FR brand offers a variety of other FR clothing options, including coveralls, shirts, pants, outerwear and high-visibility apparel.
Workrite Uniform Co.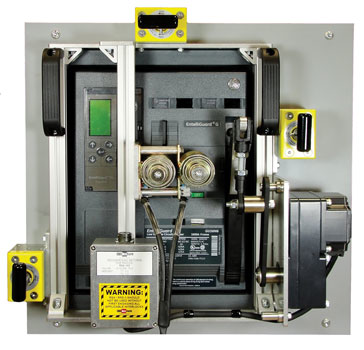 Remote Switch Actuator

Square D Type QMB Safelex 2000 A Panelboard Switch
Energy management: CBS ArcSafe, a manufacturer of remote racking and switching solutions for low- and medium-voltage switchgear, introduces its remote switch actuator (RSA) for the Square D Type QMB Safelex 2000 A panelboard switch (PBS). The lightweight, portable CBS ArcSafe RSA-134H allows technicians to remotely close or trip a Square D PBS from a safe distance of up to 300 ft., well outside the arc-flash boundary.
Because of CBS ArcSafe's magnetic latching system, installation and operation do not require any modifications to existing electrical equipment. Typical applications include switching and protection of low-voltage AC and DC power distribution systems. When compared to other arc-flash mitigation alternatives, the RSA-134H is a cost-effective solution for keeping operators safe when using Square D QMB Safelex 2000 A switches.
Optional features include a radio remote with a range up to 300 ft., a 24 Vdc LED light, a wireless video camera system with an LCD monitor, and a rugged protective case assembly. All RSA units are portable with fast and easy setup. They offer mechanical and/or electrical safety protection and are adjustable to fit unique electrical equipment configurations.
CBS ArcSafe

Flange Securement Clip

WILEY ACC-FWT
Utility supplies: BURNDY, a manufacturer and provider of wire management solutions to the Solar PV industry, announces the addition of the new ACC-FWT flange securement clip to the WILEY line.
The ACC-FWT flange securement clips are used to secure a cable tray to PV module frames. The ACC-FWT is made of corrosion resistant 304 stainless steel, which makes it a durable, long lasting and reliable solution for all environments. The ACC-FWT is easy to install and can be installed onto flanges of various thicknesses. ACC-FWT flange securement clips are the perfect solution for keeping the PV installation neat, clean, and free from ground faults.
• Innovative design that allows for quick and easy installations
• High quality, long-lasting, labor saving securement solution
• Corrosion resistant 304 stainless steel provides high durability and performance in all environments
• Installs onto the module frame and cable tray flange
• Clips accommodate:
- 12-28 ga galvanized steel or aluminum cable tray
- Module frames that range from 1.3mm to 3mm in thickness
• Snake-tongue tabs securely anchor clips to module frames and cable tray
• Recommended for outdoor use
• Custom designs are available on request
• Application is not limited to Solar PV applications, can be used when securing or connecting any flat sheet metals in a similar orientation.
BURNDY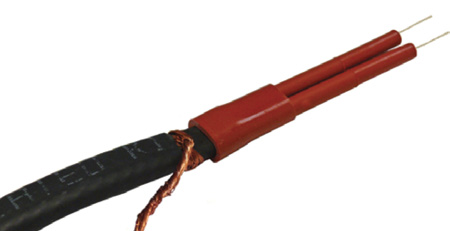 Connection Kits

Eliminate Time-consuming Heat Shrinking when Terminating Heating Cables
EasyHeat, an Emerson brand, is helping field engineers terminate self-regulating heating cables faster, cleaner and more cost-effectively with its Low-Profile Quick Connections Kits. Using quick-setting silicone and slip on connectors, the kit completely eliminates the need for a heating gun and shrink tubing typically used for terminating heating cables. EasyHeat silicone adhesive can be cold applied and does not require any heating to cure. Once the silicone adhesive is applied, the boot connector is slipped on. Termination is finished in seconds, rather than minutes.
Two kits are available from EasyHeat: the SRME End Seal Kit is designed for terminating the ends of cables, while the SRMP Power-End Kit is for joining cables inside a power connection box. Both are constructed of durable molded silicone materials, and can be used for indoor or outdoor applications. Each kit contains materials to make five complete connections. Both kits are UL Listed and CSA Certified for use in ordinary locations.
EasyHeat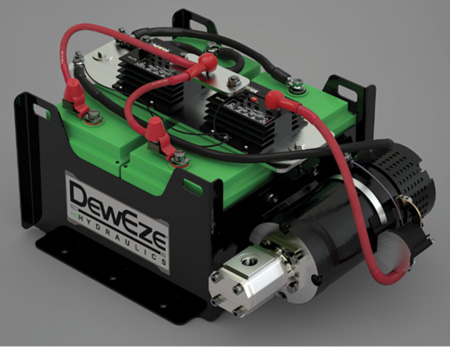 Medium-duty Truck Applications

BEH Powered System
Truck accessory: Reduce, reuse and recharge with the battery-powered electric (BEH) driven system by DewEze Hydraulics. The BEH package is for medium-duty truck applications.
The steel-constructed cabinet houses a 12V motor, two 100/110 amp class batteries and a charge monitoring system to power hydraulic needs. This green technology offers a turnkey solution for no-idling regulations that improve noise reduction, decreases operator fatigue, and reduces costs for utility fleet trucks.
This package was created to completely eliminate engine idling while working, offering a greener initiative to the work truck industry.
The BEH power house is available in two packages: Lithium Ion at 200 amp hours and AGM at 220 amp hours. The DewEze-designed package (24 x 16.5 x 11.5 in.) conveniently fits into any tail shelf frame rails.
DewEze Hydraulics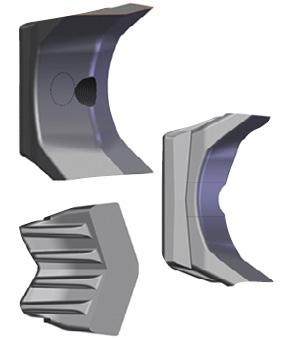 Mulching Attachment

Bull Hog
Line maintenance: Fecon's Bull Hog mulching attachment is for CTLs and skid steers. This design has brought many features our customers were asking for in a mulcher. Features include a severe duty body, bolt on skid shoes, stronger push bar, and improved mulching chamber. The top of the body is smooth to avoid the debris and water build up that occurred in the "trough."
This CTL Bull Hog is still offered with Fecon's smooth drum FGT rotor, paddle style HDT rotor and our depth control rotor—so customers can still configure their Bull Hog for the job at hand. We've made our hose sling standard, created improved sealing of the body, and made trap door and pressure gauge options easier to add on.
Fecon Inc.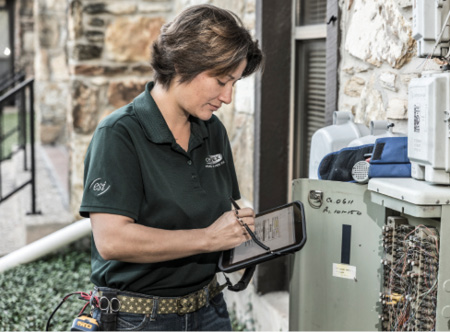 XSLATE R12 Rugged Tablet

Portfolio's Performance Range Expanded
Mobile computer: Xplore Technologies has expanded the pricing and performance options for its XSLATE R12 rugged tablet PC platform to accommodate customers' evolving mobile computing requirements, even within their fixed budget parameters. Customers will now be able to order the powerful XSLATE R12 in two new Intel 7th generation Kaby Lake CPU configurations: The Celeron-powered tablet PC and the Intel Core i7 vPro version.
Xplore rugged tablets are capable of effecting significant workforce productivity gains without disrupting a company's business processes or IT efficiency, it's reported.
Both of the new Celeron and Core i7 vPro XSLATE R12 rugged tablet models are available in multiple configurations, and serve as laptop and desktop replacements if desired. The XSLATE R12 tablet has a magnetically-attached, Companion Keyboard, which can stow and recharge while docked or while on the go, as well as touch and pen data input tools. The 800 Nit View Anywhere screen is protected by Corning Gorilla Glass, and is cited to remain the best outdoor-viewable display in its class.
Xplore Technologies Corp.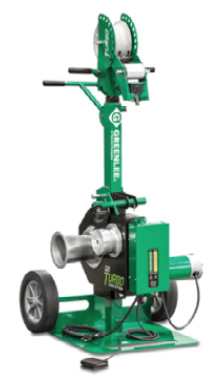 Tool Bags

Provide Durable Tool Organization for the Jobsite
Tool holder: Greenlee Textron Inc., a Textron Inc. company, offers its Next Generation tool bags. The Next Generation bags reduce strain on the user and withstand wear and tear. In addition, the two back packs allow for customization with a personalized name patch.
Greenlee is committed to producing ergonomic tools and products that reduce injury and increase productivity to support the professionals who use them daily, it's reported. Greenlee's network of professional contractors helped to test the Next Generation tool bags and provided feedback.
Engineered to be rugged, the Next Generation tool bags can manage heavy loads and harsh work environments. Next Generation bags are constructed from a poly and nylon Ripstop fabric. This construction contains any tear that should ensue, maintaining the durability and utilization of the bag. Critical seams that receive stress from weight are reinforced with double and triple stitching to prevent separation. Next Generation bags are lined with a light green interior to increase visibility of bag contents.
Greenlee Textron Inc., a Textron Inc. Co.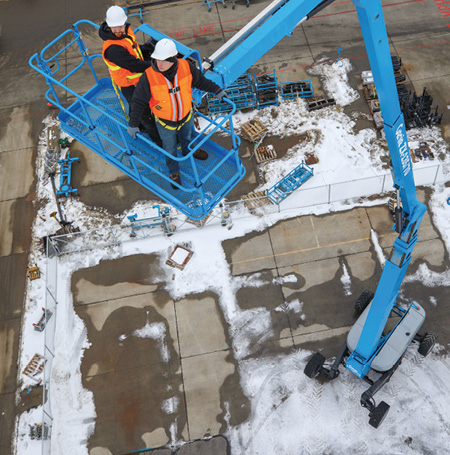 Large Articulated Boom Lift

Genie ZX-135 is Versatile
Construction equipment: Continuing to offer versatility in the self-propelled large articulated boom market—120 ft. to 135 ft.—the Genie ZX-135/70 articulating boom offer customers the latest advancements in engineering design and technology. This Genie ZX-135/70 includes the Genie mini XChassis axle design, a platform load sensing system and a simple two-point calibration process to set up the primary boom, secondary boom and jib bell crank in as little as 15 minutes.
Designed with transportability in mind, the Genie ZX-135/70 boom's Genie mini XChassis axle design extends and retracts the axles to and from the stowed position with a more compact footprint—8 ft., 2 in. x 13 ft., 6 in. retracted or 12 ft., 11 in. x 13 ft., 6 in. extended—to provide both stability on the job and a narrow profile for transport. Similar in design to full-size X-Chassis expanding axle on the previous generations of this machine, the mini XChassis system features two-thirds the footprint of the full-size version for maneuverability on and around confined jobsites without distributing people or traffic.
This boom has also been engineered to meet the overload restriction guidelines in the proposed ANSI A92 and CSA B354 industry standards in North America, as well as the current European EN280 and Australian AS 1418.10 standards.
Terex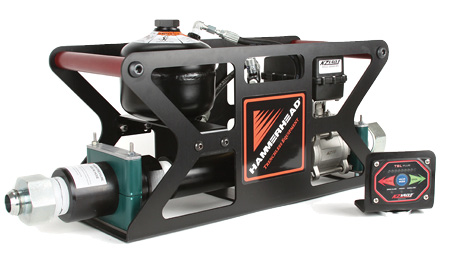 Air Hammer

for Small Utility Drills
Utility tools: HammerHead Trenchless Equipment, a Charles Machine Works company, offers the HammerHead Roughneck R200, cited to be the first 2-in. rock hammer engineered specifically for horizontal directional drilling applications. The R200, the smallest pneumatic rock hammer of HammerHead's Roughneck line, is designed to expand the capabilities of small utility drills, allowing 7,000-ton to 10,000-ton class directional drills to effectively drill through solid rock as well as other difficult soil conditions.
The R200 rock hammer was made to be the most efficient system available to HDD contractors in communications, gas, electrical and water service installations. The R200 model drills a 3.125-in. pilot hole.
A key feature to the R200 rock hammer is the electronically-controlled air flow. With the touch of a button, the operator can adjust the air flow from open to closed and anywhere in between, which allows them to manage the power of the hammer on the fly. This feature is critical in situations where soil conditions change abruptly. The ability to reduce or increase power quickly prevents costly interruptions during the bore.
HammerHead Trenchless Equipment

Satellite-based Connected Worker Solution

Keeps Remote Workers Safe
Safety products: Honeywell's satellite-based connected solution helps organizations monitor the location and safety of workers in remote locations. The Personal Tracker uses Iridium's low-earth orbit satellite network, the only satellite constellation that provides pole-to-pole coverage, which is necessary for effective remote asset and personnel tracking. The mobile device allows companies to communicate with their workers or track assets anywhere in the world—across oceans, airways and even polar regions.
Workers can share their location with GPS coordinates and send text messages using the enterprise-grade, ultra-rugged device, which is certified to function in hazardous environments where explosions or a fire may occur due to flammable liquids or vapors. It can be used as a stand-alone, two-way communications device or can be clipped to a backpack to serve as a tracking beacon. It can also be paired with an iPhone so that users can access a Honeywell mobile app that offers features such as interactive SOS, messaging, push notifications, trip information and situational awareness.
In the event of an emergency, an organization can send push notifications to alert its workers—regardless of their location—and then track their locations and provide updates as they seek shelter.
Honeywell
Parallel Jaw Grips

for HDPE-coated Cable
Safety products: Hi-Line Utility Supply and Klein Tools present the Parallel Jaw Grip. These grips are made in the USA and designed for use on HDPE-coated cable, or commonly known as "tree wire."
The parallel grip features a new high-traction surface, which allows the user a safer way to pull tree wire/HDPE without damaging the outer jacket. Its spring-loaded design provides one-handed operation and easy placement on the conductor. Tough carbide grit technology makes the Parallel Jaw Grips withstand even the harshest jobsite conditions.
These grips and many other grips from Klein can be found in the new Hi-Line and Klein Tools "Wire Pulling Grip Guide." Hi-Line carries a large in-stock selection of grips, available for same-day shipping.
Hi-Line Utility Supply
Klein Tools

Tradesman Pro Tough Box Cooler

Keeps Items Cool for Up to 30 Hours
Klein Tools introduces the Tradesman Pro Tough Box Cooler that keeps items cool for up to 30 hours, while also serving as a place to sit. This dual-purpose, 18-can capacity cooler can accommodate 1-liter bottles, includes a lock hasp and has a shoulder strap for easy transportation.
Tradesman Pro Tough Box Cooler (Cat. No. 55600):
• Keeps items cool up to 30 hours
• Main compartment has a 17-quart (16 liters), 18-can capacity
• No rust, stainless steel hinged lid is recessed to accommodate 1-liter water bottles and stays open at 90 degrees to allow hands-free access
• Lid opens a full 180 degrees to access the dry compartment located inside the lid, perfect for smaller items, such as medicine, napkins or utensils
• Industrial exterior body design supports seating capacity of up to 300 lbs.
• Includes a shoulder strap to hold the lid in place while carrying and can easily convert to a handle
• Includes a lock hasp to keep items safe inside
Klein Tools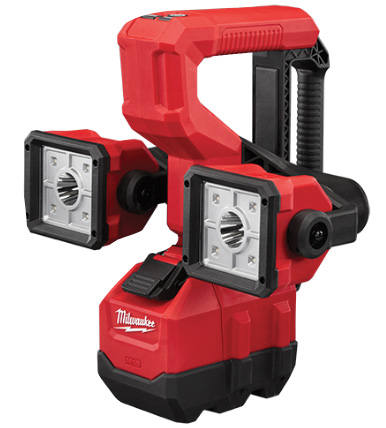 M18 Utility Bucket Light

Work Light
Work light: Milwaukee Tool's utility bucket light, the M18 Utility Bucket Light for power utility linemen, offers versatility with its three light modes, dual light head design that allows the user to spot and flood with one light, or its extreme weather and high voltage durability built for use in harsh conditions and environments. Its patented spring-loaded bucket clamp fits all size bucket lips and allows the user to move the light around the bucket effortlessly.
The M18 Utility Bucket Light can run up to 4 hours on flood mode and spot/flood mode with an M18 REDLITHIUM High Demand 9.0 Battery and up to 6 hours on spot mode. Its high-quality LEDs never need to be replaced and are backed by a limited lifetime warranty.
Features:
• 2500 Lumens with 500-yard beam distance
• Dual Light head design with 180 degrees of vertical and horizontal head rotation
• Three output modes: Spot, Flood, Spot/Flood
• Patented spring-loaded bucket clamp for all bucket sizes
• IP56 for extreme weather and high voltage Spot mode: 6 hrs with M18 High Demand 9.0 Battery
• Spot/Flood mode: 4 hrs with M18 High Demand 9.0 Battery
• Flood mode: 4 hrs with M18 High Demand 9.0 Battery
• Low Battery indicator alerts users when the battery is nearing end of charge
• High definition output with true color, even beam and natural light
• Limited lifetime LED warranty
Milwaukee Tool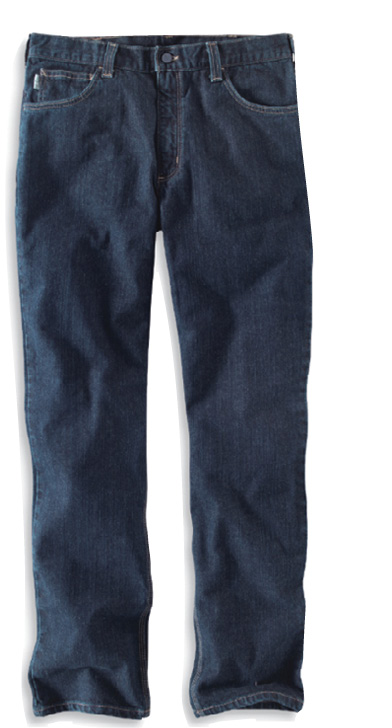 Flame Resistant FlexTex

Line of Stretch Fabrics Extended
Protective clothing: With the rise of consumers looking for more comfortable clothing options, including workwear, Mount Vernon FR is expanding its collection of flame resistant (FR) FlexTex fabrics. The FlexTex line is engineered with stretch for increased comfort and mobility, but with no reduction in FR protection or durability. The flex program now includes six denim and four piece-dyed FR fabrics. Many of the fabrics were developed in conjunction with stylists at apparel manufacturers to provide optimal comfort and stretch in the resulting garments, while capturing the authentic look and characteristics of traditional non-stretch denim.
FlexTex fabrics are made using an elastomeric fiber that adds mobility to fabric, so workers experience increased range of motion in their FR apparel. Most FlexTex fabrics can stretch from 12 to 15 percent, but the latest Mount Vernon FR fabric developments incorporate TreFlex yarn, which may allow as much as 20 percent stretch. Treflex, a hybrid yarn, provides excellent stretch properties and shrinkage control.
Mount Vernon FR FlexTex fabrics meet the performance requirements of ASTM F1506 and are NFPA 2112 component recognized. Many of the world's leading apparel manufacturers and brands turn to Mount Vernon FR for their flex fabric needs.
Mount Vernon FR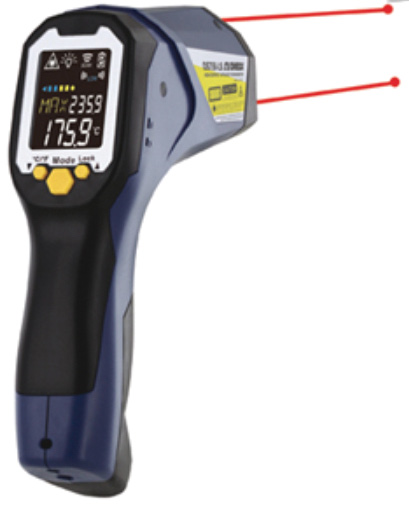 Dual Laser Infrared Thermometer

Handheld
Test equipment: OMEGA's OS758-LS handheld dual laser infrared thermometer delivers reliable non-contact measurement for instant troubleshooting. Measure temperatures up to 2,912F with adjustable emissivity for the most accurate results.
The high 60:1 D:S ratio allows precise measurements from a safe distance. There are many uses for the OS758-LS, including HVAC system testing, equipment and electrical maintenance, automotive diagnostics, monitoring production lines, and much more. Simply point, pull the trigger and view the surface temperature within a second. Download and save the detailed data for documentation with the included accessories.
OMEGA
Software Solutions

Transportation Management
Fleet management: TMW Systems has integrated its TMW.Suite and TruckMate transportation management software solutions with Geotab. Users of either TMW platform will be able to more effectively manage and automate their dispatch operations, driver messaging and hours of service compliance.
The functionality is available to carriers using TruckMate 2014 SP1, TMWSuite or the new TMW.Suite software in conjunction with the latest version (16.10) of the TotalMail application. The solution provides arrival and departure functionality, forms processing, enhanced GPS data, and frequent hours of service updates—ensuring faster delivery of accurate information to the dispatcher and driver. Operational service forms streamline a variety of customer-specific tasks and/or fleet-specific tasks, further enhancing driver satisfaction and improving operational efficiency.
TMW Systems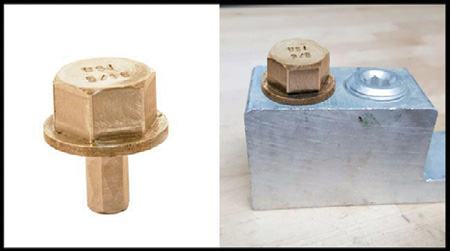 Adaptor Set
Allows Greater Access to Bus
Bar Connectors Inside Padgear
Utility supplies: Utility Solutions Inc. (USI) has launched another lineman-invented product targeting the underground residential distribution (URD) market. The Padmount Hex Adaptor Set allows greater access to bus bar connectors inside padgear.
URD cabinets house electrical connections crucial to distribution systems. Heavy gauge wire connections inside the cabinets use bus bars, which can be difficult to reach. Open-end box wrenches, ratcheting wrenches and socket drivers cannot always engage the Allen head bolts because of obstructions or even the cabinet walls themselves. The low-profile adaptor set solves these issues, allowing greater access for most any standard wrench.
The set includes one 3/8-in. and one 5/16-in. adaptor with a 3/4-in. hex head, allowing any standard wrench to engage Allen head connectors with as little as 1/2-in. clearance. The low-profile design is made from hardened steel and fits all standard bus bar connectors.
Utility Solutions Inc. (USI)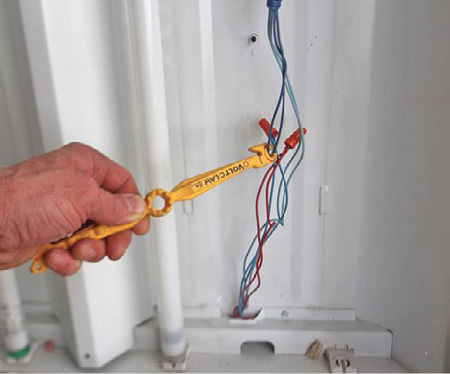 Tool Pulls, Bends, Moves Wires

with Less Risk of Electrical Shock
Electrical tools: Nonconductive Tool Co. has developed Voltclaw-12, a tool that provides safer, faster and more productive work methods for electricians, maintenance professionals and do-It-yourselfers.
Voltclaw-12 fills a gap in the hand-tool industry. It is a simple-to-use, low-cost tool that is nonconductive, allowing the safer management of 12-14 gauge electrical wiring within junction boxes, switch boxes, outlets, panels or anywhere electrical wires are installed.
Molded from rugged, impact-resistant nylon, the Voltclaw-12 has no metal parts and is nonconductive up to 1000V. Its smooth edges allow an electrician to safely bend and move wires without damaging insulation, unlike with standard metal tools that can nick and break insulation. Since ergonomics plays a role in the tool safety, the Voltclaw-12 was designed to encourage a confident grip with only minimal torque required to secure, bend and pull wires. The stress-reducing contoured grip feels natural and comfortably in a gloved hand.
Nonconductive Tool Co.