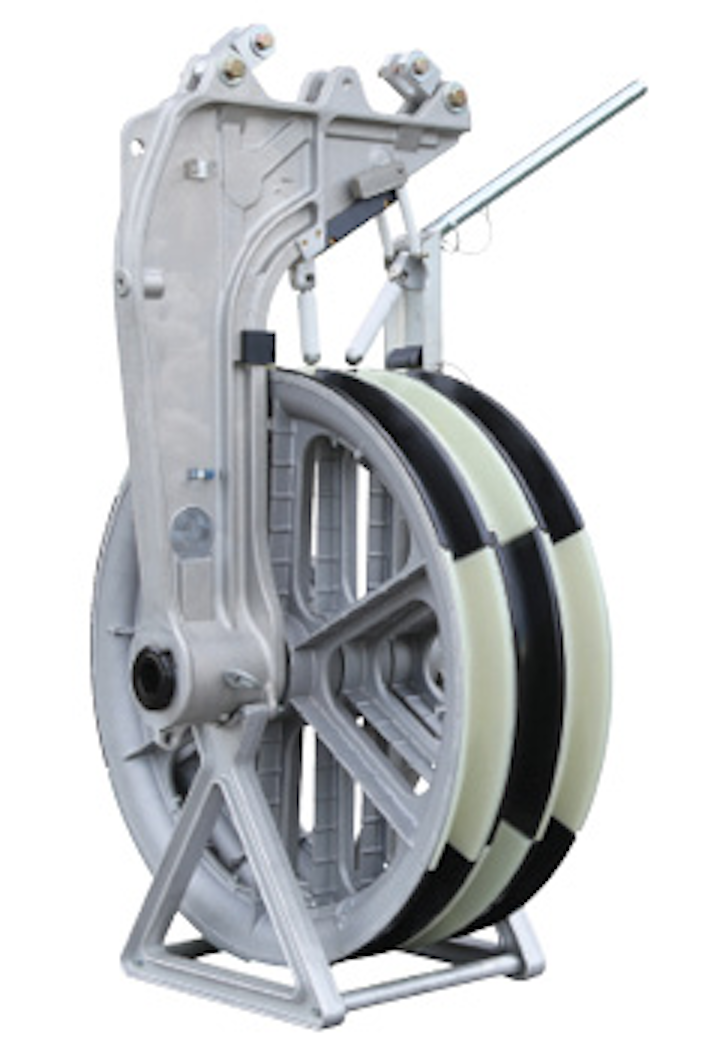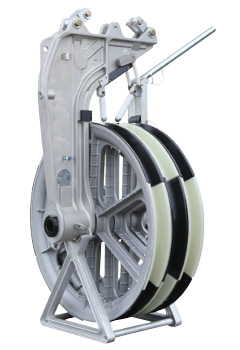 Helicopter Blocks

Available in Multiple Sizes
Condux Tesmec 2-3 bundled conductor helicopter blocks are now available in 24-in. and 32-in. diameters, measured to the bottom of the groove. The one-piece cast aluminum frame is over 25 percent lighter, yet stronger and less likely to break compared to aluminum blocks with welded extruded frames.
The unit's specially designed counter-weight fly-in gate allows for quicker and more secure rope installs, featuring a unique hinge for safer and more efficient cable removal during clipping operation. Specially designed polyurethane sectors for the 32-in. block are available for use with twisted pair, T2/VR2 conductor.
With a workload rating of 12,000 lbs., the Condux Tesmec 2-3 bundled conductor blocks are load tested to 60,000 lbs., providing a 5:1 safety factor. Lightweight aluminum blocks are easier to handle and require less fuel when hanging by helicopter or shipping from jobsite to jobsite. Replaceable nylon sectors are also available.
Condux Tesmec offers a full line of stringing equipment including pullers, tensioners and puller-tensioners, as well as productivity-enhancing conductor stringing tools and accessories.
Condux Tesmec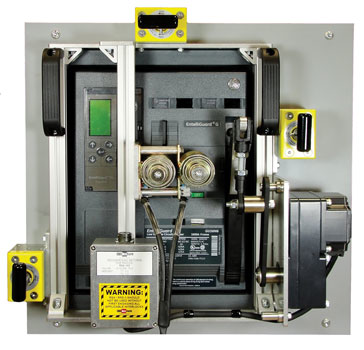 RSA-35 for Westinghouse

11-300 MCC Bucket
CBS ArcSafe, a manufacturer of remote racking and switching solutions for low- and medium-voltage switchgear, offers its remote switch actuator (RSA) for the Westinghouse motor control center bucket. The lightweight, portable CBS ArcSafe RSA-35 allows technicians to remotely close or trip the motor control center bucket from a safe distance of up to 300 ft. while remaining stationed outside the arc-flash boundary.
Installation and operation do not require any modifications to the existing electrical equipment because of CBS ArcSafe's magnetic latching system. The RSA-35 is compatible with the Eaton/Cutler-Hammer MCCB slide-plate type handle mechanism (314C386G02, 314C386G03, 314C386G05, 315C386G06, 314C386G09, and 314C386G10) motor control center buckets. Typical applications include switching and protection of squirrel-cage, wound-rotor and synchronous motors. The RSA-35 is a cost-effective solution for keeping operators safe when compared to other arc-flash mitigation alternatives.
CBS ArcSafe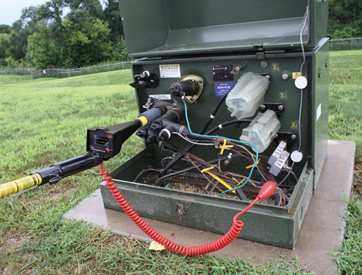 Voltage Detector

Detects, Alerts Utility Personnel of Strong Electric Field Presence
HD Electric Co., a Textron Inc. company, offers the Watchman Work Area Voltage Detector, designed to detect and alert trained utility personnel working on or near high voltage systems of strong electric fields surrounding high voltage conductors and power distribution equipment.
The Watchman Work Area Voltage Detector, Model WM-01, uses WAVi Work Area Voltage Indication technology and is typically placed in the vicinity of power lines or high voltage equipment to visually alert to the presence of an electrical field. The detector then alerts crews that they have an active electric field in the area.
The Watchman Work Area Voltage Detector uses spinning LED lights to indicate the presence of an electric field and a nearby energized conductor. The power button serves dual function: press once for on/off function; hold down for self-test to verify battery power and proper functioning of detector.
Once the Watchman Work Area Voltage Detector is turned on, it provides a "heartbeat" pattern to indicate it is actively checking for the presence of high voltage electric fields. The Watchman Work Area Voltage Detector contains powerful neodymium magnets that allow the detector to be mounted to accessory brackets or any magnetic surface.
HD Electric Co., a Textron Inc. Co.

Construction Equipment

Stand Alone Core Barrel Eliminates Need for Auger Drill Attachment
Terex Utilities offers an auger tool for digger derricks - the Terex Stand Alone Core Barrel. It fits directly onto a standard Kelly bar and can be stowed like a standard auger on the boom, eliminating the need for any attachments or having to remove for transportation. When a flighted auger will no longer do the job, the Terex Stand Alone Core Barrel can increase productivity when drilling hard rock, such as limestone material.
For applications requiring drilling to begin at ground level, a removable pilot bit can be used to stabilize the Stand Alone Core Barrel to start a hole. Once initial penetration is achieved, the pilot bit can be removed. The optional pilot bit is important for achieving a straight starter track.
In addition, the Stand Alone Core Barrel is designed for easy plug removal, increasing drilling productivity. A tooth pattern allows the rock plug to easily fall out of the barrel when the operator ratchets the rotation of the tool. Other core barrels require workers to physically hammer the core out of the barrel.
Terex Utilities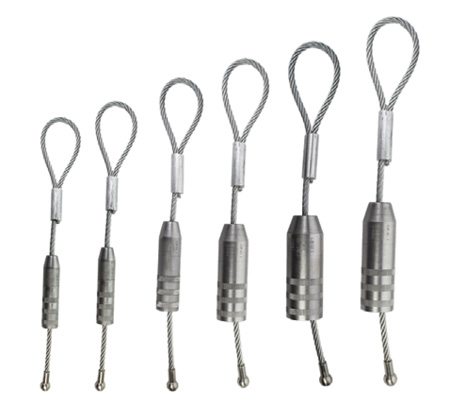 Compression Cable Pulling Heads
Utility tools: BURNDY, a manufacturer and provider of compression connector solutions to the industrial, energy, construction, telecommunications, petrochemical, data center and transportation industries, announces the addition of a compression cable pulling head product offering to its HYDENT LINE of compression connectors.
The portfolio of compression cable pulling heads enhances an already strong portfolio of compression connector products. The compression pulling head line makes BURNDY a one-stop-shop for all cable pulling, terminating, splicing, taping and installation tooling needs.
Features:
• Only six compression pulling heads for wire ranging from #1 AWG - 1000 kcmil for both aluminum (Class B [Concentric, Compact, Compressed]) and copper (Class B [Concentric, Compact, Compressed], and Class C) wire. Each compression pulling head is available in five different lanyard lengths to stagger the compression pulling heads to prevent overlay when pulling multiple wire at the same time.
• Only one tool required to crimp the entire line. To help minimize installation time and minimize the amount of installation tooling requirements, the compression pulling heads have been tested for use with the 644 series of dieless installation tooling.
BURNDY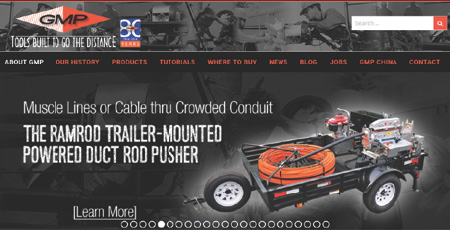 Telecommunications, Power Utility and CATV industries

Products
Utility supplies: General Machine Products (GMP) LLC, a subsidiary of Klein Tools, announces the launch of its newly redesigned website. GMP provides the development, prototyping and manufacturing of aerial cable construction equipment and tools, copper and fiber cable placing and blowing equipment, manhole and duct tools, installer's hand tools, warning signs, tents and tarps, winches, motor vehicle accessories, specialty hardware and related supplies.
Offering fast and easy-to-find access to extensive product information and features, this newly redesigned website offers insight into GMP's cable placement products for the telecommunications, power utility and cable television industries. In addition to product information, the website also offers comprehensive training tutorials, company history background, company news and case history articles, where-to-buy options, blog access to industry-related topics and more.
General Machine Products (KT) LLC,
a subsidiary of Klein Tools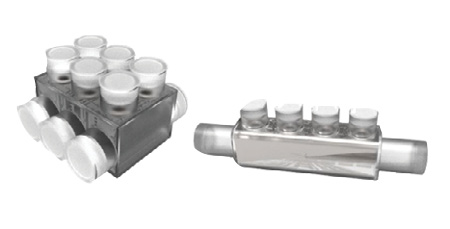 Multi-tap and In-line Splice Reducers

UNITAP Heavy Duty Series
Utility tools: BURNDY, a manufacturer and provider of mechanical connector solutions to the construction, industrial, solar, OEM, energy, data center and transportation industries, announces the addition of a Heavy Duty Series of multi-tap and in-line splice reducers to the UNITAP line of insulated connectors. This expansion includes eight tap configurations and an in-line splice reducer available in both clear and UV-rated black insulation.
Each conductor port contains two set screws to increase the strength and performance of the connector, and will provide a reliable and robust connection in the most demanding applications. These new additions are listed to the UL Wire Connector Standard UL486A-486B and are dual rated for use with both aluminum and copper conductor from #2 - 750 kcmil.
BURNDY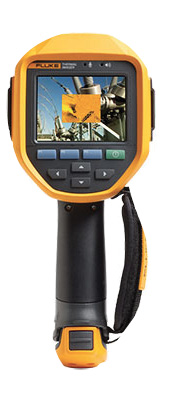 SF6 Gas Leak Detector

Reduces Potential Utility Equipment Damage
Utility testing: Identifying leaks of sulfur hexafluoride (SF6), which is used as an electrical insulator in high-voltage utilities applications, generally requires the purchase or rental of an expensive gas detector or hiring an outside consultant. The alternatives are shutting down equipment and using a sniffer, which after some time, can determine only the approximate area of the leak, or coating the entire equipment in soapy water and inspect, which is time consuming and requires the equipment to be powered down.
The new Fluke Ti450 SF6 Gas Leak Detector combines a high-quality infrared camera with an SF6 leak detector that visually pinpoints the location ofSF6 leaks without shutting down equipment. The Ti450 SF6 allows utility crews to include it as a normal part of their maintenance routine, allowing them to conduct both infrared and gas inspections whenever and wherever necessary. It eliminates the need to wait for special annual or bi-annual leak inspections - and the corresponding expensive equipment rentals or contractors - so maintenance work can be done as required, reducing potential equipment damage.
Fluke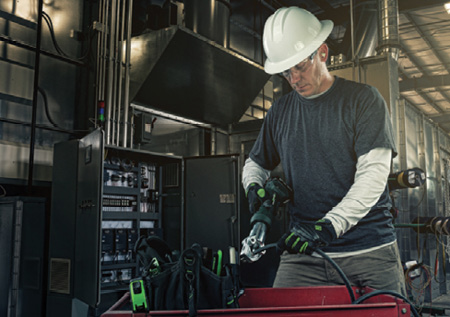 Battery-powered Hydraulic Tools

Next Generation
Utility supplies: Greenlee Textron Inc., a Textron Inc. company, offers its Next Generation battery-powered hydraulic tools. The design of these tools includes real-time communication technology, improved ergonomics, focus on optimizing the tool's center of gravity for the comfort of the worker, and a longer battery life supplied by an enhanced Makita platform.
Tools in the new Next Generation line include 6-, 12-, and 15-ton crimping tools, as well as cable and bolt cutters, and a 10K PSI pump with removable heads that have the capabilities to do both.
Each product in this new line of tools features Bluetooth communication technology. This allows electricians to wirelessly manage their tools, access tool history, monitor service timelines, and customize tool operation to suit their preferences. Each crimper is equipped with Intelli-CRIMP technology, a pressure sensor that monitors the crimping process, ensuring the correct amount of pressure is applied to each crimp. Crimpers equipped with this feature emit audible and visual alerts to notify the operator when a crimp is below specifications, giving assurance to the operator that the job was done right.
Greenlee

PATRIOT IN-LINE PATMD-LW

Newly Redesigned, Light Weight Series Tools
Utility tools: BURNDY, a manufacturer and provider of compression connector solutions to the industrial, energy, construction, telecommunications, petrochemical, data center and transportation industries, introduces the newly redesigned BURNDY PATRIOT IN-LINE series of tools to meet the growing market need for a smaller, lighter and more ergonomic IN-LINE tool platform.
The PATMD-LW series weighs 6.7 lbs. and is 18.70 in. in height. This represents a 14 percent reduction in weight and an 11 percent overall length reduction compared to the current PATMD series—offering ergonomics and comfort. Newly redesigned, robust jaws featuring proprietary locking tabs and a spring release pin simplify the jaw change out process—an added layer of safety, as the jaws stay retained in the tool when the release pin is activated. The crimp jaws accept standard BURNDY "W" and "X" style crimping dies.
Features include an enhanced safety trigger lock to avoid accidental actuation, perfect balance to reduce strain—preventing fatigue and injury—and now includes an integrated LED light to assist in dimly lit areas.
BURNDY LLC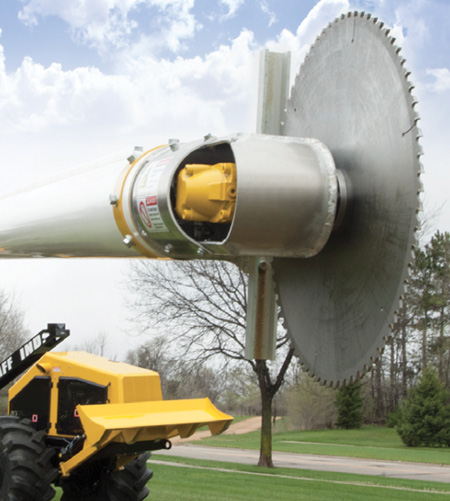 All-Terrain Tree Trimmer

Exclusive Rotating Saw Head
Line maintenance: Jarraff Industries recently unveiled a Jarraff All-Terrain Tree Trimmer with updated design, new look, higher power output and improved efficiency. The significantly updated Jarraff features a rotating saw head design that allows the operator to rotate the blade assembly 180 degrees, an industry exclusive. A touch screen information center gives the operator unmatched control, engine monitoring, high definition camera display and more. The Jarraff features a Cummins 130 horsepower, Tier 4 engine that meets all environmental emission standards and mandates.
Since the first Jarraff debuted in the late 1970s, Jarraff Industries has been dedicated to evolving with the times and pushing design and innovation to meet the demands of the market by offering the best equipment available, it's reported. It's embracing technology, as well as a creative engineering team, to provide our clients with the safest, highest quality most efficient and productive product possible.
The Jarraff All-Terrain Tree Trimmer provides ROW maintenance contractors a dynamic field of operation. A rotary manifold offers a 360-degree plus range of motion as a standard feature. The unit also provides lateral tilt and 75-ft. cutting height.
Jarraff
Enhanced Insulation Tester

Series Features Three-wire Connection
Test equipment: Megger has enhanced its series of insulation and continuity testers, making testing faster and more convenient, as well as minimizing the risk of accidental damage to equipment under test. Designed specifically for the telecommunications and cable testing markets, the MIT480/2 series features a three-wire connection for A, B and E (tip, ring and ground), eliminating the need to connect and disconnect leads to carry out the full range of testing on a cable pair.
The series includes two models, the MIT481/2 and the MIT485/2, both with a safety rating of CAT IV 600 V. The MIT481/2 offers a choice of four fixed test voltages and result storage, while the MIT485/2 includes a variable test voltage feature, support for downloading of test results through Bluetooth wireless connection, and offers a feature for recharging batteries without removing them from the instrument. Both units are in compliance with IEC 61010.
Megger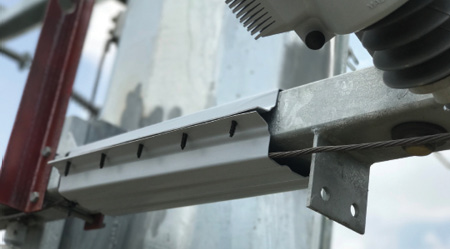 Reliaguard Wildlife Mitigation Products

Cross Arm Guard is Newest Addition
Building on the success of their official launch at DistribuTECH 2016, Reliaguard's portfolio of wildlife mitigation products continues to expand. The Reliaguard product line is cited to stand out as a superior product coverage for all types of distribution equipment, including voltage regulators, transformer bushings, lightning arresters, fused disconnect switches, pin insulators, cable terminations and cable suspension clamps. The newest product addition to the Reliaguard line is the Cross Arm Guard.
Reliaguard's Cross Arm Guard is specifically produced for 3 ft. x 5 ft. steel cross arms on poles. Phase to ground outages occur with equipment that is installed on these arms such as switches and cut outs. Squirrels or raccoons siting underneath these arms when they open create situations where outages may occur.
For more information on Reliaguard powerline parts, GreyEEL or The EEL Slider, please stop by the Reliaguard booth, #3162 at ICUEE, or visit the Reliaguard website at www.Reliaguard.com.
Reliaguard, a Subsidiary of Cantega Technologies Inc.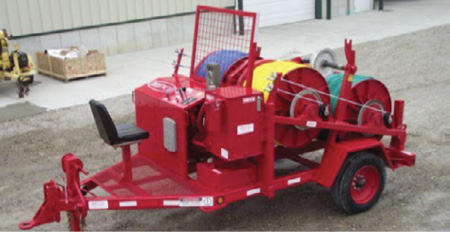 Four-drum Puller

Wide Range of Distribution Stringing Applications
Construction equipment: Brenco's four-drum puller is for a wide range of distribution stringing applications. The four-drum pullers are equipped with 8,000 ft. of 1/2-in. rope each. The puller is powered by a 36-hp water cooled diesel, providing 2000 lb. of pulling power.
In addition, all the controls are conveniently located in the operator's station. The four-drum pullers are equipped with automatic level wind, a parking position, front and rear jacks, and removable lunette hitch. The four-drum pullers are available for rent or sale.
Brenco

Electrician's Pocket Knife

Driver is an Everyday Carry Tool
Electrician tools: Klein Tools' Electrician's Pocket Knife features three everyday tools in one regular-sized handle. This easy-to-use and durable pocket knife strips wires; comes with a No. 2 Phillips screwdriver; and has a long-lasting, sharp blade.
Electrician's Pocket Knife with No. 2 Phillips:
• Full size fine edge, drop point 440A stainless steel blade,
• Versatile No. 2 Phillips folds into the handle,
• Three wire-stripping notches on back of blade,
• Liner-locking blade and driver to secure the tools when open,
• Pocket clip for easy storage and convenient access, and
• Rugged aluminum handle.
Klein Tools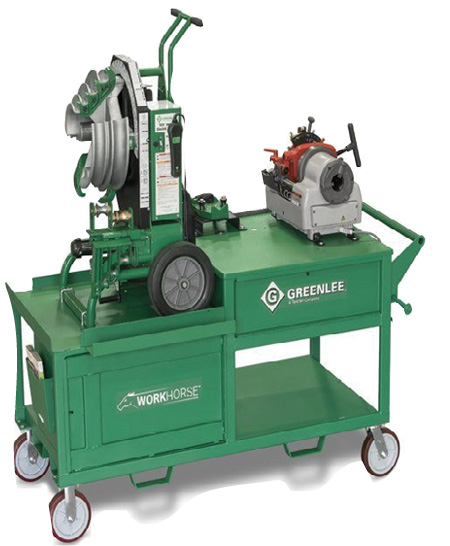 Bending and Threading Station

All-in-One Workstation for Electrical Market
Utility equipment: Greenlee Textron Inc., a Textron Inc. company, launches the Workhorse, a versatile all-in-one bending and threading workstation, which allows the operator to eliminate wasted time spent moving between work areas. With quick and easy mobility, the Workhorse Bending and Threading Station can be transported with a bender and threader mounted from one location to another, eliminating need for set up.
The Workhorse Bending and Threading Station is customizable and offers features to increase jobsite functionality, mobility and ease of use. The new mobile workstation is designed with forklift pockets on three sides and includes 8-in. casters to increase maneuverability across the jobsite. The exclusive built-in conduit pipe support used in conjunction with the bend tray checker allows for quick and easy checking of 90-degree bends and conduit measurements. Locked storage space can hold bending shoes, bender and threader accessories as well as other tools or materials required to complete the job.
Additional features and benefits include:
• Mount for chain-type pipe vise that allows for easy installation,
• Oil catch for a cleaner workstation with the use of RIDGID 300 Complete,
• Open storage space for easy access for daily use tools,
• Cord wrap for organized stowing of extension and/or threader power cords,
• Document holder for stowing important product manuals, and
• Through-holes for electrical cord pathways and safe consolidation.
Greenlee Textron Inc., a Textron Inc. Company

Single-phase and Three-phase Load Pick-up/Break Switch

Safety Products
Hastings, a manufacturer of hot line tools and equipment, has introduced load pick-up/break switch products in single- and three-phase versions to its diverse catalog. The break switches allow a lineman to install a temporary switch anywhere on their system.
The single- and three-phase versions are built to last, and can be used in any weather condition because of the vacuum bottle design featuring high-grade silicone rubber and marine-grade aluminum.
These battery-operated products can be controlled manually using "one touch" button function or operate wirelessly with a Siemens Connect USB Antenna. The battery modules are removable allowing for easy replacement if needed.
Siemens Connect Software is included with these products, allowing users to wirelessly operate and monitor real-time system information such as line voltage, amperage, and more through a laptop.
Hastings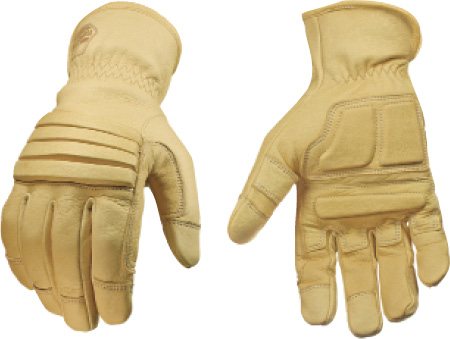 Knuckle Buster Anti-Vibe Glove

Work Gloves
Youngstown Glove introduces what is cited to be the world's first arc rated anti-vibration and impact protective work glove. We took our top selling Ground Glove design and added FR Gel to both the palm and top of hand. The palm-side gel reduces vibration caused by impact tools while the top of hand gel dampens against unexpected impacts.
The glove is made of a double layered goatskin and sewn into an ergonomic, 3D pattern for superior grip, comfort and dexterity. This glove will not drip, melt or ignite if exposed to sparks or flames. It is arc rated to 23 cal/cm². Size Range S – 2XL. Part # 11-3210-10.
Youngstown Glove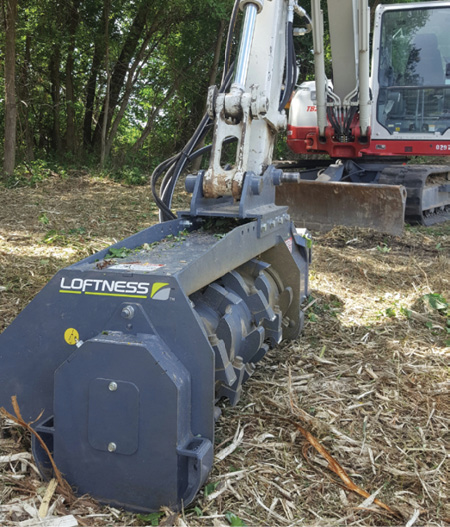 Battle Ax Mulching Attachment

7-Ton to 15-Ton Excavators
Loftness offers the Battle Ax mulching attachment for its 7-ton to 15-ton excavators to its VMLogix line of products. Featuring a new rotor, exclusive two-stage cutting chamber and direct-drive variable displacement piston motor, the heavy-duty Battle Ax is designed for highly efficient vegetation management, including right-of-way maintenance, land clearing, forestry applications and more.
The Battle Ax is available with 41-, 51- and 61-in. cutting widths. Its 17-in.-diameter rotor features built-in depth gauges, which function similarly to raker teeth on chain saws to prevent the attachment from engaging too much material at one time. This design is more ideal for managing the amount of material being fed into the attachment than competitive ring-style rotors, which many operators find to be overly limiting.
The variable displacement piston motor on the Battle Ax accommodates the output of various excavators. The motor is directly mounted to the rotor with an anti-vibration coupler to eliminate the hassle of drive belts and reduce overall maintenance concerns of the mulching attachment.
Two tooth options are available: ultra-sharp Quadco reversible knives and highly durable carbide teeth. Because of a two-stage cutting chamber, which allows material to be cut twice by the rotor, both styles of teeth are capable of producing some of the smallest particle sizes in the industry, it's reported. The primary shear bar is adjustable for customizing particle size.
Loftness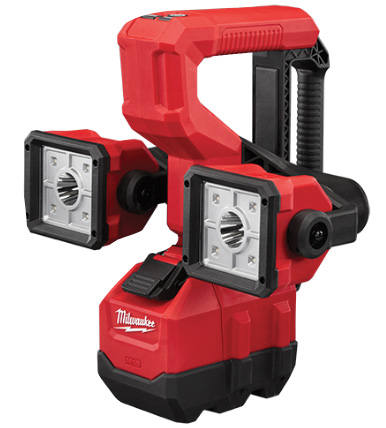 TICK Tool and Equipment Tracker

Tracks Anything. Survives Everything.
Utility supplies: Milwaukee Tool introduces the TICK professional-grade Bluetooth tool and equipment tracker. Withstanding the harshest jobsite environments, the TICK can be easily attached and hidden from sight on any product, regardless of brand, providing users a way to track anything in their inventory through the ONE-KEY app.
The goal of ONE-KEY is to simplify the process of managing tools, removing costly or cumbersome methods used today. The ability to quickly identify a tool's location can save time and money if a tool goes down or is needed on short notice.
By harnessing the same Integrated Tool Tracking technology found within ONE-KEY enabled tools, we're giving users a way to track any tool, simply by attaching the TICK.
With its low-profile design, the TICK can securely attach to anything through glue, screw, rivet or strap. Its flat back enables a snug fit to a variety of surface types and its circular shape fits into a range of places hidden from view. Each TICK is also laser engraved with a serial number so users can easily identify and assign multiple TICKs. Once attached and hidden from view, the TICK makes tracking tools and equipment as simple as pulling out your phone.
Products with a TICK attached are paired through the ONE-KEY app. Tool records and locations are updated when any device with the ONE-KEY app comes within 100 ft. of the TICK. These location updates are transmitted through any ONE-KEY app that's in-range, regardless of whether the app is open or not, allowing users to pinpoint missing tools more quickly.
Milwaukee Tool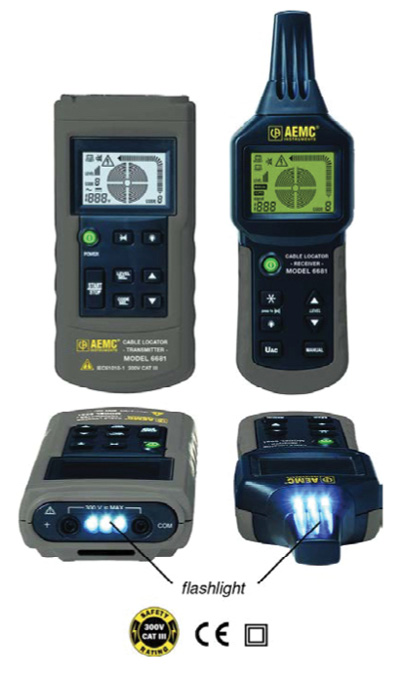 Cable Locator

Detects Telecommunications Cables, Electric Power and Other Cables, and Metal Pipes in Ground or Walls
Test equipment: The AEMC Cable Locator Model 6681 detects buried (in ground or in walls) telecommunications cables, electric power and other cables, and metal pipes, during modification or maintenance work on installations of category III (or lower), at voltages of 300V (or less) with respect to ground. The system can locate open circuits, shorts, track cables and locate fuses or circuit breakers.
The instrument is a portable system that includes a transmitter, a receiver, and accessories. The transmitter and receiver both have a large back-lit LCD and large keys.
The transmitter applies a modulated AC to the circuit that is to be located, which creates a proportional alternating electric field. The transmitter is also an AC/DC voltmeter; the display of the measured voltage is accompanied by a symbol warning of the presence of a voltage. In addition, the transmitter has a self-test function, indicating good transmission between transmitter and receiver. Both the transmitter and receiver units include a flashlight feature that assist the operator when working in dark unlit areas.
The receiver features a sensitive sensor that generates a display proportional to the electric field detected. The variations of this signal, after decoding, processing, and shaping, enable the user to determine the location of underground cables and pipes, and detect any faults in them. The receiver also includes a buzzer that changes pitch as a function of the strength of the detected signal.
AEMC