By George Brendahl
Utility substations are using battery backup systems in the event of an outage. Many of these systems are being housed outdoors, resulting in improved accessibility for maintenance and servicing.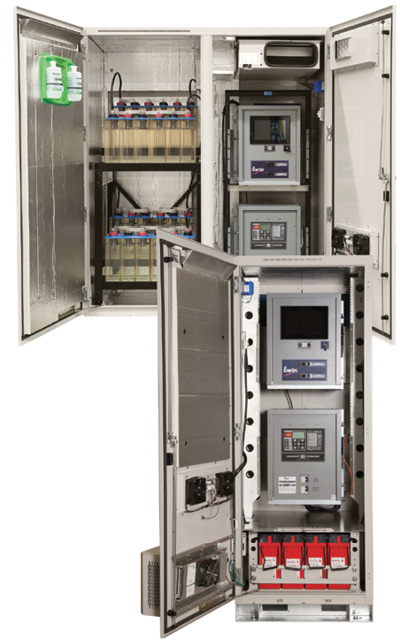 An outdoor battery backup system is comprised of the backup batteries and the enclosure. The batteries should be monitored and maintained in compliance with North American Electric Reliability Corporation (NERC) standards. The enclosure should be thermally managed for an optimum environment where the batteries are housed and equipped with battery monitoring and maintenance functions for NERC compliance.
The use of thermally managed, outdoor enclosures is recommended for peak performance of batteries used in battery backup systems in rugged outdoor environments. The batteries must survive Partial State of Charge (PSOC) conditions, harsh weather and extreme temperatures. Keeping batteries at their optimal temperature range helps contribute to high performance and long life, with high reliability and low operating expenses.
Reliability and NERC Compliance
Battery backup systems, both indoor and outdoor, are among the technologies being used for energy storage to increase grid resiliency. The Energy Storage Association, in its article, "Grid Infrastructure Benefits," under the sub-heading, "Substation On-site Power," indicates that the use of electrochemical battery backup systems has increased to a degree that electric utilities are now among the largest owners and users of these systems.
In an effort to foster greater reliability of the Bulk Electric System (BES), NERC approved the PRC-005 standard in December 2013 and made it effective February 24, 2014. The NERC Standard PRC-005 governs the documentation and implementation of programs for the maintenance of all protection systems affecting grid reliability to ensure uninterrupted operation, according to the Nov. 7, 2012 Standard PRC-005-2, "Protection System Maintenance."
Rather than simply identifying recommended maintenance tasks, PRC-005 defines maintenance and monitoring activities for substation batteries, including those in backup systems. It also establishes, for the first time, a set maintenance schedule pursuant to the Standard PRC-005-6, "Reliability Standards for Bulk Electric Systems of North America." Requirements for Vented Lead Acid (VLA), Valve Regulated Lead Acid (VRLA), and Nickel-cadmium (NiCd) batteries are included.
NERC Standard PRC-005-6 requires substation DC supply voltage verification, as well as inspections of electrolyte levels and tests for unintentional grounds, every four months. They also require that float voltage, battery continuity, battery terminal connection resistance and battery intercell/unit-to-unit connection resistance be tested every 18 months, and the condition of individual battery cells and the battery rack be inspected. Among other required tests are internal ohmic value testing every 18 months or battery capacity testing every six years (per IEEE 450 for VLA), every five years (per IEEE 1106 for NiCd) or every two years or 25 percent of expected life, whichever is less (per IEEE 1188 for VRLA).
Battery backup system manufacturers that establish performance limits, determine the best test data to collect, interpret new data and recommend corrective actions are an invaluable resource for utilities to consult for assistance with these maintenance requirements.
The Advantages of Automated Data Collection
Interpreting NERC PRC-005 requires the utility owner to decide between manual or automated monitoring of the battery backup system. The following should be considered in making this decision.
Documentation—Automation can simplify the monitoring, testing and documentation needed for compliance with NERC PRC-005, which will help the utility owner avoid penalties for noncompliance, including incomplete records. If a warranty for the battery backup system is enforced, correct documentation also helps provide a record of use, loads, performance under load and temperature.
Labor hours—Manual testing can be labor intensive; for instance, a technician may need a half-day or more for a substation visit. Automation will not necessarily eliminate the need for these visits but it could reduce the number of visits required for NERC PRC-005 compliance, which can enable the utility owner to respond more effectively to the shortage of skilled technicians.
Capital investment—In addition to reducing the number of technician visits, automation can foster more efficient use of equipment.
Accuracy—Even though the NERC PRC-005 standard requires measurement, it provides no guidance for how these measurements are taken to ensure compliance. With automation, measurements are consistent as opposed to the risk of inaccuracy posed by human variance and error when measurements are taken manually.
Trending—Automation of NERC maintenance requirements will reveal trending information that was previously inaccessible because automated testing can monitor measurements on a daily or even more frequent basis, as opposed to an annual or semiannual visit from a technician. This enables automated monitoring to identify a problem with battery backup systems within a month, as opposed to a year a technician would need with annual or semiannual visits.
How Capacity Testing Compares with Other Methods
NERC Standard PRC-005-6 specifies the appropriate testing intervals for VLA, VRLA and NiCd batteries, which ensure the compliance of the battery backup system. The capacity test is more reliable in assessing the battery's condition because it evaluates performance under load, which best predicts longevity.
Voltage testing is not as reliable as capacity testing because batteries tested in a string can migrate away from each other, creating voltage migration that does not necessarily indicate failure.
Performance under load focuses on the actual response to the demand load but is affected by other application parameters such as the age of the cell, the number, configuration and thickness of the plates, and the temperature of the environment. Additional data enable a more incisive interpretation of performance-under-load results but it is also difficult to discern which data indicate the actual source of battery backup system failure. The NERC standard does not set performance limits, so utilities must rely on qualified field technicians for an accurate interpretation of data. The battery backup system manufacturer can assist with performance limits for each application and identification of warning signs.
Battery backup systems can provide utilities with an additional set of options that enhance the reliability of electrical service. Those that can be housed outdoors are particularly useful, especially to remote substations and similar applications. To ensure continued reliability, the NERC PRC-005 Standard governs monitoring and maintenance of all grid protection systems, including battery backup systems. These requirements not only obligate the utility operator to gather accurate data but also to interpret the data accurately. Automated monitoring, which is available with some of the enclosures used in battery backup systems, and effective testing, especially capacity testing, can facilitate the collection of data. UP
About EnerSys: EnerSys, a provider of stored energy solutions for industrial applications, manufactures and distributes reserve power and motive power batteries, battery chargers, power equipment, battery accessories and outdoor equipment enclosure solutions to customers worldwide. Motive power batteries and chargers are used in electric forklift trucks and other commercial electric powered vehicles. Reserve power batteries are used in the telecommunication and utility industries, uninterruptible power supplies, and numerous applications requiring stored solutions including medical, aerospace and defense systems. Outdoor equipment enclosure products are used in the telecommunication, cable, utility and transportation industries, and by government and defense customers. The company also provides aftermarket and customer support services.
George Brendahl is the marketing manager for utility products at EnerSys. Brendahl provides technical support for applications in the utility markets.