Recovery
What are the priorities for restoring power?
By Paul Hull
Aug 9th, 2012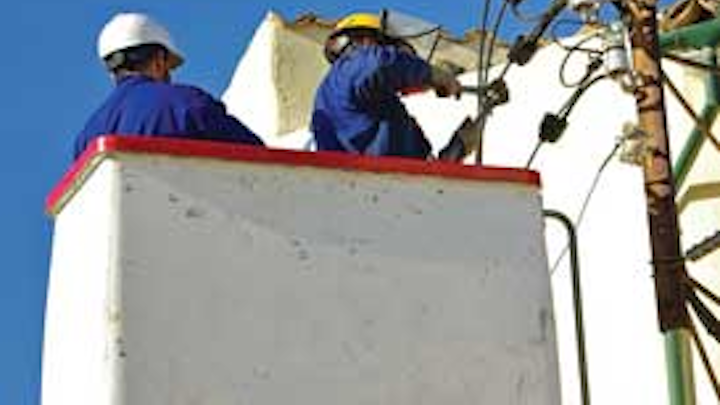 What are the priorities for restoring power?
By Paul Hull
Customers aren't tolerant of power outages. A recent survey sponsored by Build Energy America, a research group focused on the needs to modernize our country's energy infrastructure, and Potomac Communications Group, an agency with 30 years of experience in energy and electric power issues, presented nationwide customer attitudes to power outages. More than one in four customers said there should never be a power outage-unless it is caused by bad weather. Some parts of the country are in the middle of hurricane season. There were power lines down in May in what appeared to be a pre-season exhibition for this year's hurricanes and tropical storms. Most people understand that disruptions caused by storms and hurricanes can't be prevented. In other parts of the country, usually with fewer national headlines but more stormy events, these are the months of thunderstorms and tornadoes-and more downed power lines and poles.
Put aside thoughts of storms for a moment because customers tolerate their inevitability. The outages that cause the most annoyed reactions are those that occur for no apparent or published reason; customers will assume that such outages-many of them lasting less than a few hours-are the fault of the power company. While the number of outages-if you include the 15-minute and two-hour versions-is greater than is usually broadcast, the worse news is that the public's reaction will grow angrier because so much of what they do depends on an increasing electric power demand. The outage can affect customers in their offices and homes, when they are shopping, when they are supposed to be relaxing, and any other time they are using electricity. We have become so dependent on electric power that any outage will affect something essential to today's US lifestyle.
Of the customers asked about power outages in the previously mentioned survey, 64 percent claimed power outages cause significant problems for their households. That percentage was even higher for households with lower income. The majority of customers in states where they believe they cannot survive without air conditioning said they would pay more for power if the provider could guarantee outages would always be less than four hours. Is such a situation possible?
What can be done about outages that are not caused by severe and unusual weather is a question that is more frequently asked. The public sometimes thinks those short outages of two hours or less are caused by a lack of preparedness or commitment by the utility. Let's hope they are not right.
Being Prepared and Capable
Utilities that know they will likely face a season of dangerous, damaging weather prepare for the worst. Before this year's hurricane season, Florida Power & Light (FPL) presented an overview of its storm response plans and gave tours of its Physical Distribution Center and new Command Center to large business customers, community leaders, emergency response workers, local government officials and the media. This is an annual event for FPL.
"FPL believes that strong partnerships with representatives of the community go a long way towards helping communities recover as quickly as possible after a major storm or hurricane strikes," said FPL's President Eric Silagy. "Our goal is to keep the community and our customers well informed-before, during and after a storm-so we can effectively work together to get life back to normal as quickly as possible."
The practical and praiseworthy aspect of FPL's conduct is that it recognizes any outage recovery does not involve only utility employees-but also the entire community.
There are people who are afraid when the power goes out, and they need reassurance-not neglect or mockery. A few years ago, my elderly neighbor lost power because of a fallen branch, and he needed power for medical reasons. It was early Saturday morning and the young utility representative who came to check the problem said he couldn't solve it-that the elderly man would have to wait until Monday, wouldn't he? He showed no sympathy or concern for the customer. No utility needs employees like that. Whether or not it was legal, another neighbor from across the street, a qualified electrician, fixed the problem for the frightened old man.
Recognizing the importance of community involvement in problems caused by bad weather, DTE Energy has offered suggestions for its customers in Michigan, where summer storms are regular and can be violent. A widespread problem in Michigan and other states is the work of the Emerald Ash Borer, an insect that destroys ash trees. The trees can grow to 60 feet. DTE Energy has seen an increasing number of these trees fall in storms and bring down power lines. The utility encourages property owners to remove suffering ash trees. It's expensive to have them removed, but more expensive when property damage, personal injury and even death are involved when they are left to come down at will. In other places, the same observations could be made about old cottonwoods, elms and other trees.
Customers who depend on electrically powered medical equipment-such as my elderly neighbor-should consider a battery back-up system. They should also understand the situation and how to use the back-up system. It is even feasible to arrange an alternative accommodation for such a medically challenged person during an outage. Among the advice for customers during and after a storm, DTE Energy-and every other utility-reminds customers to stay at least 20 feet away from downed power lines. And, stay at least 20 feet away from anything-such as a metal fence-the downed line is touching. In addition, if the basement is flooded and electrical outlets are covered by water, don't wade in to see if everything is okay; it might not-and, you might not be okay.
Cooperative Efforts
The smoothest outage recoveries appear to take place when providers and customers are in harmony, where each involved party knows what it should do and does not try to perform the others' job. There have been emergencies when people with self-appointed authority, but no relevant expertise, have hampered recovery efforts. The utility provides the expert repair service; the customer provides cheerful cooperation.
We may think it's only the biggest utilities that efficiently manage outage response. That would be ignorant and unfair. A smaller utility such as Pennyrile Electric Cooperative-headquartered in Hopkinsville, Ky. and serving more than 43,000 people in nine counties-has a simple, smart plan for power restoration after an outage. Its wisdom could apply to larger utilities, and it answers the questions of how to restore power and to whom. The first step is to restore power to substations. Then the utility repairs feeders with high priority customers, such as hospitals, water and sewer facilities, police and fire facilities, nursing homes and customers on life support systems. Pennyrile Electric then repairs major three-phase lines that serve large numbers of members in residential areas. Then comes the repair of rural three-phase lines, followed by single-phase branch lines, transformers and individual services. It's a clear, practical, understandable system of priorities-and it's published so customers will know the procedures.
This Kentucky electric cooperative also publishes a precise, easily understood set of questions and answers for customers. It addresses issues such as how a customer can be ready for an outage; what to do when the power goes out; reporting an outage; how to behave during an extended outage; cold weather precautions; special advice for farm and commercial customers; and correct procedures before handling trees on your property, especially when there's an outage and you can't tell if your power lines are energized-even if your neighbors are not.
Having the right equipment to accomplish the recovery after an outage is an obvious need, and most utilities probably have the necessary equipment. You can get help from articles and advertisements in Utility Products and other magazines, such as PowerGrid and Electric Light & Power. Engineers continue to create new ways to manage problems, and it's part of our commitment to keep up-to-date with what is available. Not all of the equipment or products will be appropriate for our needs, but we should know what is being developed in our industry. Regardless of how good our equipment is, however, we should never forget or neglect that vital part of any recovery from outages-the people involved, from both utility and customer bases.