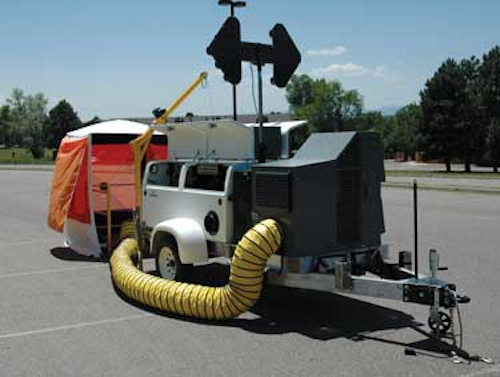 Self-contained Mobile Cooling System
Pelsue vehicles have set the standard for mobile efficiency. We are the oldest manufacturer of mobile power units in America.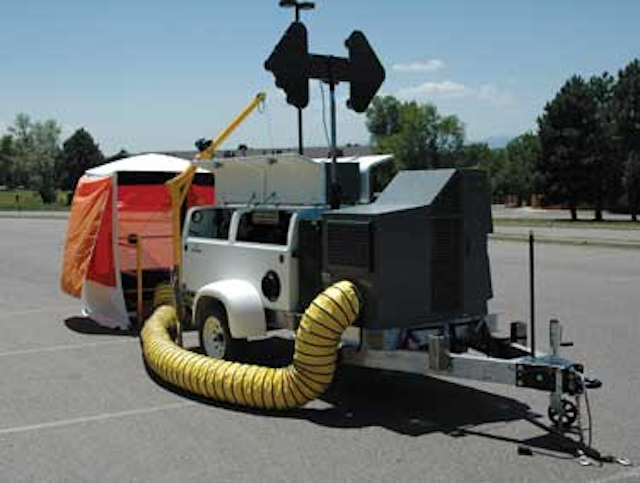 The self-contained power unit includes up to 15 kW gensets and is available in diesel, gas, liquefied petroleum gas (LPG), as well as a cooling capacity of up to 5 tons for a sustainable work environment. The trailer has a rugged aluminum frame with a high-density fiberglass body, logical design and plenty of storage compartments for planks, pumps, manhole shields, guards, cones, signs and other tools.
The unit features a large confined space ventilation blower, 25-foot duct, and compressed air system with tool and dry air capability with full filtration and regulation. It also has various electrical outlets for lighting, tools and pumps. Units are fully customizable to meet individual customer's specifications.

Pelsue
CIRCLE 152 ON READER SERVICE CARD
---
New 180G LC Hydraulic Excavator Provides High Productivity in a Mid-sized Package
John Deere has announced the 180G LC hydraulic excavator. This 18 metric ton model provides contractors a larger, mid-size excavator solution with an Interim Tier4-certifed (IT4) engine. The new 180G LC joins the G-Series hydraulic excavator line and provides reliability, power and productivity on the jobsite.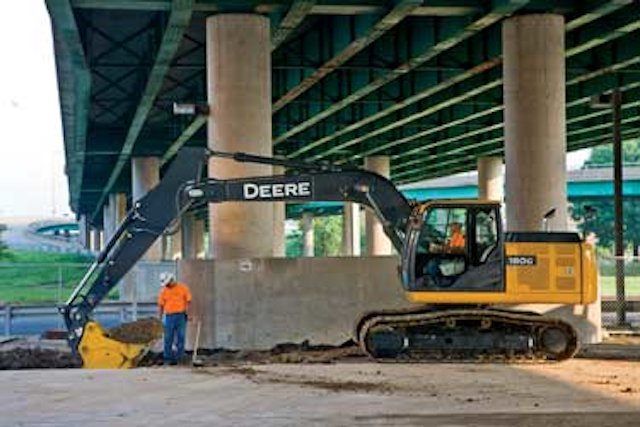 The 180G LC features a rugged, 121-hp, field-proven IT4/EU Stage IIIB John Deere PowerTech diesel engine that meets rigid emissions regulations, enabling operators to work anywhere jobs are available, including non-attainment areas. The unit employs filed-proven cooled exhaust gas recirculation (EGR) for reducing NOX, and a diesel particulate filter (DPF) and diesel oxidation catalyst (DOC) to reduce particulate matter. Extended engine and hydraulic oil service intervals increase uptime and reduce daily operating costs.
The hydraulically driven, highly efficient fan at the heart of the excavators' cooling system runs only as needed-reducing noise, fuel consumption and operating costs. An automatic or operator-activated reversing option back-blows cooler cores to keep them clean and free of debris.
In addition, the 180G LC comes equipped with a Powerwise III hydraulic management system that yields pinpoint metering and smooth, low-effort control. The Powerwise III perfectly balances engine performance and hydraulic flow for predictable operation.

John Deere
CIRCLE 154 ON READER SERVICE CARD
---
• vehicles&accessories
BOLT Toolbox Latch Retrofit Kit Eliminates Lockouts and Lost Keys
STRATTEC Security Corp. announces a new BOLT Toolbox Latch Retrofit Kit, which is designed to prevent problems with lost keys and costly lockouts on truck-mounted toolboxes.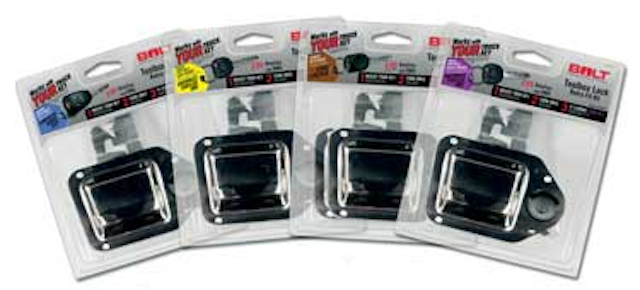 Featuring the company's One-Key Lock Technology, the BOLT Toolbox Latch Retrofit Kit eliminates the need to carry extra keys for truck-mounted toolboxes by permanently programing the toolbox lock to the specific vehicle's ignition key. When drivers insert their ignition key into the lock cylinder, spring-loaded plate tumblers move up and down until they are matched exactly to that key. Simply insert the truck's ignition key into the toolbox lock, turn it once and the lock learns the key.
The BOLT Toolbox Latch Retrofit Kit works with DeeZee, UWS Truck Accessories and other toolbox brands featuring a paddle-style handle.
The retrofit kit is made from stainless steel construction and provides a leak-proof lock like the original equipment handle.

STRATTEC Security Corp.
CIRCLE 153 ON READER SERVICE CARD
---
Six New LiteFoot All-terrain and Utility Terrain Vehicle Models
MATTRACKS introduces six new models for all-terrain vehicles (ATVs) and utility terrain vehicle (UTVs). The new Sprositive Drive system is designed to compensate for the unequal ratios on ATVs and UTVs using over running front differentials. By eliminating the slack in the front sprockets pitch and changing the front to rear sprocket ratio, the Sprositive Drive allows your vehicle to stay locked in four-wheel drive (4WD) and helps keep all tracks pulling at the same speed.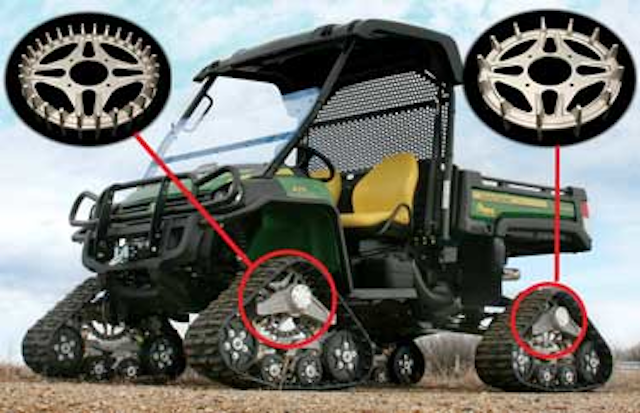 Mattracks offers Sprositive Drive models for Polaris, John Deere, Club Car, Bobcat, Case IH, New Holland and Cub Cadet UTVs, and some Polaris ATVs. The new Sprositive Drive models are the XT SPs, XT UR SPs, XT UR HD SPs, M3 SPs, M3 UR SPs and the M3 UR HD SPs.

Mattracks Inc.
CIRCLE 155 ON READER SERVICE CARD
---
Durable Truck Caps, Bed Storage Create Ultimate Work Station
A new A.R.E. Commercial Products catalog is available, highlighting the manufacturer's complete line of truck caps and organizational bed solutions for the work truck and fleet markets. The 27-page, full-color catalog features construction details on A.R.E. truck caps, along with in-depth product overviews that describe the various window, door, toolbox and lighting options available to truck owners.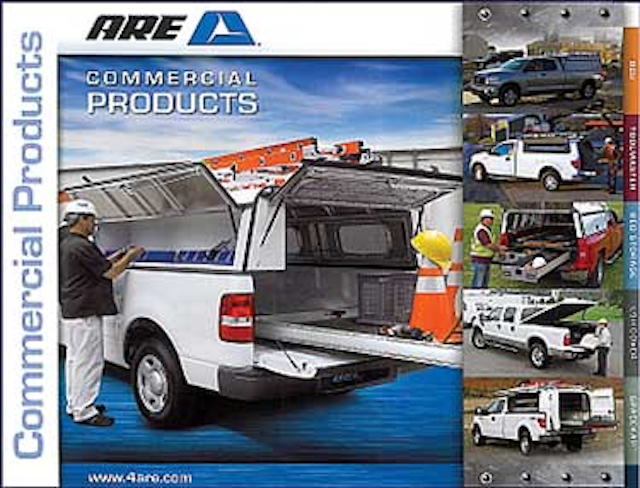 The Deluxe Commercial Unit (DCU) is A.R.E.'s flagship commercial product, offering strength, durability and a long work life without excess weight. Made of fully welded, aluminum frame construction, the DCU is available in cap heights from 20-36 inches and features STRATTEC lock cylinders in folding T-handles on all doors. A.R.E. offers more than 200 options to customize the DCU, including a variety of door and window configurations, toolboxes, ladder racks, roof racks, interior fabric liners, side panels and organizational solutions.
A.R.E. also offers the ToolMaster Series, a fiberglass truck cap featuring heavy-duty doors, two steel toolboxes-each with a 120-pound weight capacity-and a commercial-grade Prime Design AluRack roof rack with a ladder rack roller.
The LSII Series tonneau cover and the SpaceKap-a versatile, self-contained mobile unit constructed of double-sided, fiberglass walls and designed to increase efficiency-also are part of the A.R.E. Commercial Product line.

A.R.E.
CIRCLE 157 ON READER SERVICE CARD
---
HyPower Hybrid System Retrofit Program
Terex Utilities now offers customers the option to retrofit their utility truck fleet with the Terex HyPower Hybrid System, a plug-in Power Take-Off (PTO) system that uses stored energy from the system's rechargeable batteries to power the non-propulsion functions of most utility vehicles. The system helps customers save fuel and reduce exhaust emissions while allowing operators to function in a relatively quiet work environment-a benefit for noise sensitive job sites.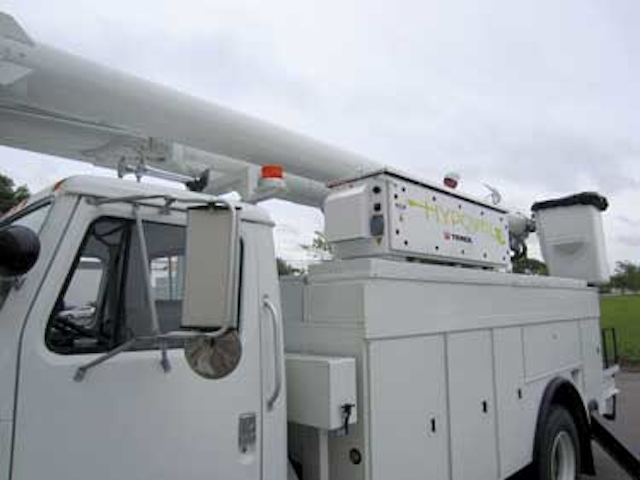 The Terex HyPower Hybrid Retrofit Program can be applied to any Terex or competitive manufacturer's aerial devices five years old or newer and can be completed at any one of our 14 Terex Equipment Services (TES) locations. For an aerial device to be considered for a HyPower retrofit, it needs to pass an initial inspection, which includes an understanding of the truck's available payload capacity, body configuration and cab-to-axle length to accommodate the battery packs. After the inspection, retrofits can be completed in as little as two weeks.

Terex Utilities
CIRCLE 156 ON READER SERVICE CARD