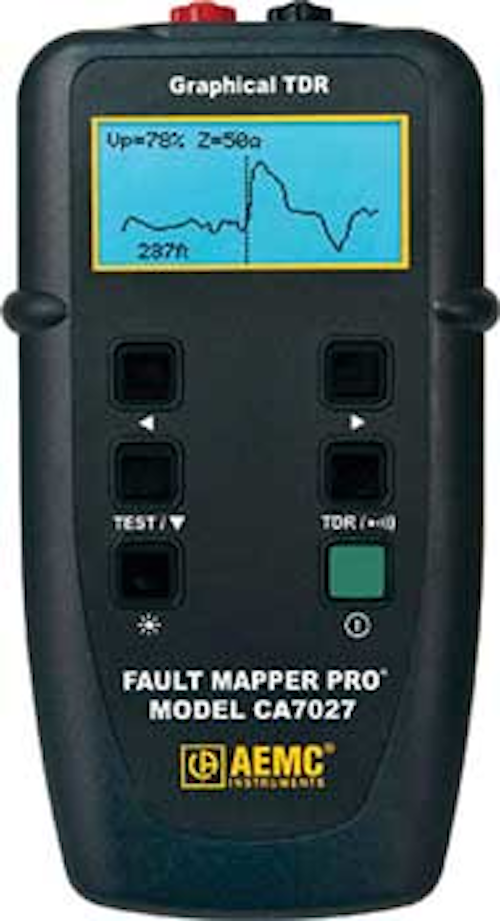 Introducing the Fault Mapper Pro Model CA7027
The AEMC Fault Mapper Pro is a hand-held, graphical Time Domain Reflectometer (TDR), designed for identifying and locating faults on power and communication cables, given access to one end only.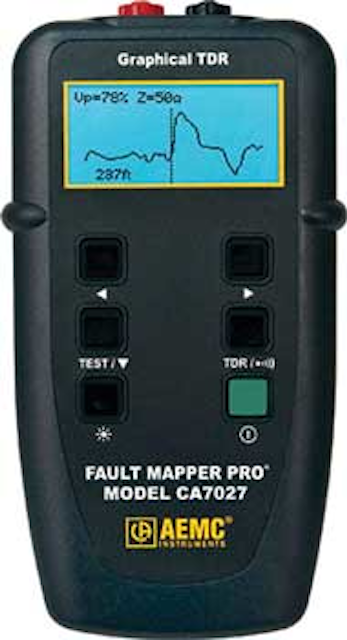 The Fault Mapper Pro measures cable length and indicates the length and distance to cable faults to a range of 9 to 19,000 ft on any type of cable. It injects a series of pulses into the cable under test. The velocity at which the pulses travel is determined by the type of cable, which is known as the velocity of propagation (Vp) of the cable. The Vp is adjustable between 1 percent and 99 percent, enabling accurate calibration to the cable under test.
The Vp value is expressed as a percentage of the speed of light (e.g. 67 percent or ft/mtrs/micro-second); this value will vary according to the type of cable under test. The Fault Mapper Pro can accept user selectable values between 1 percent and 99 percent-or the equivalent value in feet or meters per micro-second.
Based on the selected Vp and the time taken for the pulses to travel through the cable, a reflection profile of the cable under test is displayed. An adjustable cursor assists in locating faults and termination.


AEMC Instruments
CIRCLE 123 ON READER SERVICE CARD
---
DVM-80UVK Universal Voltmeter Kit
HDE's DVM-80UVK Universal Voltmeter Kit is a new addition to its phasing voltmeter product line. The company has expanded the features of the DVM-80 series voltmeter and packaged it with an assembly of accessories, offering it as a complete, competitively priced, ready-to-use universal voltmeter kit.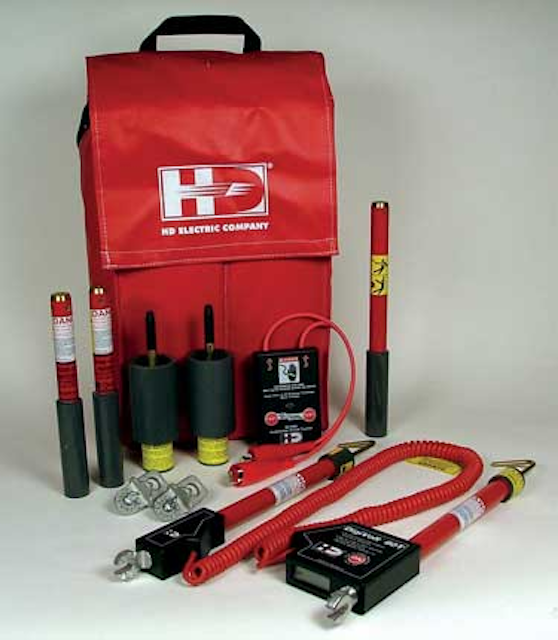 The DVM-80UVK includes:
• Dual stick phasing voltmeter with overhead hook probes for use up to 40 kV;
• Add-on resistor sticks for measurements up to 80 kV;
• Underground bushing probes;
• Cable fault tester;
• Voltmeter proof tester;
• Shotgun hotstick adapters; and
• Soft-sided, multi-functional carrying bag with built-in bucket hooks.
This kit contains everything needed to:
• Perform voltmeter and phasing operations for virtually all overhead and underground applications,
• Take measurements on secondary voltages starting at 5 volts,
• Take measurements on primary voltages up to 80 kV,
• Take measurements on elbow test points with test point feature,
• Peak voltage reading can be held using the new peak hold feature,
• Perform underground cable fault testing with cable fault tester, and
• Test the voltmeter before and after use with voltmeter proof tester.


HD Electric Co.
CIRCLE 124 ON READER SERVICE CARD
---
Model 6527 1,000V Multi-range Megohmmeter is Portable
AEMC Instruments' Model 6527 is a portable, multi-range megohmmeter capable of measuring insulation resistance from 1 kΩ to 4,000 MΩ. It has three user selectable test voltages of 250V, 500V and 1,000V. The Model 6527 is also a multimeter that features an ac/dc voltmeter function capable of measuring up to 600 Vac and 1,000 Vdc, continuity test function with audible beeper for resistances under 35Ω, and an overload protection of 600 Vrms. In addition, it can measure resistance up to 400 kΩ. The TEST button has an associated locking feature for continuous tests up to 15 minutes, eliminating the need to manually hold down the button. This lightweight, easy-to-use megohmmeter can be used for most commonly performed insulation tests, such as on cables, switch gears, motors, dc generators, power tools and small appliances.

Applications:
• Motor insulation resistance measurements,
• Continuity checks,
• Test industrial commercial wiring and motor control centers,
• Test motors (ac and dc),
• Test transformers, and
• Dielectric absorption ratio and polarization index measurement.


AEMC Instruments
CIRCLE 125 ON READER SERVICE CARD
---
FOCIS Integrated Fiber Inspection and Analysis System Simplifies Workflow
AFL announces the release of its new NOYES FOCIS line of integrated fiber inspection and analysis solutions. Intended for use by network installers, maintenance and node activation personnel, FOCIS enables users to view, capture, store, recall, review and share fiber endface images and document the fact that fiber connections are contamination free. Its patent-pending image pairing capability lets users document before/after, input/output, jumper/bulkhead and as-built/as-found fiber installation and maintenance scenarios.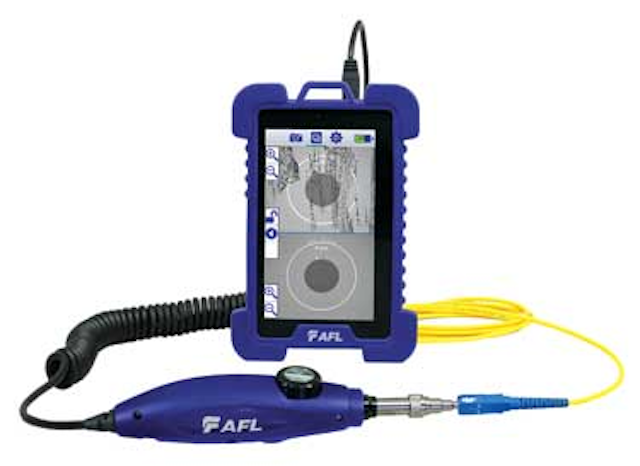 FOCIS solutions are designed to be rugged, field-ready and are backed by a comprehensive warranty and optional warranty extension programs. FOCIS kits are available for PC/UPC, APC and MPO/MTP fiber connector configurations.
FOCIS kits consist of a custom-designed touchscreen tablet, a digital video fiber inspection probe and AFL SimpleViewPlus inspection software. FOCIS systems are easy to operate and employ a user interface that mimics smartphones and personal navigation systems. Over 1,000 images may be stored.


AFL
CIRCLE 126 ON READER SERVICE CARD
---
F6150sv Solution for Protection Scheme Testing
Doble Engineering Company's F6150sv is an enhanced, all-in-one solution for testing protection relays and schemes in their environment, using power system conditions and events. The F6150sv can perform the most simple through the most complex tests. Whether testing an individual component or an entire scheme, the F6150sv can assess protection system performance for analog testing of 1A and 5A protection devices.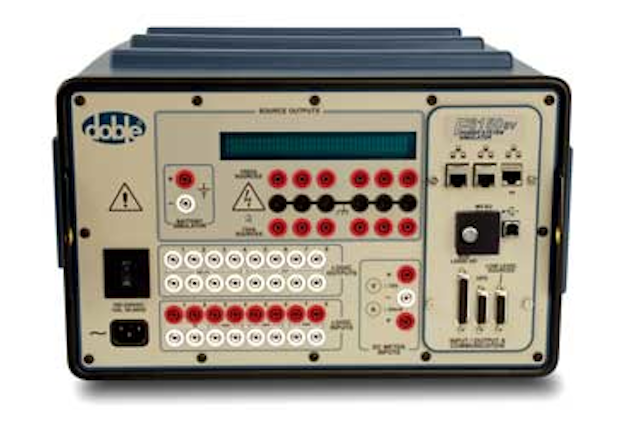 The F6150sv features Wi-Fi as well as expanded current capabilities with prolonged power output. It also includes fiber optic and copper connections for sampled values applications. The F6150sv offers sampled values Process Bus and Station bus applications, and IEC61850 testing without the need for additional test sets-one F6150sv is all that's needed. The F6150sv can also be calibrated in the field with the F6080, saving time and ensuring accuracy of testing.

Doble Engineering Co.
CIRCLE 127 ON READER SERVICE CARD
---
Model 6610 Non-contact Phase Rotation Meter
The Phase Rotation Meter Model 6610 from AEMC Instruments is an essential tool for any installation, inspection and maintenance facility. The Model 6610 is a non-contact (no metal contact points) phase meter designed to identify phase rotation on 3-phase systems and identify live and open/de-energized phases.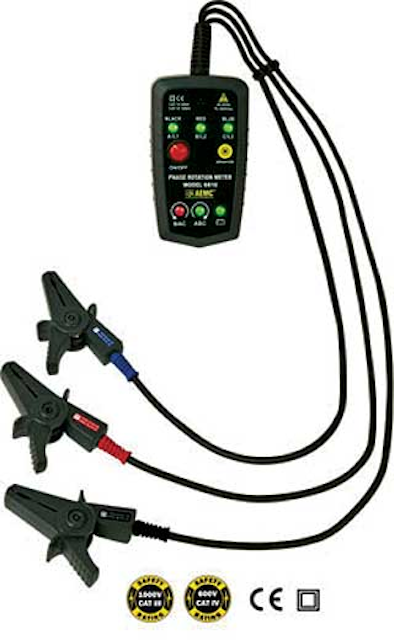 The phase order is determined as soon as the leads are connected. The presence of live wires and phase sequence are provided by light emitting diode (LED) indication and buzzer as soon as detection has occurred. The Model 6610 is especially useful for installing rotating machinery or motors, and for checking generator phase rotation direction.
Features:
• No direct electrical contact (no metal contact points);
• Operating voltage: 75 to 1000 Vac;
• Frequency range: 45 to 65 Hz;
• Phase rotation LED indicators (ABC or BAC);
• Bright LED indication live or open phase (A, B, C);
• Includes three attached color-coded test leads with non-metallic alligator sensor clips for easy connection to the device under test;
• Low battery indicator;
• Back cover includes a magnet feature that can mount the instrument onto any metal cabinet panel for easy measurement; and
• EN61010-1; 1000V CAT III; 600V CAT IV.
Applications:
• Verify incorrect phase wiring;
• Detect open or de-energized phases; and
• Determine correct wiring for proper rotation on motors, pumps, etc.


AEMC Instruments
CIRCLE 128 ON READER SERVICE CARD
---
Voltage Testing and Phasing Products Catalog
HD Electric Co. is pleased to introduce its new Voltage Testing and Phasing Products catalog. This 36-page catalog offers a comprehensive selection of voltage indication, measurement and test products. HDE is cited to lead the industry with the widest selection and most innovative products available, enforcing its mission and vision to provide the industry with test, measurement and control solutions for everything on the electrical power system.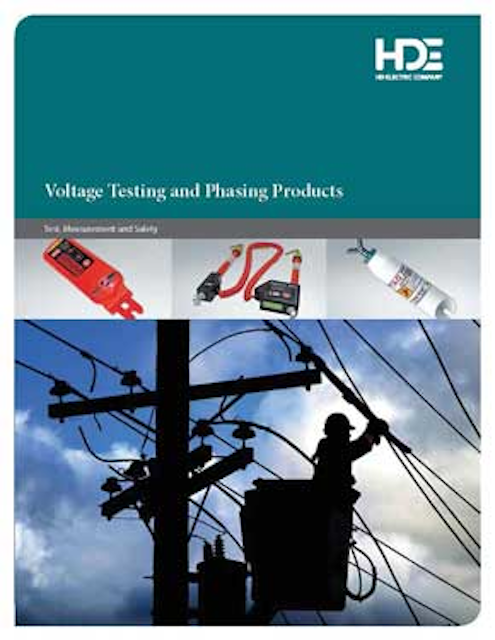 HD Electric Co.
CIRCLE 129 ON READER SERVICE CARD
---
C-10 Carrying Case Lanyard for V-Watch Personal Voltage Detectors
HDE introduces its new C-10FR Carrying Case Lanyard, developed for the V-Watch personal voltage detectors. There are now two versions of the C-10 Carrying Case Lanyard available: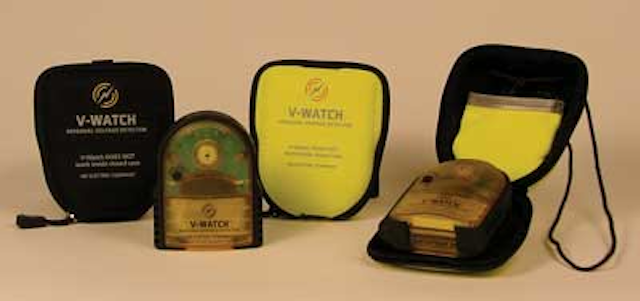 • C-10FR Carrying Case Lanyard-made with a high-visibility safety green material that is shielded with the added benefit of an outer layer of flame resistant material, and
• C-10 Carrying Case Lanyard-made with a black shielded material.
The C-10 Series Carrying Case Lanyard for V-Watch personal voltage detectors combines the carrying case and lanyard into a single case. The carrying case lanyard leaves the V-Watch mounted inside and offers the dual feature of protecting the V-Watch when not in use and acting as a lanyard for the V-Watch when in use.
Among features and benefits: can be used with any V-Watch personal voltage detector-old or new versions; shielded case-protects the V-Watch and effectively turns off the V-Watch when not in use; adjustable lanyard-allows the user to wear the V-Watch at the proper mid-chest position; and rugged swivel clip-allows the user to position the case anywhere in the proper position.


HD Electric Co.
CIRCLE 130 ON READER SERVICE CARD
---
PD-Smart-the Next Generation in Partial Discharge Detection
Early detection of partial discharge is critical to asset management within your facility. For International Electrotechnical Commission (IEC) compliant, in-depth testing for partial discharge, Doble Engineering Co. recommends the PD-Smart, which is capable of advanced partial discharge testing on all equipment types-such as transformers, cables, geographic information system (GIS) and rotating machines. The PD-Smart can be used with Doble's low frequency (LF) couplers or pre-installed high frequency (HF) couplers using the bus coupler (BC) matching unit.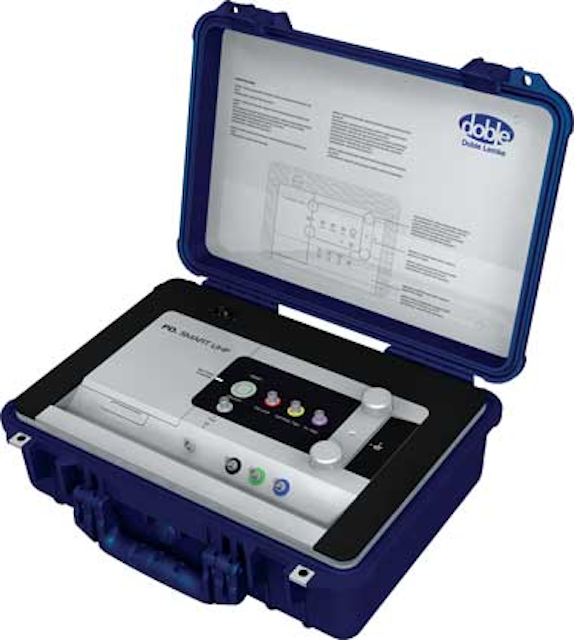 Doble simplifies partial discharge testing with the PD-Smart, making measuring faster, easier and more intuitive. Equipped with a variety of noise suppression and interference rejection capabilities, the PD-Smart delivers accurate readings and data you can trust to make informed decisions regarding partial discharge. Whether using this rugged device on a daily or routine basis, the PD-Smart can handle on-line and off-line testing in the field or laboratory and can be used on all types of medium and high voltage equipment.

Doble Engineering Co.
CIRCLE 131 ON READER SERVICE CARD