Tools & Supplies
Aug 9th, 2012

Timberland Equipment Purchases Assets of OK Champion
Timberland Equipment Limited has purchased certain assets and intellectual property of OK Champion. The OK Champion business, located in Hammond, Ind., is a designer and manufacturer of underground cable handling equipment for the telecommunications and electric power markets with a history dating to 1897. Timberland Equipment's purchase of select OK Champion assets positions it and TSE International to commence the sale of certain products including power rodders, cable scrappers and reel loaders under the OK Champion brand. Engineering and manufacturing of the products will be done at Timberland Equipment's facility in Woodstock, Ontario. Timberland Equipment and TSE International are part of The Timberland Group.

Timberland Equipment Limited designs, manufactures and markets pullers, tensioners, winches, hoists and related material handling equipment for use in the electric utility, construction, mining and marine industries.

Timberland Equipment Limited
CIRCLE 132 ON READER SERVICE CARD
---
Pan & Tilt Series, 360-degree Remote Control Spotlight
Whelen Engineering introduces professional grade, light emitting diode (LED) lighting in a 360-degree remote control spotlight for utility linemen, construction and other applications. New Pan & Tilt Series features wired or wireless control and the heavy-duty attributes of LED lighting where search lighting is required.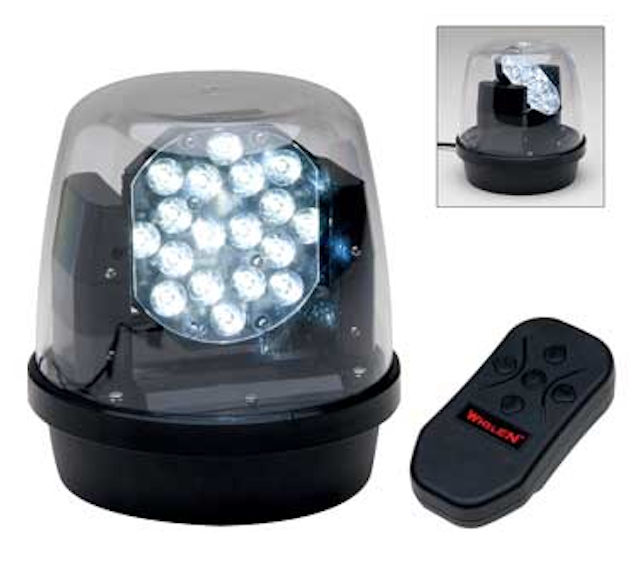 Proportional push button control provides quick and easy operation for panning 210 degrees left or right-90 degrees up or 20 degrees down. The spotlight returns to home position when turned off. In addition, heavy-duty LEDs are rated for thousands of hours and provide 1,475 lumens, while only drawing 2 amps. Among other features:
• Permanent or flange mount,
• Polycarbonate base and dome, and
• Everything covered by five-year, heavy-duty professional warranty.

Whelen Engineering Co. Inc.
CIRCLE 133 ON READER SERVICE CARD
---
6000 Model Telescopic Crane Offers Maximum Capacity of 6,000 Pounds
Rated at 39,000 foot-pounds, the new 6000 telescopic crane from Iowa Mold Tooling Co. Inc. (IMT) offers a maximum capacity of 6,000 pounds and 22 feet of reach. Besides being suited for IMT Dominator I and Dominator II mechanics truck bodies, the 6000 Model crane integrates seamlessly with the bodies of other manufacturers.
With the addition of the 6000 Model, the IMT Series III telescopic crane lineup offers maximum capacities ranging from 6,000 to 14,000 pounds.
Standard IMT Series III telescopic crane features include:
• Patent-pending Penta Boom design, delivering high strength and durability;
• Ten degrees of negative boom angle, providing added versatility and allowing the crane to be reached more easily from ground level;
• Fully proportional pistol grip radio remote control, offering traditional fit and operation;
• Light emitting diode (LED) overload indicator lights on the remote control handle that alert the operator when the crane is approaching overload condition or is in overload;
• Flip sheave boom tip for added lift height in tight quarters;
• Planetary winch that allows for faster hoisting, lowering speeds and smoother overall operation; and
• Patent-pending boom hook stow that allows the boom hook to be stowed more easily and quickly.

Iowa Mold Tooling Co. Inc. (IMT)
CIRCLE 134 ON READER SERVICE CARD
---
The Dominator Helicopter Side-trimming Saw
Pirate Airlift, a helicopter lift company based in North Georgia, has announced the release of its new custom-built aerial side-trimming saw. The company's helicopter lift capacity has raised the bar in side trimming from the standard 10-blade saw to the 15-blade saw, nicknamed The Dominator.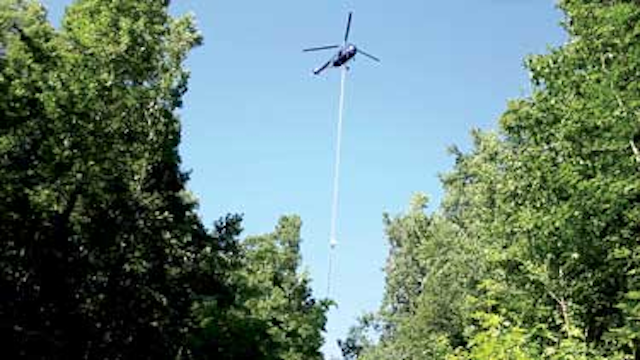 The Dominator was delivered in June 2012, and Pirate Airlift has conducted extensive support and flight training with the new equipment. Pirate Airlift has provided external lift and project support throughout the continental US. The aircraft and crew are capable of carrying out complex support operations while deployed in remote, austere environments.

Pirate Airlift
CIRCLE 135 ON READER SERVICE CARD
---
New Trenchless Keyhole Mini-directional Drill
TT Technologies recently unveiled its new Grundopit-K keyhole mini-directional drill. The new Grundopit-K is designed to operate out of a keyhole excavation for the trenchless installation of gas and water service connections. The unit is fully automated and can work in a 24-inch diameter excavation. The unit is able to install service installations up to 2 inches in diameter, at lengths up to 100 feet.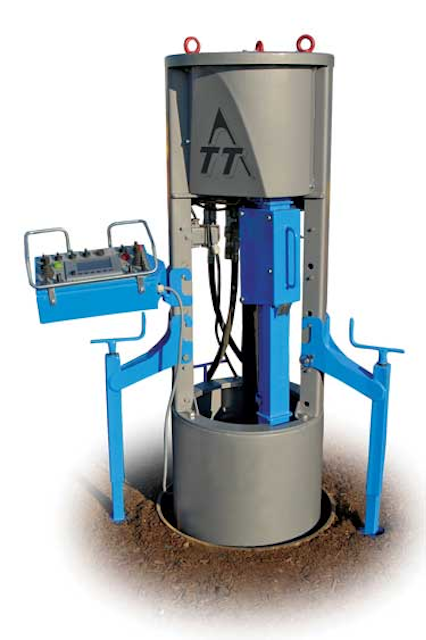 TT Technologies offers a complete line of trenchless equipment including Grundomat piercing tools, the Grundoburst static pipe bursting system, Grundocrack pneumatic pipe bursting tools, as well as Grundoram pipe ramming tools. A wide range of piercing tool, pipe ramming, and pneumatic and static pipe bursting accessories is also available.

TT Technologies
CIRCLE 136 ON READER SERVICE CARD
---
Rolatape Digital Measuring Wheel
Forestry Suppliers' Rolatape Digital Measuring Wheel features an illuminated digital display that is located on the ergonomic handle, providing easy-to-read measurements at a glance. The digital brake stops wheel measuring with the push of a button. Memory stores up to four measurement values for quick recall.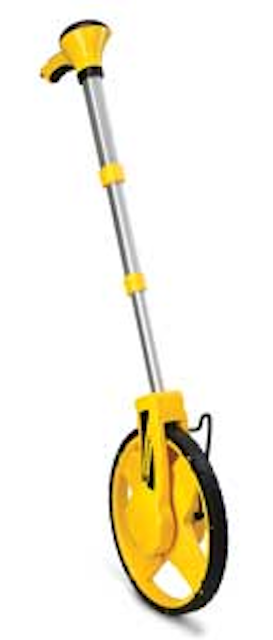 Other features include an aluminum shaft, a kickstand and a wide rubber wheel for use on all terrains and surfaces. The measuring wheel has a range up to 9,999 feet, 11 inches-or 9,999.99 m-and measures in 1 inch, 1/100th of a foot, or 1 cm increments.

Forestry Suppliers Inc.
CIRCLE 137 ON READER SERVICE CARD
---
Lightweight, 60-ton Remote Hydraulic Tool
BURNDY has designed the Y60LW, a lightweight (43 lbs without stand), remote hydraulic tool to install transmission and distribution connectors and sleeves. The Y60LW is designed to be lightweight and portable for increased maneuverability and will operate from any 10,000-psi hydraulic source with the proper oil capacity.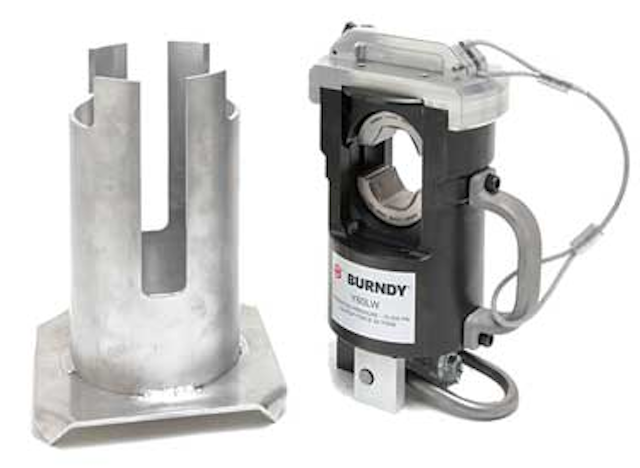 The Y60LW uses the standard and wide "L" dies designed for copper and aluminum code cables, aluminum conductor steel-reinforced cable (ACSR) and aerial conductor. Featuring a large jaw opening, single acting ram with heavy-duty return spring and removable die cap, the Y60LW provides 60 tons of output force and a five-year limited warranty. The base stand is included.

BURNDY
CIRCLE 138 ON READER SERVICE CARD
---
Extra Large Wrenches for Extra Large Jobs
A twofold problem faces companies involved in heavy industries: how to make workers more productive without sacrificing their safety. Too often, workers will use the wrong tool for the job, resulting in damaged equipment or personal injury. Lowell Corporation's 40 Series ratchet wrenches and 50 Series socket wrenches are designed to give workers the right tools for demanding applications.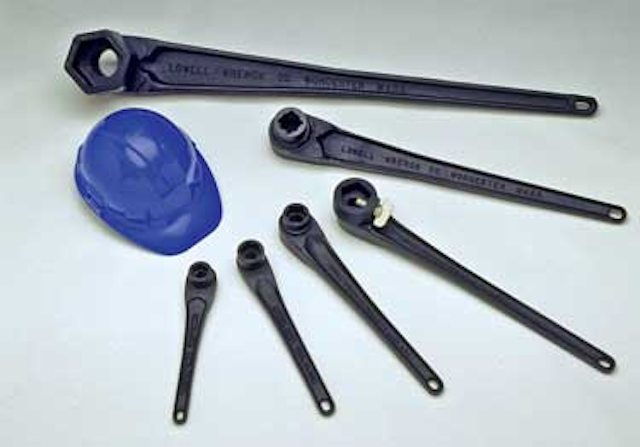 The cast malleable iron 40 Series wrenches are available up to 48 inches long with square, hex or round/keyed openings up to 4 1/2 inches. They have reversing controls in the head and enclosed, replaceable gears. The tools' bolt-thru design makes it easy to tighten nuts on any threaded length.
The 50 Series socket wrenches take a wide range of hex and square sockets that can be easily changed out with a removable retaining ring. Ratchet handles are available up to 64 inches long and socket openings up to 9 inches. There is a reversing control in the head, and the bolt-thru design lets the tool access nuts on any threaded length. For extra durability, the ratchet mechanism is enclosed.

Lowell Corp.
CIRCLE 139 ON READER SERVICE CARD
---
Full-hydraulic Aerial Platform Control System for Severe-duty Applications
Elliott Equipment Co. has developed a full-hydraulic upper platform control package for its HiReach aerial work platform product line. The full-hydraulic platform controls are designed to be spark and electronics free for harsh work environments.
The full-hydraulic control system was developed with Elliott distributor, Mirk Inc., and Aggregate Resources Inc, a drilling and blasting company. Aggregate Resources purchased an H50F HiReach with a 55-ft working height and an ANFO hose in an oversized cable carrier on the boom to allow workers to deliver ammonium nitrate fuel oil (ANFO) explosives from within the work platform. The full hydraulic control console eliminates many components that can be damaged from coming in contact with ANFO or harsh conditions, reducing downtime and costly repairs.
The controls are fully proportional, intuitive and accessible for easy service and maintenance. As a solution based equipment manufacturer, Elliott Equipment Co. is suited to serve the needs of end-users that require features not available elsewhere in the aerial work platform and crane manufacturing industry.

Elliott Equipment Co.
CIRCLE 140 ON READER SERVICE CARD
---
All-Terrain Tree Trimmer
The Jarraff All-Terrain Tree Trimmer is now available with a Tier III Cummins liquid cooled, 130-hp electronic controlled engine. The increased horsepower improves the unit's grade climbing abilities and current emissions rating. The Tier III engine option is available in a 4x4 wheeled and track model. A Tier II engine option, 97-hp Deutz diesel, is still available in both configurations, as well as a new five-cylinder Deutz engine option.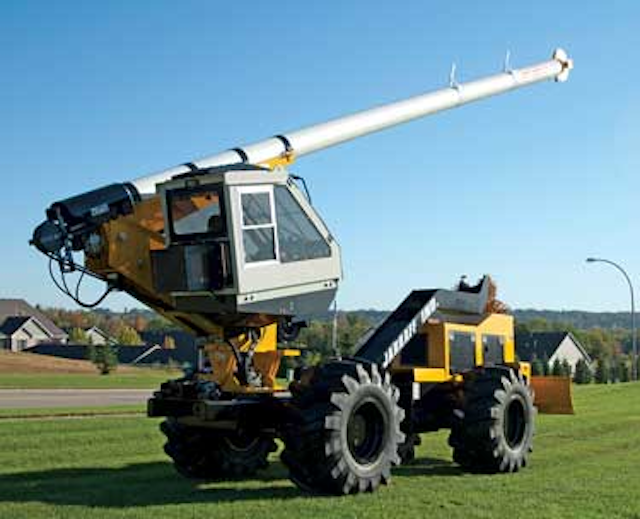 The Jarraff All-Terrain Tree Trimmer features a Rollover Protective Structures (ROPS), Falling Object Protective Structures (FOPS) and Operator Protective Structures (OPS) certified cab. The unit provides right of way maintenance contractors with a dynamic field of operation, offering a 360-degree range of motion, 40-degree lateral tilt and 75-foot cutting height. Two 4-way joysticks and fingertip controls offer optimal precision. The Jarraff adds safety to every job because workers never leave the ground.

Jarraff
CIRCLE 141 ON READER SERVICE CARD
---
Rotary Screw Air Compressors and Reciprocating Model Deliver Reliable Performance
The CAS45R and CAS60R rotary screw air compressors and CAS40P reciprocating model from Iowa Mold Tooling Co. Inc. (IMT) deliver reliable, durable, powerful performance at a competitive value.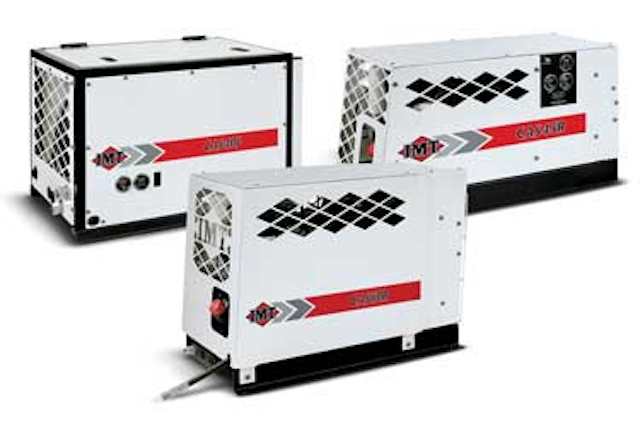 The CAS45R compressor offers a rated capacity of 45 cfm at 150 psi, while the CAS60R model provides air delivery of 60 cfm at 150 psi. Both hydraulically driven, continuous-duty rotary screw units are single-stage, pressure-lubricated compressors for heavy-duty use in mobile applications. The CAS45R and CAS60R units feature a hydraulic aftercooler that is integrated into the compressor design-reducing weight and the physical footprint on top of the body sidepack.
The CAS40P reciprocating compressor is a hydraulically driven, intermittent-duty model that delivers a rated capacity of 40 cfm at 100 psi. The unit is a 2-stage, 4-cylinder compressor designed for mobile applications that do not have high-volume air needs. Especially useful for field mechanic use, it can effectively operate most pneumatic applications that support service work.
IMT CAS45R, CAS60R and CAS40P compressors are available on the IMT Dominator mechanics truck and SiteStar lube truck product offerings.

Iowa Mold Tooling Co. Inc. (IMT)
CIRCLE 142 ON READER SERVICE CARD
---
Geo-Boy Brush Cutter Earns Certifications
The Geo-Boy Brush Cutter 4x4 model from Jarraff Industries recently received Roll Over Protective Structures (ROPS) and Falling Object Protective Structures (FOPS) certification. The certification announcement comes after a lengthy testing and evaluation process.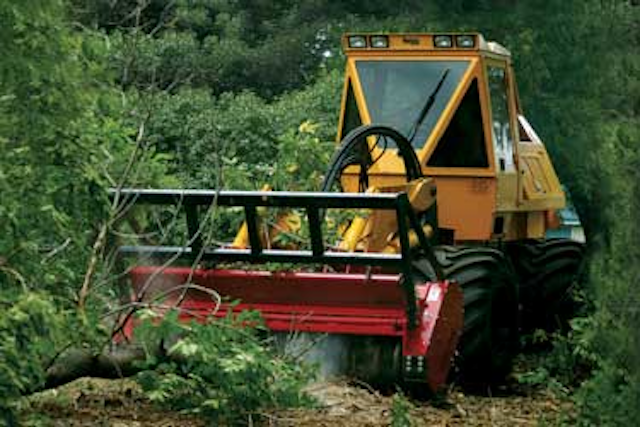 The ROPS and FOPS certifications can be applied retroactively for Geo-Boy Brush Cutters produced since 2004. The company's goal is to provide the safest, most effective brush cutter on the market, so owners and operators can be assured they are using one of the safest self-contained brush cutters available.
Offered in both wheeled and track configurations, the Geo-Boy also offers many safety features, including full Lexan, No Mar windows and a rear view camera. The Geo-Boy can lift the cutter head approximately 11 feet high and can quickly and effectively clear brush and trees up to 12 inches in diameter. With two tier III engine options, 220 hp and 260 hp, the Geo-Boy is cited to be more powerful, maneuverable and fuel efficient than other brush cutters in its class. The track model Geo-boy has been ROPS and FOPS certified since 2004.

Jarraff Industries
CIRCLE 143 ON READER SERVICE CARD
---
New Web Strap Hoist Provides Longer Reach
Lincoln Hoist is pleased to introduce the Model 3W15 Web Strap Hoist. This 3,000-pound/1,500-pound rated hoist houses a 15-foot web strap, resulting in single line pulls of 14 feet and double line pulls of 6.2 feet. These hoists also feature Lincoln Hoist's stress link handle overload warning, which lets users replace an inexpensive link (two spares installed on hoist) instead of an expensive handle.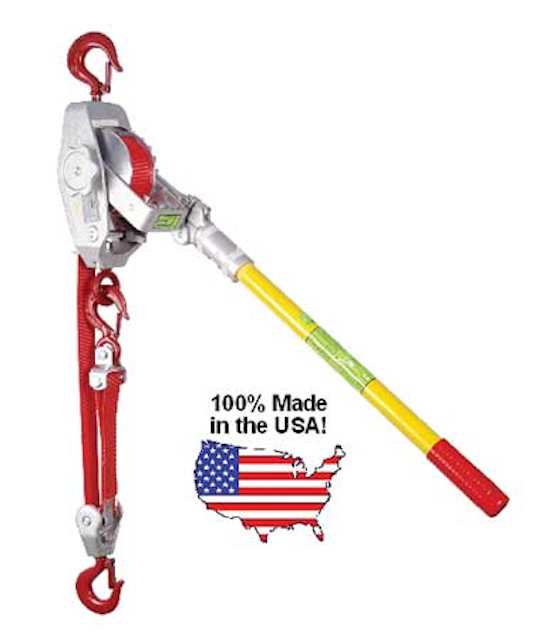 The hoists are serialized and come with radio frequency identification (RFID) tags installed. As with all the company's hoists, the Model 3W15 offers a full range of options such as outboard levers, removable blocks and five hook styles, which allow the user to have the optimum configuration for their system.
Lincoln Web Strap Hoists are 100 percent US made and designed to meet the American Society of Mechanical Engineers (ASME) B30.21 standard.

Lincoln Hoist
CIRCLE 144 ON READER SERVICE CARD
---
Lightweight Load break tool
Initech Enterprises LLC has a new, lightweight design for a portable load break tool for electrical utilities, electrical contractors and industrial sites that operate their own electric distribution systems. The Initech Load Break Tool is for use with disconnect switches, capacitor banks, fuse limiters, power fuses and cutouts. The tool is simple to operate and provides easy control for reduced operator fatigue.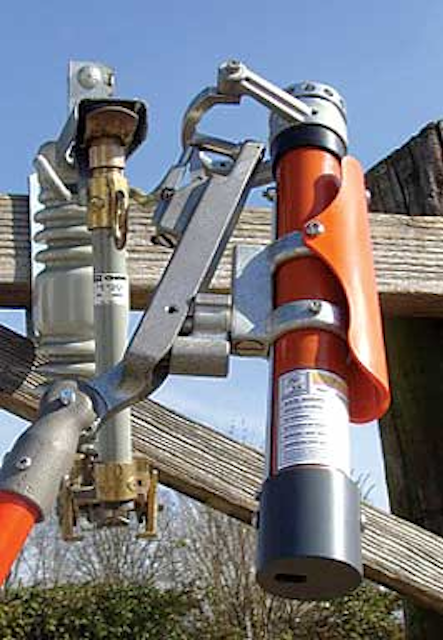 The Initech Load Break Tool has a side located reset grip, which allows full tool reset without glove removal. It helps cut installation and operation costs, and there is no need for load interrupters on each device. The procedures for switching are designed to reduce complications and minimize the duration and scope of outages.
This durable load break tool is dependable because the device interrupts with no external arc, meeting Occupational Safety and Health Administration (OSHA) requirements for opening circuits under load. An optional insulated cap allows tool use in metal enclosed switchgear.
The Initech Load Break Tool is available in two models: the ILBT-27-001 offers maximum voltage of 27 kV and maximum amperage of 900A; the ILBT-38-001 offers maximum voltage of 38 kV and maximum amperage of 900A.

Initech Enterprises LLC
CIRCLE 145 ON READER SERVICE CARD
---
New EDGE Mulcher Attachment for Skid Steer and Track Loaders
CEAttachments Inc., a supplier of attachments and accessories for compact equipment, announces the addition of an all new EDGE Mulcher attachment for skid steer and track loaders. The new standard-flow EDGE Mulcher attachment is designed for efficient mulching of brush and small trees in land clearing applications or to clear trails through overgrown brushy woodlands on standard-flow hydraulics.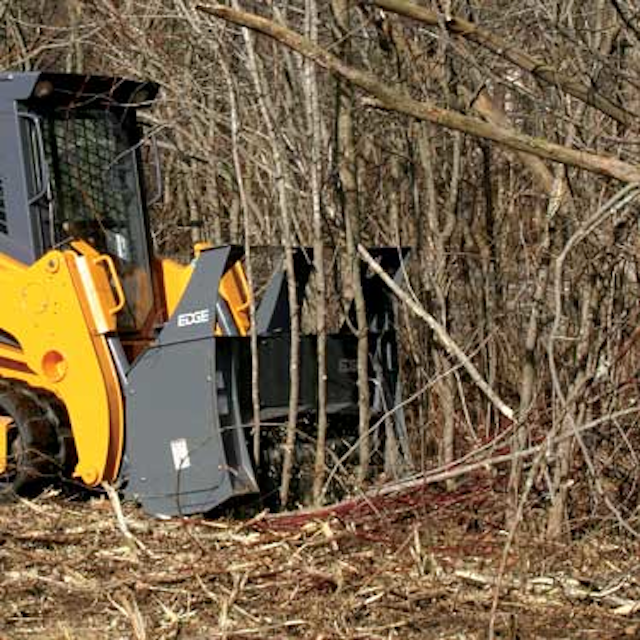 This powerful machine is equipped with a safety pusher bar to force brush or small trees down and allow the mulcher teeth to contact the lower portion of the brush to mulch it. The rest of the plant is mulched as the machine moves through the working area up to 1 inch below grade.
Features include 104 carbide-tipped teeth for long tooth life, smooth operation and fine mulch. The rotor is designed with four staggered rows of teeth around the circumference that cut into and mulch wood material as it moves into the rotor. The EDGE Mulcher attachment also features a rear chain shield and a pressure gauge on the back of the mulcher for the operator to monitor hydraulic pressure while operating.

CEAttachments Inc.
CIRCLE 146 ON READER SERVICE CARD