New Products Showcase
Nov 1st, 2012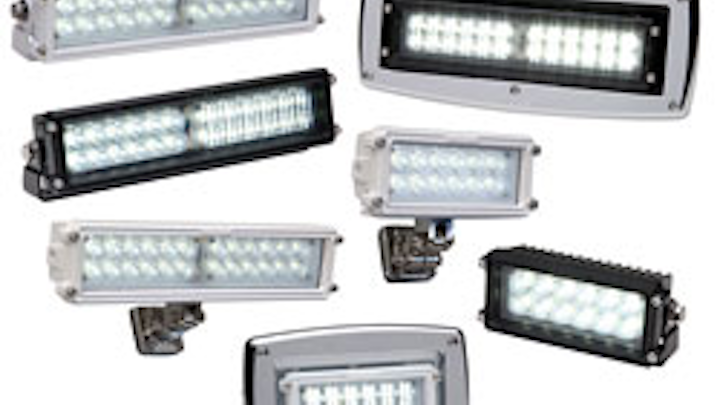 Pioneer SlimLine Series Single and Dual Super-LED Work Lights
Less than 3 inches in height, Whelen's Slim-Line Pioneer work lights have all the reliability, rugged working characteristics and advantages of larger Pioneers in a more compact package. Part of the line of light emitting diode (LED) flood, spot and work lighting, these scaled down models are a "fits-all" addition to your vehicle's supplemental lighting package.
The work lights feature rugged die-cast white or black powder coated housings and are rated to last thousands of hours with low amp draw. The single lamp version provides 3,000 usable lumens at 35 watts; the dual lamp provides 6,000 lumens at 70 watts. Versatile sizes mount in many places on your vehicle, with multiple mounting options including recessed, low profile pedestal and bail bracket to choose from. The units are available in 12 or 24 Vdc and are covered by Whelen's five-year HDP Heavy-Duty Professional warranty.
Whelen Engineering Co. Inc.
CIRCLE 112 ON READER SERVICE CARD
---
Single-use Wire Pulling Tool Reduces Set-up Time
Cerro Wire LLC, a manufacturer of copper electrical building wire and cable, offers a complete range of wire equipped with RectorSeal single-use steel pulling grips—a reliable single-use wire pulling tool that reduces setup time and lets you pull up to four times more wire per day. Pulling grips eliminate waste, saving time and money, especially on larger commercial jobs.
Made with a durable steel body, the pulling grips are less likely to fail during an installation than a pulling grip made of aluminum. They also have a shorter body length, which allows them to corner better, further reducing failure risk compared to other pulling grips.
Rated for use on THHN and XHHN wire, these steel pulling grips reduce total setup time for a four-wire pull to less than five minutes. Eighteen sizes are available, ranging from 1 AWG to 750 MCM.
Cerro Wire also offers True Sequential Footage, which prevents the need to carry excess cable inventory—providing precision length, accurate footage and cost control.
Cerro Wire LLC
CIRCLE 114 ON READER SERVICE CARD
---
YSCM Parallel Splices cULus Listed for Grounding and Bonding
BURNDY's YSCM type HYLINK seamless copper parallel splice connectors are now cULus listed for grounding and bonding per Underwriters Laboratories (UL) 467 and rated for direct burial in earth and concrete. The YSCM provides the benefit of having a parallel splice that can combine multiple small conductors by using circular mils to size the splice.
These compression connectors accommodate a wide range of conductors and are color-coded to ensure proper tool and die selection. As a compression connector, YSCM is a much better option than a mechanical choice. It is clean and labor saving. The YSCMs were UL listed wire connectors all along—not for bonding and grounding until now. In addition to traffic signal control wiring applications, the product can be used in many industrial applications.
BURNDY
CIRCLE 113 ON READER SERVICE CARD
---
FIBERLIGN In-Span Storage System Simplifies Aerial Slack Cable Storage
Preformed Line Products (PLP) has developed the FIBERLIGN In-Span (FIS) Storage System as a new way to speed up and simplify the storage of aerial fiber optic slack cable. One feature of the FIS is the Cable Capture Tabs, which allow the installer to clip the loop of cable into place rather then using the traditional method of securing the cable using multiple cable ties.
The installer first clips the cable into the tabs and then pulls the storage bracket to the back of the loop. Once the storage bracket is in its final position, the cable is secure and the installer can work hands-free to install the few cable ties needed to complete the job. The installation process is streamlined and saves money. In addition, FIS can be hung from an All Dielectric Self-Supporting (ADSS) or lashed messenger cable.
Features include:
• Twelve-inch diameter storage bracket accommodates cable diameters up to 0.60 in.
• Sixteen-inch diameter storage bracket accepts cable diameters up to 0.80 in.
• Multiple cables can be stacked vertically, providing large storage capability in a small profile.
• Installers can choose from a full range of accessories, including hanger brackets, cable ties, cable guides and abrasion protectors.
Preformed Line Products (PLP)
CIRCLE 115 ON READER SERVICE CARD
---
Sensors Enable Fleet Tracking Companies to Provide Additional Services at Low Cost
DataNab, a supplier of low-cost sensors, automation components and streaming audio devices, now offers its range of 1-Wire temperature sensors to fleet tracking and asset management companies—providing industrial grade communicating temperature sensors that can tie into existing global positioning systems (GPS) to provide temperature monitoring capabilities.
Fleet management companies offer solutions that use GPS devices and telematics to remotely track locations and monitor diagnostics of vehicles. DataNab's 1-Wire sensor technology provides these systems with the added benefit of monitoring engine, cab, trailer or other temperatures, and delivers that information with the rest of the data in real time over the network—increasing safety, reliability and quality control. DataNab's stainless steel sensors can withstand the dirt, shock and moisture associated with life on the road.
The 1-Wire sensor solutions, in conjunction with existing GPS hardware and telematics technology, gives fleet managers and companies an inexpensive option to access this information in real time, enabling a quick and intelligent response to critical temperature related maintenance, performance and quality control data.
DataNab
CIRCLE 116 ON READER SERVICE CARD
---
New Handscope Oscilloscopes Models OX5022 and OX5042
Compact, shockproof, IP54, Handscope Oscilloscope Models OX5022 and OX5042 can be comfortably held in one hand. AEMC Instruments' ergonomically designed instruments are equipped with a color screen and light emitting diode (LED) backlighting for precise, crisp data display. Integrated multilingual help screens are available at all times.
The Models OX5022 and OX5024 combine three instruments in one:
• 20 MHz or 40 MHz oscilloscope,
• Independent 8,000-count multimeter with power measurements, and
• Built-in harmonic analyzer out to the 31st harmonic (fundamental between 40 Hz and 450 Hz).
Two MB of storage are available for recording data. In the multimeter mode, it is possible to store graphic recordings of 2,700 measurements from five minutes to one month. In addition, isolated Universal Serial Bus (USB) communication with the Standard Commands for Programmable Instrumentation (SCPI) protocol is available, making it simple to program the instrument remotely with the supplied SX-METRO software. These products have been developed using an Eco-Design approach to reduce their environmental impact and come with a three-year warranty.
AEMC Instruments
CIRCLE 118 ON READER SERVICE CARD
---
C63T Crossbox for Trucks With Bed Mounted Fuel Tanks
RKI Inc. has released its latest crossbox, the C63T. The box is for trucks with bed mounted fuel tanks or compressed natural gas (CNG) tanks. It fits trucks such as Ford, Chevrolet and Dodge—as well as other makes. This model provides versatility for your application and is available in black or white.
The C63T truck box is constructed with 14 gauge steel and features high security stainless steel hinges. A polyester powder coat provides a durable finish, ensuring the product will last.
A full list of specifications and features, as well as information on all of RKI's other products, is available.
RKI Inc.
CIRCLE 117 ON READER SERVICE CARD
---
Tru-Level Tilting Pedestal System for Aerial Devices
The new Terex Tru-Level Tilting Pedestal System for Terex SC and HRM Series aerial devices allows operation on slopes up to 20 degrees to accommodate the need for "real world" truck positioning. The Terex system decreases stress on the rotation gearbox when rotating up the hill, decreases set-up time because it eliminates the need to crib the outriggers, and does not limit boom operation or load charts.
Other Tru-Level Tilting Pedestal System benefits include keeping the work platform level longitudinally, safety and less fatigue for the operator maintaining balance, aerial device is able to operate in its designed configuration, and cylinders are rated to independently support the rated load.
Another aspect of the Terex Tru-Level Tilting Pedestal System is the anticipated increase in rotation system service life. When aerial devices operate on a slope, the rotation system often works harder. This Terex system will save service time and costs because of easier access to the collector block and rotation bearing bolts, as well as decreased stress on the rotation gearbox during uphill work.
Terex Corp.
CIRCLE 119 ON READER SERVICE CARD
---
More Powerful 9460 and 9470 Remote Area Lighting Systems
Pelican Products' Advanced Area Lighting Group has introduced more powerful versions of its 9460 and 9470 Remote Area Lighting Systems (RALS). The 9460 RALS and 9470 RALS are part of Pelican's line of area lighting systems that provide convenient, ecologically responsible alternatives to generator-powered lights.
Both lights are engineered with the Intelligent Control System that calculates and displays current battery life, allows the user to regulate the intensity of the light and choose the desired run time.
Built for versatility, the 9460 RALS features two swiveling telescope masts—each extends to nearly 6 ft.—and two 360 degree articulated light arrays. The system's light emitting diodes (LEDs) and dual power modes—with individual water-proof switches—combine to radiate up to 6,000 lumens.
For large area illumination, Pelican has created the 9470 RALS, which features 24 LEDs—six each head—mounted on four 6-foot, telescoping light towers. The heads that offer variable brightness settings are powered by a 12-volt, sealed, rechargeable battery and combine for a peak intensity of 12,000 lumens.
Pelican Products Inc.
CIRCLE 121 ON READER SERVICE CARD
---
WARN ZEON Winches for Trucks Feature Faster Pull Speed
Warn Industries' WARN ZEON winches, for the truck and SUV market, feature quieter motor, faster pull speed, many internal improvements, and symmetrical design unlike other winches.
ZEON 8, ZEON 10 and ZEON 12 are available in 8,000-, 10,000-, and 12,000-lb. capacities, and come with wire rope and a roller fairlead. ZEON 8-S and ZEON 10-S feature WARN Spydura Synthetic rope and a polished aluminum hawse fairlead. ZEON isn't just a new winch—it's winching evolved. Highlights include:
• Styling: New exterior styling and symmetrical design give this winch a look that is advanced, capable and strong.
• Versatility: Convertible control pack can be attached to the winch or remotely mounted, allowing for various winch mounting options and looks.
• Quiet: New-design planetary gear train and series-wound motor deliver fast, quiet and reliable pulling power. Tough and capable enough to tackle anything you will.
• Durable: Satin-black powder-coated finish with stainless steel fasteners and clutch lever looks good and inhibits corrosion. An improved IP68 winch sealing keeps the elements out.
• Innovative: Large diameter winch drum reduces rope wear, is lightweight, and has an integrated rope anchor for easy rope installation.
Warn Industries
CIRCLE 120 ON READER SERVICE CARD
---
HITACTILE Professional Technician Gloves Protect Hands, Maintain Dexterity
GOJO's Professional Technician Gloves provide protection against cuts and lacerations in applications where dexterity and hand protection are critical. The GOJO HITACTILE Professional Technician Gloves feature a CHEMTRILE Nitrile palm coat that repels oils and liquids. They have a breathable and lightweight MAXFLEX weave with multi-directional stretch for comfort and ergonomically shaped fingers for fit and dexterity. Extended cuffs deliver a snug fit with additional wrist protection.
The durable gloves are longer lasting than Latex or Nitrile gloves, and they are reusable and machine washable. The GOJO HITACTILE Professional Technician Gloves, which are available in large and extra-large sizes, are available at select auto parts retailers and hardware stores.
GOJO
CIRCLE 122 ON READER SERVICE CARD
---
New Tool Combines Three Socket Sizes in One
Lowell Corp. has introduced the Triple Square Transmission Impact Socket, a tool for impact wrenches that combines three square transmission hardware openings into one device. Designed for transmission line utility workers, the Triple Socket has a slim profile and light weight for easy handling. It can be used with any impact wrench or rattle gun to install or tighten transmission tower hardware.
Overall length of the tool is 10 3/8 in. and it weighs 3.5 lbs. The three square socket openings are: 1 1/8 in. for 3/4-in. hardware; 1 5/16 in. for 7/8-in. hardware; and 1 1/2 in. for 1-in. hardware. The socket also fits 1 1/2-in. hex nuts.
For use with 1/2-in. impact wrenches, a 7/16-in. Quick Change Adapter is included. The tool can be turned end for end without having to remove the adapter from the wrench. The Triple Socket's 1 1/16-in. shaft is hollow and deep enough to allow workers to access nuts on many different threaded lengths. The Triple Square Transmission Impact Socket is guaranteed against defects in material and workmanship for one year from date of delivery.
Lowell Corp.
CIRCLE 123 ON READER SERVICE CARD
---
BrushBlade—The Lineman's Knife
MADI has introduced BrushBlade—The Lineman's Knife. Cited to be the first of its kind, BrushBlade combines two tools in one and helps linemen decrease outages, minimize open neutrals and bad connections, and create significant savings by brushing conductors properly.
The two tools are a knife and an integrated wire brush. The wire brush helps clean conductors to make better connections and covers conductors up to 1,000 MCM. This covers most conductors and the wire brush is easily replaceable. Other key features are the reversible thumb stud for quick, one-handed opening from the left or the right and the built-in nonconductive snap ring for easy storage.
It is more efficient and much safer than currently available knives. BrushBlade is safer because the blade can be closed when not in use; locks in the open position, preventing accidental closing; and has a blunt tip and a blade back design that discourages scraping the aluminum conductors.
MADI
CIRCLE 125 ON READER SERVICE CARD
---
Accessories Allow Continuous Monitoring of Vehicle Suspension
Firestone Industrial Products Co. LLC offers two new Air-Rite air accessory systems designed to provide an instant air source to Firestone's line of air helper springs.
The Xtra Duty Remote Air Command and Xtreme Duty Remote Air Command Systems each feature a wireless controller for easier installation. They also allow users to remotely adjust their vehicles for varying load conditions and inflate tires.
Firestone's Xtra Duty Remote Air Command system (part # WR17602546) features the wireless controller, heavy-duty compressor and a 1/2-gallon air tank. The Xtreme Duty Air Command system (part # WR17602547) includes the wireless controller, an Xtreme compressor and a 2-gallon tank. The Xtreme Compressor has a 100 percent duty cycle at 100 psi.
Designed to keep vehicles level and handling correctly, the air accessory systems provide convenient, instant adjustability of the air helper springs and continuous monitoring of the suspension.
Firestone Industrial Products Co. LLC
CIRCLE 126 ON READER SERVICE CARD
---
DS-PAN-600 Series Docking Station for Panasonic Toughbook H2

Havis' DS-PAN-600 Series Docking Station for Panasonic's Toughbook H2 is available for your computing needs. Designed for versatility, mounting options allow docking and usage in any work environment.
The DS-PAN-600 Series Docking Station offers computer charging, security and connection to peripherals in in-vehicle workplaces. Top exiting ports and easy-to-use strain relieving allow a low profile mount in mobile solutions and reduces the need for cable extensions. Use of barcode scanners is available while computer is securely docked. Side exiting Universal Serial Bus (USB) ports are optional. Productivity is maximized with this lightweight and strong design—built with theft deterrence, longevity and stability in mind.
Havis
CIRCLE 124 ON READER SERVICE CARD
---
Handheld Voltage Detectors
HD Electric Company's (HDE's) handheld voltage detectors consist of the LV-5 Stray Voltage Detector and the VP-1 Voltage Probe. These handheld voltage detectors are used to detect voltages starting at 5 Vac. They give an indication of the presence of voltage with either a flashing light or flashing light and beeping.
The LV-5 Stray Voltage Detector is a new addition to the product line and detects voltage from 5 Vac to 600 Vac with direct contact and above 600 Vac at a distance. The LV-5 detector has an ultra-bright flashing indication of voltage and is always on and ready to use.
The VP-1 Voltage Probe is designed to be used as a hand held direct contact secondary voltage detector from 50 Vac to 600 Vac and as a proximity voltage detector for higher voltages. The VP-1 is always on and gives a flashing red light and beeping indication when voltage is detected.
HD Electric Co.
CIRCLE 127 ON READER SERVICE CARD