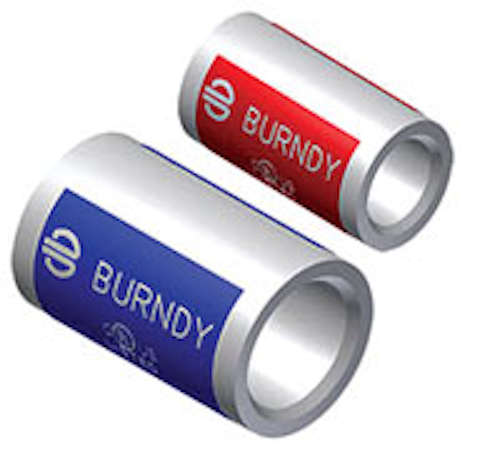 YG14BTC28 Busbar Connector Improved
BURNDY, a manufacturer and provider of connector solutions to the industrial, energy, construction, telecommunication, oil, gas, data center and transportation industries, introduces an enhancement to its existing line of type YG-B HYGROUND compression connectors suitable for attachment to busbar or steel.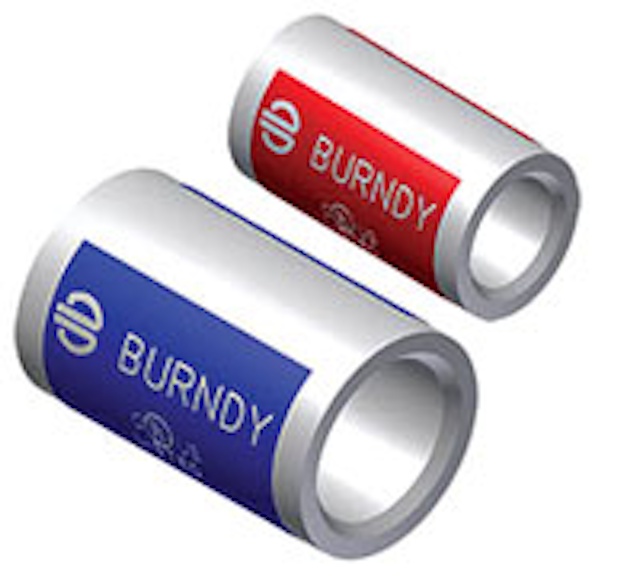 The YG14BTC28 connector allows a ground conductor to be easily attached to busbar or steel that has a thickness of 1/8 to 1/4 inch, with a wire range of 1/0 to 4/0. The YG14BTC28, along with the YG14B2TC2C6C and YG14B2TC2C2C, is quickly installed with the BURNDY U1105 die set and applicable installation tool. The entire line of BURNDY HYGROUND compression grounding connectors and PATRIOT line of installation tools are made in the USA.
BURNDY
CIRCLE 111 ON READER SERVICE CARD
---
WEATHER GUARD Improves Ladder Rack Systems
Knaack LLC announces improvements to the design of its WEATHER GUARD Quick Clamp Ladder Rack and the Nissan NV Ladder Rack units. The roof-mounted ladder rack equipment, used on commercial vans and minivans, offers design features that enhance the unit's durability while making it safer and easier for one person to load, transport and unload ladders, as well as other oversized items carried on the roof racks.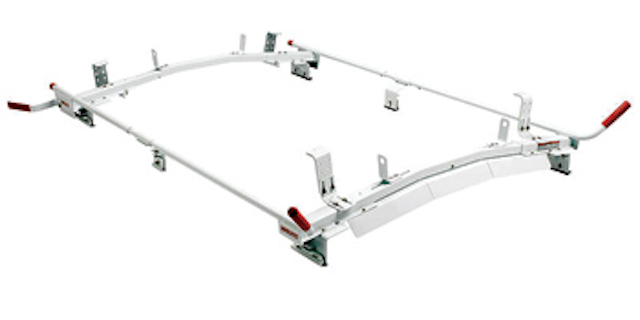 Improvements to the Quick Clamp Ladder Rack include modifications to the mounting plates and the front rails to protect ladders when loading and unloading, beefing up the clamp mechanism for added strength and longer life, improved engineering of the gas springs with a tougher exterior case to withstand wear, and internal brass bushings that prevent strip-out.
The improved models are now available for both full-size vans and minivans.
Key attributes of the Quick Clamp Ladder Rack include:
Ladder hooks on the front end of the side rails have been extended and angled outward for easier loading of ladders in tight places;
Long lasting design utilizes 3/16-inch extruded aluminum rails, and stainless steel gutter clamps and hardware;
Anti-wear protection on clamps helps protect ladders during transport; and
Adjustable sway braces for easy ladder change out.
Knaack LLC
CIRCLE 113 ON READER SERVICE CARD
---
Micro Pioneer Spotlight and Floodlight is Compact
Whelen Engineering introduces the Micro Pioneer, a compact spotlight and floodlight. Designed to fit almost anywhere on your vehicle, it's for utility, off-road, fire, emergency medical services and rescue vehicles, and marine applications.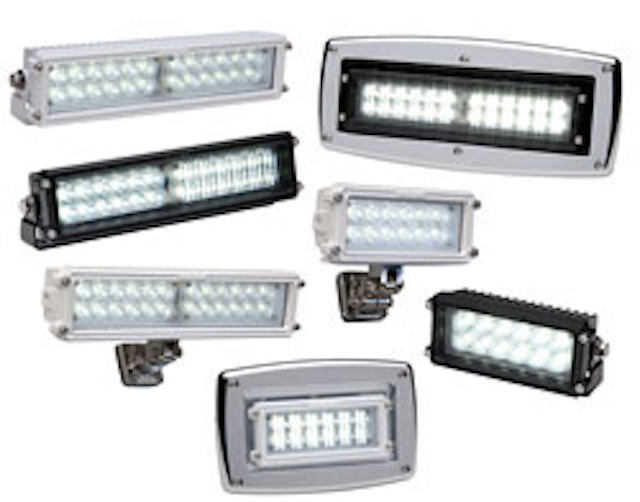 Micro Pioneer features a rugged, die-cast aluminum housing, solid-state electronics and includes four optic lenses standard for 90 x 20 wide flood, 40 x 20 flood, 8 x 40 horizontal flood, 8 degree spot flood spread patterns. Optic lens are easily changed via four screws in picture frame fixture. The Micro Pioneer produces over 3,900 lumens and draws 4 amps at 12.8V.
Whelen Engineering
CIRCLE 112 ON READER SERVICE CARD
---
Snap Shot Time Domain Reflectometer
T3 Innovation, a provider of advanced handheld test equipment for the cable, telecommunications, datacom, networking, electrical design and maintenance, and residential and Custom Electronic Design and Installation Association (CEDIA) custom install markets, has announced that the new Snap Shot fault finding and cable length measurement time domain reflectometer (TDR) is now available.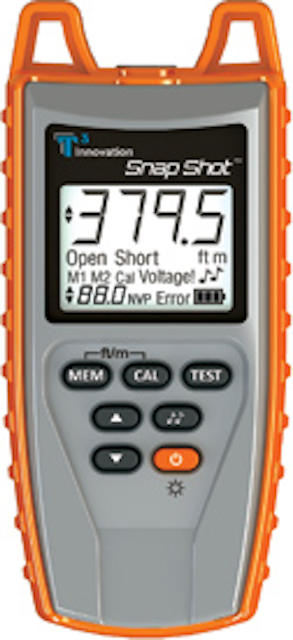 "With the complexity of today's electrical, data, voice and video signal carrying systems, you need a tool that is fast, accurate and easy-to-use to see down the wire and show the exact conditions that exist," said Ron Vogel, T3 Innovation CEO. "Our new, compact Snap Shot TDR accurately detects, locates and identifies fault conditions such as opens, shorts and arc faults on energized cable of all types up to 3,000 feet in length."
Made in America with American technology, Snap Shot's large backlit LCD display clearly shows lengths in both feet and/or meters with an accuracy of better than 1 percent for pinpointing any fault or condition. Dual internal memory allows users to store cable parameters for easy reference, while a built-in tone generator with multiple tone capability traces found faults.
T3 Innovation
CIRCLE 114 ON READER SERVICE CARD
---
Treadmat Equipment Mats are Recycled From Discarded Material
SVE Portable Roadway System's Treadmat equipment mats are the newest addition to this company's product line. Treadmats allow you to get to the work site quickly and easily. Tire mats have been around for a while-but not in a woven design. The mats provide a way to recycle discarded material, reducing landfill waste, into a useful tool for the field.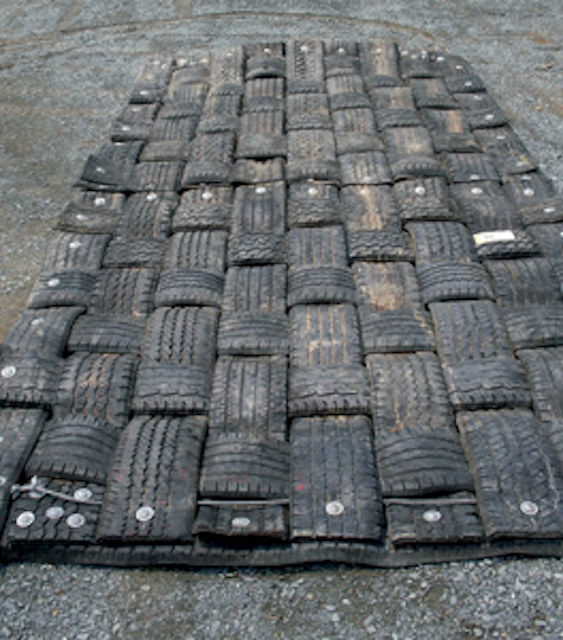 The recycled woven tire mats are rugged and virtually indestructible. Among Treadmat features:
Usable operational life is extremely long,
The rubber is the road with TreadMat,
All types of equipment can be operated on the mats,
Lifting/dragging cables on both ends and rated at 2,000 pounds on straight pull,
TreadMat can be placed in layers to provide additional load bearing capacity in softer soil conditions,
Sized at 7 X 14 feet with a weight of 765 pounds makes it easy to handle with onsite equipment, and
Many applications.
SVE Portable Roadway Systems Inc.
CIRCLE 115 ON READER SERVICE CARD
---
PACK RAT Drawer Units Provide Organization and Convenience
Knaack LLC and WEATHER GUARD Products announce the PACK RAT drawer units for trucks and vans. Made from durable 14-gauge steel, PACK RAT offers easy access to hundreds of pounds of tools and supplies while leaving floor space open for hauling materials or moving in and out of the vehicle.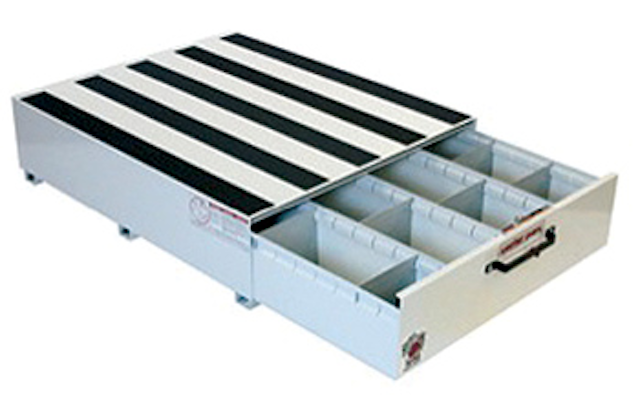 PACK RAT drawer units come in a variety of sizes and layouts to meet the needs of the most demanding tradesman, fit almost any van or truck configuration, and are designed for easy installation. All PACK RAT drawer units offer a limited lifetime warranty.
Anti-skid strips on top of the drawer assembly offer traction for wet and muddy boots. Smooth rolling drawers allow easy operation and can carry up to 425 pounds of equipment. Full weather stripping protects against the elements. In addition, drawers are completely removable for easy cleaning and feature a one-touch push button latch assembly for one-handed operation.
PACK RAT drawer units come in 1, 2, 3 and 4-drawer units with both wide and narrow drawer compartments.
Knaack LLC
CIRCLE 117 ON READER SERVICE CARD
---
LD Payout Reel
Utility Tool & Trailer's LD Payout Reel is designed for picking up and paying out wire cable in neat coils. The reel expands and contracts, and is designed to work in any position in-between. Among other features: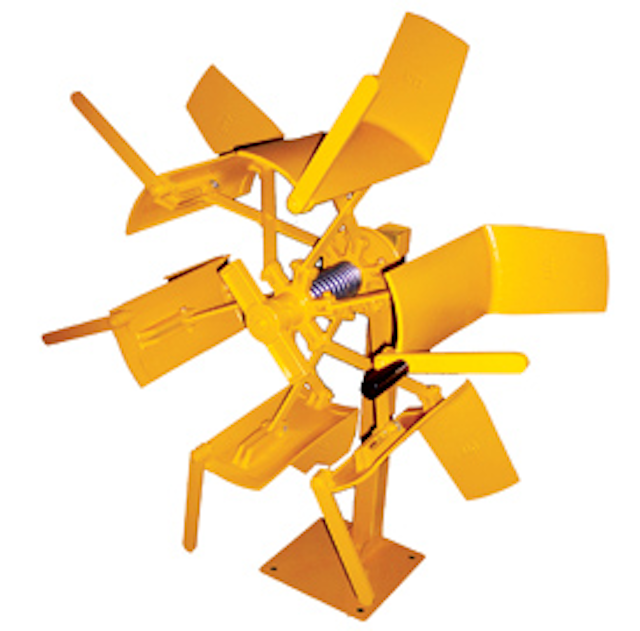 Reel is attached to any compatible base,
Unit comes with a rope brake to ensure ease of rewinding,
Reel can be mounted on your truck using very limited space,
Loading and unloading is easily accomplished by folding up/down the spring-loaded levers located on the outside of the reel,
The spring-based mechanism used to expand or contract the reel will allow unit to fit wire coils from smaller than 14 inches to over 21 inches inside diameter, and
Widths of the paddles are just less than 12 inches wide and the overall dimensions of the unit are 20 inches wide by 29 inches tall.
Utility Tool & Trailer Inc.
CIRCLE 116 ON READER SERVICE CARD
---
Aluminum Select Dump Bodies are Versatile, Lightweight
Crysteel's Aluminum Select dump bodies provide contractors a hard working, versatile dump body with lightweight, durable, corrosion resistant aluminum construction. Aluminum Select bodies weigh up to 50 percent less than traditional steel bodies, improving payload capacity and fuel efficiency.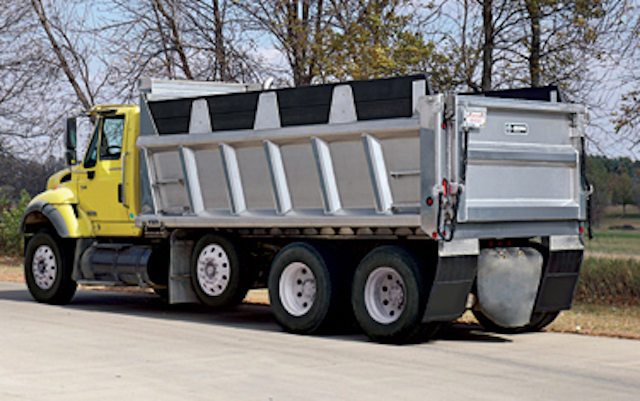 Aluminum Select bodies feature fully enclosed front posts and slanted vertical side braces, and are available in sizes ranging from 10 to 18 feet with 5-yard to 20-yard capacities. Accessories are also available including cab shields, fenders, poly sideboards, heavy-duty tarps, ladders and toolboxes.
The Aluminum Select dump bodies are backed by Crysteel's five-year warranty.
Crysteel
CIRCLE 118 ON READER SERVICE CARD
---
TruPulse 200 Rangefinder/Hypsometer Provides Accurate, Reliable Measurements
Forestry Suppliers' combination rangefinder/hypsometer features "thru-the-lens" viewing so you know laser energy is traveling directly along your line of sight. Because measurements are shown in the display, you never have to take your eyes off the target. Results are displayed in feet, yards or meters. Distance measurements can be taken up to 3,280 feet away without a reflective target.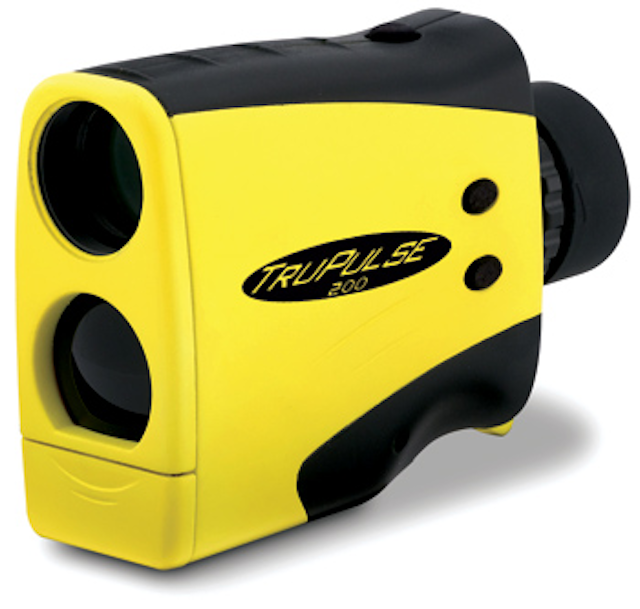 An integrated tilt sensor allows you to measure horizontal or vertical distance and calculate an object's height instantly using the built-in, two-shot routine. The "closest" operating mode distinguishes near and far objects and identifies the closest target, and the "farthest" mode allows you to lock on the farthest target and shoot distant features through brush and foliage. "Continuous" mode provides constant updates while locking on multiple targets.
The TruPulse's diopter adjustment allows for comfortable viewing, even for eyeglass wearers. The TruPulse is water and dust resistant; features an RS 232 serial port for easy data downloading; and comes complete with a carrying case, lens cloth, neck strap and manual.
Forestry Suppliers Inc.
CIRCLE 119 ON READER SERVICE CARD
---
Shorting Kits for Current Transformer Terminal Blocks
Optional shorting kits are now available for Phoenix Contact's RBO 5/RSC 5 modular feed-through terminals. The Carrier 35-13 Kit and Carrier F-13 Kit provide short-circuit capability for current transformer (CT) applications using the terminal blocks.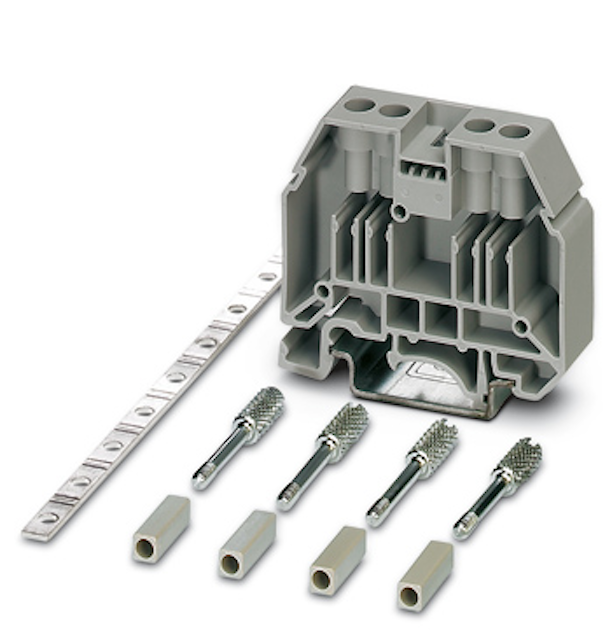 The Carrier 35-13 kit is for DIN rail-mounted terminals, and the Carrier F-13 Kit is for panel-mounted terminals. The kits include four shorting screws, one bridging bar, four isolators and one carrier to hold the four screws when not in use.
A CT will develop a very high voltage across its secondary winding if the secondary circuit is open while current is flowing in the primary winding. This can damage the CT and cause electric shock. By using the RSC or RBO shorting terminals with a Carrier Kit, the operator can safely short the CT secondary to perform maintenance without switching off the primary system.
The RSC/RBO line is designed to replace traditional barrier blocks. With current ratings of 600 volts and either 30 or 45 amps in 9 and 13 mm pitches, the RSC/RBO line is smaller than most barrier blocks. The compact size increases density within the control cabinet.
Phoenix Contact
CIRCLE 120 ON READER SERVICE CARD
---
New Work Truck Console Box
Gamber-Johnson announces a new work truck console that can be used in most trucks with bucket seats. The console allows users easy access to radios and light controls by placing them in the front of the console. The work truck console mounts directly to a Gamber-Johnson top plate and utilizes vehicle leg kits for a no-drill installation.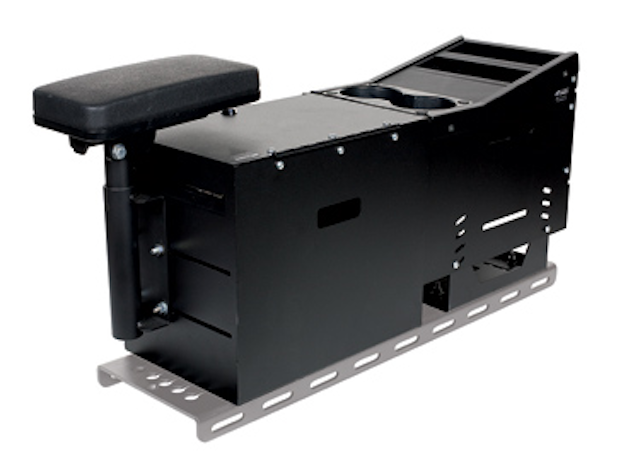 The work truck console offers a locking file box for hanging folders or to be used as storage. The console comes with a dual cup holder and armrest. A vertical surface mount (Item No. DS-138) can be ordered separately to mount a computer on the passenger side of the box without obstructing access to radio or storage compartment.
Gamber-Johnson
CIRCLE 121 ON READER SERVICE CARD
---
SP4012TRX Self-propelled Stump Cutter is Versatile
JP Carlton recently introduced a new model to its comprehensive stump cutter line, the SP4012TRX. The SP4012TRX couples a hydraulic controlled self-propelled grinder with the versatility of a rubber track undercarriage.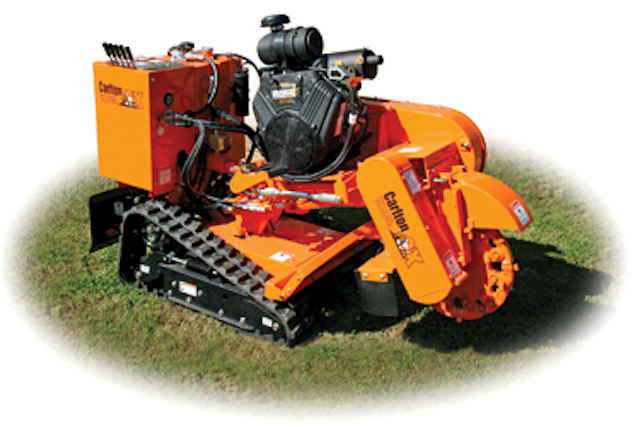 Like all the Carlton models in the SP4012 line, the TRX version offers numerous engine options including petrol and diesel from 27 to 44 hp. These engine options include Kohler, Subaru, Vanguard and Kubota. The SP4012TRX is also available with lever controls, wired remote control or wireless remote control.
The SP4012TRX uses a rubber high track system that incorporates multiple idler rollers and spring tensioning to keep the track at optimal efficiency for running and tracking characteristics. This track system provides high floatation to minimize ground pressure and disturbance while providing a stable grinding platform and go anywhere traction.
JP Carlton
CIRCLE 122 ON READER SERVICE CARD
---
Magnum 10C Substation Computer for Harsh Environments
GarrettCom has introduced the Magnum 10C substation-hardened computer to enable mission-critical applications in harsh environments. The Magnum 10C is part of GarrettCom's 10-Series line of substation offerings for power utility applications and other extreme environments. The new substation computer meets or exceeds the International Electrotechnical Commission (IEC) 61850 and Institute of Electrical and Electronics Engineers (IEEE) 1613 global standard to support substation communications needs with error-free operation.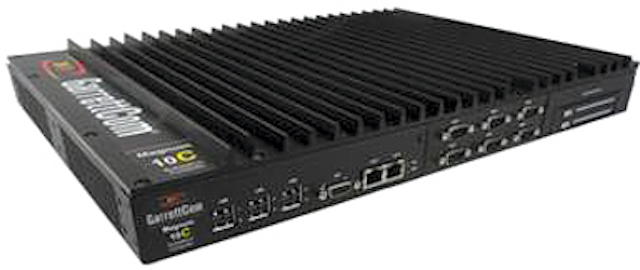 The Magnum 10C is designed to enable mission-critical applications to withstand extreme temperatures, power surges and fast transients, as well as other issues present in harsh environments. Options include a sealed chassis and convection cooling using a GarrettCom-patented thermal design.
The Magnum 10C is built on the low power consumption 1.6 Hz Intel Atom processor. Tests indicate its support for multiple operating systems including Windows 7, Windows XP/XPE, Linux OpenSUSE, Ubuntu and Debian. The Magnum 10C has two Ethernet ports, six USB ports and six optional serial ports, as well as a 16GB flash drive and optional disk bays.
GarrettCom
CIRCLE 123 ON READER SERVICE CARD
---
Ramrod Trailer-mounted, Powered Duct Rod Pusher Simplifies Pulling Line Placement
General Machine Products (GMP) Co. Inc. introduces the Ramrod, a trailer-mounted, powered duct rod pusher. The Ramrod offers a mechanized method for working with GMP's 1/2-inch duct rods. It provides an alternative to expensive rodding trucks, which can cause damage to existing cable because of their immense power. The Ramrod is hydraulically powered, providing precise control, and can push and pull forces up to 300 pounds-all while moving at speeds of up to 130 feet per minute.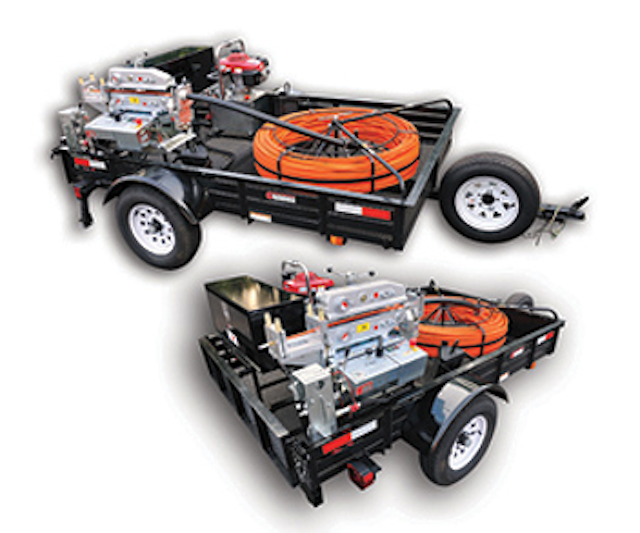 The Ramrod is trailer-mounted for convenient maneuverability and transportability. It features a gasoline-driven power pack, hoses and a locking waterproof storage box for accessories. The unit accurately measures rod-pushing footage and speed with an electronic monitoring system that works in either direction. The readout can be scaled to feet or meters.
After a conduit has been rodded, the Ramrod retrieves the rod using its bi-directional drive track. As the rod is retrieved, a wiping window located at the front end of the machine allows the rod to be wiped clean prior to storing back on the cassette. A package of rod wiper pads is provided. The complete Ramrod unit weighs 1,400 pounds.
General Machine Products Co. Inc.
CIRCLE 124 ON READER SERVICE CARD
---
OVR DIN Rail Surge Protective Devices Provide Long Service Life
The ABB Low Voltage Products Division has released Underwriters Laboratories (UL) 1449 3rd Edition certified OVR DIN Rail surge protective devices (SPDs). The SPDs are designed for long service life to protect equipment from damage caused by transient surges from lightening strikes, and surges from upstream equipment and utility load switching.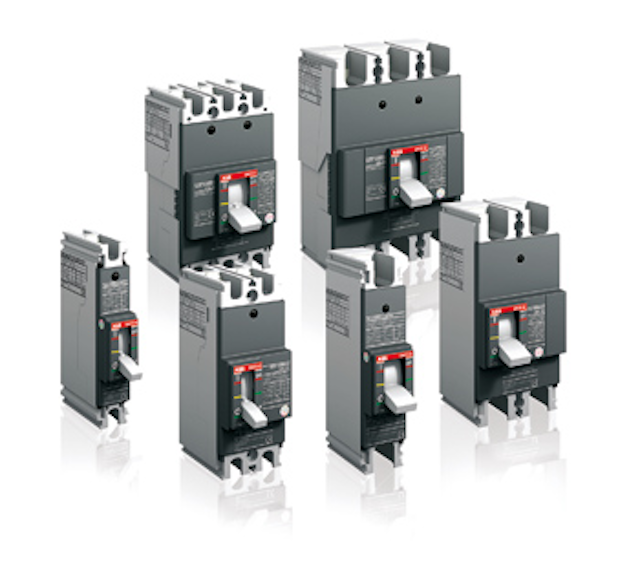 The new OVR DIN Rail products are approved as UL Type 4 recognized components and are usable in Type 2 applications, covering permanently connected SPDs intended for installation on the load side of the service equipment overcurrent device. The new UL 1449 3rd Edition places SPDs into five different categories, with Types 1, 2 and 3 referring to different types of SPDs installed at specific locations-and Types 4 and 5 referring to components used in SPD configurations. The new OVR DIN Rail SPDs will carry the UR mark, UL's certification for recognized components.
ABB Low Voltage Products Div.
CIRCLE 125 ON READER SERVICE CARD
---
ProFlex 813 Fleece Utility Gloves
Ergodyne has launched the new ProFlex 813 fleece utility gloves. For light to medium-duty cold weather work, these soft, warm fleece gloves provide a very good warming solution to store in the dashboard and the toolbox.
The ProFlex 813 fleece utility gloves offer a weather resistant, 270g, heavyweight fleece shell construction nylon backing on the fingers and knuckles to provide extended durability. Abrasion resistant, textured PVC on the palm allows for good grip and a gathered elastic wrist with a gauntlet cuff provides protection from the elements.
Ergodyne
CIRCLE 126 ON READER SERVICE CARD
---
Continuous Safety Monitor Instrument for Transmission Line Crews
Delta Computer Systems Inc. has announced the SNT-02 Step and Touch safety monitoring instrument for enhancing transmission line crew safety. Delta has provided the first version to the Bonneville Power Administration (BPA) for nearly 10 years and is now delivering this enhanced product version to the BPA and the broader utility market. The new SNT-02 kit includes field accessories and comes in a rugged enclosure for easy transport.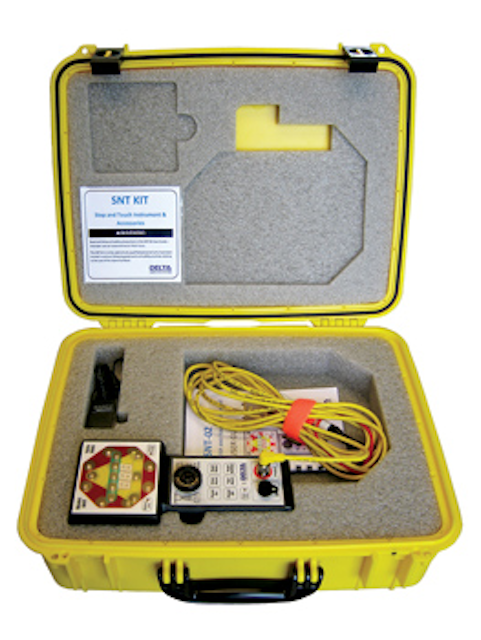 The SNT-02 addresses the safety issue of step and touch potential. Step potential is the voltage difference between a person's feet resulting from current flowing through the earth away from a transmission tower. Touch potential is the voltage difference between the ground and an energized object that a person comes into contact with.
As transmission line corridors become increasingly crowded, grounded lines more frequently pick up dangerous voltages via inductive coupling. Monitoring and alarming the resulting step and touch potential is critical for line crew safety. The SNT-02 Step and Touch instrument is designed and manufactured specifically for this type of transmission line monitoring and alarming.
Delta Computer Systems Inc.
CIRCLE 127 ON READER SERVICE CARD
---
Thinsulate Lined Panther Driver's Gloves Keep Hands Warm
Galeton, a supplier of high quality gloves and work gear, has added Thinsulate lined gloves to its line of Panther Driver's Gloves. Constructed from durable, select leather, these Panther Driver's Gloves feature 40 grams of 3M Thinsulate lining to keep workers' hands warm in cold weather.
The new Thinsulate lined Panther Driver's Gloves are very useful for working outside in cold conditions and are available in sizes small through XX-large.
Galeton
CIRCLE 128 ON READER SERVICE CARD
More Utility Products Current Issue Articles
More Utility Products Archives Issue Articles