Easing the Strain of Smart Metering With Better Field Force Management
Smart meters have dominated the utility landscape for the past several years, but the main goals of these efforts-improved usage tracking, better demand planning and management, more accurate billing and enhanced customer satisfaction-are still elusive.
Sep 1st, 2012
By David Troll
Smart meters have dominated the utility landscape for the past several years, but the main goals of these efforts-improved usage tracking, better demand planning and management, more accurate billing and enhanced customer satisfaction-are still elusive. The complexity of large-scale meter deployments and challenges in customer acceptance have led some, including proponents of smart meters, to question how smart these programs are.
Any utility embarking on a smart meter deployment faces hurdles, some of which include cultivating customer acceptance of the technology, finding the resources to install it, and managing the deployment activity and customer interactions. To avoid straining overtaxed field forces, many utilities turn to contractors for smart meter installation. That eases the burden on the utility's field forces but also gives much of the visibility and control of this customer-sensitive process to a third party. To cultivate trust and rapport with customers, this needs to be a positive experience from the beginning, not a transactional installation.
Whether a utility uses its own field workforce or third party contractors for its smart meter deployment, a customer-centric mobile workforce management strategy can help make the process more efficient. It can reduce installation expenses and enhance customer relationships-now and beyond the smart meter installation.
Reducing Installation Costs
Recent industry reports place the average smart meter cost at $250 to deploy, from procurement through maintenance. As the Smart Meter Deployment Costs chart illustrates, installation accounts for the largest expense-some 20 percent, or $50 per smart meter-other than hardware costs.
How can better managing the field workforce and customer interactions shrink the installation slice of the deployment pie? McKinsey & Co. reports problems such as "meter not installed" rank among the most significant drivers of installation costs. Utility crews usually fail to install a smart meter at a residential or commercial property because they can't access the site-either the customer isn't available, or vegetation or build-overs prevent the old meter's removal. Such issues require second or third visits, which can add up to 20 percent to installation costs.
Many utilities try to mitigate this expense and frustration with mailed reminders or phone calls. Many send at least one postcard, which arrives at least a week before the scheduled appointment. But, the time lag between the postcards' arrival and crews' arrival can limit the effectiveness of these reminders. In addition, a postcard doesn't allow two-way communication between the customer and the utility if unexpected events make the customer unavailable at the scheduled time. Voice messages do little more to engage customers in a timely interaction.
Although basic field service management solutions route and schedule appointments, more sophisticated systems enable users to engage in a dialogue with their customers. These systems can automatically send owners or occupants multiple, progressive reminders-such as one a week before, one the day before and another the morning of the smart meter appointment-which increases the likelihood of customers being available. And, customers receive these reminders by their choice of media-phone, email, text message or social media-with the ability to confirm, cancel or reschedule the appointment. That's something a postcard can't do.
Research has verified that automated customer communications, as well as more precise scheduling and improved on-time performance, can reduce no-shows by over 20 percent. Based on the smart metering cost estimates, that translates to a savings of up to $2 per meter-not to mention the happier customers.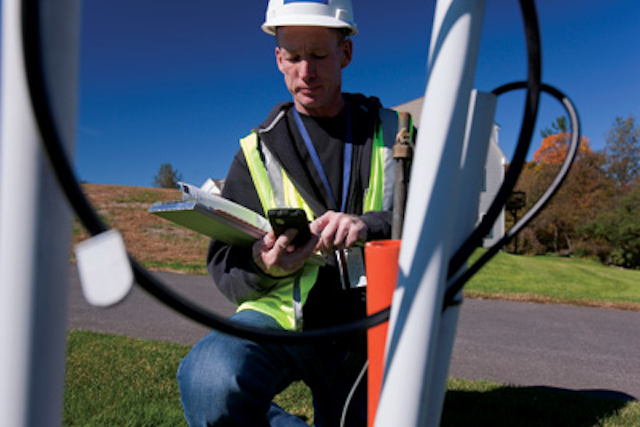 Managing a Complex Project
McKinsey & Co. also cites lean operations among the best practices for utilities implementing smart meters.
"Lean operations help reduce the risks and costs," said McKinsey's analysts. "To improve productivity in the field, companies have separated complex work reserved for specialists from more routine installations. These utilities also follow best practices of front-line management-rigorously measuring and communicating performance through scorecards and metrics."
This research illuminates one of the most challenging aspects of managing field service work, especially with smart meter installations. The reality is that not every job is the same, and treating all jobs alike doesn't maximize efficiency. To confidently send the right person to the right job, a field service management system must learn each worker's skills and past performance, creating personal work profiles. This ensures that the decision about who to assign to a given job is based on that person's performance, not generalized averages-the right person gets to the right job the first time. The right system also allows dispatchers and managers to view their workforce status in real time, showing assignments completed, those pending and those in jeopardy to intelligently respond to the ever-changing field dynamics.
Smarter assignment and scheduling of work supports leaner operations, which leads to further savings. Field service management solutions, for example, can boost daily job completion rates by some 40 percent, improve the dispatcher-to-field worker ratio by over 50 percent, and reduce overtime by as much as 75 percent.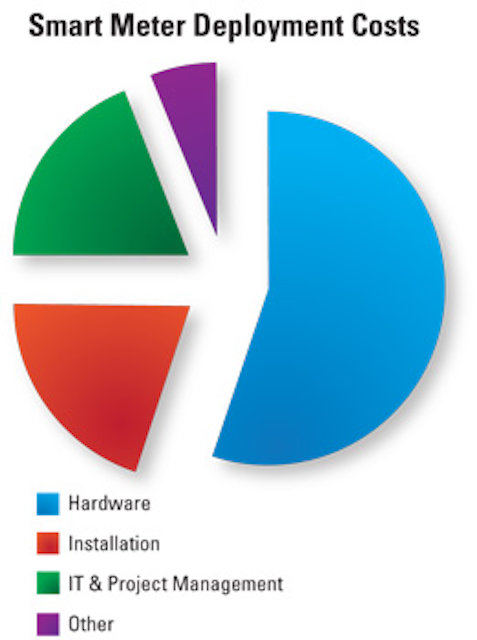 Enhancing Customer Relations
Any massive changeover requires thoughtful and sustained public outreach to gain consumer acceptance, and the switch to smart metering is no exception. Utilities must calm customers' fears and answer their questions about the new technology's accuracy, privacy, safety and benefits. That effort begins long before device deployment and continues throughout the project. Precise scheduling and reliable, on-time installations help reinforce consumer confidence. On the other hand, missed appointments and late arrivals-especially when an occupant is waiting to provide access-can undermine customers' trust in the entire changeover process.
Recent research illustrates the disastrous consequences of even a few dissatisfied customers, given the powerful megaphone of social media. TOA Technologies has studied Twitter activity as it relates to customer satisfaction with installation appointments and other field-service activities. In a statistical sample of 2,000 tweets collected over a five-week period in 2011, 82 percent expressed a strong or mild complaint; those negative tweets reached 780,000 direct followers, not counting retweets. When it comes to service problems, people tweet their displeasure. And, Twitter amplifies every complaint by a factor of some 400 within seconds.
"It may not be a big surprise that people take to social media when they are unhappy about customer service," said Yuval Brisker, TOA's co-founder and CEO. "But, what is astonishing is the expansive network effect of these simple tweets."
For a utility, the lesson seems obvious: A few missed appointments or delayed arrivals risk undoing months of positive public outreach.
A mobile workforce management system that proactively communicates with and responds to customers can head off dissatisfaction before it escalates; it can enhance the customer experience and strengthen brand confidence. By taking a predictive approach to mobile workforce management, for example, utilities can reduce a customer wait window from all day to 60 minutes or less. In addition, this type of solution can support the utility by helping the service worker meet that 60-minute appointment window more than 95 percent of the time.
Long-lived, Accessible Solutions
For smart meter installation projects, a well-chosen field service management solution can maximize the efficiency of the workforce (whether from the utility or from a contractor), reduce the overall project costs and enhance a utility's customer relations efforts. To ensure challenges are met cost-effectively, consider the following:
• Does the proposed solution provide customers with timely, effective reminders of installation appointments?
• Does it support true customer dialogue? For example, does it allow customers to confirm, reschedule or cancel an installation appointment?
• Does it account for an individual worker's skill level, experience and past performance in assigning work?
• Does it provide dispatchers and managers with real-time visibility to job status?
• What is the total cost of deployment? Does it require large upfront investments, such as new servers or new, ruggedized mobile devices for field service workers?
• Can the solution's provider demonstrate real-world efficiencies and return on investment?
• How quickly does the solution deploy? Some robust software solutions deploy in as little as four weeks; others require 12 to 18 months, jeopardizing rollout schedules.
By selecting the right solution to manage the people and processes in a smart meter deployment, utilities reduce the initial installation cost and build better relationships with their customers, reaping benefits now and into the future.
---
About the author: David Troll is vice president of TOA Technologies.
More Utility Products Current Issue Articles
More Utility Products Archives Issue Articles