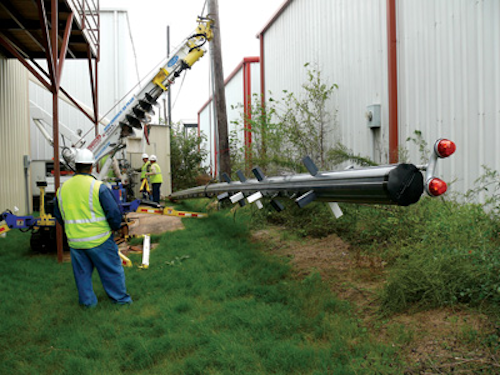 Utilities encounter many challenges that cannot always be solved using existing methods or equipment. Successfully overcoming these obstacles requires outside-the-box thinking and a willingness to consider non-traditional avenues and options. An example of this is the desire for a simple, lightweight and cost-effective system for installing utility poles in remote, wilderness, backlot and hard-to-reach areas where access to heavy equipment and resources can be difficult. In addition, utilities and their customers have been frustrated over the use of guy wires to add stability to their poles as well as environmental and copper-theft issues.
Duratel, a manufacturer of composite utility pole products for utility transmission and distribution, is offering utilities a more cost-effective alternative than traditional distribution poles. Composite poles can be installed with less equipment and manpower than other products and have proven to significantly hasten recovery from severe weather and natural disasters. In addition, surveys among utility linemen who have worked with Duratel poles have shown that it takes about half the time to install composite poles compared to competing materials.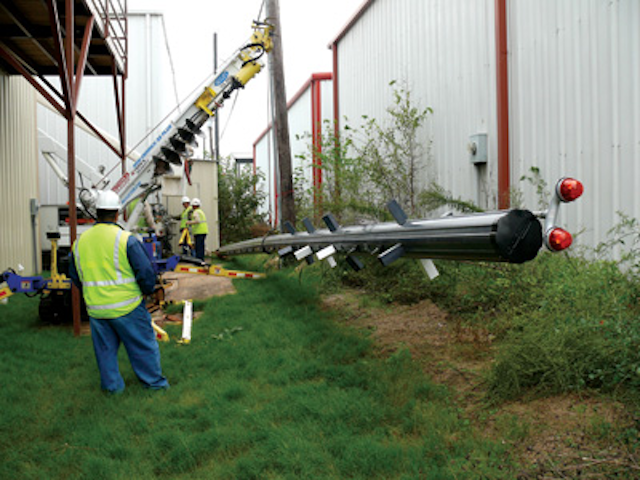 "We have always been an innovator in the utility pole business," said Peter Ceko, CEO of Duratel. "From the very beginning, our company has constantly sought out methods to improve the old ways of doing business in the utility sector, and, even today, we are looking forward to what we need to do to be competitive in this ever-changing marketplace."
Numerous utilities have joined the fight to protect the environment and think green. According to a report issued by the National Coalition Against the Misuse of Pesticides, under, around, in and on every preservative-treated utility pole is a toxic site that poses a threat to clean air, water and land. Instead of using wood poles, which are protected against decay by chemicals that are banned for many other uses, the coalition said utilities should gradually introduce alternative materials or should bury the lines.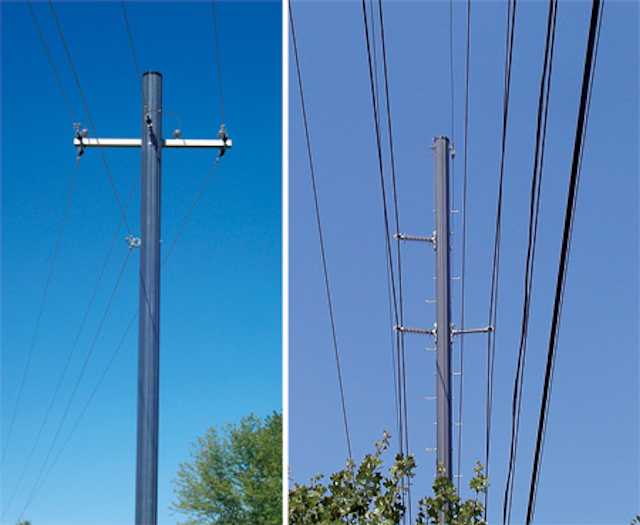 Composite poles are environmentally friendly, requiring no preservatives. Use of composites for utility applications eliminate the need to harvest trees, which helps reduce greenhouse gas emissions, carbon consumption, and the degradation of many ecosystems vital to our environment. In addition, composite poles demonstrate a significantly longer lifespan than wood products and can be repurposed or recycled at the end of their use, unlike wood poles, which are generally retired to special landfills for chemically treated wood.
Utilities say they receive countless complaints about easements, safety and visual concerns caused by guy wires-and it has been difficult to satisfy those complaints. For one utility serving the city of Edwardsville, Ill., Duratel provided the correct approach. The city was installing new sidewalks, and the down guy wires were in the path of the new sidewalk. The original configuration had a span guy pole on one side of the 90-degree pole and down guys and anchors on the other side. The city's original plan was to install an unsightly span guy pole on the other side of the street and relocate the anchors and guy wires. Duratel's 14-inch profile, however, allowed the city to eliminate all the anchors and down guys and delete the installation of an additional pole across a two-lane street-reducing the need for additional easements. The result has been a cost-effective solution to long-standing problems.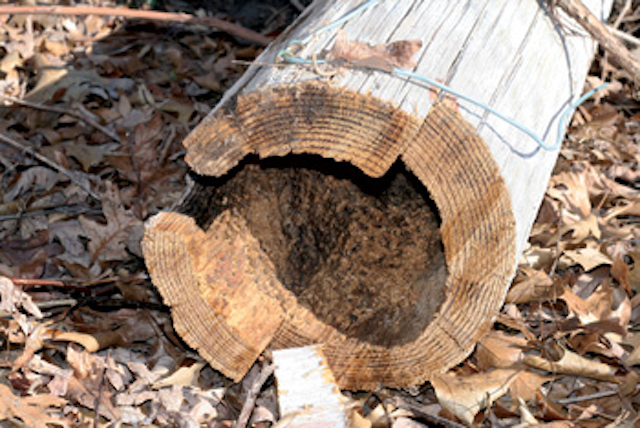 More utilities across the country are experiencing an increase in copper wiring theft from distribution and transmission poles, as well as substations. It has been called a crime of the times with people desperate for money in a slumping economy. For the utility, it's an expensive problem that is passed on to its ratepayers. A recent report states US utilities spent more than $60 million and experienced more than 456,000 outage minutes from copper thefts. In addition to the financial loss, there is a safety issue with copper theft. There have been numerous deaths and serious injuries related to the illegal removal of copper from utility poles and substations. Investor owned utilities have tried to address the problem-but to no avail. The only foolproof method has been to run the ground wire inside the pole.
Duratel composite poles are hollow, and most utilities that purchase the pole opt for the ground copper wire to be run inside the pole. The process is handled inexpensively at the factory, and the utility receives pole shipments ready for installation. Would-be copper thieves are thwarted because the copper ground cannot be seen or removed from the structure.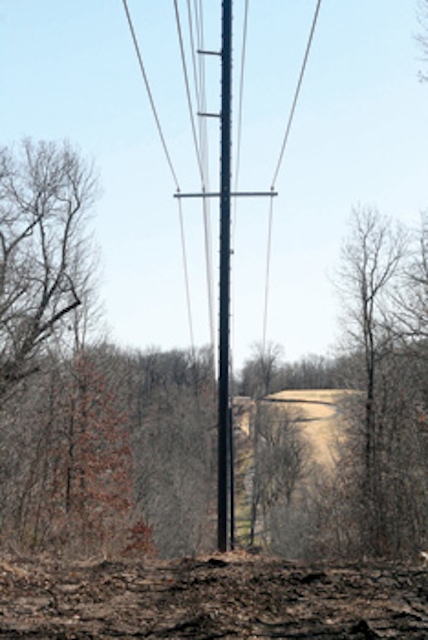 Utilities and telephone companies spend millions of dollars each year replacing wood poles that are damaged and destroyed by termites. The termites chisel away at creosote soaked wood poles with no harmful effects to them. The real damage, however, is to ratepayers, who are forced to pay for replacing the damaged structures. Many utilities and regulators are realizing it's imprudent to replace wood with wood every few years and that there is a cost-effective solution with the use of composite poles
As the world changes, so must providers. Out-of-the-box thinking and a willingness to consider non-traditional options is becoming a necessity in the utility industry. Not only are the utilities benefiting from conquering these obstacles, but the ratepayers and communities are benefiting as well.
More Utility Products Current Issue Articles
More Utility Products Archives Issue Articles