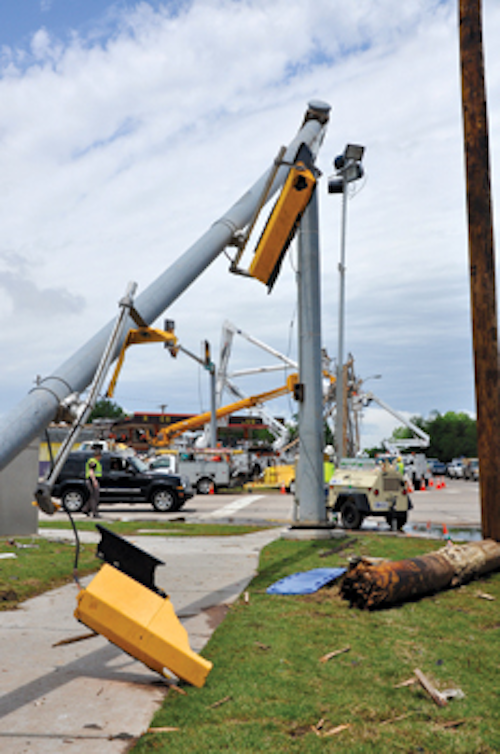 In the wake of devastation there are those who risk their lives to help rebuild and restore. We asked Utility Products' readers to send us pictures of storm damage, and we received a great response. Our winner was the Pelco Products' team from Edmond, Okla., closely followed by Jamie Creekmore with Cleveland Utilities, Cleveland, Tenn.
First Place:
This picture was taken three days after the May 20, 2013, tornado in Moore, Okla. Cleanup had begun and power was being restored. In one of the hardest hit areas in Moore, utility poles were snapped in half, traffic poles were twisted and mangled, but through it all, Pelco's Astro-Brac was holding Oklahoma Strong.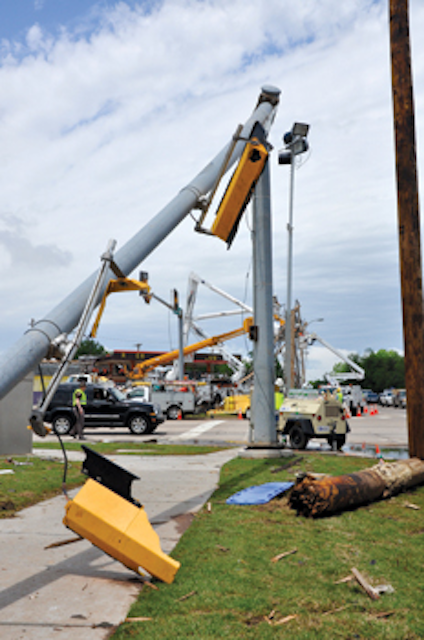 Pelco Products Inc. is an Oklahoma-based, family-owned business specializing in designing, engineering, manufacturing and distributing Utility Products. With engineering as a catalyst for growth, Pelco Products is proud of its Engineering Team consisting of 29 engineers and technical staff with over 400 combined years of experience.
Founded in 1985 with five employees, Pelco Products Inc. now employs more than 300 Team Members in 315,000 square feet of manufacturing space. Pelco is dedicated to serving its two primary markets, utility and traffic, globally through innovative solutions, quality products and unparalleled customer service.
Photographer:
Tracy Sherman had the opportunity to take pictures of the devastation a few days after the Moore tornado. "We were grilling hamburgers for the victims and rescue crews. Edmond Detective Tom Evans, a friend of Pelco and also the gentleman who helped organize the cookout, took me over to one of the hardest hit areas to take pictures of the damage, the clean up and our products. With all of the devastation we were pleasantly surprised that our products were still attached."
Second Place:
On April 27, 2011, Cleveland, Tenn., suffered an outbreak of several tornadoes-killing nine people. In this photo, Orlando Utilities' crews work on damage service on Archer Lane, May 5, 2011. Orlando was one of many utilities to respond to the area to assist with the restoration of Cleveland Utilities' electric system. Some 80 miles of electric lines were damaged or down, and more than 280 poles were broken.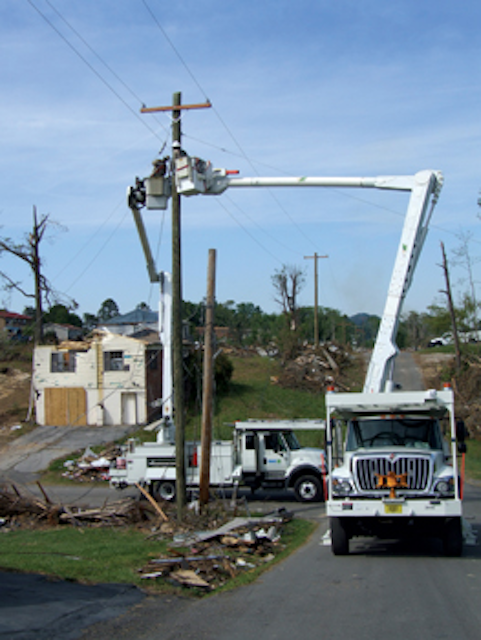 Before the photographer, Jamie Creekmore, began at Cleveland Utilities, he was employed as a customer relations solutions manager by Maytag Corp. He is presently serving as the customer relations representative at Cleveland Utilities. Creekmore has worked in the public relations field for the past 19 years. He discusses with residential, commercial and industrial customers how they can save on their utilities as well as other customer and employee related needs. Creekmore is the design editor for the utilities' customer and employee newsletters; he is also the main point of contact for customers who have concerns with their utility services. Creekmore has a personal desire to assist customers and employees by listening and taking action about their concerns.
Photographer:
Jamie Creekmore has been married to Tiffany for 10 years, and they have two children-a daughter, Sydney, who is five and a son, Jackson, who is three. A native to Cleveland, Tenn., Creekmore's hobbies include photography, scuba diving, snow skiing, hiking, camping, kayaking and international travel.