Improve Safety Performance Using Exemplary Human Performance System
The choices people make affect the safety of employees, customers and the public. If utility employees choose to be safe and competent, they will accomplish their work with zero injuries and safety incidents.
Jun 17th, 2013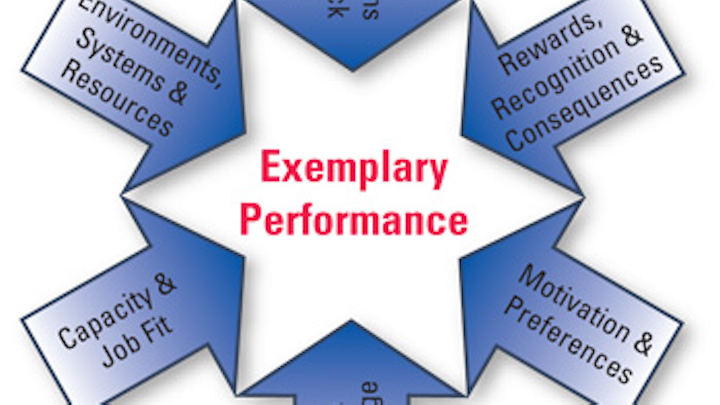 By Carl English and Doug Mead
The choices people make affect the safety of employees, customers and the public. If utility employees choose to be safe and competent, they will accomplish their work with zero injuries and safety incidents. Achieving exemplary safety performance takes more than a goal or a well-formulated strategy with good implementation processes. It comes down to whether utility executives and their teams choose to perform their respective safety leadership responsibilities to predetermined performance standards. The most critical responsibilities and skill set involved to ensure safety are accurate safety reporting data and identifying which responsibilities are most important for each role involved.
Safety Best Practices Background
Safety needs to be a priority for everyone to achieve any safety goal. It's the most important goal of each workday-to return home safely to family and friends each night. While safety is often our main concern, safety performance hasn't always kept pace throughout the utility industry. Exemplary performing organizations have identified a need to focus on safety fundamentals. This has helped exemplary performing organizations reclaim their tradition as the safest organizations in the nation.
Safety Responsibilities
Executives at exemplary performing utilities know that simply reacting to accidents isn't enough. One well-formulated strategy is to focus on prevention. Part of prevention includes launching a renewed emphasis to clarify safety roles and responsibilities. It is critical to help executives, managers, directors, field leaders, crew leaders and other employees identify responsibilities needed to be more effective. Leaders need to learn how to communicate with the people they work for and serve, set clear expectations, coach their teams and resolve conflicts. In some exemplary organizations, safety responsibility process maps have been created to educate employees about safety roles. Safety process maps define each work group's safety roles and should be posted companywide. Achieving exemplary safety performance depends almost entirely on ensuring every role chooses to fulfill safety leadership responsibilities effectively and efficiently. Union and management leadership needs to identify safety leadership roles and responsibilities-outputs, tasks and performance standards. Through this, executives can ensure employees are chosen to fulfill responsibilities for the good of the organization; ensure each safety leadership role and responsibilities are clear; and ensure outputs, tasks and performance standards are integrated into job descriptions and job profiles.
The Organizational Whole is the Sum of its Parts
To achieve exemplary safety performance, utility executives need to understand that safety performance is a result of an effective human performance system. Think of a human performance system as a group of interacting, interrelated or interdependent components forming a complex organizational whole. The human safety system components involved in this process include:
• Creating a shared team schedule with a clear safety human performance system implementation, performance monitoring deadlines and regular updates;
• Monitoring and reporting quantitative and qualitative indicators of success and lack of success;
• Providing frequent safety performance feedback throughout the organization;
• Providing appropriate positive and corrective consequences; and
• Celebrating success with all employees.
The Use of Analytics
Use analytics to discover and communicate meaningful patterns in safety data.
• Determine if your safety reporting data is accurate and being interpreted correctly.
• Ensure employees fill out safety information, reporting data including codes for different types of safety incidents, and differentiate between near misses and actual accidents.
• Identify safety performance data. What is the most common type of safety incidents? What is the root causes?
Based on the analytic data, establish meaningful and specific safety performance goals. Share safety leadership lessons from the most accomplished safety leaders from within the system throughout the organization. Be sure company leadership creates a safety partnership with union executives. Assigning a senior executive as the safety process owner will help ensure the progress. Use the communications department's processes to communicate messages and share lessons learned from safety data.
Safety Training
Provide safety training that includes clarity about each role's outputs, tasks and performance standards. Create, distribute and prominently display a safety system process map to identify, clarify and communicate each component leader's safety roles and responsibilities.
Utilities that are distinguished by being exemplary have established clear safety roles for executives, managers and directors, supervisors, crew leaders and lead employees, and team members. Employees are responsible and held accountable for carrying out his or her safety responsibilities. An organization can only achieve exemplary safety performance if everyone chooses to fulfill shared responsibilities.
Follow the example of exemplary safe organizations and apply a human performance system to help ensure safety to the public and customers by providing safe and competent employees, each and every day.
---
About the authors: Carl English is a board member for Utility Supply and Construction Co., and former vice chairman and chief operating officer for American Electric Power. Doug Mead is principal consultant with Exemplary Performance, a human performance improvement company based in Annapolis, Md. Mead brings more than 30 years of experience in the utility industry.