Harmonize Your Wire and Cable Standards
From Alberta to Atlanta, from Montreal to Maine, Canadian and US electricians are definitely not "desk jockies."
Dec 26th, 2013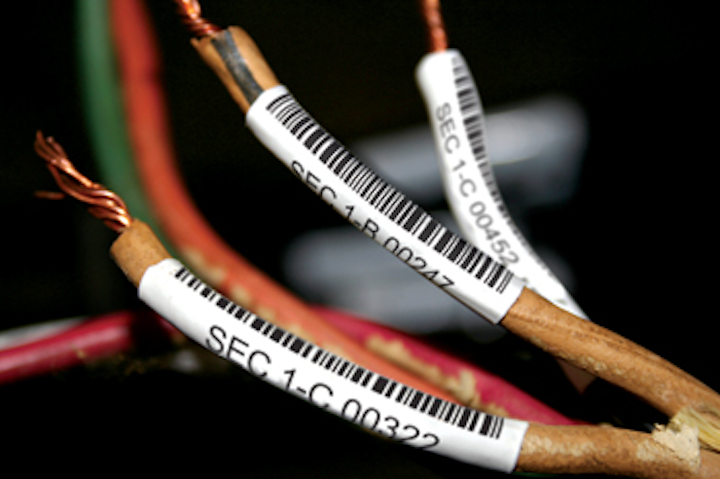 By Jack Rubinger
From Alberta to Atlanta, from Montreal to Maine, Canadian and US electricians are definitely not "desk jockies." They work independently. They're detail oriented. They obsess about doing things the right way because of the serious nature of their work. One of the biggest challenges North American electricians face every day are standards that ensure a uniform system of identification.
A host of agencies and others have introduced standards that impact North American contractors. The goal of this article is to provide some clarification and differentiation to harmonize the differences.
Setting standards for color-coding and tag marking in the field have historically been left to regional organizations. The US and Canada share many of the same standards, but still have differences and few field wiring standards are used uniformly around the world. The National Fire Protection Association (NFPA) / National Electric Code (NEC), National Electrical Manufacturers Association (NEMA), American National Standards Institute (ANSI) and the Telecommunication Industry Association (TIA) are the most popularly used standards for industrial building installation wiring in the U.S. and provide a wide range of useful guidelines.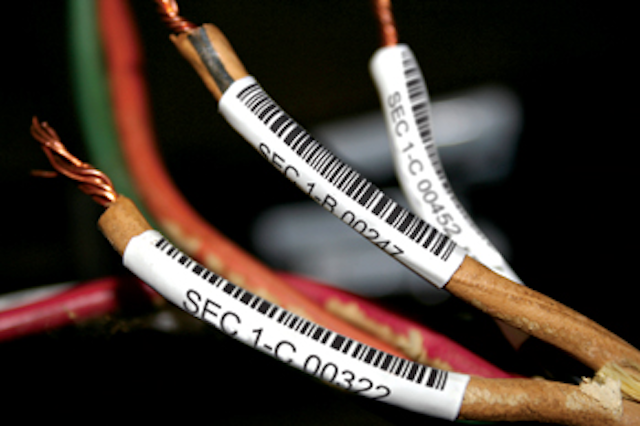 There are, however, few written standards in North America specifically targeted to facility wire installation identification. When we polled experts in the field, here's what they had to say.
Joseph Elliott, Penulator Project Management, SSSco, follows the NEC for facility wire installation and has seen differences on internal electrical wiring on some equipment. He uses black, red, and blue for 3-phase primary conductors (other colors as needed other than green and white). He uses white for neutral; green, green with yellow strip or bare for grounds.
Depending on the type of work involved, not everyone has difficulty differentiating cables and wires by colors.
"I do electrical accident analysis and there may be a case for me in which a misinterpreted wire marking or label is at fault but, so far, not yet," said Lawrence Kamm, affiliated with the American Society of Safety Engineers (ASSE), Institute of Electrical and Electronic Engineers (IEEE) and the National Academy of Forensic Engineers (NAFE).
In the US, white wire may be used for either neutral or a second leg on a hot connection and green and bare copper wires are used interchangeably for grounding. In cases where non-standard wire colors are used, a color-coded marking is recommended to indicate function. When a white wire is used as a second leg on a hot connection, for example, mark it at both ends with a black label. Adding these additional tag markings improves safety for everyone-especially electrical professionals who must service these areas in the future.
Finally, we consulted with the Ontario Electrical Industry Training Trust, affiliated with both The International Brotherhood of Electrical Workers Construction Council of Ontario and The Electrical Contractors Association of Ontario regarding electrical wiring for facilities. They refer to the Canadian Electrical Code (CSA) pertaining to conductor colors.
Rule 4-030: Identification of insulated neutral conductors up to and including No. 2 AWG copper or aluminum
Except as permitted in Subrules (2), (3) and (4), all insulated neutral conductors up to and including No. 2 AWG copper or aluminum, and the conductors of flexible cords that are permanently connected to such neutral conductors, shall be identified by a white or grey covering or by three continuous white stripes along the entire length of the conductor.
Rule 4-038: Color of conductors
Insulated grounding or bonding conductors shall:
a) have a continuous outer finish that is either green or green with one or more yellow stripes; or
b) if larger than No. 2 AWG, be permitted to be suitably labeled or marked in a permanent manner with a green color or green with one or more yellow stripes at each end and at each point where the conductor is accessible.
2. Conductors colored or marked in accordance with Subrule (1) shall be used only as grounding or bonding conductors.
3. Where color-coded circuits are required, the following color coding shall be used, except in the case of service entrance cable and when Rules 4-032, 4-034, and 6-308 may modify these requirements:
a) 1-phase ac or dc (2-wire) - 1 black and 1 red or 1 black and 1 white*† (where identified conductor is required);
b) 1-phase ac or dc (3-wire) - 1 black, 1 red, and 1 white*†; and
c) 3-phase ac - 1 red (phase A), 1 black (phase B), 1 blue (phase C), and 1 white* (where neutral is required).
*Or grey
†Or white with colored stripe (see Rule 4-030)
4. Where the midpoint of one phase of a 4-wire delta-connected secondary is grounded to supply lighting and similar loads, the conductors shall be color-coded in accordance with Subrule (3) and the phase A conductor shall be the conductor having the higher voltage-to-ground.
The following two rules in the CEC also match Article 517.160 of the NEC.
Rule 24-204: Single-phase isolated circuits
1. Except where Rule 24-206 applies, isolated circuits shall meet the requirements of Subrules (2) through (7).
2. Isolated circuits shall:
c) have the insulation of one circuit conductor colored orange and the other colored brown;
d) have the orange-insulated conductor connected to the nickel screw of receptacles;
Rule 24-208: Three-phase isolated systems
A 3-phase isolated system shall:
c) have its circuit conductors identified as follows:
i. isolated conductor No. A - orange;
ii. isolated conductor No. B - brown; and
iii. isolated conductor No. C - yellow;
Note that sub-rule 4-038 (3) uses the term "Where color-coded circuits are required." This indicates that the coloring of the circuit conductors is not required by the code except it may be required by an authority having jurisdiction (AHJ), or the designer or owner of the electrical system. With the exception of Article 517.160, there are no NEC articles listing identification colors of the single-phase or three-phase circuit conductors.
For communication cables used in buildings, there are two color coding standards used in North America:
• ANSI/ICEA S-80-576, Standard for Category 1 and Category 2 individually unshielded twisted pair indoor cables (with or without an overall shield) for use in communications wiring systems, and
• ANSI/TIA-598-C-2005, Optical Fiber Cable Color Coding.
Printed wire markers are an excellent solution when non-standard wire colors are used. Each can be printed with a custom number and additional wire identification information and display standardized colors. Workers never have to guess a wire's true function with information on each wire. Printed markers can also be placed around closed or open terminal ends for lasting identification in harsh industrial environments.
DuraLabel offers one of the few industrial-grade self-laminating wire wraps for wire marking. Wire wraps become a durable band when wrapped around a strand or cable and communicate wire function with bright, standardized colors.
These printable markers rapidly shrink around open terminal ends with a simple heat gun for long-lasting identification in almost any environment.
---
About the author: Jack Rubinger, Graphic Products, is a regular contributor to industrial, trade and business media. Graphic Products is a provider of workplace labeling and signage. For more information about labeling wire and cable, please email jarubinger@graphicproducts.com or visit website.