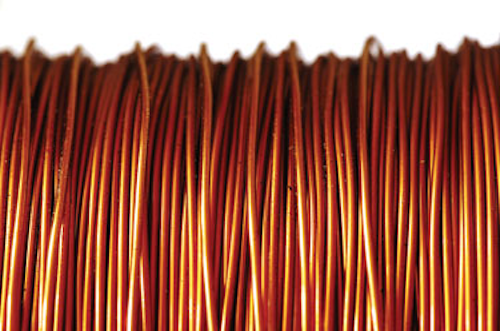 By John Chamberlain
Copper prices have fluctuated between $3.40 and $3.80 for the past six months. With the high price of copper, people will continue stealing this metal. In addition to the rising cost, there are two other factors creating this situation-micro and macroeconomics. We cannot change the economics and it's expensive to put a fence around everything. So, what should be done?
The answer is here and easy to implement. It's a composite metallic product that has been deployed millions of miles for more than 40 years. The product is allowed by the National Electrical Code (NEC) and is listed in Underwriters Laboratories (UL) standards. It has advantages over copper, even at lower cost. The answer is copper clad aluminum (CCA) for applications requiring conductivity and copper clad steel (CCS) for grounding applications where fusing current is the specification.
Most importantly for potential thieves, the scrap value is almost zero because of the reduced copper content and the difficulty of separating the copper from the aluminum or steel to which it is bonded. In both cases, when deployed, the products can be marked CCS or CCA with a "no scrap value" warning. Experience has shown thieves will usually ignore this warning once, and when they do take it to the local scrap dealer, they will never take it again.
Before thinking, "Not this aluminum thing again. We tried that years ago and it didn't take hold," understand that CCA has all the advantages of copper without the disadvantages of aluminum.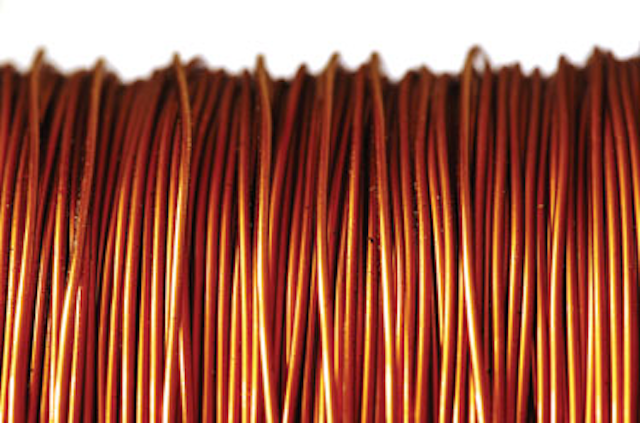 Benefits to Deploying Copper Clad Aluminum
CCA is a composite of copper and aluminum of which 90 percent of the cross-sectional area is aluminum, taking advantage of aluminum's lower cost per conductivity, and 10 percent copper by cross-sectional area. The copper is applied to the outer surface of the aluminum. By applying the copper to the outer surface, only copper is exposed to the elements and is the material in contact with connection points.
The issues with solid conductor aluminum wiring in the past were:
• The aluminum was prone to oxidation, leaving a white powder where metal used to be.
• The aluminum was prone to dissimilar metal induced cathodic corrosion, causing connection issues with copper connections.
• Aluminum is prone to cold flow or creep. The metal slowly conforms to pressure points. This was also a connection point failure mechanism of aluminum wiring.
Millions of miles of CCA have been deployed in the past 40 years with none of the previously mentioned issues. The standard coaxial cable that runs down your street to deliver cable television, Internet and telephone services is made from CCA. It is deployed in aerial and underground plants, and is a standard in the industry. In addition, 90 volts of ac is applied to the CCA to constantly supply power to the system's amplifiers.
In other words, there has been a CCA test in place for more than 40 years with none of the failures seen in solid aluminum conductors. There are technical reasons why this composite of copper and aluminum is superior in performance to aluminum alone:
• CCA is no more prone to oxidation than a solid copper conductor.
• CCA has no dissimilar metal corrosion issues because of the outer copper conductor.
• CCA performs much closer to copper-more than 90 percent-than aluminum in cold flow or creep tests.
• CCA is lower priced than copper for the same conductivity.
In addition, CCA is already an allowed conductor in most of the NEC codebook. NEC Article 310, which covers products such as THHN, THWN-2, RHW, TW and many others, allow the use of CCA conductors. If a company already has these listings, it is a simple process to inform UL about the use of CCA under the same listings to have the product approved for use. The only difference is the NEC requires a larger gauge for CCA than copper to equalize the resistance or ampacity of the product (i.e., No. 6 CCA would replace No. 8 copper). Even with this required upsizing for ampacity, CCA remains less expensive per foot.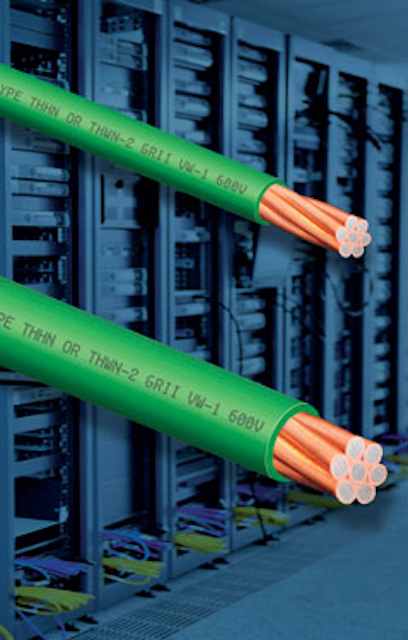 The Benefits to Deploying Copper Clad Steel
CCS has been used as a grounding conductor for years by the power industry. CCS was originally adopted as a ground rod, allowing for a copper surface area to earth ground; with the strength and lower cost of steel, however, CCS grounding rods are an industry standard.
Despite this, ground grids for data centers, headends, central offices and more are still being deployed with copper. The logic here is the same as grounding rods. What is important is the surface area of the grounding conductor to ground and perhaps equivalent fusing current, which is the ability to take large current surges. CCS is well suited to these specifications:
• The copper surface area to earth ground is the same or larger for equivalent fusing current.
• A slightly larger cross sectional area of 40 percent conductivity CCS gives equivalent fusing current to copper at lower cost and higher strength.
In this application, mechanical connections and exothermic welds are equivalent to copper, and exothermic weld molds are available in all the correct sizes.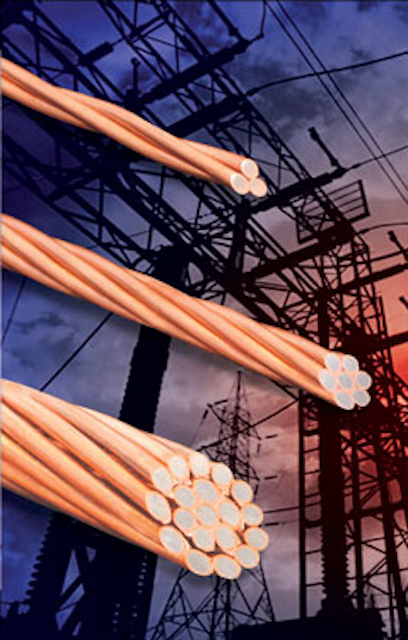 In addition, CCS is now being used for pole grounds, and is recognized and approved by Rural Utilities Service (RUS). Although CCS does not have the same conductivity or resistance as copper because of the steel's high resistance, steel also has a much higher melt temperature than copper. Steel's combination of higher resistance (bad) and higher melt temperature (good) allow a CCS composite to fuse at an equivalent current to a slightly smaller copper counterpart. Because grounding conductors are not intended to carry continuous current, having an equivalent fusing current is the important specification.
So, do you have copper theft or are looking to save money? When you have to replace because of theft or are building new, replace copper with CCS and CCA. Save on initial investment, re-invest in the event of theft, and deter, if not eliminate, theft in your system.
---
About the author: John Chamberlain is engineer principal, product development for CommScope Inc.