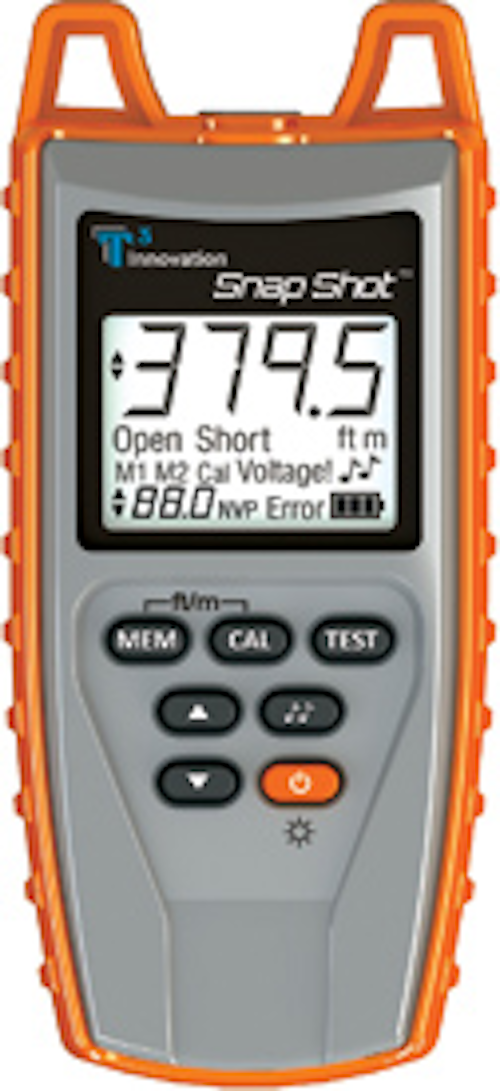 This issue of Utility Products magazine brings you products that received the highest reader response in 2012. While all the products featured in each issue are useful and relevant to your industry, some attract more attention than others. See which products featured in the magazine caught readers' eyes.
Snap Shot Time Domain Reflectometer
T3 Innovation, a provider of advanced handheld test equipment for the cable, telecommunications, datacom, networking, electrical design and maintenance, and residential and Custom Electronic Design and Installation Association (CEDIA) custom install markets, has announced that the new Snap Shot fault finding and cable length measurement time domain reflectometer (TDR) is now available.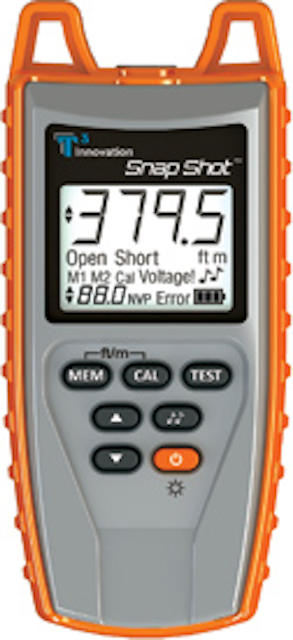 "With the complexity of today's electrical, data, voice and video signal carrying systems, you need a tool that is fast, accurate and easy-to-use to see down the wire and show the exact conditions that exist," said Ron Vogel, T3 Innovation CEO. "Our new, compact Snap Shot TDR accurately detects, locates and identifies fault conditions such as opens, shorts and arc faults on energized cable of all types up to 3,000 feet in length."
Made in America with American technology, Snap Shot's large backlit LCD display clearly shows lengths in both feet and/or meters with an accuracy of better than 1 percent for pinpointing any fault or condition. Dual internal memory allows users to store cable parameters for easy reference, while a built-in tone generator with multiple tone capability traces found faults.
T3 Innovation
CIRCLE 100 ON READER SERVICE CARD
---
Shorting Kits for Current Transformer Terminal Blocks
Optional shorting kits are now available for Phoenix Contact's RBO 5/RSC 5 modular feed-through terminals. The Carrier 35-13 Kit and Carrier F-13 Kit provide short-circuit capability for current transformer (CT) applications using the terminal blocks.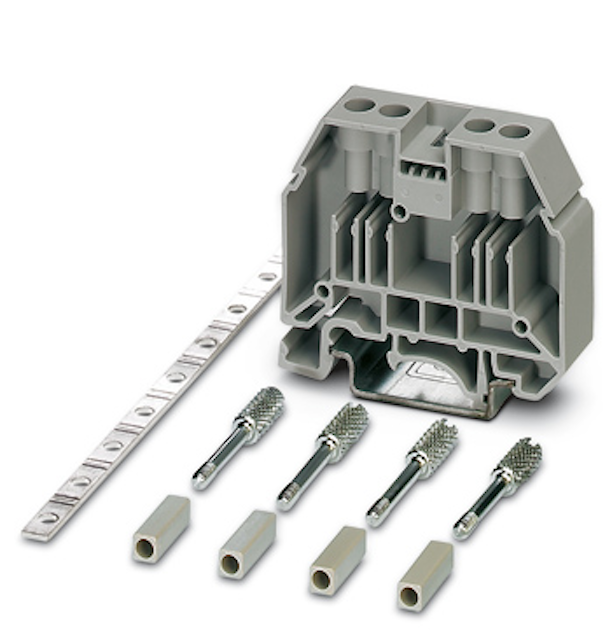 The Carrier 35-13 kit is for DIN rail-mounted terminals, and the Carrier F-13 Kit is for panel-mounted terminals. The kits include four shorting screws, one bridging bar, four isolators and one carrier to hold the four screws when not in use.
A CT will develop a very high voltage across its secondary winding if the secondary circuit is open while current is flowing in the primary winding. This can damage the CT and cause electric shock. By using the RSC or RBO shorting terminals with a Carrier Kit, the operator can safely short the CT secondary to perform maintenance without switching off the primary system.
The RSC/RBO line is designed to replace traditional barrier blocks. With current ratings of 600 volts and either 30 or 45 amps in 9 and 13 mm pitches, the RSC/RBO line is smaller than most barrier blocks. The compact size increases density within the control cabinet.
Phoenix Contact
CIRCLE 101 ON READER SERVICE CARD
---
New LED Golight Couples High Intensity with Longevity and Durability
Golight Inc. is proud to add light emitting diode (LED) illumination to its line of articulating spotlights. The new LED Golight couples high intensity with longevity and durability, while also reducing power consumption. The LED can be purchased on new Golight and Radioray units or as a retrofit.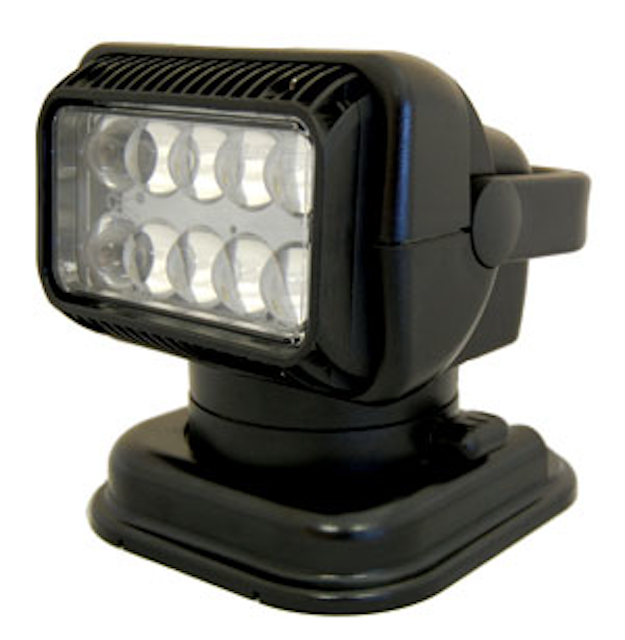 By utilizing P-Vex lens technology, the new LED unit has a peak beam intensity of 200,000 candela. In addition, the hotspot-the most intense portion of the beam-is distributed over three times the area of a comparable halogen model.
Thermal management is handled by a finned thermo-convective cast aluminum heat sink matched with an airflow-conducive bezel. These two design features promote natural heat dissipation, allowing the LEDs to function at a safe and stable operating temperature. This attention to thermal management ensures maximum LED output over their 50,000-hour useful life.
Golight Inc.
CIRCLE 102 ON READER SERVICE CARD
---
Enhanced i-Series Point and Shoot Infrared Cameras
FLIR Systems' three new i-Series point-and-shoot infrared cameras-i3, i5 and i7-feature higher resolutions and wider field-of-view choices, helping you find problems faster and more accurately.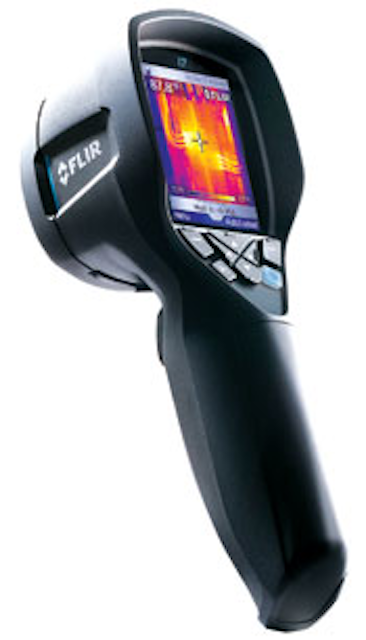 New performance options include the upgraded i7 with 36 percent more thermal imaging resolution than before. At 19,600 pixels, the i7 exceeds RESNET resolution standards. FLIR has kept pricing for all three i-Series cameras the same as its original, affordable models.
All i-Series cameras capture thousands of calibrated temperature measurements in every image to produce a complete thermal picture that immediately shows where hot spots and other heat-related problems are-so you can find them faster, diagnose them more accurately and work more efficiently.
All i-Series cameras are tough enough to withstand a 2-meter drop and stow alongside other tools. And, each one is backed by FLIR's 2/5/10 warranty that provides two years of coverage on all camera components, five-year battery coverage, and 10-year warranty protection for the infrared detector.
FLIR Systems
CIRCLE 103 ON READER SERVICE CARD
---
NightRay Spotlight: Vehicle-mounted Spotlight is Brighter and Competitively Priced
KH Industries' vehicle-mounted NightRay spotlights now have the option of a 360,000-cp spotlight-only bulb. The Par 46 H3 Halogen spot-only bulbs are extremely bright, provide hundreds of hours of run time and cost 50 percent less than dual filament bulbs.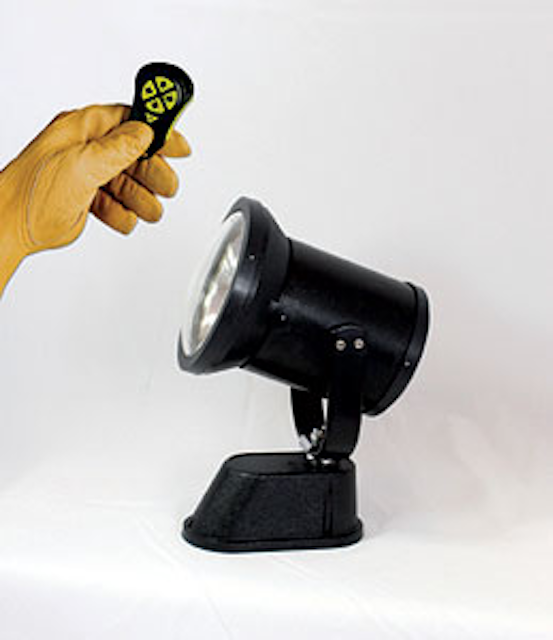 The NightRay spot-only has the durability of the traditional dual-filament NightRay spotlights, but with a much brighter bulb. Last year, the company introduced its HID NightRay, which is cited to be the brightest vehicle-mounted spotlight in the utility industry. Not all customers, however, require the intensity of HID or could afford the price tag.
The Par 46 H3 Halogen spot-only is an affordable solution for nighttime inspection and repair professionals who are looking for a bright spotlight that is designed for the rigors of the utility industry. All NightRay spotlights are designed for use in extreme weather conditions, including snow, ice and saltwater.
Models include:
• 775-20: Hardwired NightRay, Par 46 H1 spotlight only-dash-mounted control panel and wiring harness;
• NR-775-20KFDS: Wireless NightRay, Par 46 H1 s transformer and light system potlight only, with key-fob; and
• NR-775-20DDC: Dual Controlled NightRay, Par 46 H1 spotlight only-dash-mounted control panel, wiring harness and key-fob.
KH Industries
CIRCLE 105 ON READER SERVICE CARD
---
PRX-500 Proximity Voltage Detector
HDE's PRX-500 Proximity Voltage Detector is a non-contact voltage detector with nine selectable voltage ranges from 120 Vac up to 500 kVac. The PRX-500 provides an audible and visual indication of voltage detected from elbow test points up to the highest transmission voltages. The PRX-500 features an easy-to-use electronic touch pad with large buttons and has a rechargeable internal battery that can be quickly charged from your truck or a wall outlet. Features and benefits include: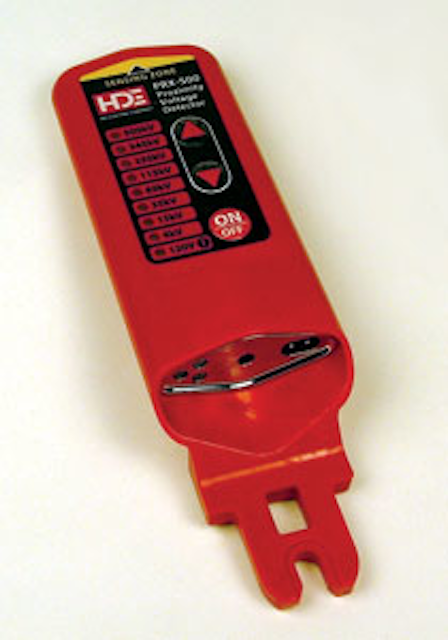 • Rechargeable battery with quick recharge-if battery is low, a quick 15-minute charge provides over one full day of use;
• Nine standard voltage ranges from 120 Vac up to 500 kVac;
• Detects voltages 10 inches or greater from source and most elbow test points;
• Weighs less than 1 pound;
• Loud beeper and light emitting diode (LED) lights indicate voltage;
• A full charge takes only three hours and gives one week of continuous use;
• Made in the USA; and
• Can be used on 50 Hz and 60 Hz systems.
HD Electric Co.
CIRCLE 104 ON READER SERVICE CARD
---
New APS75 Underground Puller
Condux International has introduced the APS75 Hydraulic Underground Cable Puller. The APS75 provides up to 7,500 lbs of continuous pulling power for a comprehensive range of pulling applications. Designed for installing underground cable, the APS75 is completely self-contained and transports easily from jobsite to jobsite.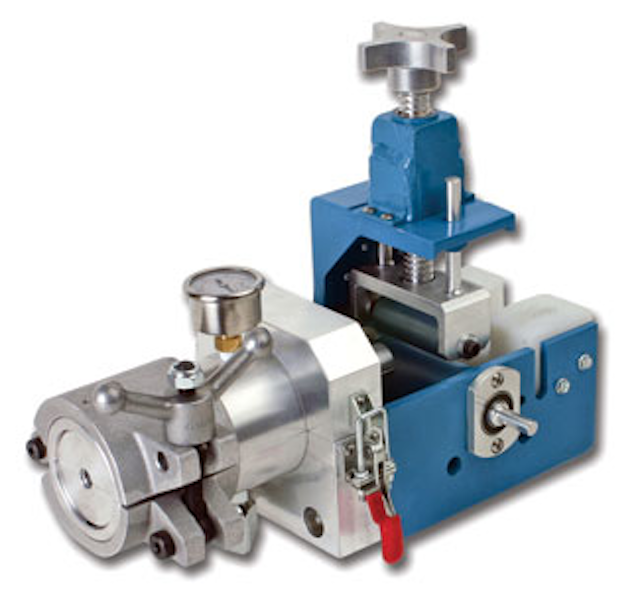 The new digital readout allows the operator to view pulling forces, distance pulled, tension limiter and hydraulic pressure readings. Pulling operations can be recorded and downloaded through a convenient Universal Serial Bus (USB) port. With other standard features including antitwist rope, rotating pulling arm and wired remote control, the APS75 is cited to be one of the most advanced pulling systems available. The APS75 is precision manufactured to the highest standards. Each puller is backed with years of underground cable pulling experience and a commitment to quality customer service.
Condux International
CIRCLE 106 ON READER SERVICE CARD
---
Hi-Ranger TCX65/100 Non-overcenter Material Handling Aerial Device
The new Terex Hi-Ranger TCX65/100 non-overcenter material handling aerial device is engineered to offer convenient, easy operation. The TCX65/100 allows operators to work in all three phases without repositioning. It is also designed to enable positioning the truck to work on H structures. A 24-inch basket lift is available for the TCX65/100 to help operators maneuver into difficult positions.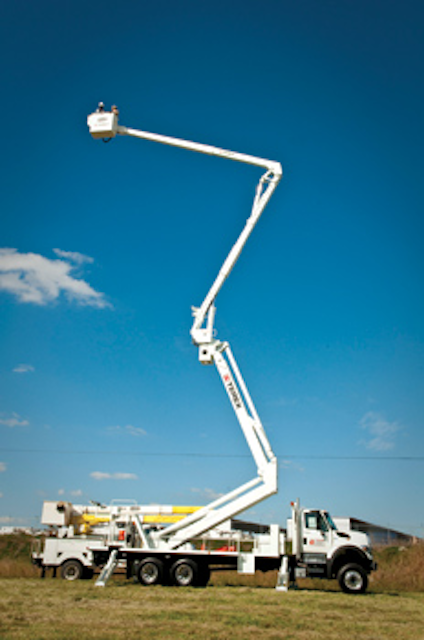 With a working height of up to 105 feet and a platform capacity of up to 700 pounds in all positions, the TCX65/100 has 110 degrees lower boom articulation to achieve 47 feet of side reach. This aerial device is equipped with pilot closed center controls for smooth, intuitive operation.
This aerial device can be installed on a 6x6 chassis with front bumper winch and utilizes high-strength material for a low-weight design. Dual lift cylinders on each elevator tub give the TCX65/100 a compact stow height.
Terex
CIRCLE 107 ON READER SERVICE CARD
---
Model 6610 Non-contact Phase Rotation Meter
The Phase Rotation Meter Model 6610 from AEMC Instruments is an essential tool for any installation, inspection and maintenance facility. The Model 6610 is a non-contact (no metal contact points) phase meter designed to identify phase rotation on 3-phase systems and identify live and open/de-energized phases.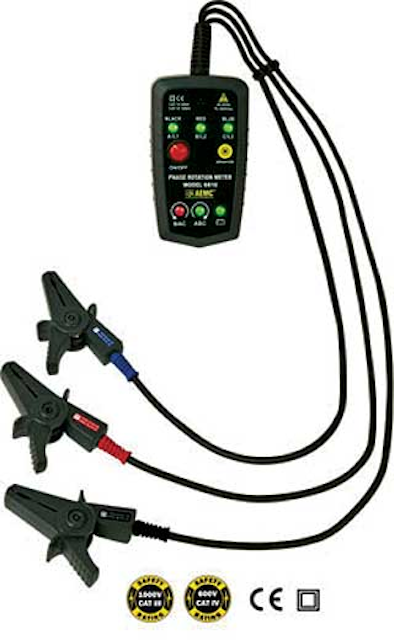 The phase order is determined as soon as the leads are connected. The presence of live wires and phase sequence are provided by light emitting diode (LED) indication and buzzer as soon as detection has occurred. The Model 6610 is especially useful for installing rotating machinery or motors, and for checking generator phase rotation direction.
Features:
• No direct electrical contact (no metal contact points);
• Operating voltage: 75 to 1000 Vac;
• Frequency range: 45 to 65 Hz;
• Phase rotation LED indicators (ABC or BAC);
• Bright LED indication live or open phase (A, B, C);
• Includes three attached color-coded test leads with non-metallic alligator sensor clips for easy connection to the device under test;
• Low battery indicator;
• Back cover includes a magnet feature that can mount the instrument onto any metal cabinet panel for easy measurement; and
• EN61010-1; 1000V CAT III; 600V CAT IV.
Applications:
• Verify incorrect phase wiring;
• Detect open or de-energized phases; and
• Determine correct wiring for proper rotation on motors, pumps, etc.
AEMC Instruments
CIRCLE 108 ON READER SERVICE CARD
---
DS-PAN-600 Series Docking Station for Panasonic Toughbook H2
Havis' DS-PAN-600 Series Docking Station for Panasonic's Toughbook H2 is available for your computing needs. Designed for versatility, mounting options allow docking and usage in any work environment.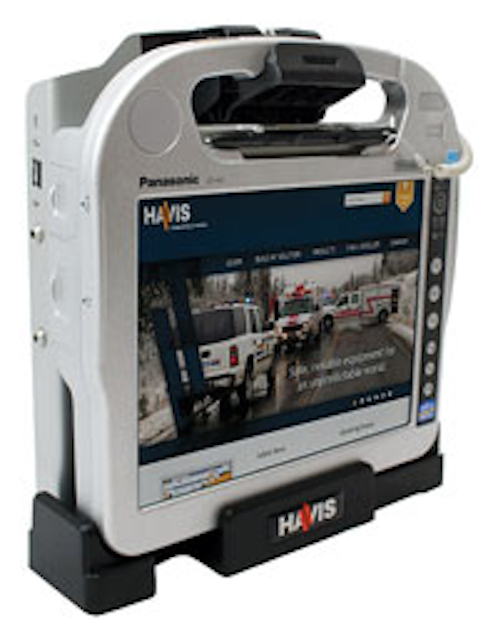 The DS-PAN-600 Series Docking Station offers computer charging, security and connection to peripherals in in-vehicle workplaces. Top exiting ports and easy-to-use strain relieving allow a low profile mount in mobile solutions and reduces the need for cable extensions. Use of barcode scanners is available while computer is securely docked. Side exiting Universal Serial Bus (USB) ports are optional. Productivity is maximized with this lightweight and strong design-built with theft deterrence, longevity and stability in mind.
Havis
CIRCLE 110 ON READER SERVICE CARD
---
Air N Arc I300 All-in-One Power System Features Six Forms of Power
Vanair's Air N Arc I300 is cited to be the first system to offer six forms of power in a single 48-in. unit. Based on Air N Arc 300 diesel system technology, it provides an integrated 40-cfm rotary screw compressor, 7-kW ac generator, 300-amp welder, battery booster and battery charger-with the newly added power of a 10.5-gpm hydraulic pump, all driven by a single engine. Designed to provide full functionality with the truck engine off, mechanics can remain productive in all areas of their workday with enough power to run a crane. The I300 reduces chassis fuel consumption, noise and engine maintenance while meeting anti-idling laws.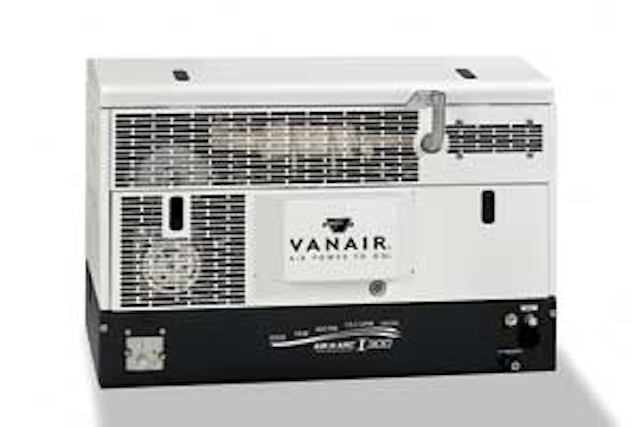 Small enough to fit behind the cab or on the side pack of the vehicle, the unit saves money, space and weight when compared to purchasing and installing individual components. With the I300, there is no need to purchase a separate welder, compressor or generator. The system ties directly into the vehicle's electrical system, allowing the truck's battery to be charged to support work and safety lights and shares the diesel fuel source for maximum ease of use.
Vanair
CIRCLE 109 ON READER SERVICE CARD
---
New Tool Combines Three Socket Sizes in One
Lowell Corp. has introduced the Triple Square Transmission Impact Socket, a tool for impact wrenches that combines three square transmission hardware openings into one device. Designed for transmission line utility workers, the Triple Socket has a slim profile and light weight for easy handling. It can be used with any impact wrench or rattle gun to install or tighten transmission tower hardware.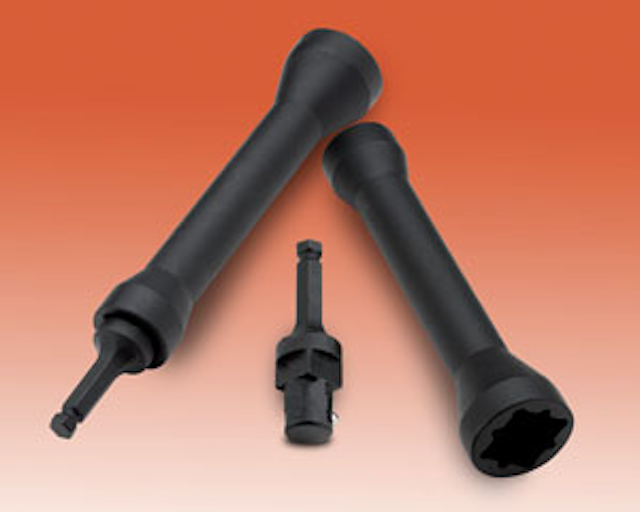 Overall length of the tool is 10 3/8 in. and it weighs 3.5 lbs. The three square socket openings are: 1 1/8 in. for 3/4-in. hardware; 1 5/16 in. for 7/8-in. hardware; and 1 1/2 in. for 1-in. hardware. The socket also fits 1 1/2-in. hex nuts.
For use with 1/2-in. impact wrenches, a 7/16-in. Quick Change Adapter is included. The tool can be turned end for end without having to remove the adapter from the wrench. The Triple Socket's 1 1/16-in. shaft is hollow and deep enough to allow workers to access nuts on many different threaded lengths. The Triple Square Transmission Impact Socket is guaranteed against defects in material and workmanship for one year from date of delivery.
Lowell Corp.
CIRCLE 111 ON READER SERVICE CARD