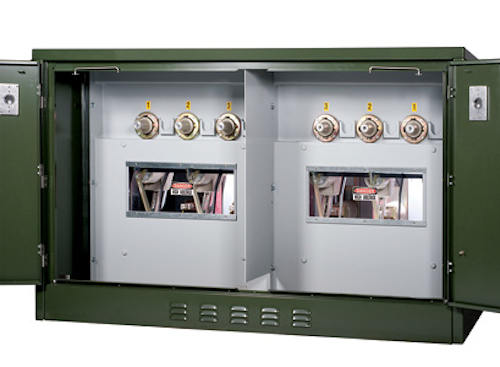 By Chad Dugas
Storms such as Hurricane Sandy-with high velocity winds and heavy flooding-have challenged the integrity of overhead distribution systems. During these storms, tree branches may touch the power lines and cables might cross over-creating a short circuit situation and causing extended outages.
Underground distribution systems are immune to high winds and are a reliable way to provide power for major cities. These underground distribution systems depend on multiple key components, such as padmount transformers, insulated cables, elbows, padmount switch devices, power fuses, fault indicators and others. Padmount switchgear has been the most common solution for protection and switching of underground distribution systems. As critical as padmount switchgear is to underground systems, utilities have faced many challenges. Some of these challenges include operator safety, corrosion, animal intrusion and interchangeability with existing foundations.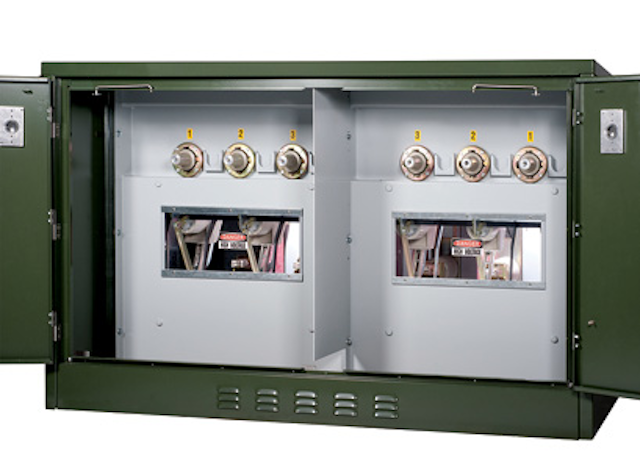 Operator safety continues to be a concern for utilities, and exposure to live components within switchgear is a potential hazard. Padmount switchgear was designed to house all live components within a single metal enclosure; with the introduction of the dead-front design, however, utility personnel can now operate the padmount switchgear with no exposure to live or energized medium-voltage components. The VersaPad product line from ABB introduces the dead-front design combined with load breaking switch technology. In addition to safety barriers within the enclosures, the dead-front feature enhances the operator safety because all energized electrical devices are not accessible after opening the enclosure doors. Grounded, metal barriers isolate adjacent compartments, preventing personnel from inadvertently interfering with dangerous, neighboring components in other compartments during operation. The fuse access doors are positively latched in the closed position and mechanically interlocked to prevent access to fuses without disconnecting and parking the load-break elbows. In addition, the VersaPad has the largest viewing window for visual indication of the condition of the switch's blades.
Utilities in coastal environments and extreme climate conditions have faced a unique problem when selecting suitable padmount gear. Many times, the most cost-effective solutions would be built with mild steel, which would corrode before the expected lifespan of the unit. The only alternative was to buy a more expensive, stainless steel unit to meet their corrosion-resistant needs. ABB's VersaPad offers a third alternative, which is marine-grade aluminum that provides corrosion protection while maintaining a low cost.
In any environment, animal intrusion can be harmful for live padmount switchgear compartments. Electrical faults may occur on designs that allow animals to enter padmount enclosures, compromising the system's overall reliability. The VersaPad dead-front design has floors to prevent animals from entering the live compartment and metal barriers that make it impossible for rodents to cause damage to live parts by gaining access through the live compartment.
When developing an underground distribution system, initial costs can be a major concern-costs that include concrete foundation, cable terminations and vault size. To avoid repeating such costs during replacements of padmount gear, utilities often are restricted to the footprint of their initial solution, reducing manufacturer options. The VersaPad matches the most common footprint used in the market, allowing easy installments and flexibility for future upgrades. In addition, the VersaPad is a bolted, modular design vs. the customary welded design. This contributes to easy, one-to-one field replacements and repairs, and minimizes maintenance requirements.
Operation costs also are a concern for utilities affected by maintenance and replacement costs. The VersaPad has low maintenance requirements because of reliable components such as the VersaRupter switch. The switch uses air blast arc extinction technology, which eliminates the need for additional insulation barriers and extends conductive parts longevity. In addition, the switch delivers interrupting technology and dependable performance in a compact design. The VersaRupter switch design meets and exceeds up to three times the mechanical endurance required by the American National Standards Institute (ANSI) / Institute of Electrical and Electronics Engineers (IEEE) standards. The switch is operated through a side pocket, eliminating exposure to live compartments during operations.
The VersaPad padmount switchgear provides utilities with these current outage management challenges with a tangible, reliable and safe solution.
---
About the author: Chad Dugas is senior marketing engineer for ABB Inc. and can be reached at chad.dugas@us.abb.com.