Windows 8 Enables Enterprise Tablet Adoption
Technology is evolving at light speed, and the way we work is changing with it.
Sep 15th, 2013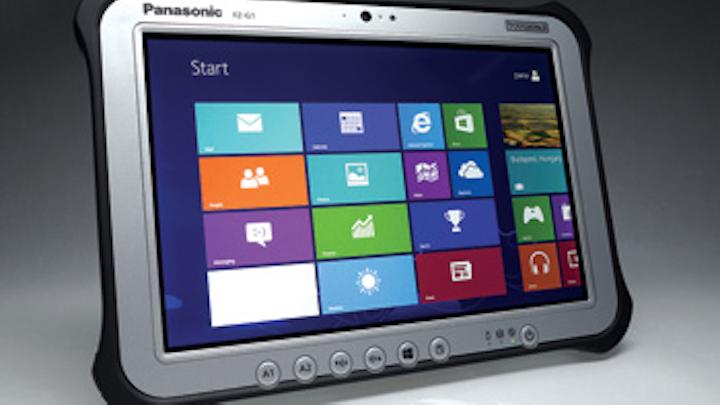 By Tom OConnor
Technology is evolving at light speed, and the way we work is changing with it.
Capabilities that were unimaginable 10 or even five years ago are now commonplace, and this has driven efficiency and productivity by leaps and bounds. We now have the ability to work from anywhere, storing our data in the cloud and staying constantly linked to the central office through wireless broadband connections. We even have access to real-time global positioning data at our fingertips and the ability to stream high-definition video with the single push of a button.
During the past couple of years, one of the primary computing devices enabling this evolution has been the tablet computer-a sleek, elegant and easy-to-use device that has gone from a niche product to a global phenomenon seemingly overnight. As a way to boost mobility and efficiency, tablets are a good choice, and their role in the utilities industry continues to grow. During the next five years, total shipments of tablet computers to enterprises around the world are expected to increase at a compound annual growth rate of 48 percent, according to Infinite Research. Tablets' portability, flexibility and ease of use have made them a good fit for business applications of all kinds.
By supporting a broad range of functions such as facilitating work orders, managing plant surveillance, controlling digital signage and allowing communication in real-time with crews in the field, it's clear that tablets are bringing improved productivity and mobility into the utilities market. But, this technology evolution has come with growing pains. In many cases, tablets are so attractive that users have not waited for their companies to issue them; they've brought their own personal devices to work. In other cases, organizations have issued devices to their employees that are better suited for consumer use and lack enterprise-critical security, durability and functionality. This has resulted in a fragmented information technology (IT) management landscape consisting of myriad devices with different operating systems, security challenges and support needs.
Over the past year, the technology industry has seen a shakeup that could play a large role in addressing this issue. Last fall, Microsoft released Windows 8, the most dramatic overhaul of its operating system since 1995. Offering a redesigned interface and several new features, the operating system is built for mobility, security and manageability. And, when paired with enterprise-class hardware, Windows 8 opens the door for utility companies to embrace the benefits of tablets, without sacrificing security, functionality and management capabilities.
Windows 8 Advantages
For the past couple of years, many IT departments have been forced to weigh their users' mobility needs-which have often included new devices with alternative operating systems and potential security risks-against the need for management, security and system integration. This creates a complicated and fractured environment, putting managers into a troubleshooting mode vs. concentrating on strategic growth. Designed with mobile productivity in mind, Windows 8 allows IT to sidestep these compromises in tablet deployments.
One of the most obvious benefits of Windows 8 is its redesigned, metro interface. Built to take advantage of touchscreen technology found on devices such as tablets, the interface offers users the fast and fluid efficiency and personalization found on consumer devices. The operating systems' use of swipe, tap and drag gestures allows users to easily switch between applications and multitask. While multitasking is a reality for utility workers, it's a challenge for some tablet operating systems, potentially limiting worker productivity. The interface also includes live updating tiles, which can help users retain situational awareness.
One of the greatest benefits of Windows 8 is the ability to have the same operating system in desktop and tablet environments. Not only is the IT department supporting a single operating system, users benefit from a seamless and familiar operating environment across all their devices.
Security is a critical need in any enterprise technology, and Windows 8 offers several features not found in many other tablet operating systems. Secure Boot, for example, is a boot-up process that helps prevent malware from running at startup. Unlike some mobile app download services, Microsoft vets each app included in the Windows Store for quality and safety before making it available for download.
From an IT management perspective, a key benefit is its ability to work with existing software and hardware. Microsoft's operating system holds a steadily large overall market share, and its popularity is likely greater in the enterprise segment. Many critical applications, especially in the utilities sector, are designed with Windows in mind. Windows 8 works with mobile device management (MDM) systems as well, including offering features to secure devices from unauthorized use.
A host of additional features improve productivity in other ways. A feature called Windows To Go, for example, allows users to create a bootable Windows 8 image that runs directly from a universal serial bus (USB) drive without network access or specialized credentials. Other benefits include improved bootup speed, as well as improved networking and virtual private network (VPN) capabilities.
Choosing the Right Device
Equally important as the operating system is the correct hardware. Purpose-built tablets, designed specifically for use in harsh environments, offer the functionality and ease of use that utility workers require, without compromising on security or manageability.
Before investing in a tablet deployment, utility businesses must verify the devices will offer the features their business demands. Something as simple as a user-replaceable battery, which many consumer devices lack, could ward off a disaster for a technician or a worker in the field far from home. In other cases, it may be as simple as a tablet with a daylight-viewable screen, which ensures a mobile employee can work efficiently regardless of lighting challenges. Some workers may need a device that can be used with a digitizer pen for signature capture or an all-touch interface for easy manipulation of graphics or images.
The most common causes of mobile computer failures are drops and spills. As mobility grows, the opportunity for these issues to impact workers will also grow. Having devices that are engineered to take a fall to a hard surface and to ward off spills, rain or dust can help ensure maximum productivity.
With computer hardware such as tablets, it's also important to understand the difference between price and cost. It's natural to gravitate toward the lowest sticker price. If that device has a high failure rate, hinders productivity, lacks enterprise-level support or has a short standard warranty, however, it will end up costing more in the long run-not just in replacement costs but also labor costs, inefficiency, the loss of critical data, reduced customer satisfaction and more. Utilities should think about products in terms of their total cost of ownership to get the most for their money.
Tablets represent a turning point for utilities, with the promise of new efficiencies, functionality, decision-making and competitive advantage. By making the right technology decisions, utilities can ensure their workers are equipped to take advantage of these gains without compromise.
---
About the author: As Senior National Business Development Manager, Enterprise Sales for Panasonic Solutions Co. (PSC), Tom OConnor supports the sales team's efforts to provide customized mobile computing solutions that meet the diverse requirements of enterprise organizations. OConnor is responsible for developing strategic partnerships with the independent software vendor / independent hardware vendor community in all the vertical markets within the enterprise space nationwide. OConnor joined PSC in April 2011, bringing more than 25 years experience in IT sales, marketing and distribution with companies such as Fujitsu, Bluestar and Motion Computing.