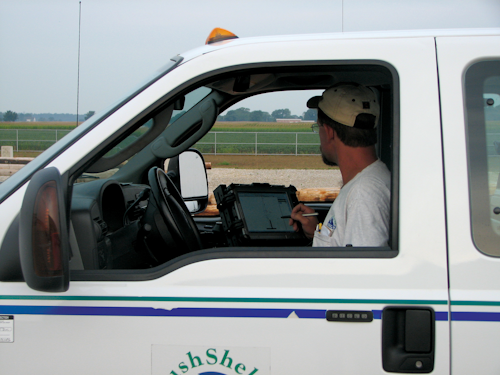 By Brad Means
During the past decade, introducing technology for work management has allowed RushShelby Energy to transition from a typical, rural utility to a technology-driven enterprise with ever-increasing customer satisfaction. The engineering department for this distribution co-op has spearheaded the transformation with projects to pull more useful data from its field design software and unify data between systems using the National Rural Electric Cooperative Association's (NRECA) standard MultiSpeak interfaces.
Less than an hour from Indianapolis in Manilla, Ind., RushShelby manages roughly 2,000 miles of line–serving more than 14,000 consumers in Rush and Shelby counties, as well as portions of surrounding counties. In addition to electricity, the company also has propane, broadband and fiber optic businesses. RushShelby's fiber also serves as a communications link between substations, and fiber transmission is resold to broadband customers.
Chris Chastain, vice president of RushShelby Energy, is responsible for the co-op's engineering, staking, mapping and metering. His goal since joining RushShelby in 2006 has been to automate these functions so technical staff and work crews can be more productive. That is happening today through consistent workflow and reduced data entry afforded by software tools, helping to eliminate redundancies that can lead to inconsistent or inaccurate records. There are obvious cost benefits through saved time and reduced errors across his department and with customer service personnel who can share much of the same work order data.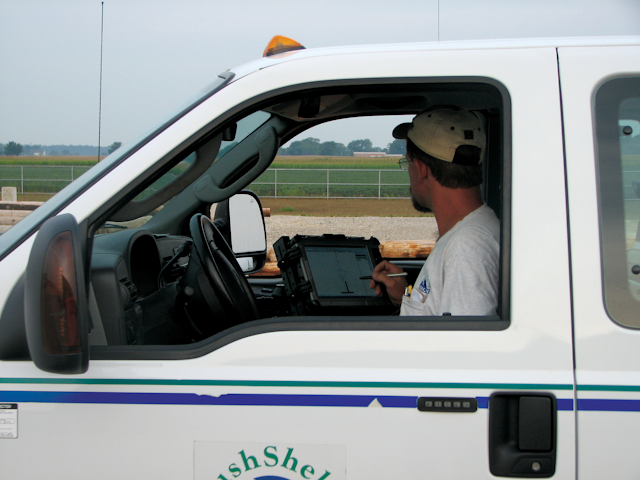 Integration Through MultiSpeak
"One of the first projects was to import data from the staking sheet into our Environmental Systems Research Institute (ESRI) geographic information system (GIS) mapping system," Chastain said. "We did everything by hand on paper until about 2004 when our staking sheets went digital with Powel's StakeOut. Until a few years ago, that's all we were using the software for–generating a computerized staking sheet and saving it in the database."
MultiSpeak provided the necessary integration path between the two applications. The MultiSpeak Initiative led by the NRECA is an industry effort to build a vendor-neutral specification that defines standardized interfaces among commonly used software applications in the utility market.
Software vendors and end users had a vested interest in collaborating on a simple, inexpensive standard for different software products to exchange data. Building custom interfaces was too time-consuming and costly to implement.
The MultiSpeak Initiative helped stakeholders agree on nonproprietary, freely available, Internet-based technology as the method for communication.
Collaboration among software companies and end users participating on MultiSpeak committees quickly produced the common data models necessary for system integration. Working closely with participating software vendors has allowed RushShelby to complete about a half dozen interfaces during the past several years. "Some were more difficult than others," Chastain said, "but the average project took only a few hours if the software vendor had its product correctly set up."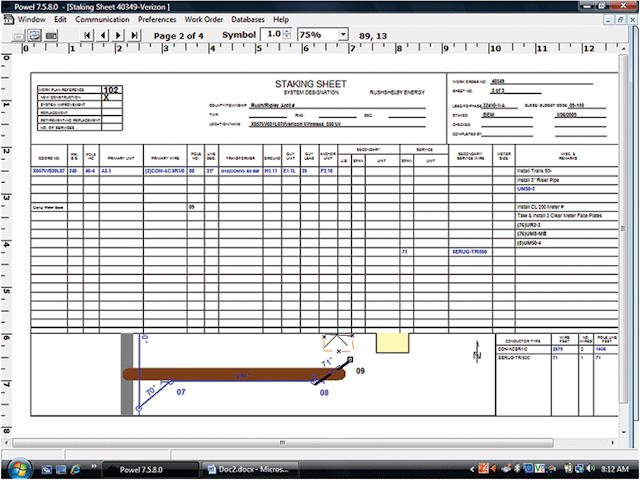 In addition to the mapping and staking systems, RushShelby uses National Information Solutions Cooperative's (NISC's) Consumer Information System (CIS) and Accounting & Business Solutions (ABS), which include material inventory, as well as engineering software from MilSoft. Also included in the mix is an NISC outage management product. Data management among all the systems is now automated through MultiSpeak.
"We don't have the multiple entries. We don't have to create a file here, save it over there, import it or double check it for data validation," Chastain said. "Now all we have to do is put a job in a certain status, and it automatically updates. We may have to set up some scripting in the background here and there, but we don't have to manually update the data."
All About the Work
Because much of the daily activity at a co-op revolves around the work order, access to this data is paramount. Work orders created in StakeOut provide all employees with a picture of the work to be done–reflecting customer data and all the units, materials and costs associated with the work order. Data flows between StakeOut and the NISC ABS, which summarizes the data to include all related costs. If a pole and framing assembly need to be built, the staking engineer can enter the associated units for that assembly in the field, bring it back to the office and synch it with the ABS system. The corresponding work order is automatically generated and populated with all costs–labor and overhead–based on the materials and hours worked.
Automation has increased productivity across the organization. Staking sheets are still printed for construction crews, but there's much less guesswork. With systems working together, jobs can be planned in advance for an accurate material list. Unit definitions from the NISC ABS are exported to StakeOut, so if a job created in the staking software calls for 40 Class-4 B1 poles to be built, a material sheet is generated with the correct numbers of bolts, cross arms, cross arm braces and insulators for the warehouse to pull. Following construction, the paper-staking sheet goes to a staking engineer for an as-built and any necessary corrections in StakeOut, which are updated to ABS automatically. After that, the paper can be thrown away.
RushShelby also uses a Powel Web application, the InfoCenter, to track the status of jobs. All personnel can see the status of a job and assign different functions departmentwide. Job flow, including order of different steps and quality assurance controls, is set up within engineering operations. All jobs are reviewed before being assigned to a crew. As a job completes its life cycle, it's moved through the workflow so each staffer can know the job's status. Once a work order is closed, data is transferred automatically to mapping for an update, although users still can check historical data going back to the as-built drawings.
This level of automation proved its value when RushShelby began installing advanced meters in 2008. StakeOut was used to track all service orders for the systemwide meter exchange. Field technicians were able to make the physical exchange and record it accurately by simply taking barcode scans of the old and new meter numbers. They also gathered Global Positioning System (GPS) and related field data from the transformers to the service point. A report was run for each install to ensure the information was correct, and the data was downloaded to the CIS and maps.
"Gathering the meter data was initially key," Chastain said, "because a lot of it didn't exist in digital format." "We didn't have the GPS of houses, all the meter points or the meter tied to a physical location in the field. We just had a map number, but the map number was on paper and the location was in a technician's head. If someone relatively new to the system went to this line, they might be in the dark. Now the process is circular; each completed work order's GPS locations are updated into the GIS, which feeds better data into future work orders. We can do searches and queries on that data in the map and be able to pull it up."
Co-op of Tomorrow
"Despite the volume of work and amount of progress made in a relatively short time, the company's metamorphosis is in its early stages," Chastain said. Each new information technology (IT) implementation happens in methodical steps to achieve the greatest return on investment. Expanded mobile work management applications are a targeted area for creating greater operating efficiencies.
RushShelby crews can now view maps in their trucks with PCs, and actual work orders can be generated onto the maps so office staff has current information about work being done. The office staff also wants to see work done by crews associated with a specific job in the same IT framework to automatically populate timesheets instead of the existing paper system. This data can flow back to the NISC billing system to generate paychecks.
RushShelby bundles wireless data for customers, but in terms of system wide connectivity, Chastain doesn't see a real-time network for synching data as an immediate priority; he concedes, however, it will be in the years ahead.
"Where we are today with digital mapping and PCs in the truck is a great leap from where we were," Chastain said. "There's more information available to more people, freeing them for other functions. Before, the staking engineer knew everything about a job, but no one else did. Now I can access the customer's phone number and know the size of the transformer connected–just about any work order detail, even after it was built. We can be much more productive and the customer gets better service."
---
About the author:
Brad Means has been with RushShelby Energy for 13 years. He started out as a groundman, became a journeyman lineman and is currently a staking technician. He has a bachelor's degree from Ball State University and an associates' degree from Ivy Tech State College.
More Utility Products Current Issue Articles
More Utility Products Archives Issue Articles