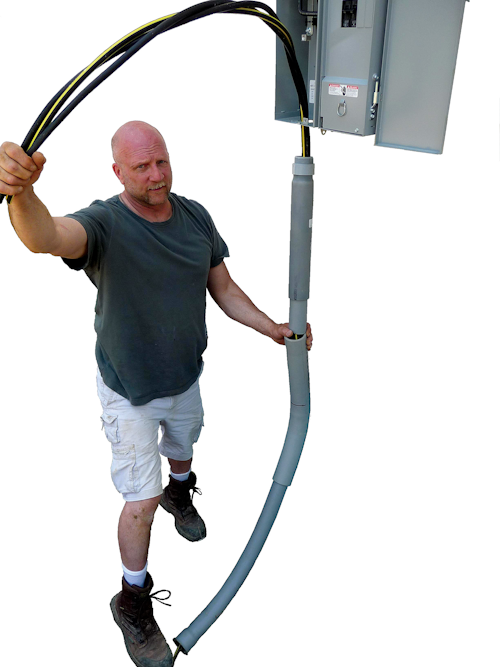 Adjustable Meter Riser Assembly Kit
This easy, safe and secure adjustable meter riser assembly kit (AMRAK) offers material and installation cost savings. AMRAK includes a double-kick, 24-inch radius bend, riser and expansion cylinder with adapter, clamp and screws. Each feature is designed so the electrician can easily install the service entrance system without jobsite cutting, bending or foundation trim/shovel work. The riser bend has a formed Sch 80 sleeve overlay at ground level for mechanical protection.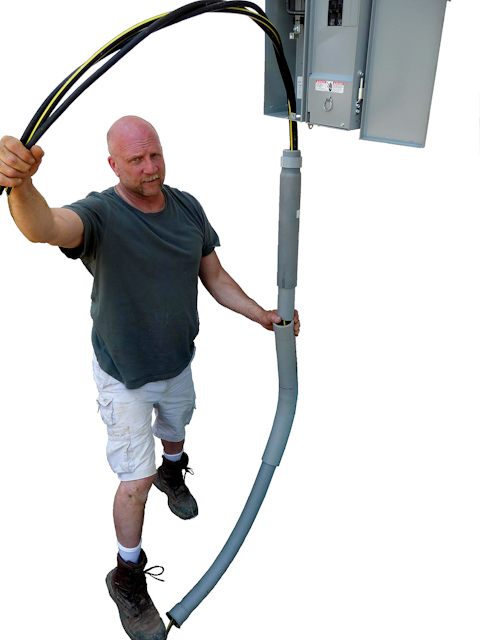 The bend has a combination flare and coupling underground to accommodate direct burial cable or solvent weld conduit joint. The adapter connecting the expansion joint to the meter socket includes a smooth inside radius to prevent chafing the cable when pulling. Markings for burial depth at 24-inches assist inspection. The patented system conforms to National Electrical Code and utility standards, is Electrical Testing Labs Listed and ships via United Parcel Service. Added distributor bonus: the package serves as a self-contained sales display.
Midwest Plastic Fabricators
CIRCLE 119 ON READER SERVICE CARD
---
Ultra-compact Inverter Offers Maximum Safety
Tripp Lite's new Model PV1800GFCI ultra-compact inverter is equipped with ground fault circuit interrupters for maximum safety and shock prevention. Fully OSHA-compliant and designed for use in mobile environments such as semi trucks and work/utility trucks, it efficiently provides quiet electricity to office equipment on the road or to power tools at a work site.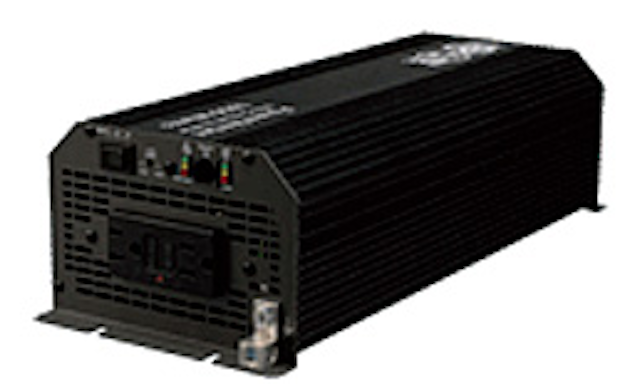 Key features and benefits:
Continuously supplies up to 1800 watts of 120 Vac power to two GFCI-protected outlets from any 12V battery or automotive dc source.
Compact size and lightweight metal case make the PV1800GFCI one of the smallest, most rugged inverters available at this power level.
High-efficiency operation conserves batteries to prolong run time.
Remote control capability allows the inverter to be mounted in a compartment or cabinet out of sight, while operated and monitored conveniently from the vehicle's dashboard.
Quietly provides electricity for power tools, lights, pumps, laptop computers, cell phone chargers, fans, heaters, wet/dry vacs and more.
Tripp Lite
CIRCLE 122 ON READER SERVICE CARD
---
Global Positioning System for Construction Fleet Managers
Navman Wireless' new Qtanium 300 Global Positioning System (GPS) tracking device enables construction fleet managers to monitor all vehicles–both on-road and off-road–in one interface.
The Qtanium 300 is a military-grade GPS tracking device for all makes and models of off-road construction equipment that is designed for use with the company's OnlineAVL2 fleet tracking and management system. Engineered and built from the ground up to operate in extreme off-road conditions, the unit's integration with OnlineAVL2 is cited to make Navman Wireless the largest global provider to offer on- and off-road vehicle tracking from a single interface.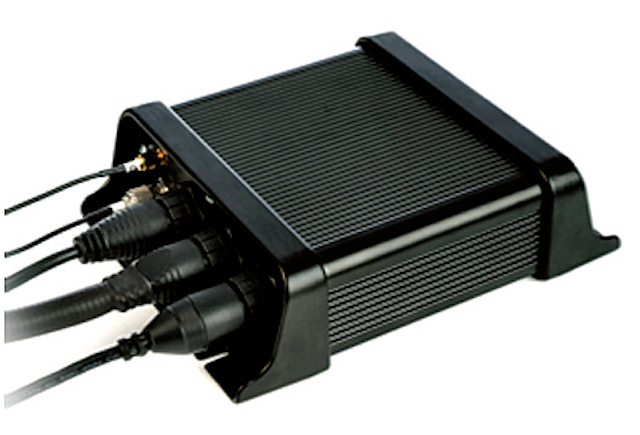 With the Qtanium 300, users can not only see the real-time location of both on- and off-road fleet vehicles merged on the same map to provide a complete picture of fleet deployment, but also utilize new OnlineAVL2 capabilities to simplify and strengthen fleet oversight and management.
Navman Wireless
CIRCLE 120 ON READER SERVICE CARD
---
Thermal Imaging Cameras are Lightweight
Ergonomically lightweight by design, the rugged FLIR i5 and i7 infrared cameras offer high infrared image quality with 2 percent thermal accuracy, a large 2.8-inch color display, and 80x80 pixel resolution on the FLIR i5 or a RESNET-compliant 120x120 pixel resolution on the FLIR i7.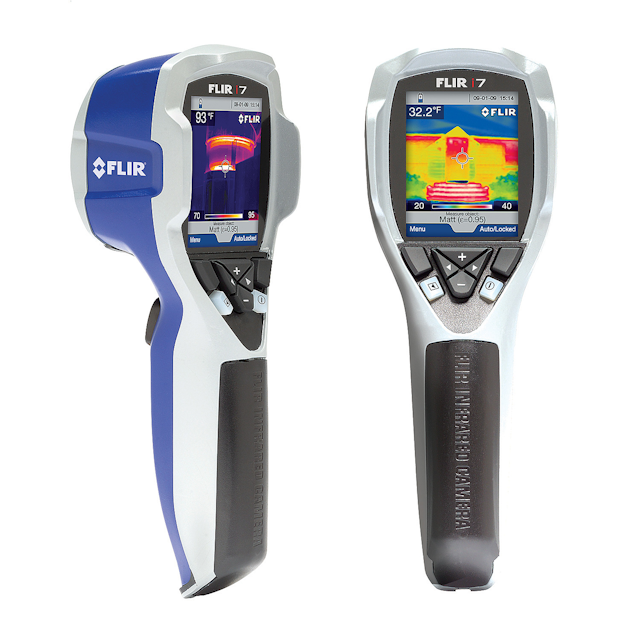 The FLIR i5 offers a center-spot measurement mode and, for extensive analysis of job sites, the FLIR i7 adds two measurement modes: area (minimum/maximum), and isotherm (above/below).
Both cameras capture infrared images in FLIR's patented radiometric JPEG format, which permits users to rely on only one image file for both temperature analysis and reporting–as well as for easy sharing in emails, MSWord documents, etc.
FLIR Systems
CIRCLE 123 ON READER SERVICE CARD
---
Utility Cable and Pipe Locators
Radiodetection's RD7000 and RD8000 cable and pipe locators are used by utility companies to help install, protect and maintain infrastructure networks. The ergonomic features of the RD7000 and RD8000 provide operators with lightweight, energy efficient and well-balanced tools.
The RD7000 and RD8000 are 28 percent lighter than the RD4000, which encourages extended use. The receiver and transmitter feature a large, high contrast, backlit LCD screen that provides the users with clear information in any light conditions. The intuitive and responsive interface is designed so the operator can assess any feature with ease. A self-explanatory icon set on the keypad is consistent on both the transmitter and receiver.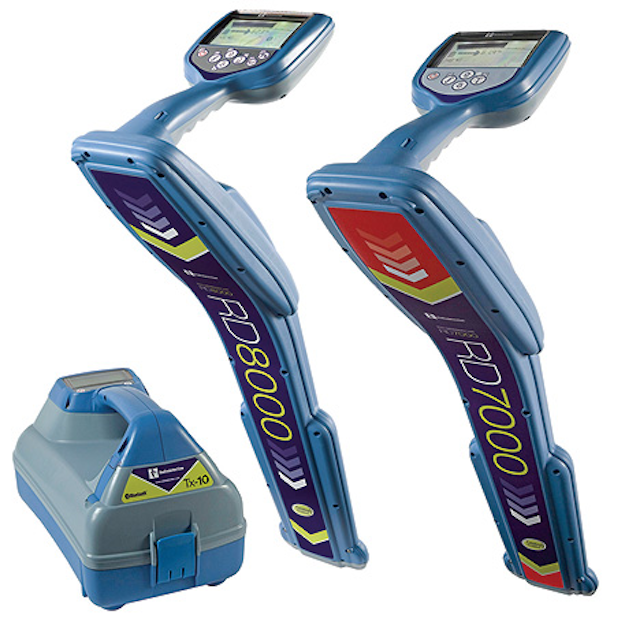 In addition to their light weight and form, the RD7000 and RD8000 retain the environmental durability associated with an IP54 rating, which ensures it can be used in many demanding environments.
Radiodetection
CIRCLE 124 ON READER SERVICE CARD
---
T-BAK Tie-back Personal Fall Limiter
Miller Fall Protection announces the new Miller Turbo T-BAK Personal Fall Limiter (PFL)–cited to be the first and only self-retracting lifeline designed to tie-back anywhere along the lifeline for greater mobility and convenience.
The Miller Turbo T-BAK PFL features an all-in-one design that incorporates a web retractable with 7.5-foot working capacity and anchorage connector, reducing equipment required on the job site and increasing worker productivity and safety. In addition, two Miller Turbo T-BAK PFLs easily adapt to the Twin Turbo harness back D-ring connector for continuous, 100 percent tie-off fall protection.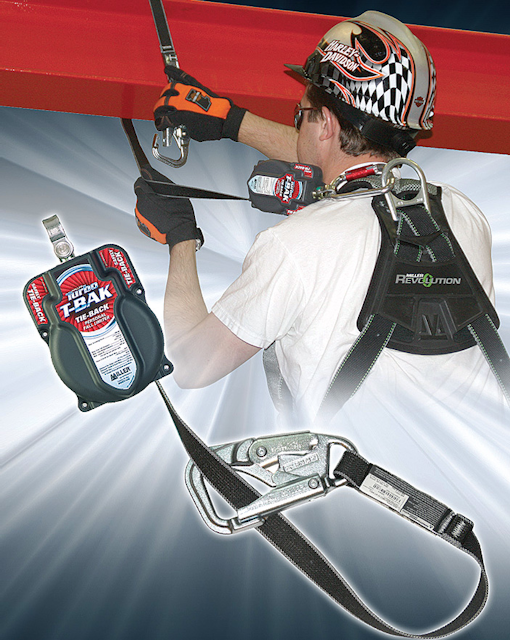 Among T-BAK's other features:
The only tie-back retractable that meets ANSI Z359.1 standard that requires 24 inches or less of lifeline to extend from the housing when the unit is fully retracted.
Features the Miller 5K locking snap hook, designed specifically for tie-back use and provides 5,000 lbs. gate load capacity from any angle.
Meets all applicable OSHA, ANSI, CSA and CE standards.
Miller Fall Protection
CIRCLE 126 ON READER SERVICE CARD
---
MAG Docking Station Line Expanded
Gamber-Johnson, an ISO 9001:2008 certified manufacturer of rugged docking stations and vehicle mounting, announces the expansion of its MAG docking station line to include a new docking station for the Panasonic Toughbook 31 computer.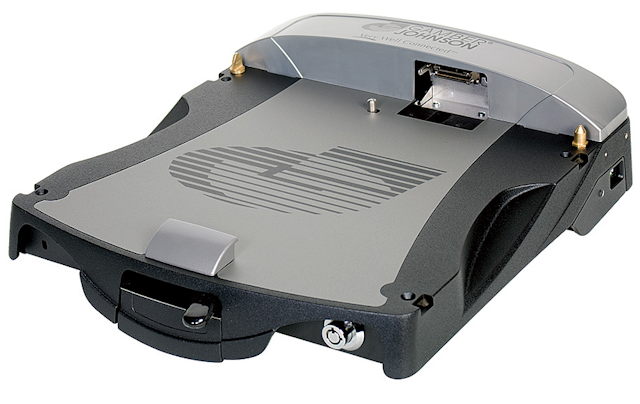 The new MAG 31 Dock is constructed from a magnesium shell, which enhances its overall look and performance. Similar to the MAG 30 docking station, the MAG 31 Dock includes the simplified front-facing docking mechanism, which allows easy one-handed docking and undocking of the computer; insert the computer into the docking station and pull the front handle to the left to dock the computer. To undock, simply push the key lock button to release and undock the computer. All Gamber-Johnson docking stations come with a standard key lock for added security.
The MAG 31 Dock has passed vibration testing standard MIL-STD-810G and has undergone extensive cycle testing on the latch and docking mechanisms.
Gamber-Johnson
CIRCLE 125 ON READER SERVICE CARD
---
Transportable Fuel Tanks are DOT Approved
Offering a high level of environmental compliance, Transcube's line of transportable fuel tanks are DOT approved for road transportation and UL 142 Certified for safe diesel fuel storage. The double-walled tanks provide 110 percent secondary containment of the inner container's total capacity to eliminate the risk of spills and contamination, making them very useful for equipment and power rental fleets, fuel suppliers and end users.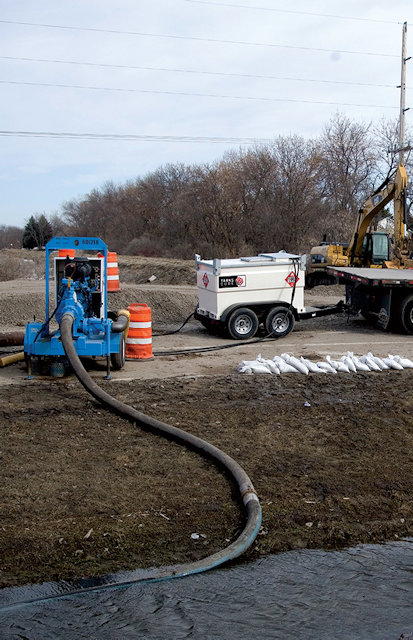 Internally baffled to prevent the surge of fuel during transport, Transcube tanks have DOT approval for transportation of diesel fuel, unlike traditional fuel tanks that are not designed for traveling on the road. This allows the units to be deployed to remote locations while full of fuel, as well as the ability to be removed from a site with fuel still inside.
Models include the 05TCG, 10TCG, 20TCG and 30TCG, offering capacities of 132, 264, 528 and 792 gallons, respectively. To eliminate the risk of accidental spillage, the tanks have no bottom or side exterior outlets.
Transcube USA
CIRCLE 127 ON READER SERVICE CARD
---
Full Line of EC Series Cranes Available
Stellar Industries Inc. now offers a full line of easy-to-use electric and hydraulic cranes that use environmentally friendly, non-toxic hydraulic oil. The Stellar EC Series has five models, available in a range of 6,500 ft-lbs (0.99 tm) up to 38,000 ft-lbs (5.25 tm).
The EC Series crane line incorporates both hydraulic and manual boom reach, with the EC6000 reaching 21 feet. All EC Series cranes have a short stow length and low profile, both of which allow the crane to fit behind the chassis cab when not in use.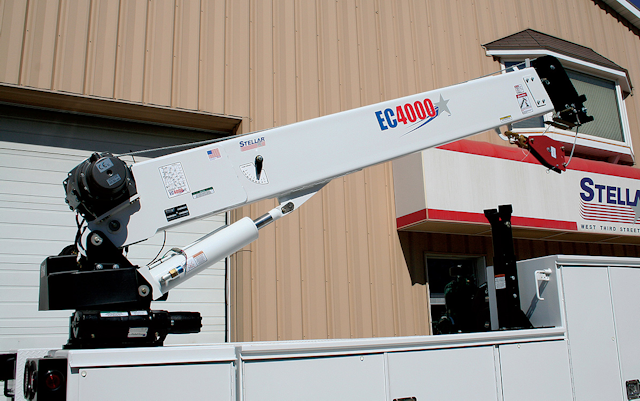 The boom of the EC Series line features a piggy-back or double boom design, providing considerably more strength than traditional square boom designs. This crane line also has a true worm gear rotation of a full 410 degrees (EC2000 has a 340 degree rotation) that uses a high-strength steel ball bearing turntable gear, high-strength steel worm gear and cast-steel worm gear housing.
Stellar Industries Inc.
CIRCLE 128 ON READER SERVICE CARD
More Utility Products Current Issue Articles
More Utility Products Archives Issue Articles