New Steel Low-profile Saddle Box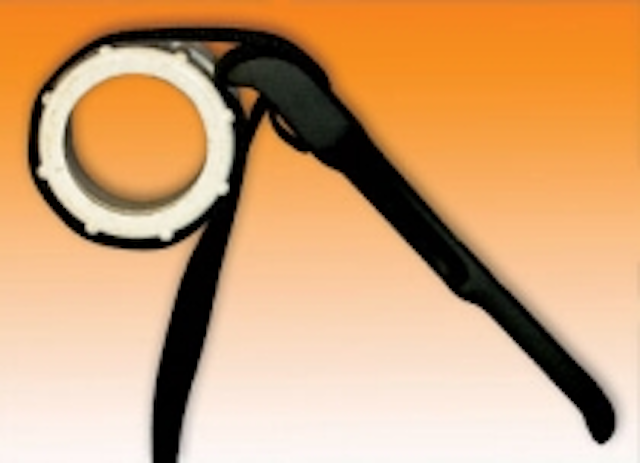 In an effort to continuously meet the needs of professional contractors, the WEATHER GUARD brand is introducing its new, all-steel, low-profile saddle box. Secure, durable and convenient to use, the saddle box is designed to maximize visibility and enhance safety.
The all-steel box fits just above a truck's bed rail, which keeps rear sightlines intact—providing the contractor with more visibility through the rear window, especially on newer pick-up truck designs that feature higher bed rails.
The all-steel box comes in two sizes to fit both full-sized and compact pick-up trucks. The box's heavy-duty steel construction is topped off with a powder coat finish and comes in either a black or white finish. Installation is quick and easy with crimp-free/drill-free mounting brackets.
For security, the saddle box features an EXTREME PROTECTION lock. A full weather seal keeps out moisture even in extreme conditions, and a weatherproof power cord pass-through permits easy access for down-time tool recharging.
The saddle box also features gas shocks that ease the lid open at the push of a button.
Knaack LLC Div., Emerson Professional Tools, WEATHER GUARD
CIRCLE 115 ON READER SERVICE CARD
GFCI Protected Triple Tap Cord Set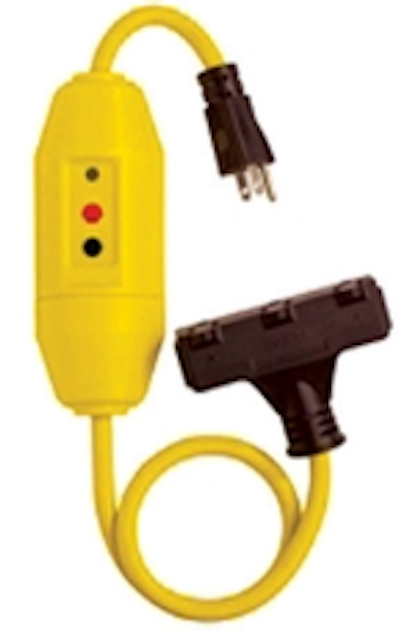 Manufactured by Tower Manufacturing Corp., the UL approved, OSHA compliant Model 30338024 ground fault circuit interrupter (GFCI) protected cord set has three female outlets. Rated 125V, 15 amps, it can be used both indoors and outdoors for protecting utility personnel against the hazards of electrical shock. It is suitable for use with any extension cord, power tool or portable electrical equipment. Other models are also available in 25-, 50- and 100-foot cord lengths.
Tower Manufacturing Corp.
CIRCLE 116 ON READER SERVICE CARD
Super-compact 100W, Single Output AC/DC Power Supplies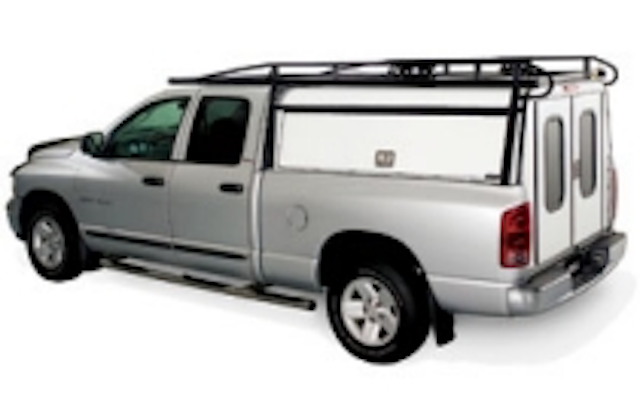 Power Sources Unlimited announces the CFM101S Series of 100W super-compact, open-frame, switching ac/dc power supply modules. Measuring only 2.00 x 4.00 x 1.10 inches, the single output CFM101S Series has a universal 90-264 Vac input, and output voltages of 12, 15, 20, 24 or 48 Vdc. Units feature power factor correction (meets EN61000-3-2) and achieve efficiencies to 85 percent. Additional features are built-in short circuit and over voltage protection along with convection cooled operation in ambient temperatures range from 0C to +40C.
The units are RoHS compliant and have UL, cUL and TUV safety certifications and meet the conducted EMI requirements CISPR/FCC Class B. Deliveries from stock take 6-8 weeks.
Power Sources Unlimited
CIRCLE 117 ON READER SERVICE CARD
ML-12 Stringing Line Brought to Utility Rope Market

Samson is launching its newest 12-strand stringing line, which incorporates Innegra-S fiber. ML-12 is Samson's newest 12-strand stringing line, blending Innegra-S, a high modulus polypropylene (HMPP), and Dyneema, a high modulus polyethylene (HMPE). This blend of fibers gives ML-12 performance characteristics between traditional polyesters and high-performance 100 percent Dyneema stringing lines.
Recognizing a void in the product line was the impetus for the research leading to Innegra-S. The company knew it had to consider fibers that were unfamiliar to the rope industry in order to achieve its goals, it's reported. Historically, if you wanted a fiber that would outperform traditional nylon and polyester, you had to use high-performance fibers like HMPE, LCP and aramids. Oftentimes, it's reported, this was not the best solution because the degree of performance improvement might be overkill for the application, making it too expensive. Samson set out to find the "missing link" in synthetic fibers for rope making—that's when it found InnegraTM-S. A high modulus polypropylene (HMPP), InnegraTM-S, when blended with HMPE, creates a line that is lighter and stronger than nylon and polyester, and comfortably fits the mid-point in performance and price.
Samson
CIRCLE 118 ON READER SERVICE CARD
SmartLink Series 5000 Cellular RTU for Fisher Pierce FCIs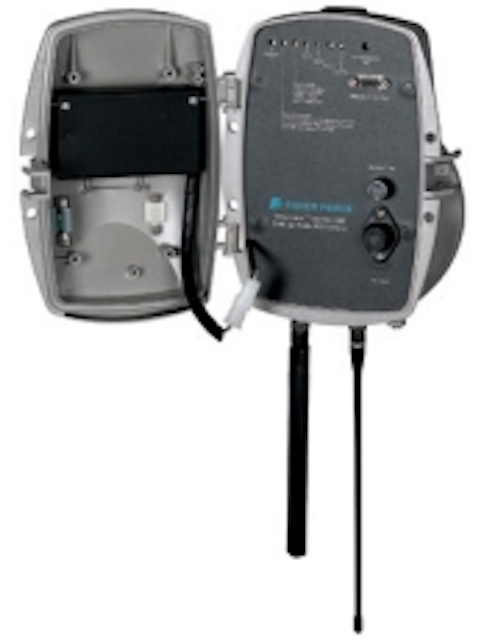 The Fisher Pierce SmartLink Series 5000 integrated cellular Remote Terminal Unit (RTU) from Thomas & Betts provides fast, reliable and cost-effective two-way communication for automated fault reporting when using Fisher Pierce Series 1548 radio FCIs. Electric utility operations personnel can have precise fault alarms and data fed to a variety of applications in seconds, increasing response time and system reliability.
The SmartLink Series 5000 RTU uses technology from Telemetric to communicate over the digital or analog cellular data networks, with coverage available to over 98 percent of the population in North America. No additional radio equipment, license or local cellular account is required. The SmartLink Series 5000's intelligent processor provides flexible reporting of permanent and temporary fault conditions. Utilities can access a secure, web-based fault-reporting application or integrate automatic fault reporting into SCADA/EMS systems using optional software from Telemetric.
Thomas & Betts Corp.
CIRCLE 119 ON READER SERVICE CARD
Dual-rated PV Connector Meets NEC 2008 Without Accessories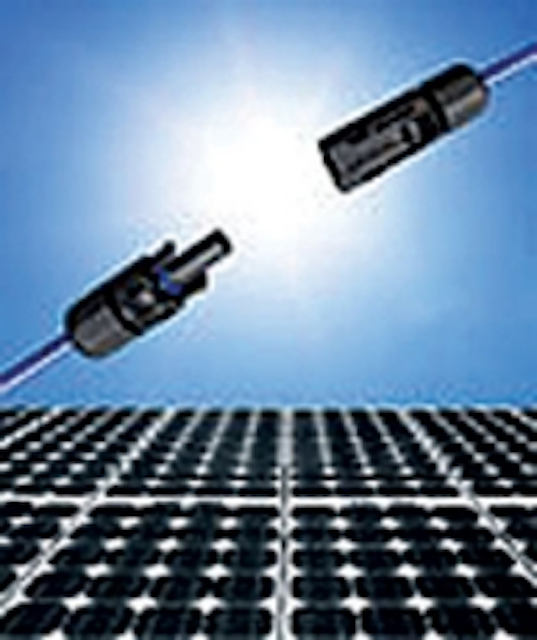 Amphenol Industrial, an interconnect systems company, now offers a dual-rated (UL/TUV) PV connector to meet NEC 2008 without the need of extra locking collars and locking sleeves. Amphenol's Helios H4 provides a single, cost-effective interconnection solution for all world markets.
The Helios H4 connector uses Amphenol's proven "RADSOK" technology to achieve higher current ratings and lower contact resistance—resulting in lower power losses.
The dual-rated Helios H4 connector is available through Amphenol's extensive global distribution network including Avnet, PEI, Arrow, TTI and Powell in the United States; RS and Farnell in Asia; and Lapp, HIK and SOLAR- KABEL in Europe.
Amphenol provides a full range of solar interconnection solutions, including:
Cable mounted connectors
Bulkhead (panel mounted) connectors
Solar cable
Junction boxes
and more
Amphenol Industrial Operations
CIRCLE 120 ON READER SERVICE CARD
New Side Camera Increases Safety for Class 7 and 8 Trucks
ASA Electronics, a manufacturer and supplier of medium and heavy-duty audio and video electronics, introduces the Voyager OBS713RCM Heavy Duty Blind Zone Camera System to the heavy truck market. This system, complete with a durable 7-inch heavy-duty LCD monitor, a right side high-performance camera, a monitor mount and 25 feet of cabling, is specifically made for eliminating dangerous blind spots for heavy trucking applications.
The Voyager OBS713RCM Blind Zone Side Camera System is highly effective in helping truck drivers overcome blind areas and conquer dangerous driving maneuvers such as backing up, changing lanes, merging and making wide right turns. The system's sealed 7-inch waterproof/dustproof color LCD monitor offers heavy duty observation features that make it completely reliable for strenuous road and work applications. It delivers clear, high quality color images of the truck's surrounding areas to the driver and can be paired with up to three cameras. The system can be activated by dc triggers such as 12V impulses—including the left/right blinkers and the reverse gear. It also features an integrated audio speaker; backlit, easy-to-use controls; manual or automatic source selection; day/night brightness modes; and on screen display (OSD) for AV source, picture adjustment and volume control. The monitor's slimline profile lends to an unobtrusive appeal for cab installation and the anti-glare/anti-scratch protective lens keeps the monitor resilient in all conditions. This monitor is specifically built for the industry by offering 12V and 24V system compatibility, circuit protection and a completely sealed housing, which prevents moisture and dust from penetrating the inner components and circuitry.
ASA Electronics
CIRCLE 121 ON READER SERVICE CARD
Continue to New Products Showcase: Part 3

More Utility Products Current Issue Articles
More Utility Products Archives Issue Articles