Digital Pressure Gauge Provides Terminal Point Accuracy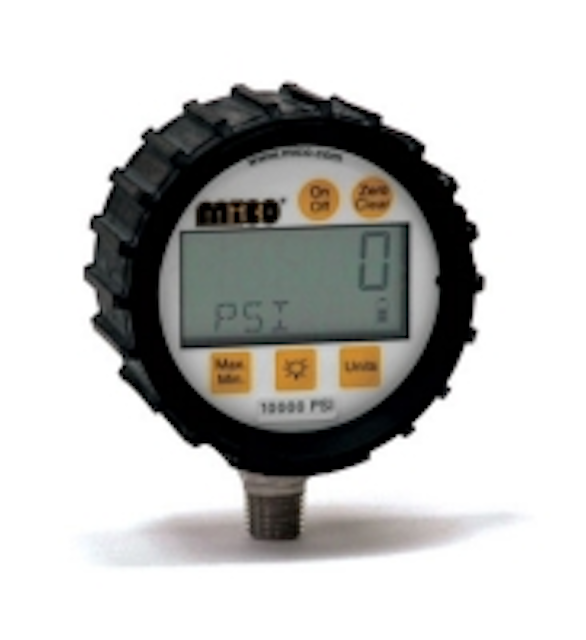 MICO Inc.'s digital pressure gauge provides 1/2 percent terminal point accuracy and a standard pressure range of zero to 10,000 psi for use in measuring air, hydraulic and vacuum pressures. The pressure range complies with the ASME B40.7 standard, reducing the chance of accidental over pressure. The gauge's proof pressure is 120 percent of the range and its burst pressure is 150 percent of the range—both figures also well within industry standards.
The terminal point accuracy eliminates sensor offset problems by allowing the zeroing of the gauge at start-up. The terminal point accuracy also includes linearity, hysteresis and repeatability, in contrast to error-prone best fit straight line accuracy on some gauges.
MICO Inc.
CIRCLE 132 ON READER SERVICE CARD
Nikon Forestry 550 Laser Rangefinder/Hypsometer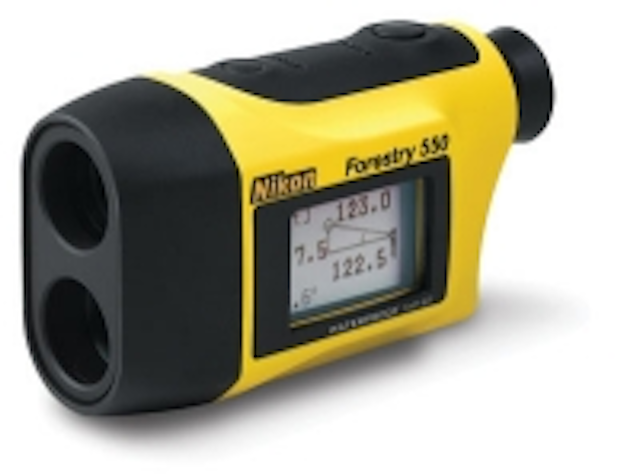 Affordable and rugged, the Nikon Forestry 550 provides accurate range, height and angle measurements. First Target Priority Mode allows you to range small objects and obtain an instant reading. Distant Target Priority Mode displays the range to the farthest target among the targets measured.
This precision rangefinder/hypsometer is waterproof, features 6x magnification and provides several measurement readout options including actual distance, angle compensated distance (horizontal distance), angle (degrees) and height. Results are displayed in yards, meters or feet. An internal display and an external LCD display make reading the measurement data easy.
Forestry Suppliers Inc.
CIRCLE 133 ON READER SERVICE CARD
Communicating Capacitor Controls
HD Electric Co.'s VarCom communicating capacitor controls with ComFlex are communications ready. The controls can be deployed two different ways: with factory-installed communications or as local controls with the ability to upgrade with communications. This allows them to work with a variety of system-wide VAR management strategies.
The capacitor controls provide VAR and voltage support on power distribution systems. When installed on switched capacitor banks, these controls help maximize power system efficiencies and improve power factor.
HD Electric Co.
CIRCLE 134 ON READER SERVICE CARD
Introducing the OFL280 FlexTester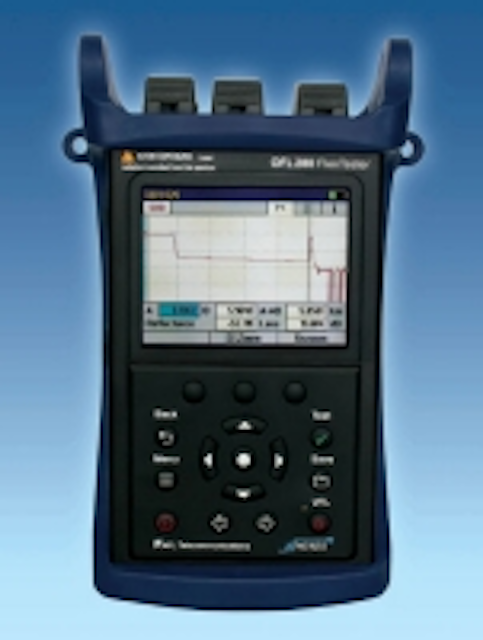 AFL's four new OTDR models offer greater range, shorter dead zones and faster real time mode. The Noyes OFL280 FlexTester, a hand-held OTDR, offers unmatched functionality and value. The base OFL280-100 model is suitable for testing or fault-locating point-to-point or FTTx PON fibers at 1310 and 1550 nm. The OFL280-101 adds 1625 nm to test the L band. The OFL280-102 adds 1490 nm, which may be needed to certify FTTx PONs. The OFL280-103 can test dark fibers at 1310/1550 nm, fault-locate live customer FTTx fibers at 1625 nm, and measure FTTx power levels at 1490 and 1550 nm—all from a single port. All OFL280 FlexTester models can test through splitters!
AFL
CIRCLE 136 ON READER SERVICE CARD
Load Status Indicator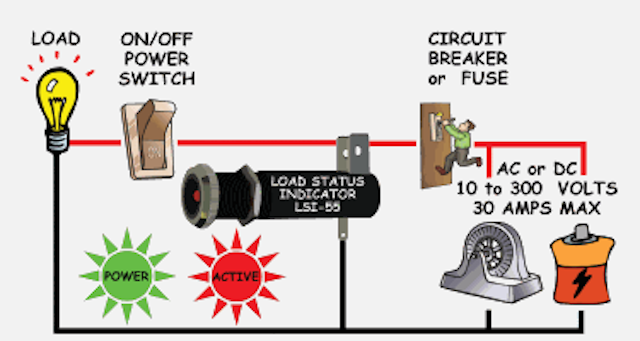 Trident Instruments' Load Status Indicator LSI-55 provides 10-300 Vac (50-400 Hz) or dc, and 30 amps maximum load current. There are many applications where the device (load) being switched on and off is far from the control point and it's not easily ascertained if the load is actually active. The Load Status Indicator (LSI) provides a way to determine if a load is active by the current it draws. This can be of great benefit for critical engine controls, navigational safety lights, HVAC controls, train signaling lights, etc.
Trident Instruments Inc.
CIRCLE 137 ON READER SERVICE CARD
Non-contact Voltage Detector Introduced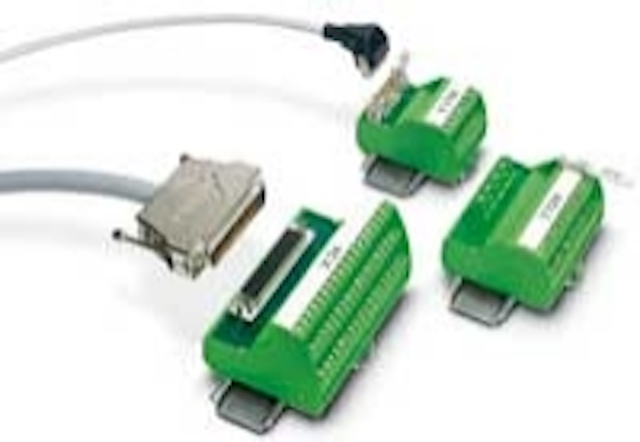 Hastings, a worldwide manufacturer of hotline tools and equipment, announces the launch of a new voltage detector. The voltage detector is cited to be a technological breakthrough in non-contact voltage detectors. Static discriminator technology exclusive to Hastings provides more reliable detection on low voltage ranges. The product offers features such as electronic touch pad control, built-in self-test, high quality beeper, low battery indicator, auto power off and operator feedback.
The electronic touchpad includes 11 range settings from 240V to 230 kV and two URD settings—15 kV and 25 kV. The product requires three C-cell batteries, which are included with each order.
Hastings
CIRCLE 135 ON READER SERVICE CARD
500 kV Digital Voltage Indicators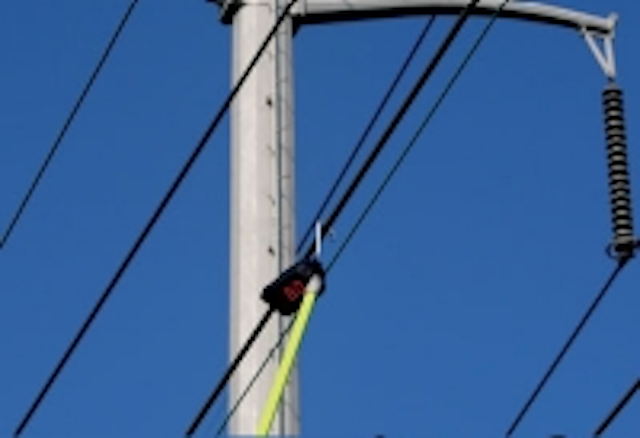 HD Electric Co.'s DVI-500 digital voltage indicators are a new addition to our digital voltage indicator line. The DVI is a direct contact, compact instrument designed to read the voltage on a conductor from 0.1 kV up to 500 kV line-to-ground and display the voltage on a large 3-digit, ultra-bright LED display. The display is easy to read on the end of a long hotstick and can be used on overhead lines or in underground applications. The DVI-500T can also measure elbow test points. An audible indication is given when voltage is detected and allows the user to distinguish between nominal and induced voltages.
HD Electric Co.
CIRCLE 138 ON READER SERVICE CARD
Models 6472/6474 Multi-function Ground Resistance Testing System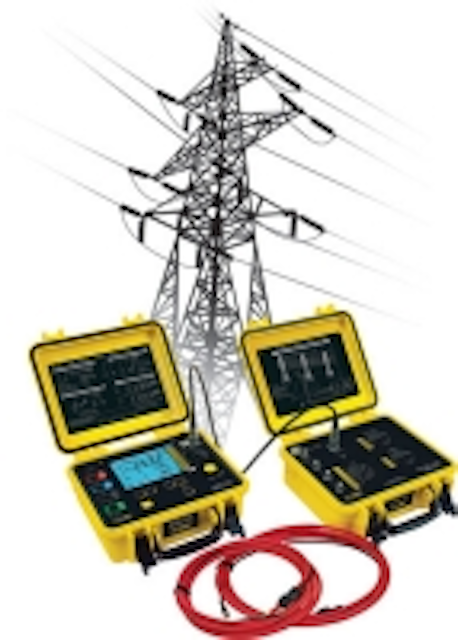 AEMC's Model 6472/6474 multi-function ground resistance testing system is the only tester on the market capable of testing ground resistance of the total tower and individual tower legs without disconnecting the overhead ground conductor; this feature alone is a major time and money saver and a major safety improvement.
Key features include testing both ground resistance of tower legs (individually and total) and overhead ground wires. They test leakage current through tower legs and test at frequencies up to 5 kHz to profile impedance—important to characterize for lightning strikes. DataView software is included and it is sold in complete kits. This system will pay for itself in no time and save you endless hours of time and money!
AEMC Instruments
CIRCLE 139 ON READER SERVICE CARD
New Carrying Case Lanyard for V-Watch Personal Voltage Detectors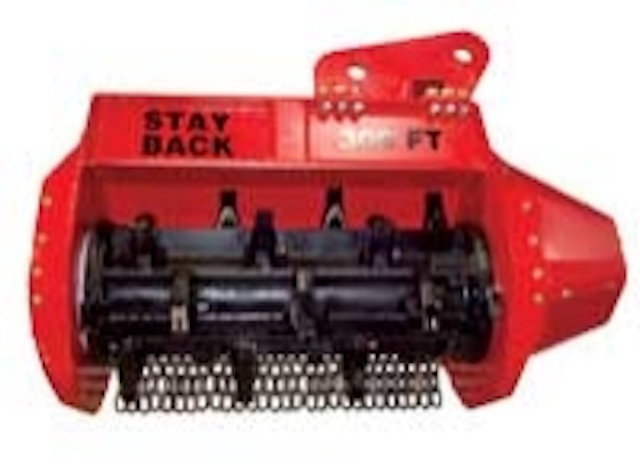 HD Electric Co.'s new carrying case lanyard for the V-Watch personal voltage detector combines the carrying case and lanyard into a single case. The carrying case lanyard is designed to leave the V-Watch permanently mounted inside and offers the dual feature of protecting the V-Watch when not in use and acting as a lanyard for the V-Watch when in use. The V-Watch will not work inside the closed, zippered carrying case lanyard.
All it takes is three easy steps when it's time to use the V-Watch: remove the V-Watch carrying case lanyard from the belt; completely open the zippered case and test the V-Watch for proper operation; and extend the lanyard from the top of the case and place it around the neck, adjusting the lanyard so the V-Watch is worn at mid-chest level.
HD Electric Co.
CIRCLE 140 ON READER SERVICE CARD
More Utility Products Current Issue Articles
More Utility Products Archives Issue Articles