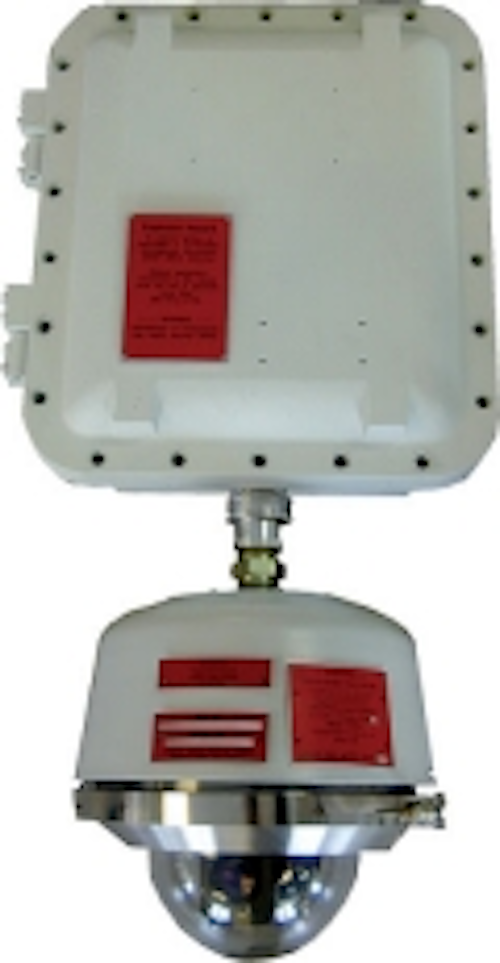 Docking Station for Panasonic Toughbook U1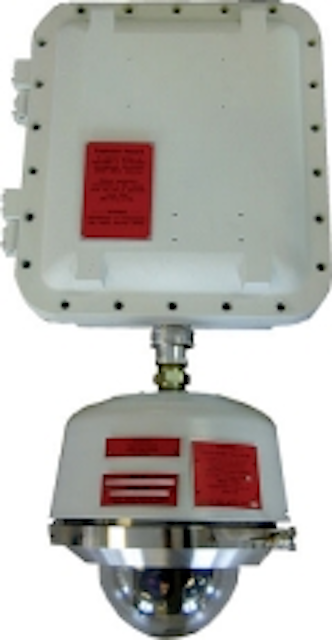 RAM Mounting Systems introduces a port replicating docking station for the Panasonic CF-U1. Designed to complement the low profile of the CF-U1, RAM's dock is an affordable and low profile solution for docking the Panasonic CF-U1.
Features include serial input, VGA output, LAN, five USB ports, dual RF pass through, dc input and integrated cable management. With RAM's extensive line of mounting options, you are sure to find the perfect solution for your mounting needs.
RAM Mounting Systems
CIRCLE 102 ON READER SERVICE CARD
Powered Docking Station For Panasonic Toughbook H1 Health and H1 Field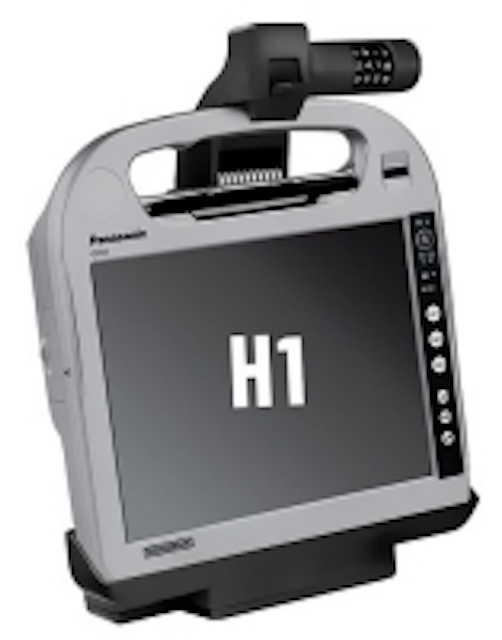 No other dock for the Panasonic H1 Health and H1 Field is easier to use than this outstanding solution. With one hand, you can easily insert or remove the tablet. The spring loaded latch and roller system perform flawlessly together, and the overall shape of the dock does not block any functions of the mounted device. The built-in keyless lock adds security, so your H1 is there when you need it.
Additional features include five USB connections, Ethernet, serial, VGA and power input. RAM offers mounting systems to meet a wide range of medical applications as well as field applications. This one-of-a-kind docking solution for the Panasonic H1 mounts to any flat surface alone or can be paired with a variety of RAM rubber ball and socket systems for unmatched ergonomics and viewing angles.
RAM Mounting Systems
CIRCLE 103 ON READER SERVICE CARD
New NotePad V Universal Computer Cradle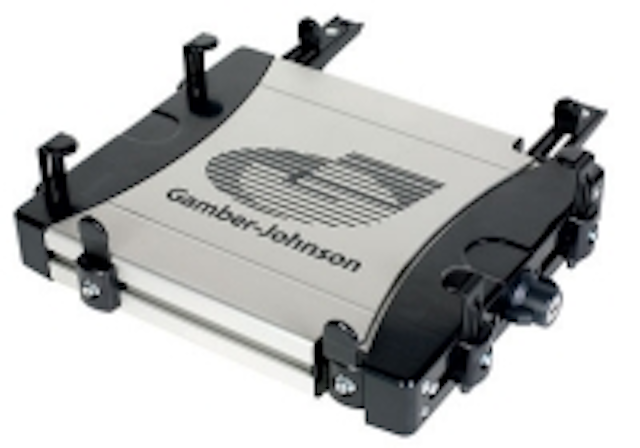 Gamber-Johnson, an ISO 9001:2008 certified manufacturer of rugged docking stations and vehicle mounting solutions, announces the release of a new universal computer cradle, the NotePad V—a rugged mounting cradle for most of the computers currently in the marketplace today.
When the Notepad V was designed, the company kept five crucial areas of importance in mind: security, function, safety, aesthetics and installation. Using each of the five crucial areas as guidelines, Gamber-Johnson was able to improve upon its current NotePad IV cradle design and still keep the features that had made the NotePad series so popular.
The result is a NotePad V universal computer cradle with added security, special "flanged" side clips that provide high strength, new heavy-duty keyed lock securely closes chassis when activated and computer is supported on all sides by strengthened clip design.
Gamber-Johnson
CIRCLE 104 ON READER SERVICE CARD
New Kinysis Rugged Tablet Computer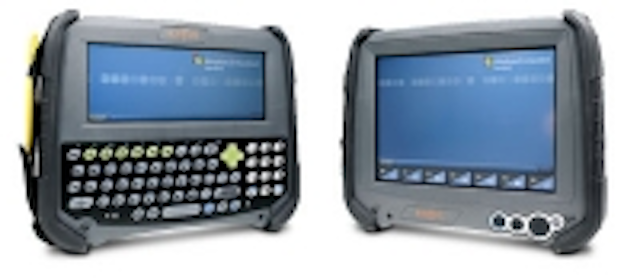 DAP Technologies' fully-rugged Kinysis tablet computer, which is 9 inches wide and weighs 3 pounds, efficiently packs powerful features: Microsoft Windows embedded standard operating system, modular technology for easy customization, standard wireless communications and a hot-swappable battery.
Ideally suited for field-service operations, DAP's Kinysis increases productivity by giving teams the ability to process customer requests, track inventory and operations in the field, access maps on demand, and communicate with main databases in real-time or collect data and synchronize it later. Batteries in the Kinysis are hot-swappable, with battery life designed to last a full 8-hour shift.
DAP Technologies
CIRCLE 105 ON READER SERVICE CARD
More Utility Products Current Issue Articles
More Utility Products Archives Issue Articles