Tools & Supplies
Aug 1st, 2010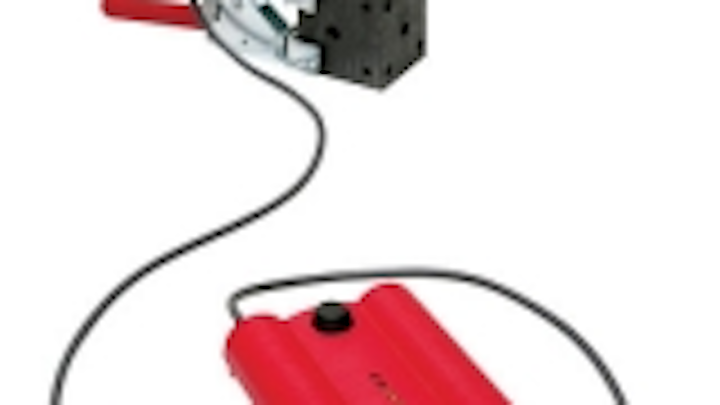 New BURNDYWeld QIKLITE Exothermic Ignition System
BURND announces the BURNDYWeld QIKLITE battery operated ignition system for exothermic connections. This new system uses innovative technology combined with traditional features and benefits.
The BURNDY QIKLITE unit is the only remote exothermic system that guarantees ignition 100 percent of the time. The self-contained unit offers a built-in battery life indicator, 6-foot igniter cord, and separate buttons for power and ignition. Also, no starting powder is used with this system—so emissions are greatly reduced.
QIKLITE works with standard molds and weld metal, so contractors and installers can continue to use the same quality BURNDYWeld products and have the option of using a traditional flint igniter or the new QIKLITE system.
BURNDY
CIRCLE 141 ON READER SERVICE CARD
New AJS Adjustable Jacket Slitter
Ripley's Utility Tool Div. introduces the AJS Adjustable Jacket Slitter—a professional-grade cable slitter designed for longitudinal, circumferential (ringing) and mid-span slitting of corrugated aluminum or copper shield cables, medium-density polyethylene (MDPE) and high-density polyethylene (HDPE) conduits. The AJS has precision-ground
tool steel blade, adjustable blade depth allowing slitting of coverings of
up to 1/4 inch thick, and the blade fully retracts inside body for storage.
The AJS's cam-adjustable lever allows blade dig-in in mid-span application, and
lever teeth are designed for soft and hard jacket/covering applications. It will do
longitudinal slitting of cable/duct ranging from 1/2 inch to larger sizes, and circumferential
slitting of cable/duct ranging from 1-1/2 inch to larger sizes.
Ripley, Utility Tool Div.
CIRCLE 143 ON READER SERVICE CARD
Dual Pressure P260WYM / HP220WYM Joins Air Compressor Line
The new P260WYM / HP220WYM dual pressure, dual flow air compressor from Doosan Portable Power is designed to withstand the most rugged environments and provide high flexibility.
This "two-in-one" dual pressure unit operates at either 260 cfm at 100 psi or 220 cfm at 150 psi. A simple control panel switch allows the operator to easily and quickly change the pressure setting. Additional features include a rugged Yanmar Tier 3 compliant engine, diagnostic control panel and large toolbox.
Serviceability is enhanced with a spin-on separator element, simplified wiring and piping, and a conveniently located engine coolant recovery bottle and airend oil filter.
Doosan Portable Power
CIRCLE 142 ON READER SERVICE CARD
Revolution Series Drives Launched
Pengo has launched one of the largest new product releases in years, the Revolution Series auger and anchor drives. The Revolution Series drives were born out of an idea to develop a product that would better fit the needs of Pengo's customers. The previous product lines' strengths and weaknesses were evaluated and a partnership with a new gearbox supplier was formed. The Revolution Series drives are poised to be the premier attachment choice for the construction and utility industries for drilling and anchor installation, it's reported.
This new product offering will include drives for use with prime movers such as compact skid steers, compact digger derricks, compact excavators, skid steer loaders, digger derricks, backhoes and excavators. The sizes will range from the MS-100 up to the RV-200.
Pengo Corp.
CIRCLE 144 ON READER SERVICE CARD
Pneumatic Saw and Clamp Assembly
A pneumatic saw and quick-clamp assembly that lets users cut steel plate up to 2 inches thick and 15 feet wide anywhere there is a 90-psi compressed air supply is available from ESCO Tool. ESCO's APS-438 Air-Powered Saw and Quick-Clamp lets workers take the saw to the steel plate rather than transporting the plate to a large table saw and can produce square cuts with no HAZ. Featuring a 2-inch steel track with two wedge-style clamps for attaching to the plate, the pneumatic saw mounts on a bracket that glides along the track using four V-grooved steel wheels.
Providing a cut line indicator gauge to simplify setup and alignment, the Quick-Clamp's track comes in 5- to 15-foot sections and ESCO's APS-438 Air-Powered Saw is powered by a 3-hp motor.
ESCO Tool
CIRCLE 145 ON READER SERVICE CARD
ACA Conductor Accessories Now Selling ConductaClean in North America
ACA Conductor Accessories, a division of AFL Telecommunications, announces it received exclusive rights in North America to promote ConductaClean—a reliable, cost-effective system for cleaning the ends of overhead conductors prior to installing compression terminations and splices. ConductaClean agitates a specialized solution to remove oxidation and grime from conductor strands, and can be adjusted for one-, three- or six-minute cycles depending on the condition of the conductor—saving line crews time and money. The compact and portable design allows linemen to operate wherever the splice is most efficiently made—whether on the ground or up in a bucket.
ACA Conductor Accessories Div., AFL Telecommunications
CIRCLE 146 ON READER SERVICE CARD
New 2010 Catalog of Ratchet Tools and Machine Controls
Lowell Corp. has just updated its catalog of ratcheting hand tools for workers in electric and water utilities, construction, and plant maintenance and operation. The catalog also features machine components to be specified by OEM designers or retrofit by plant engineering and maintenance personnel.
For water and sewer utility workers and those in the construction industry, Lowell makes a variety of heavy duty ratchet and socket wrenches that can handle all kinds of nuts found in water, oil and gas pipeline work, and in hydrant maintenance and operation.
For electric utility, telephone and cable TV workers there is an expanded section in the catalog on wrenches for a variety of electrical transmission and distribution applications.
For original designs or retrofitting to existing machines, Lowell offers ratchet arms, handles and clutches that enable plant workers to control and adjust machinery with greater precision, ease and safety. Lowell can also do custom design for tools and controls.
Lowell Corp.
CIRCLE 147 ON READER SERVICE CARD
Expanding Jaw Pulling Eyes Introduced
General Machine Products introduces new Expanding Jaw Pulling Eyes to its extensive line of underground tools and equipment. The Expanding Jaw Pulling Eyes allow for the protected pulling of duct and innerduct conduit. They feature a one-piece cone design with a full sleeve to completely enclose the jaws. The expanding jaws help the pulling eyes fit firmly into conduit, while the sleeve prevents the expansion or rupturing of polyethylene conduit during installation and pulling. The Expanding Jaw Pulling Eyes are made from hardened alloy steel and come equipped with a swiveling-eye nut that allows for the attachment of a pulling line of awkward utility cable reels in tight spaces easily, saving time, money and back strain.
General Machine Products Company Inc. (GMP)
CIRCLE 148 ON READER SERVICE CARD
New Model GT-5000HD Gas-powered Hammer Drill
As the exclusive North American distributor for VESSEL Co. in Japan, JDV Products Inc. introduces VESSEL's new GT-5000HD gasoline powered hammer drill. This item is truly "portable" and does not require an electric, pneumatic or hydraulic power source. It's equipped with a powerful and rugged two-stroke, forced air-cooled, gas-powered engine—providing high torque output and accommodating up to a 1.97 inch diameter SDS-max shank hammer drill for forceful drilling.
Due to the portability of the unit, the GT-5000HD is ideal for remote jobsites such as rock drilling, stone cutting, concrete working, bridges, road construction and more.
The unit is ergonomically well balanced, weighs 39.5 lbs and could be comfortably used in the horizontal or vertical position.
JDV Products Inc.
CIRCLE 155 ON READER SERVICE CARD
Black Widow Fiberglass Bits
The #1 bit in speed and performance for wood poles (Black Widow) is now available for hollow or solid core fiberglass poles, cross arms, supports and braces!
The Robotool Fiberglass "HC" bits are designed for drilling through hollow core utility poles made from fiberglass, resin or composite materials. Because these bits are designed to eliminate bit whipping in the air gap of the hollow core structure and prevent distortion of the initial hole with proper in-field exit hole alignment, you will easily create holes in hollow core poles, cross arms, supports and braces. These bits are made with a short flute and rugged solid body configuration, providing minimal debris.
The Robotool Fiberglass "SC" bits are designed for drilling through solid core fiberglass or composite materials. These bits contain full flutes to allow deeper and longer holes in the solid core material. More fluting is required because of the amount of debris that can be created.
Utility Div., Aircraft Dynamics Corp.
CIRCLE 150 ON READER SERVICE CARD
WrightGrip SB Ratchet for Safer Scaffolding Installation
Wright Tool introduces the WrightGrip SB ratchet (#4488) for safer installation of scaffolding. Manufactured in the U.S., the 10 1/2-inch WrightGrip SB ratchet is an all-inclusive tool that features a 1/2-inch drive; a 7/8-inch open-head ratchet; a replaceable hammer on the other side of the ratchet, available with inserts in brass or steel; and a 7/8-inch open-end wrench on the end of the handle.
The open-head ratchet allows for easier cleaning and quick directional switch—letting the tool fit in narrower spaces and making clearance easy. The ratchet is interchangeable with a 2-inch deep socket for final tightening on smaller scaffold diameters.
The advanced opening profile places more metal in high-stress areas to stiffen the jaws, increase tool strength and reduce permanent jaw spread for better reliability. The carefully placed, precision-broached serrations keep the wrench seated on the fastener to increase torque and reduce slippage.
Wright Tool
CIRCLE 151 ON READER SERVICE CARD
Electronic Fuel Injected Welder Generators
Miller Electric Mfg. Co. introduces new Electronic Fuel Injected (EFI) engine-driven twin-cylinder welder generators: Trailblazer 302 EFI and the Bobcat 250 EFI. Replacing the carburetor with EFI improves fuel economy up to 27 percent, reduces harmful emissions up to 33 percent and eliminates carburetor icing. Miller also increased the weld output and generator power (12,000 peak/10,500 continuous watts) on both machines to provide contractors a green, cost-efficient machine with improved performance over carburetor-based models.
Replacing carburetors with EFI reduces hydrocarbon and nitrogen oxide emissions by 33 percent and carbon monoxide emissions by 27 percent while also saving as much as $1,000 a year (assuming 25 gallons per week at $3 per gallon) in fuel costs.
Miller Electric Mfg. Co.
CIRCLE 152 ON READER SERVICE CARD
Platinum Series P185 Portable Air Compressor Offers Performance Enhancements
The new Platinum Series P185 portable air compressor from Doosan Portable Power combines the most valued features of the P185 legacy air compressors with design advancements for very good performance and value. Powered by a high performance 48-hp Interim Tier 4 compliant John Deere or Yanmar diesel engine, the P185 provides 185 cfm at 100 to 125 psi. The noise level has been reduced by 50 percent and now leads the industry. Fuel efficiency has been increased by 21 percent, providing for a 10-hour full load runtime on one tank of fuel. Cooling capacity and altitude performance have been improved for adaptability to more geographic areas.
Doosan Portable Power
CIRCLE 149 ON READER SERVICE CARD
Lithium-ion Battery and Charger System
Developed specifically for use with Huskie tools, the lithium-ion battery and charger system combines new technology for better performance. The BP-80 has minimal self-discharge and no memory effect, plus, like all other Huskie batteries, it works with all of our tools. All for one, one for all.
The CH-80 is able to charge all Huskie batteries and provides a conditioning feature to accommodate NiCad and NiMH batteries. The CH-80DC, Huskie's tri-chemistry charger with a 12 Vdc power cord, is now available. Both battery and charger come with a 5-year warranty.
Huskie Tools
CIRCLE 154 ON READER SERVICE CARD
Robotool "HR" Hammer Rachet
Two useful tools in one! The extremely durable Robotool "HR" (hammer and 1/2-inch square drive ratchet) is a versatile tool with an innovative combination of ratchet and hammer function. With its forged head and solid construction, along with a heavy-duty finish, this tool will survive the harshest conditions. Easily pound, tighten or remove lags! Design is great for confined spaces! Also sold separately is an easily attachable 16-inch extension that will provide extended leverage.
Special features include: heavy-duty forged steel, easily change direction between clockwise and counter-clockwise by pushing the square drive, accessories available (not included), 16-inch extension handle and center pin press, attachable rubber pad to protect surfaces (included) and 1/2 inch square drive contains ball lock to secure socket.
Utility Div., Aircraft Dynamics Corp.
CIRCLE 153 ON READER SERVICE CARD
Wheeled-portable Compressor with High-volume, Two-stage Electric Pump
Jenny Products Inc. introduces its W5B-30P two-stage, electric-powered compressor. The wheeled-portable unit is designed to produce high airflow while meeting the demands of tough jobsites.
The W5B-30P includes a 30-gallon air tank and features Jenny's "W" pump, a four-cylinder, two-stage pump with long piston strokes for producing large volumes of air at high pressure ratings. It delivers 18.1 cfm at 100 psi or 17.9 cfm at 175 psi. The pump is belt driven by a 5-hp electric motor, which requires a 230-volt, single-phase electrical source.
Numerous features come standard with the compressor to optimize its reliability and reduce its maintenance requirements.
Jenny Products Inc.
CIRCLE 156 ON READER SERVICE NUMBER
More Utility Products Current Issue Articles
More Utility Products Archives Issue Articles