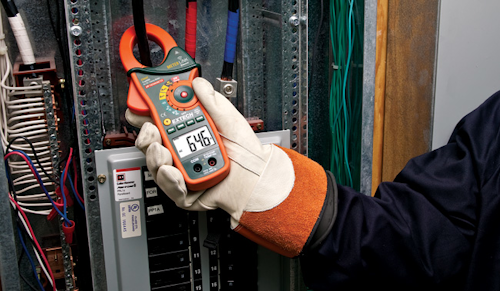 By André Rebelo
Across the power delivery, telecom and cable industries, when an electrical component's condition is being inspected, many technicians are adding one key piece of equipment to their truck: a thermal imaging camera. Whether called infrared (IR) cameras or thermal imagers, these tools display a thermal image where high temperatures or hot spots are clearly distinguished and isolated from other areas operating in normal temperature ranges.
The pioneering use of IR cameras traces to the utility industry for the inspection of power lines in 1965. As they have evolved in sophistication, smaller size, simpler use and lower costs, thermal imagers continue to make diagnostics easier to perform and document. Infrared thermography has been at the core of utility predictive maintenance programs worldwide. Utilities depend on thermography to avoid costly failures in power generation, transmission and distribution as infrared cameras help find anomalies before trouble strikes and service is effected.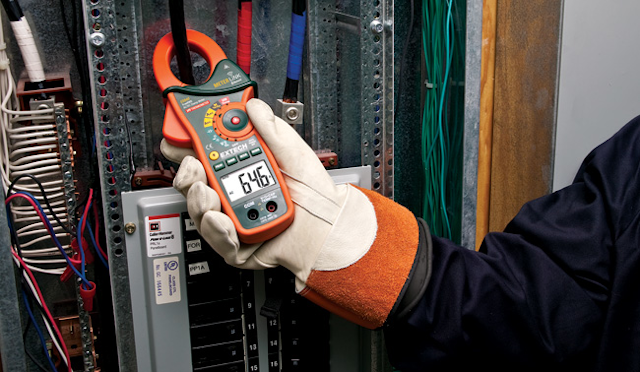 Having the tools to look for things that could go wrong before they actually do can be seen as a smart business decision. One cooperative found $400,000 worth of savings in the first six months using IR cameras. Over time, that translated into millions.
Since most electrical components are not transparent, infrared cameras are an essential component of nondestructive, noninvasive maintenance. While they're also used in electrical systems for an array of industrial and building applications, infrared cameras can detect heat associated with loose, worn or corroded contacts or connections; overloaded or uneven power distribution; or damaged insulation. Infrared diagnostics can truly be the first line of defense when evaluating the condition of electrical equipment.
With any electrical component or electrical facility asset, affordable point-and-shoot infrared cameras such as the FLIR i60 and professional-grade cameras such as the FLIR T400 permit a utility crew to quickly scan entire areas to reveal hot spots that demand further inspection and diagnosis.
Depending on the application, an electrical contractor can take a closer look by focusing on these specific anomalous components with a clamp meter to get additional insights from the device's current load across phases. Taking critical temperature and electrical readings together is essential for validating equipment upgrades or determining if maintenance and repair are warranted.
Pricing for infrared cameras continues to drop-to the point it is not a specialist-use-only tool. A number of models fit into utility crews' budgets. Taken together, infrared cameras and current clamp meters are increasingly being viewed as complementary offerings that work hand in hand. In addition, many FLIR thermal imagers are designed from the ground up for the utility industry and feature tools such as a built-in digital camera for taking visual images and picture-in-picture blending of visual and infrared images.
Several new and innovative technologies are available that are changing how electrical thermal inspections are performed. These new feature sets are principally designed to increase connectivity between infrared diagnostics and electrical testing, between the technician and the client or boss, and between the electrical worker and his tools.
MeterLink: The Connection for Inspection
Infrared camera maker FLIR Systems and its test equipment subsidiary Extech Instruments listened to the feedback from electrical professionals and took a total solution approach to electrical diagnostics with the recent introduction of MeterLink technology. MeterLink connects FLIR thermal imagers to an Extech EX845 clamp meter-1,000A ac/dc, CAT IV-using Bluetooth wireless technology so the IR camera talks to the clamp meter.
How does MeterLink work? It's simple: A utility technician takes electrical readings-current, for example-using the Extech clamp meter. Readings are transmitted wirelessly in real-time to the FLIR camera. The FLIR camera receives the readings and displays them on the screen, overlaying them on the infrared image being viewed. When an infrared image is captured and saved as a radiometric JPEG-FLIR's patented format that stores temperature data in a universally familiar JPEG-the current readings from the clamp meter are also imprinted directly on the infrared image.
Why is this important? Manually recording electrical readings alongside infrared images can be cumbersome, time consuming and prone to errors and mix-ups. Using MeterLink to store the current readings from three phases on one related image not only adds time-savings by accelerating inspections, but also ensures accurate, coordinated documentation for electrical predictive maintenance inspection reports.
Having as much usable information as possible in one image is invaluable when decisions need to be made quickly. A client or boss who is looking at an infrared image of an overheating electrical connection on one phase instantly understands, especially when he or she has the related current readings taken by a clamp meter for comparison. The bottom line is that MeterLink connectivity can help deliver more value in electrical inspections.
Preparing Reports Without a Personal Computer
One substantial way electrical thermographers take the usefulness and value of their infrared images to the next level is by inserting them in reports that can be prepared for clients for more in-depth explanations of what was found. Not only does this provide more insights to the client, it also provides added context and an audit trail for repairs and new installations.
Report writing and preparation are usually done after a job and back at the office-after the images have been downloaded to a computer for analysis. When a report is ready, a Portable Document Format (PDF) is created and emailed to a client. The downside of report preparation is that it can be time consuming, and, for many professionals, it means time away from other jobs.
As an alternative that offers more expedient report preparation, FLIR developed an Instant Reports feature built into the camera. What does this mean for the utility inspector? He or she is able to prepare reports on the spot, without a personal computer (PC), cables or any other hardware. Images and annotations are selected on the camera screen and inserted into a report template.
When the report is completed, the camera prepares a PDF file that can then be given to the customer or supervisor. Once again, no PC is necessary. Instead, FLIR's new Copy to Universal Serial Bus (USB) feature works with Instant Reports by letting the user transfer reports, images or entire file folders to a client's USB memory stick for immediate access. Reports can now be generated on-site and in minutes without a PC. The need to return to the office to prepare reports is minimized, if not eliminated. For customers, receiving a report so quickly is unexpected and very useful. It also helps the technician stand out from other thermal inspectors.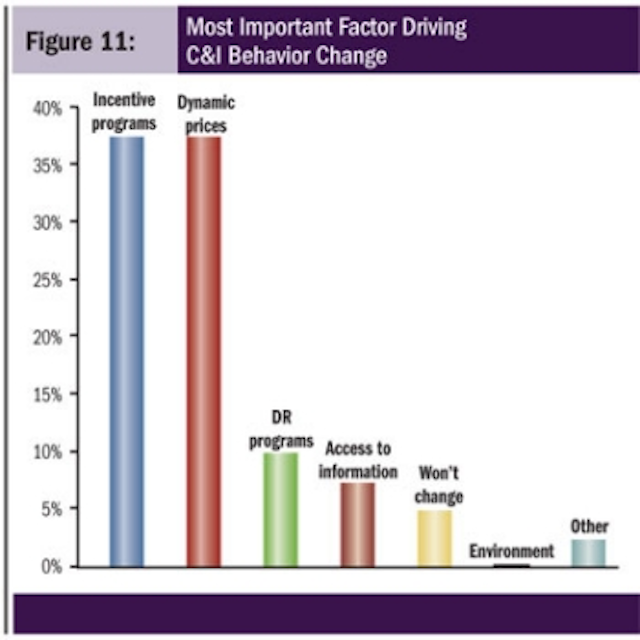 Can You Hear Me Now?
Bluetooth technology is connecting test equipment and thermal imagers, and built-in tools are making report writing less time consuming while adding value for customers. Combining these two innovations is FLIR's integration of Bluetooth technology to power the first voice annotation capabilities via wireless headset.
Inspectors can now use a Bluetooth wireless headset they may already be using for a mobile phone to connect to a FLIR thermal imager. This will provide easier recording and playback of voice comments associated with their inspections. While voice comment recording has been available for several years, even on mid-range infrared cameras, the use of Bluetooth headsets can improve recording and playback quality of voice comments, especially in noisy or windy inspection sites.
Thermographers can take advantage of their existing Bluetooth headsets, which may have noise-cancelling technology designed specifically to pick up a user's voice while reducing or rejecting ambient noise. In addition, the in-ear design of many models significantly reduces background noise to let users more clearly hear audio playback.
Since FLIR reporting software permits the user to embed audio comments in client reports, this also means the sound bytes included in reports for customers to hear will be easier to understand and more meaningful.
Innovative thinking and new technologies from brands such as FLIR and Extech can help power delivery, telecom and cable technicians connect their infrared cameras and test equipment; connect with their client or boss by delivering immediate reports; and improve the connection between their spoken comments and client reports.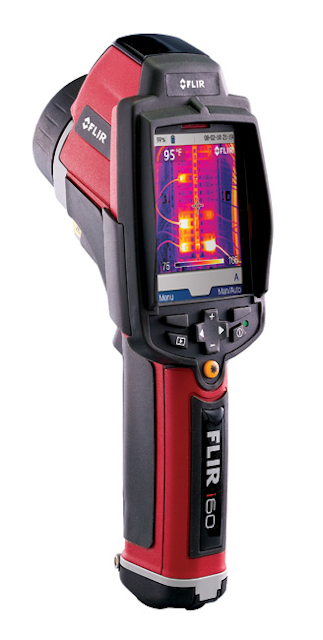 Accurate clamp meters and infrared cameras might not be the largest tools used when responding to a job, but they may be the most important. For large and small jobs, it is essential to have a total solution approach to electrical predictive maintenance and troubleshooting.
These new capabilities, in the hands of technicians, represent a leap in increased productivity, better-coordinated diagnostics, higher quality inspections with increased accuracy and faster turnaround for customer deliverables. These tools help electrical workers do their job better and improve customer service. And, in this economy, every advantage helps.
About the company: Since 1970, Waltham, Mass.-based Extech Instruments has focused on durable, accurate and affordable handheld test and measurement instruments. Extech offers over 350 testers and meters in 15 categories that range from electrical test equipment to building inspection tools to environmental meters. Extech is a wholly owned subsidiary of global infrared camera company FLIR Systems and is ISO 9001:2008 certified by TUV. For more information, visit www.extech.com.
More Utility Products Current Issue Articles
More Utility Products Archives Issue Articles