Torque Certification Pays Dividends in Safety, Proficiency
Torque would appear to be a fairly simple concept on the surface-turn the screw, tighten the fastener and that's it.
Apr 1st, 2010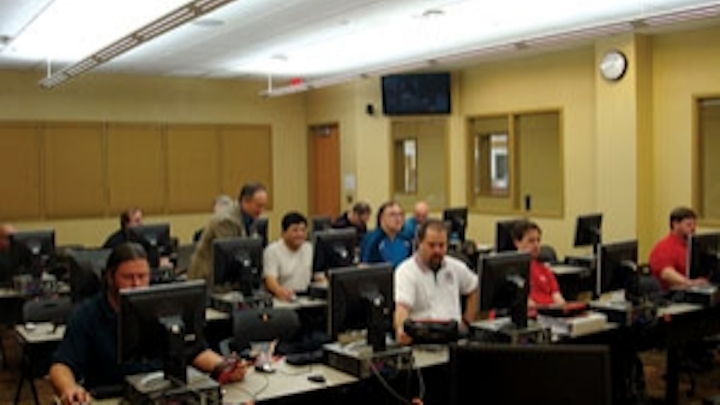 Specialized training ensures quality fastener procedures in important applications
by Frederick Brookhouse and Roger Tadajewski
Torque would appear to be a fairly simple concept on the surface—turn the screw, tighten the fastener and that's it. But, in mission critical market applications like energy, aerospace and manufacturing, good torque procedures are the difference between ongoing, take-it-for-granted success and catastrophic failure. The key to ensuring procedures are followed correctly, standards are maintained and good torque habits are developed is simply safety.
Training for this specialty, something that was once considered intuitive, makes a difference—it's a game changer for organizations and hands-on technical professionals who pursue it. The National Coalition of Certification Centers (NC3) and Snap-on Industrial have partnered to offer this training as either a standalone option or as an add-on to existing technical curriculum in a junior college or technical training center environment.
Creating a New Technical Curriculum
The program was brought together by Snap-on Industrial working in conjunction with a number of technical schools from the United States. Technical schools include Gateway Technical College and Lakeshore Technical College in Wisconsin, Francis Tuttle Technology Center in Oklahoma, Wichita Area Technical College in Kansas, New England Institute of Technology in Rhode Island, and South Seattle Community College and Shoreline Community College in Washington state. The colleges joined together to form NC3; Snap-on Industrial provides industry certification for the group's programs.
Lube, torque and cleaning remain the cornerstones of any maintenance program that incorporates fasteners—and those three elements speak directly to safety. The perception is that applying torque to a fastener is intuitive, and anyone can do it. That's not true when considering how many people actually know how to do it right. Experienced workers have been the toughest crowd to impress with this curriculum because they have developed bad habits, and this course forces them to relearn the basics.
The torque certification program is designed to create a high standard for maintenance and assembly work. The curriculum emphasizes the proper procedure for applying torque—the twisting motion used to attach a fastener to an anchor. Course work is divided into as much as 24 hours of study: torque theory, the application of torque and corresponding safety measures make up the core 16 hours of the program; hydraulic torque study is a third eight-hour component that's an option.
Out of the training comes a greater commitment to use of the best tools, an increased emphasis on knowing the technical theory behind why bolts are tightened in a specific sequence and an assurance that safety is paramount. That means not only immediate safety in both installation and maintenance, but also safety and proven processes in the long-term viability of the structure receiving attention—whether that's a wind tower, an industrial assembly or a cable box.
An overview of the job a fastener must perform is in the theory portion of the program: how to identify bolt grades, indentifying metal grades, hardness, thread pitch, lubrication and applying the associated science. The second part of the program, application of torque, is about hands-on use of tools—calibration equations, making wrench adjustments and using extension tools. These activities are guided and judged by the professional instructor.
"Safety—Basic Electric Tool Safety" considers the importance of knowing what a tool is meant to do and then properly applying that tool. The discussion ranges from protective eyewear and clothing to working near power sources. Safety drives better procedures and a methodical, step-by-step approach to applying the right fastener to the right bolt or axis point.
Developing the Elements
The need for torque training was brought to Snap-on Industrial through the wind power industry. The company was positioned to respond immediately because of curriculum it had already developed in other industries, namely automotive diagnostics. From there, a network of schools and educators gradually came on board to form NC3 and to create a training program specific to the needs of organizations and workers on the front line of maintenance and production specialties.
The template for the program already existed. The outcome is a structured, practical exam combined with a hands-on demonstration of how to execute torque techniques. The curriculum has expanded to incorporate aerospace, including rotor craft, energy and industrial applications. Recently, a manufacturer requested a customized program that its 30 maintenance and repair personnel could attend. In this instance, the organization was experiencing fastener failure on its automated production lines. The flexible training program was tailored to meet the specific needs of this manufacturer and can be adapted to fit the requirements of virtually any organization or industry.
Certification is solely managed by Snap-on Industrial. Assessment requires a combination of hands-on application combined with an online test. Successful certification becomes part of the student's academic record.
In addition to the extensive academic instruction, torque certification requires proof of physical abilities as well. For example, students in the torque certification program must tighten a fastener with a wrench and ensure the tension applied falls within certain tolerances. It's a pass/fail milestone in the course. This shows not only the ability to maintain the standard for the tolerance, but also the hand-eye coordination that has always been part of being good with a wrench.
The program does not require any specific skills from the students—beyond understanding how tools work and the role of fasteners. A variety of other industries are represented in classes around the country, including workers transitioning from the automotive industry and other industrial manufacturing sectors. It's easy to understand why these students are seeking additional training—it improves safety on the job and provides them with a differentiator in competing with others for open positions.
In Summary
Safety is the hub of the wheel when talking about torque and torque certification. The precise method of tightening a fastener correctly creates a better maintained product or facility, upholds assembly standards and instills professionalism in the ranks of maintenance technicians, installers, line workers and construction professionals. Holding down costs and ensuring quality is one thing, but at the end of the day it's really safety that turns the wheel.
---
About the Authors:
Frederick Brookhouse is business and education partnership manager for Snap-on Industrial. Roger Tadajewski is executive director for National Coalition of Certification Centers.
More Utility Products Current Issue Articles
More Utility Products Archives Issue Articles