New Products Showcase: Part 2
Apr 1st, 2010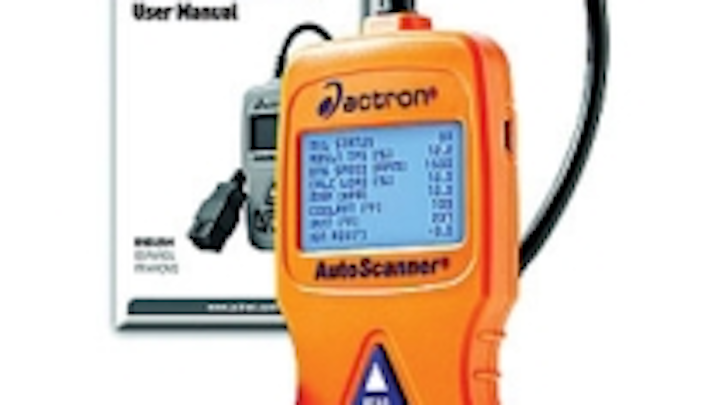 Scan Tool Delivers Live Data for Convenient, Accurate Diagnosis
OBDII diagnostic tools company Actron is pleased to announce the OBDII AutoScanner (Product Number CP9575)—a trilingual ODBII and CAN Scan Tool delivering live data in English, Spanish and French.
With professional grade features at an affordable price, the AutoScanner's live data allows users to view vehicle sensors, switch and relay inputs in real time while the engine is running and pinpoint problem components for a faster diagnosis. The easy-to-use tool makes it possible to read and erase diagnostic trouble codes as well as read and display MIL status, I/M monitors, VIN information, freeze frame data at the time of the fault and six modes of engine data.
The scan tool features more than 15,000 generic and manufacturer-specific code definitions. In addition, the AutoScanner is compatible with all 1996 and newer vehicles and has a USB port to receive online updates.
Actron
CIRCLE 114 ON READER SERVICE CARD
A.R.E. Tundra Workforce Truck—Rugged for a Reason
A.R.E.'s new Tundra WorkForce—a 2007 Toyota Tundra double cab standard bed truck—is outfitted with the firm's Deluxe Commercial Unit (DCU) truck cap and numerous aftermarket products that enhance the truck's appearance and utility. Featuring sturdy construction and the ability to be customized, the DCU can be tailored to fit the demands of a variety of industries due to a multitude of product options: roof racks, various toolbox configurations, a selection of window and door sizes, and a polyester fabric liner designed to prevent condensation from collecting on the interior of the cap.
The aftermarket enhancements are declared to make the Tundra WorkForce more than your average work truck. In addition to the DCU, enhancements include a hitch step and stainless steel grille insert from Luverne, a CORSA Performance exhaust system, a Warn wench, a navigation system and back-up camera from Eclipse, a Jotto Desk cargo mobile office, Goodyear tires mounted on Centerline Wheels, a locking ladder rack and interior truck bed shelving from Prime Design, a rear suspension system from Hellwig Products, a BedRug bedliner and aluminum floor mats from Pilot Automotive, among other performance and styling products.
A.R.E.'s DCU truck cap can be ordered in one of four height configurations—23", 26", 29" and 36"—and has several rear door options, including a ½ rear lift door, double full doors, a single full door and a full hatch door.
A.R.E.
CIRCLE 115 ON READER SERVICE CARD
Universal Adapter System Supports Field and Bench Techs
The Unidapt coaxial adapter system's key element is the small, universal adapter that is used to join any two Unidapt adapters with standard coaxial interfaces to create literally hundreds of different adapters on the fly.
The 74-piece RFA-4022 Unidapt Mega-Plus kit contains everything needed to troubleshoot and test 7-16 DIN, BNC, F, Mini-UHF, MCX, MMCX, N, RCA, reverse polarity SMA and TNC, SMA, SMB, TNC and UHF terminated devices. In addition to 55 standard straight adapters, this kit contains a universal tee, a universal right angle adapter, RF sampler and injector for use of up to 3 GHz, binding post adapter, banana plug adapter, two 48" Unicables, barrel adapter for joining Unicables and the Unidapt coaxial cable tester. All coaxial components feature silver-plated brass bodies, gold-plated contacts and Teflon insulation. The Unicables feature universal adapter terminations and double-shielded RG-58A/U cable.
RF Connectors Div., RF Industries
CIRCLE 116 ON READER SERVICE CARD
New Truck-mounted Aerials Have 295' Working Height
TGM Wind Services of Abilene, Texas recently took delivery of two new Bronto Skylift Model S-90 HLA high level articulated truck-mounted aerials, the tallest aerial devices currently working in North America. Purchased primarily to inspect and maintain wind turbines and other tall structures, the 295' working height Bronto machines are able to drive directly to a turbine and, in a matter of minutes, be fully operational. These capabilities result in faster, safer and more accurate inspection and maintenance of turbine exteriors and blades at a lower cost than other methods currently in use.
The huge Bronto S-90 HLA machines have been used in Europe for many years and have been time-tested in the toughest conditions. When elevated, they can withstand winds speeds up to 25 mph and they can lift up to 1,000 lbs of men and materials in an 8' x 3', fully enclosed platform to a 295' maximum working height. Maximum horizontal outreach is 108'. Mounted on a 6-axle Kimball chassis, the Bronto S-90 HLA machines can navigate most terrain and easily reach remote tower locations.
Bronto Skylift
CIRCLE 117 ON READER SERVICE CARD
Continue to New Products Showcase: Part 3

More Utility Products Current Issue Articles
More Utility Products Archives Issue Articles