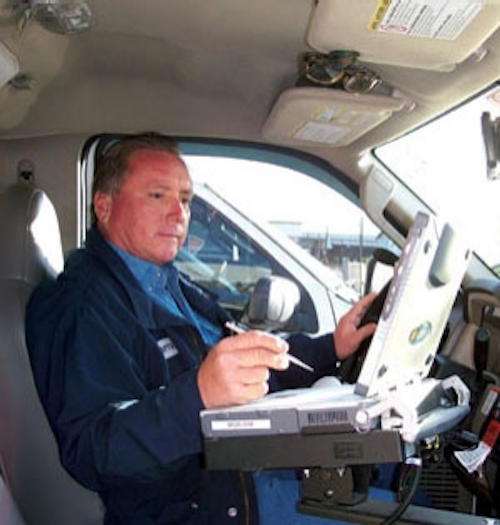 CPS Energy is the nation's largest municipally owned energy company, providing both natural gas and electric service. Acquired by San Antonio in 1942, the company serves approximately 685,000 electric customers and almost 320,000 natural gas customers in and around the seventh-largest city in the nation.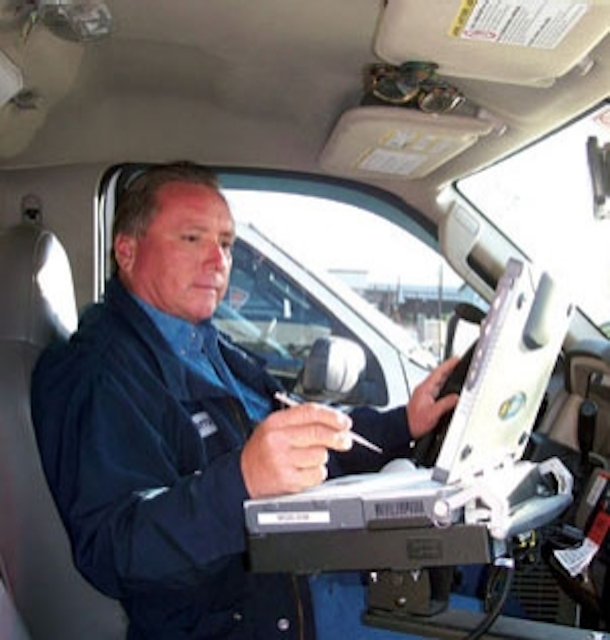 CPS Energy contractors can see work orders as soon as they get in their vehicles. Upon job completion, the job is updated on the notebook, and that information is immediately updated in the company's back-end system—resulting in fewer duplicated work orders.
CPS Energy needed a high-performance, vehicle-rugged mobile computer solution to help automate processes. In addition, the company needed high-performance, rugged computers to withstand weather and displays that could be seen in direct sunlight to improve customer service efficiency.
To better serve its large customer base, CPS Energy wanted to automate aspects of its field processes by putting mobile data terminals in the hands of field service crews. Back in 1995, CPS Energy started to realize the efficiencies of mobile computing by implementing a mobility project.
"We started where most utilities start—looking for a mobile solution to improve customer service and efficiency, particularly in our trouble-ticket department," said James Trevino, CPS Energy's manager of technical services within Energy Delivery Services.
Yet, upon initiating its mobility project, CPS Energy found that because its field service technicians often combated extreme conditions, including San Antonio's notorious hot, sunny days, not just any notebook would suffice. Notebook systems deployed by the energy company needed to be rugged enough to withstand a variety of environmental conditions—from hot, humid days to brutal, drenching storms; that is when energy trouble tickets are most active. Furthermore, because the notebooks would be used mainly in direct sunlight, screen viewability was particularly important.
"We needed a durable notebook for our field-service technicians that could withstand the bumpy conditions of a truck environment as well as all types of Texas weather," Trevino said.
Following CPS Energy's initial mobile computing plan, the company started to expand its mobile solution to maintenance departments. As it looked to invest in more units, CPS Energy sent out a proposal for competitive bids to various hardware vendors. Following a detailed search, the company identified vehicle-rugged notebooks from General Dynamics Itronix that were compatible with their solution provider Ventyx (formally MDSi) as their rugged notebook solution of choice. CPS Energy started with General Dynamics Itronix's first line of GoBooks in 2001 and recently upgraded to the General Dynamics Itronix vehicle-rugged GD6000 notebook.
After deploying 475 units, Trevino and Bonnie San Miguel, mobile data support manager for CPS Energy's Delivery Services department, deployed additional units to contractors who work on streetlight maintenance crews. CPS has been outsourcing streetlight maintenance for years because of the high volume of work, San Miguel said.
"Being able to distribute the work orders with General Dynamics Itronix notebooks has been a big win for us," she said. "Since we've implemented direct dispatching with the notebooks, the number of orders that contractors can fulfill in a day has increased dramatically," said San Miguel.
Vehicle-rugged mobile notebooks have enabled work crews to speed repair turnaround times to just 24 hours. Now, using Service Suite dispatching software and the GD6000 vehicle-rugged notebooks, CPS Energy contractors can see work orders as soon as they get in their vehicles, without having to drive to the depots. Upon job completion, a repair tech updates the job on the notebook, and that information is immediately updated in the company's back-end system. The result is fewer duplicated work orders.
"This equipment in the field is a critical link in the whole emergency response process," said Trevino. "This goes back over to our customer information system, which keeps people up-to-date about when power will be restored."
More Utility Products Current Issue Articles
More Utility Products Archives Issue Articles