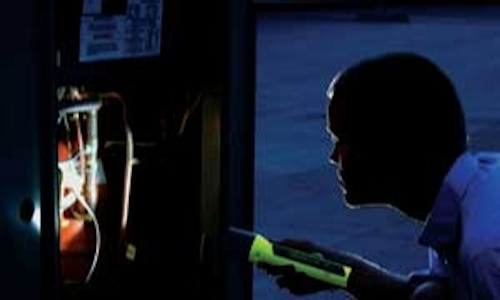 By: Darren L. McDowell
When it comes to properly equipping your work truck, it is important to specify the correct tools for the jobs that truck will encounter. Many times, a work truck will be incorrectly upfitted because "That's what we ordered last time" or "Bigger is better." However, that doesn't necessarily put the right tools in your hands. You could get stuck not having what it takes to complete the job, costing you precious time and money. Also, if the equipment on the truck is over-specified, it will unnecessarily increase the cost of your upfitted work truck. That is commonly the case when selecting a truck-mounted air compressor for the typical work truck.
What to Consider
When it comes to choosing an air compressor for your work truck, there are three things you should consider–application, operation and drive method.
Application
Consider what types of jobs your work truck will encounter. Will you be using hand tools for basic repair and maintenance, or will you be breaking concrete to get to an underground water line? Will most jobs require just a few minutes of compressed air, or will the air compressor be running for an extended time? Work trucks will typically fall into one of two categories:
Maintenance and service work: the air compressor operates hand tools and runs for relatively short intervals.
Construction and utility jobs: the air compressor runs for longer periods of time while operating jackhammers, chippers and breakers.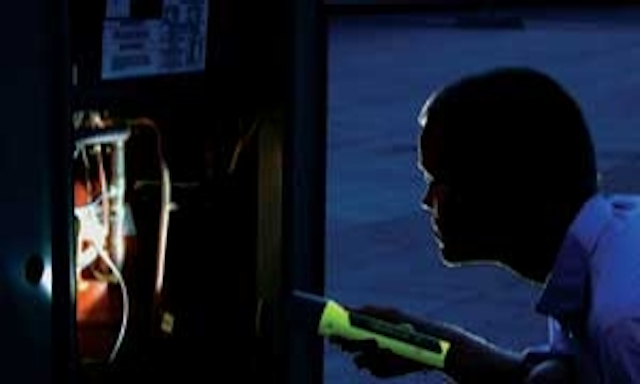 Operation
By identifying the types of tools and how many will be in operation at the same time, you can determine the required air capacity rating for your truck-mounted air compressor. For example, with a service truck that will have a one-man crew and operates nothing larger than a three-quarter-inch impact wrench, you will need an air compressor that will produce approximately 30 cubic feet per minute (cfm), such as the Ingersoll Rand VHP30RMH compressor module from Doosan Infracor Portable Power. Another example is a utility application where pavement removal is necessary. The job will require two technicians operating two heavy breakers, up to 90 cfm each for 180 cfm total; the Ingersoll Rand P185WJDU from Doosan Infracore Portable Power would be a logical choice for that job (check your tool specifications for exact requirements).
Drive Method
The last factor in selecting a truck-mounted air compressor is the drive method for the compressor. Usually, the compressor is either hydraulically driven or engine driven. Incorporating a hydraulic-drive air compressor into the existing hydraulic system of the truck is easy and cost effective. If there are no plans for the truck to be equipped with a hydraulic system, then you will need to weigh the expense of adding an appropriate hydraulic system to the truck versus purchasing a self-contained, engine-powered air compressor.
Selecting a Compressor
Now that you have determined the applications, tools and the drive method, you can select the right air compressor for your work truck. Two types of air compressors commonly mounted on work trucks are reciprocating air compressors and rotary screw air compressors. To select the right type of compressor, it is best to have a basic understanding of how both types work and the application for which each is designed.
Reciprocating Air Compressors
Reciprocating air compressors (commonly referred to as recips) compress air using a piston/cylinder technique. The air is compressed in the cylinders of the compressor and pushed to a receiver tank. Pressure builds in the receiver tank until the air pressure in the tank reaches a preset level, then a pressure switch will deactivate the compressor. As the air in the tank is used and the pressure drops below a threshold, the compressor will engage again to refill the tank.
A reciprocating compressor is designed primarily for service and maintenance applications. These jobs usually require compressed air to operate hand tools for short durations. The condensation from compressing the air does not become an issue in these applications because the receiver tank serves as a collection point for that water. With proper air receiver tank installation, there is little risk of damaging the tool due to excessive water in the service air.
For the truck equipment market, reciprocating compressors can provide compressed air efficiently at air capacities to about 40 cfm. These units are compact and typically mounted on top of the truck's body just behind the cab. Recip units are commonly driven by the same hydraulic circuit powering a crane on the work truck. Two of the best recip compressor models on the market are the Ingersoll Rand VHP30RMH and VHP40RMH units from Doosan Infracore Portable Power, providing 30 cfm and 40 cfm, respectively. These two models can run continuously for more demanding jobs. Since these units have hydraulic cooling built into them, there are no issues with overheating. Also, with a 175-psi air-pressure rating, these recip air compressor modules offer a more powerful burst of air over a longer sustained time span than competitive products.
Rotary Screw Air Compressors
Rotary screw air compressor technology uses two precision-machined helical screws that compress air between them while they rotate. This is a very efficient way of compressing air and provides compressed air immediately upon starting the unit. However, a rotary screw air compressor needs to operate at relatively high temperatures (around 200°F – 220°F) to prevent condensation from building up in the unit's air/oil separator tank. To prevent this condensation build-up, a rotary screw air compressor unit should run at least 30 minutes each time it is started. Otherwise, the compressor oil will become contaminated with water, which is detrimental to the performance of the compressor and will significantly shorten the life of the unit.
Too often, work trucks get upfitted with rotary screw air compressors for no other reason than the misconception that they're supposed to be better. Rotary screw air compressors are better, but only for the applications they are intended to be used for. As the amount of air required gets smaller and the runtime requirement of the compressor shortens, the necessity of having a rotary screw air compressor diminishes. So, for service applications where air ratchets and impact wrenches are used for short durations, a reciprocating air compressor is a better fit. However, a rotary screw air compressor is the right choice for those larger utility and construction applications, making them a vital tool on many work trucks.
In work-truck applications, rotary screw air compressors are typically used for operating larger tools to break up concrete or asphalt. In these applications, the compressor normally runs for an hour or more for each job. These units are hydraulic-driven for the lower air capacity ranges (60 to 90 cfm) and engine-driven for larger units (185 cfm and up). The hydraulic units are normally mounted on top of the body just behind the cab, similar to the recip air compressors. The engine-drive units are almost always mounted between the truck's cab and body, and provide a completely self-contained source of compressed air.
As is the case with the recip air compressors, Doosan Infracore Portable Power has a range of rotary screw air compressor products, all specifically designed for work truck applications. The VHP90CMH is the perfect solution for a job requiring one breaker, jackhammer or chipper. This product operates off of a PTO-powered hydraulic pump and is perfect for work tucks where space is limited. The HP60CMH is great for light construction/heavy-duty maintenance applications. This unit is hydraulic-driven and provides 60 cfm, capable of operating chippers, hammers, and breakers for pavement and concrete removal jobs, as well as providing air for impacts and air wrenches for sustained maintenance applications. In the engine-drive product line, Doosan Infracore Portable Power has several utility rotary screw air compressors as well. Ranging from 65 cfm to 250 cfm, the units provide a solution for trucks without hydraulic capability or for situations where anti-idling regulations limit the use of the truck engine for stationary applications.
One advantage of rotary screw air compressors is that there is no need for an air receiver tank. A rotary screw air compressor is designed to provide full air capacity (cfm) at full-rated air pressure (psi) immediately upon start-up. Less hardware, less labor and less complex piping will take several hundred dollars off the cost of your work truck by eliminating an air receiver tank.
Final Thoughts
Work trucks are no longer just a means of transporting a technician from a shop to a jobsite. Now, the words "work truck" are truly synonymous with "workshop on wheels." To get the most out of your work truck, you need a clear understanding of the applications for each type of air compressor, and you must equip it with the right tools for the jobs you intend that truck to encounter. Selecting the right air compressor for your work tuck is not simply ordering what was on the last work truck you bought. You must thoroughly evaluate the jobs the truck will encounter, the tools the compressor will need to run, the amount of body space allocated for your compressor and the method by which you intend to drive the compressor.
Over the years, air compressor technology has come a long way. Regardless of the method of compressing the air, today's air compressors are smaller, lighter, more efficient, more durable and designed with specific applications in mind. Making sure that you choose the right truck-mounted air compressor for your work truck will maximize the efficiency of your vehicle and ensure that you have the tools available to get the job done.
---
About the Author:
Darren McDowell is a product marketing manager for Doosan Infracore Portable Power, the manufacturer of Ingersoll Rand-branded portable and utility-mounted air compressors.
More Utility Products Current Issue Articles
More Utility Products Archives Issue Articles