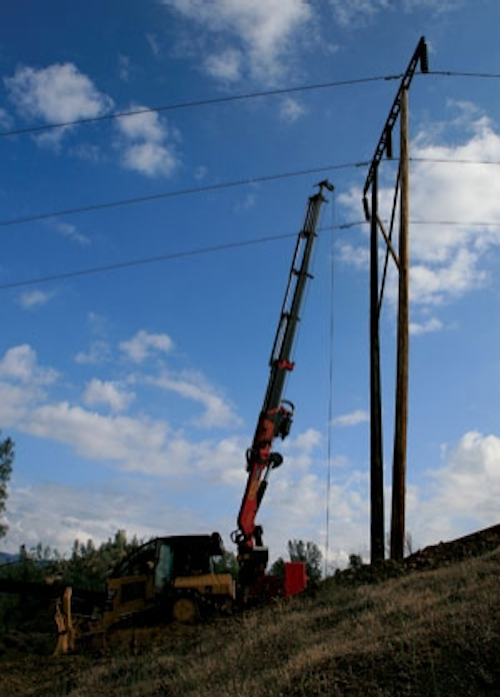 Linecat, a Swiss Army Knife...Supersized
By Kristie Pohlman
By now everyone has accepted the fact that times are tough and that we need to save money whenever possible. We have all been forced to stretch dollars by reducing fleets and manpower. In the utility industry it's difficult to imagine a way to safely and effectively improve processes while respecting restrictions created by the "green" movement. It may not be as hard as you'd think. Believe it or not, a Linecat could be the solution to not only cost and environmental needs, but this unique piece of equipment offers many more benefits.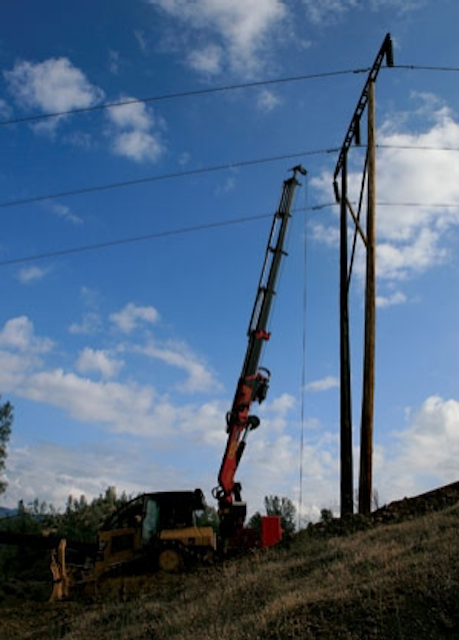 So what is a Linecat? As its name implies, it starts with a specialized CAT dozer. Then you add a compact knuckle boom crane, a Palfinger PK 29002 G to be exact, that folds up and sits neatly behind the cab. The crane features a remote control and several attachments including a hook, auger drive, man basket, pole grapple, and winch. The boom has several extensions allowing a vertical reach of over 80 feet. Linecat is equipped with an auger drive that allows it to dig holes at variable distances of up to 17 feet away from the rig. This versatile piece of machinery is also equipped with lighting on all sides, a camera and speaker system, can hold 30 gallons of water, has a 6-way dozer blade, two man-baskets, hydraulic tool circuit, and A/C power.
Now that you know what a Linecat is, the gears in your head start to turn as you imagine the possibilities. Let me help you out. Imagine you own a ski resort in the Sierra Nevada, it's New Year's Eve and there's a power outage. With harsh winter conditions and high winds at an elevation of 9,000 feet, you'd be lucky to see your light bulbs glow before June. There is little hope that the power company can help you under these conditions and you are losing tens of thousands of dollars per day. Whether you're the owner of this resort or the local power company, either way you are losing money during this industry's peak season.
Enter Nathan Bunting and his Linecat. Nathan and his crew were able to navigate through the steep, snow covered, slick environment in the brisk cold to get to the jobsite. Once there, they were able to set eight poles that restored power to the area within a matter of days. I don't know what the temperature was that day, but I'm sure it was nothing compared to the wind chill temperature!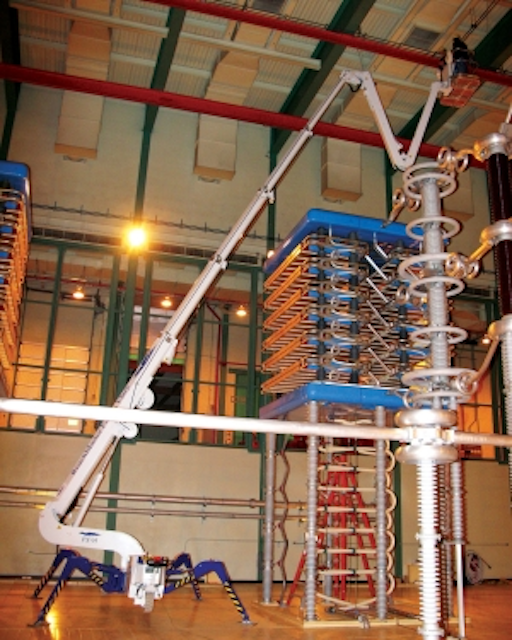 What about muddy conditions? You may ask. Well, let me just tell you, the Linecat has passed that test as well. Not so long ago, there was a very wet, very muddy day in the hills of California. This was like a rainforest monsoon only with winds that neatly sheared 26 power poles. The conditions were so bad, in fact, that not only did trucks and various pieces of equipment become entrenched in the muck; but people were hard pressed to stay above knee level themselves. Everyone was amazed to see Bunting, the president of Linecat, Inc. easily drive past them pulling 75-foot wood poles up the steep, muddy slope. Seeing how easily he was getting around, Nathan was asked to extricate the vehicles along with his pole setting duties.
Once the equipment was rescued, the poles were set and the lines transferred, then came the business of clean up after the storm. The poles that were damaged, but still in the ground, had to be removed. They wrapped a chain around the bases and used the winch on the crane to pull each of them out. The broken power poles were then gathered and brought back down the hill.
By the way, Linecats are earth-friendly too. Which is an important factor as the green way of thinking translates into regulations particularly in the forestry and parks sector. Weighing in at 56,000 pounds on a 10-foot wide frame, the Linecat gently glides over all terrain leaving behind minimal damage to the environment. Without a Linecat, you need multiple pieces of equipment which generate additional cost, time, and manpower to complete the job. Constructing access roads to accommodate these vehicles creates even more havoc on the land. It also causes added expense due to the restoration of the terrain once the project has been completed. Trucks also need room to turn around; this is not a problem for a Linecat. It simply leaves via the same tracks it came in on with little disturbance to the surroundings.
There are plenty of advantages when it comes to having a Linecat. It could, in essence, replace many pieces of costly equipment. Nathan's creation allows contractors to do aerial work, construction, and excavation in a safe, cost-effective way. Linecats can drill holes to accommodate 110-foot poles and set them, transfer power lines, doze and construct roads, and maneuver over inhospitable terrain. The machine literally pays for itself in a relatively short period of time. Travis Terry of TVA stated: "Three quarters of the total cost of the machine will be paid for [with] the money saved on one four-mile project." After that, it's all icing on the cake.
If that doesn't impress you, how about the fact that the remote control allows the operator to perform tasks safely from a distance of 400 feet away? Sometimes it's difficult to know how a jobsite is set up. Some are difficult to reach while others are easy to get to but hard to maneuver within. In those situations, it allows peace of mind for everyone involved when an operator can maintain a good view of the load and manipulate it from a safe vantage point.
When I consider all the different uses for a Linecat, I think it would be easier to tell you what it can't do. Sorry people, it can't float. Not yet, anyway. But with so many tools and possibilities in one piece of equipment, the Linecat is really like a Swiss Army knife on tracks.
---
About the Author:
Kristie Pohlman is the Marketing and Customer Relations Specialist for the Palfinger North America Group. Her background also includes the electric utility and drainage industries.
More Utility Products Current Issue Articles
More Utility Products Archives Issue Articles