UtilityProducts Conference & Expo Preview
This March 23-25, 2010 PennWell will feature its second utility industry trade show and conference–Utility Products Conference & Exposition (UPCE).
Feb 1st, 2010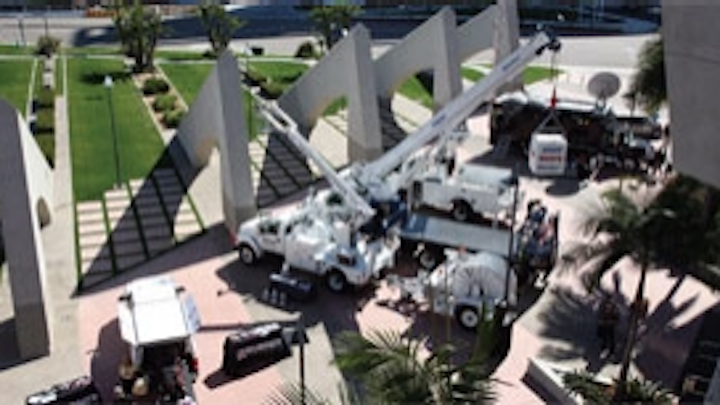 The Latest Products, Demonstrations, Workshops, Training and Much More!
This March 23-25, 2010 PennWell will feature its second utility industry trade show and conference–Utility Products Conference & Exposition (UPCE). Utility Products magazine, as the sponsoring publication for this unique event at the Tampa Convention Center, will provide attendees with an opportunity to increase their product knowledge and network by bringing together buyers and sellers of CATV, telecom, water and power equipment. Showcasing the latest products available, UPCE will be co-located with DistribuTECH and allow the field worker to discuss and learn about practical solutions to everyday problems. This event will allow attendees to take part in product demonstrations, workshops, training and conference sessions, and breakfast roundtables. With indoor and outdoor exhibits from companies offering solutions and products for the workplace, UPCE will provide everything needed in a show: new technologies/products, educational opportunities, networking opportunities and hands-on training.
UPCE attendees will have access to the DistribuTECH exhibit hall and can freely explore between the two trade show floors. To attend conference sessions at both shows, attendees can easily upgrade their registration.
There is also a new event this year, the Electric Light & Power Executive Conference. Scheduled immediately before UPCE and DistribuTECH, it runs March 21 and 22 at the Tampa Marriott Waterside Hotel.
Opening Keynote Address
All UPCE attendees are invited to attend DistribuTECH's opening keynote address on Tuesday, March 23, 2010, 8:30 a.m. to 10:30 a.m. Keynote speakers this year are Jon Wellinghoff, Gordon Gillette and Dave Barry. Jon Wellinghoff is Chairman of the Federal Energy Regulatory Commission (FERC), the agency that oversees wholesale electric transactions and interstate electric transmission and gas transportation in the United States. Chairman Wellinghoff is an energy law specialist with more than 30 years experience in the field. In private practice before joining FERC, he focused exclusively on client matters related to renewable energy, energy efficiency and distributed generation. Gordon Gillette, President, Tampa Electric Co., is president of both Tampa Electric and Peoples Gas, combining the functions and operations of electric and gas under one management team for the first time at TECO Energy. He is responsible for operations of the utilities–including Energy Supply, Energy Delivery Operations and Engineering, Customer Care, Fuels Management and Regulatory Affairs. DistribuTECH's final keynote speaker is Pulitzer Prize-winning and nationally-syndicated columnist Dave Barry. Called "the funniest man in America" by the New York Times, he has entertained audiences for over a decade with his ingenious observations on any and all aspects of American society. His commentary program explores the social quirks and calamities that make living today such a unique experience.
Utili-Skills Academy
In addition to the conference courses, attendees will want to attend Utili-Skills Academy pre-conference training courses. Two courses will be offered Monday, March 22, 2010, 8:00 a.m. to 5:00 p.m. The first course, "Standard First Aid with CPR/AED (Cardio Pulmonary Resuscitation/Automated External Defibrillator)" will be taught by the American Red Cross in a hands-on, certified class where the attendee will gain the knowledge and skills necessary in an emergency situation to help sustain life and to minimize pain and the consequences of injury or sudden illness. Upon completion of the course and its requirements, the attendee will be issued a certificate with a validity period of 1 year for CPR/AED and 3 years for standard first aid.
The second course, "Restricted Activities Training," is for those with direct responsibility for placement of work zone traffic control devices for minor work (normally utility operations) where the work activity utilizes only work zone setups covered in 2006 Design Standards Indexes 601, 602, 603, 604, 605, 611, 612, 613, 615, 616, 635 and 660, in accordance with Index 600 requirements. (These setups normally apply to utility operations.) All students will view, understand and use non-textual visual information through the use of an illustrated PowerPoint presentation and a hands-on workshop. Design Standards will be addressed in detail and students will participate in a workshop exercise selecting and setting up sample work zones. Flagging operations will be covered in detail–enough that a person who successfully completes this course will be capable of providing basic flagger training. Certificates will be provided to those who complete this course.
UPCE Conference Sessions
Beginning Tuesday, March 23, 2010, UPCE will offer three tracks and 14 sessions.
Track 1, Safety & Training:
Temporary Grounding Practices
NESC Safety Update
The Performance Characteristics of FR Clothing and the Value of Layering
Fleet Safety
Creating a Step Change in Safety
Track 2, New Equipment & Technology:
Fall Protection–Who Needs It?
Metering & Installation Maintenance
Mobile Workforce Management
T&D Technology Implementation and Installation
Rubber Glove Safety
Trenchless Technology
Track 3, Storm Restoration:
Emergency Preparedness: Staging for the Storm
Communication
Best Practices in Storm Response on U.S. Distribution Systems
For full session descriptions, please visit www.utilityproductsexpo.com
Breakfast Roundtables
On Wednesday, March 24, 2010, 7:30 a.m. to 9:00 a.m., informal breakfast roundtables will allow attendees to network with peers and discuss important topics with industry experts. Moderated by leading professionals in each field, breakfast roundtable subjects will include:
Smart Grid Integration–Managing the Data Environment
Smart Grid Building Automation
DMS/Feeder Automation for System Reliability
Adding Cyber Security to Legacy Systems
Transmission
Renewables
Demand Response
Building Automation and Metering
Distribution Automation and Smart Grid
Distribution Automation
Asset Management
Water
Mobile and GIS
What Does DMS Mean to You in a Smart Grid Framework?
Technologies that Touch the Customer
AMI for Smart Grid
Substation Automation and Enterprise Data Management to Support Smart Grid
Substation Automation
NERC CIP for Substations
The Exhibit Floor
UPCE will provide attendees with a great opportunity to view indoor and outdoor exhibits that offer workplace solutions and products: tools and supplies; safety products; repair/maintenance/testing; wire, cable and fiber optics; wire and cable handling equipment; lineman tools; test and measurement equipment; transmission and distribution; utility vehicles and accessories; and much more. A variety of companies will be represented.
Networking Opportunities
Along with the wealth of opportunities for learning, there are also social events for everyone's entertainment. Plan on attending the free Opening Reception on Tuesday, March 23, 2010, 5:00 p.m. to 6:00 p.m. Enjoy hors d'oeuvres and drinks while visiting with friends, industry colleagues and exhibitors. Then, on Wednesday, March 24, 2010, 5:00 p.m. to 6:00 p.m., join sponsors at their booth on the exhibit floor for It's 5 O'Clock Somewhere! happy hour.
Free to DistribuTECH and UPCE exhibitors and attendees, the 20th DistribuTECH Anniversary Networking Reception on Wednesday, March 24, 2010, 6:00 p.m. to 8:00 p.m., will feature live entertainment with Dance Express, food, drinks and a fireworks display finale; visitors, guests and spouses need to register for the networking reception for a fee.
Plan to Attend
Don't miss this year's UPCE, where the pages of Utility Products will come to life as buyers and sellers gather for a rewarding networking and learning experience.
While at the show, put your NASCAR driving skills to the test! The NASCAR simulator will be on the exhibit floor all week. Door prizes will be given to the highest scores. Visit the NASCAR sponsors booth and enter to win NASCAR tickets!
Hotel rooms are booking fast, so we recommend you book yours now. For more information on the show, conference sessions, breakfast roundtables, exhibitor lists, hotel information and more, please go to www.utilityproductsexpo.com.
We look forward to seeing you there!
More Utility Products Current Issue Articles
More Utility Products Archives Issue Articles