New Products Showcase: Part 1
May 1st, 2010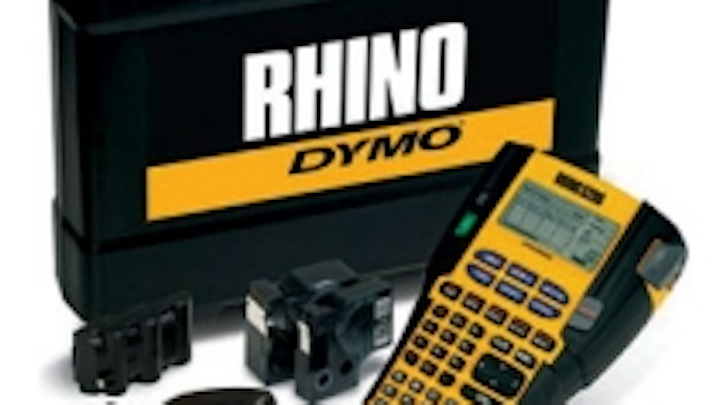 Rhino 5200 Backgrounder Hand-held Label Printer
Rhino, by DYMO Industrial, introduces the newest addition to its industrial grade hand-held label printer line, the Rhino 5200. Professional installers in the electrical, data communication, maintenance repair and operation, construction and broadcast industries can enjoy Rhino 5200's advanced features: "hot key" technology that eliminates guesswork by helping format commonly used labels quickly and easily with the touch of a button, speeding jobs and increasing productivity on the job site, ergonomic design that improves user comfort for longer periods of time, intuitive graphic interface that is easy-to-use, and high performance at an affordable price.
The "hot key" technology allows users to automatically format and size labels for their most-used industrial applications; this saves users time by reducing the number of steps and buttons to push required to format a label. The Rhino 5200 has a new graphic interface, which was re-engineered with an intuitive flow of prompts. This offers the ability to change formats while using the same set of label data without the need to re-key data. Users enjoy even more time savings with simple, advanced and simultaneous serializations, multi-label views and over 122 common pre-programmed datacomm and electrical symbols for quick and easy printing.
Rhino, by DYMO Industrial
CIRCLE 109 ON READER SERVICE CARD
Comprehensive Selection of Directional Drilling Pipe
Underground Tools Inc. offers one of the industries most comprehensive selections of high quality directional drilling pipe for nearly every make and model of drill rig on the market. The drill pipe is readily available and fits drill rig sizes from mini through maxi. The drill pipe is made from top quality materials, with careful consideration given to precise threaded connections.
All Underground Tools' products come with DirtSmart technical service where questions are answered by a knowledgeable technical support team.
Underground Tools Inc.
CIRCLE 111 ON READER SERVICE CARD
Decontactor Series Switch Rated Plugs and Receptacles
Meltric Corp. announces its new 2010 product catalog featuring Decontactor Series switch rated plugs, receptacles and connectors. This new 224-page catalog also provides information about Meltric's other plug and receptacle product offerings, including new hazardous duty rated devices, PF high ampacity devices (up to 600A) and a wide variety of Multipin devices (up to 37 contacts).
Decontactor Series switch rated plugs and receptacles allow technicians to quickly change out motors, welders and other electrical equipment with plug and play simplicity. They are an NEC approved "line of sight" disconnect and are UL approved for both "branch circuit" and "motor circuit" disconnect switching up to 200A or 60 hp. Decontactors are also UL rated to make and withstand short circuits up to 100 kA.
A Decontactors integral switching capability ensures that the contacts are always de-energized before the plug can be withdrawn from the receptacle. Once the plug is removed, the receptacle's safety shutter further ensures worker safety by preventing unintentional access to live parts to all but the correct mating plug. Since Decontactors maintain a NFPA 70E defined hazard/risk category of zero during equipment connection and disconnection, users do not have to wear PPE or follow other cumbersome NFPA 70E specified safety procedures that are typically necessary for electrical safety during electrical equipment change-outs.
Meltric Corp.
CIRCLE 110 ON READER SERVICE CARD
Wire Stripper/Twister Provides Fast, Clean Strip
Eraser's Model C200 Twin Blade Rotary Wire Stripper and Twister can process insulations such as Teflon, P.T.F.E., PVC, nylon, rubber, KEL-F and more from solid and stranded wires. The stripping head incorporates a pair of accurately adjustable tungsten carbide stripping blades. The blades are easily adjusted and remain on center. By reversing the belt, the unit may be operated with either clockwise or counterclockwise rotation. The slug may be left on the wire and removed later when terminated. Wire guides are not included and must be purchased separately.
The Eraser Co. Inc.,
CIRCLE 112 ON READER SERVICE CARD
Natural Gas Generator Set for Mobile Applications
Caterpillar announces the availability of the XQ1250G natural gas mobile generator set. Sold and rented exclusively through Cat dealers, it is rated for continuous operation at 1,250 kW, 480/277V 60 Hz. The versatile Cat XQ1250G is an easily transportable, self-contained, natural gas power plant. It offers an easy-to-use control system to parallel with other Cat generators or with an electric utility.
The XQ1250G power module employs a low emission G3516B engine with integrated exhaust aftertreatment to comply with July 2010 United States Environmental Protection Agency's New Source Performance Standard for Spark Ignited Engines (USEPA SI NSPS). If local emission requirements are more stringent, the XQ1250G product design is suitable for the addition of aftertreatment devices beyond the standard oxidation catalyst.
The G3516B operates on low-pressure natural gas (3-7 psi) and is equipped with an active air-to-fuel ratio controller to allow for varying fuel energy content. With units generating millions of operating hours worldwide, the G3516B engine offers proven performance with low maintenance costs.
The G3516B engine, fuel regulation components, control and distribution system, and cooling package are housed in a sound-attenuated 40-foot ISO container. It is CSC-certified for nine unit high stacking. Greatly reducing installation time at the project site, the XQ1250G offers a fully integrated cooling and exhaust system.
Caterpillar
CIRCLE 113 ON READER SERVICE CARD
Continue to New Products Showcase: Part 2

More Utility Products Current Issue Articles
More Utility Products Archives Issue Articles