By Jeff Barker
With the Environmental Protection Agency (EPA) increasing requirements pertaining to sulfur hexafluoride (SF6) gas leaks in high-voltage power equipment, and with all the industry talk about the importance of reducing losses of SF6 and improving the environment, many utilities are looking for new ways to comply with these standards and ensure their networks are safe and secure.
Remote monitoring is an alternative technique that is quickly gaining attention by power grid personnel to deal with these requirements–both present and future. Remote monitoring can help users prioritize managing their fleet assessment of SF6 breakers to determine corrective actions, thus vastly simplifying the accounting of a breaker's SF6 usage.
SF-6 remote monitoring solution for high voltage breakers
In response to these concerns, one company, ABB, is introducing a new remote monitoring solution for any OEM circuit breakers filled with SF6 gases. The Circuit Breaker Sentinel, or CBS-F6 condition-based monitoring system, is one of the first, if not the first, stand-alone SF6 gas-monitoring devices on the market.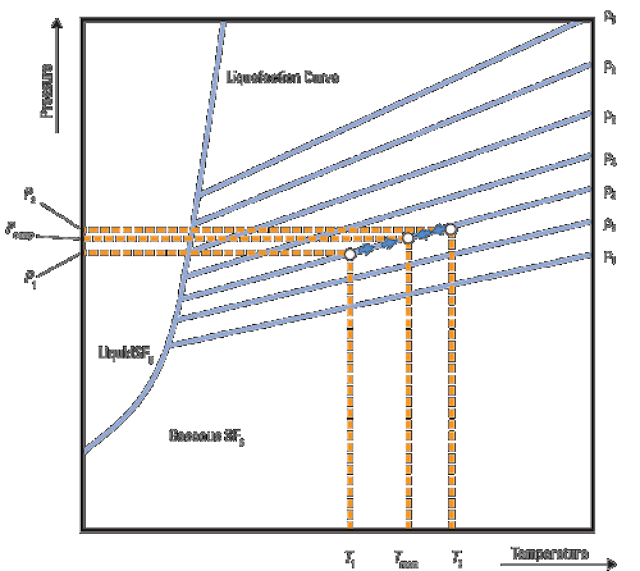 The company has been performing SF6 gas monitoring since 2005, and this new solution is a more powerful, yet scaled down version of the original CBS device used in the market today. The new SF6 gas monitor provides the same advanced algorithms as the original CBS device and provides communications, historical data and leak rates; it will also alarm if found to be out of normal range. The monitor is designed to fit a wide variety of high voltage SF6-filled equipment–including dead tank breakers, live tank breakers, hybrid modules or gas-insulated switchgear.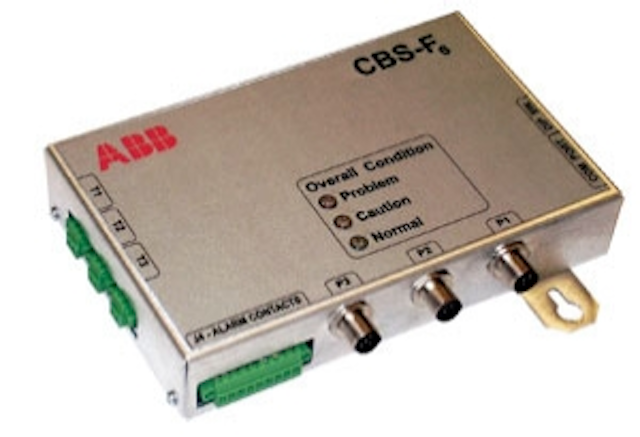 The CBS-F6 solution is in compliance with pending changes to the U.S. EPA requirements pertaining to SF6 gas monitoring. The EPA is adding additional regulations and asking utilities to document, report and reduce the amount of SF6 gas that is leaked into the environment. The new solution also allows users to reduce the environmental impact of SF6 gas in their breakers. With this solution to monitor and reduce SF6 losses due to breaker leaks, the need for time-based maintenance is removed and efforts to capture gas leaks early are improved. The CBS-F6 condition-based monitoring solution also helps prioritize managing a fleet assessment of SF6 breakers to determine corrective actions, thus vastly simplifying the accounting of a breaker's SF6 usage.
This solution provides many unique advantages in the market–including wireless communications capacity, long life and reliability, remote interrogation and network integration. It also offers improved compatibility with ABB's Asset Insight, a wireless monitoring system that collects data from the CBS-F6 solution to assess the health of the equipment.
SF6 is an artificially manufactured gas molecule in which six fluorine atoms are arranged around one sulfur atom. SF6 is an effective power equipment insulator–but can be dangerous when it leaks into the environment. Typical gas monitoring uses temperature and pressure to calculate the temperature-compensated pressure. In theory, the temperature-compensated pressure should stay constant unless there is a leak.
The SF6 State Diagram is valid only for state of equilibrium or very slow temperature changes. ABB's specific algorithms account for dynamic temperature changes to maximize insensitivity, thus supplying a more stable and accurate means of information that can allow users to reduce their overall environmental impact of SF6.
Condition monitoring for SF6 power circuit breakers
It is widely recognized that the concept of periodic equipment maintenance is becoming obsolete. A reliability centered program, built around condition monitoring, data analysis and spare parts inventory management, is a more effective methodology for cost effectively managing substation assets. Successful reliability centered maintenance programs require an information system. For power circuit breakers, the network must include condition monitors, circuit breaker engineers, field service and spare parts. Industry vendors now have the people, material, software and hardware to provide all of these elements. The CBS-F6 not only collects and stores data, but also employs sophisticated mathematical processing and analysis to provide a complete picture of the breaker condition.
---
About the Author:
Jeff Barker is business development manager for high voltage products at ABB and is based in ABB's Mount Pleasant, Pa. facility. Jeff may be reached at 207-232-7670, or jeff.barker@us.abb.com.
More Utility Products Current Issue Articles
More Utility Products Archives Issue Articles