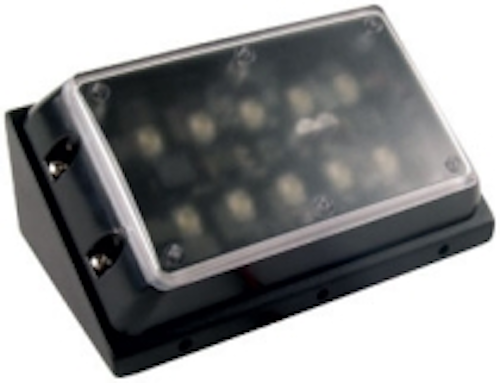 High-intensity LEDs Improve ROI
The Safety and Security Systems/Industrial group of Federal Signal Corp. now offers one of the most comprehensive product lines of warning and status indicating visual signals. These products are designed specifically for hazardous to safe area industrial warning and status indication applications.
Spotlighting XLTTM-eXtreme Light Technology, a high-intensity LED array that optimizes illumination output with superior lens fill, Federal Signal LED devices offer benefits ranging from improved cost savings, greater reliability and extreme shock and vibration resistance, to extended service life and reduced power consumption. Devices are suitable for both dc and ac voltages, accommodate both steady-burn and flashing applications, and are available in a variety of mounting configurations.
Federal Signal LED technology spans a broad scope of visual signaling warning light and status indicator products. Warning light products include: 225XL Electraray and 191XL hazardous location LED flashing warning signals; 27XL and 2000 Series model explosion-proof LED warning lights; and LP3PL and LP3ML streamline, low-profile, steady-burning LED lights. Designed for industrial process applications, status indicator products include: USI UniStat and USIX hazardous location UniStat status indicators, MSL MicroStat status indicator, LSLD Litestak status indicator with LED lamp, and SCB SemiStat status indicator.
Federal Signal Corp.
CIRCLE 141 ON READER SERVICE CARD
LED Vehicle Scene Light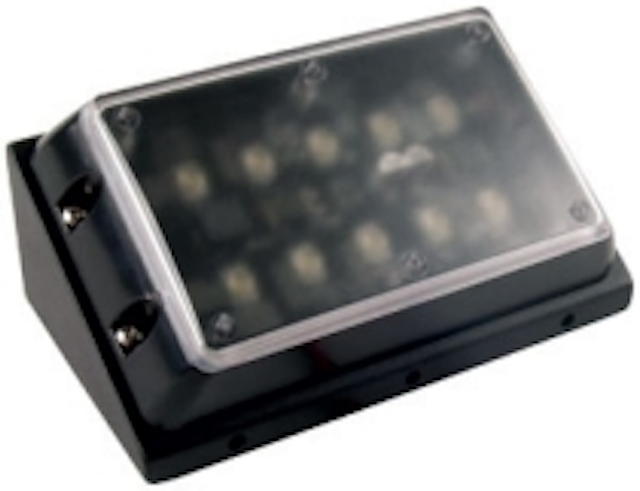 Superior Signals' new Illuminator Series of LED lights includes the SYLED-SL10 Vehicle Scene Light. Utilizing 10 high intensity LEDs, the SL10 Scene Light produces 80.6 lumens of light with a 90° viewing angle while drawing only 1.2A at 12.8 Vdc and 0.6A at 24 Vdc. The use of LEDs means a brighter white light that lasts longer and draws less power than traditional halogen lights.
The SYLED-SL10 is designed for professional use and is weatherproof, vibration resistant, features an aluminum housing and mount, and operates at temperatures from -40°F to 130°F. The SYLED-SL10 also has reverse polarity protection and carries a five-year warranty.
Superior Signals Inc.
CIRCLE 143 ON READER SERVICE CARD
Workman Tripod Combines Ease of Use with Durability, Versatility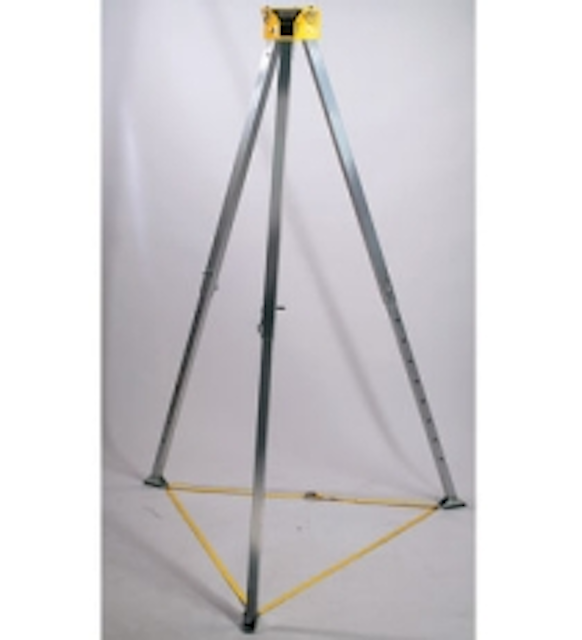 Quick and easy set-up, increased durability, greater stability and improved portability–all in one product! The MSA Workman Tripod makes confined space entry with vertical descent safe and easy. New features include: internal leg-locking mechanism, maximum height indicator on the tripod legs, cut-resistant leg pin retention chains, recessed product labels, reduced weight and integral carrying strap.
MSA
CIRCLE 142 ON READER SERVICE CARD
Ladder Alternative: LiftPod Personal and Portable Aerial Work Platform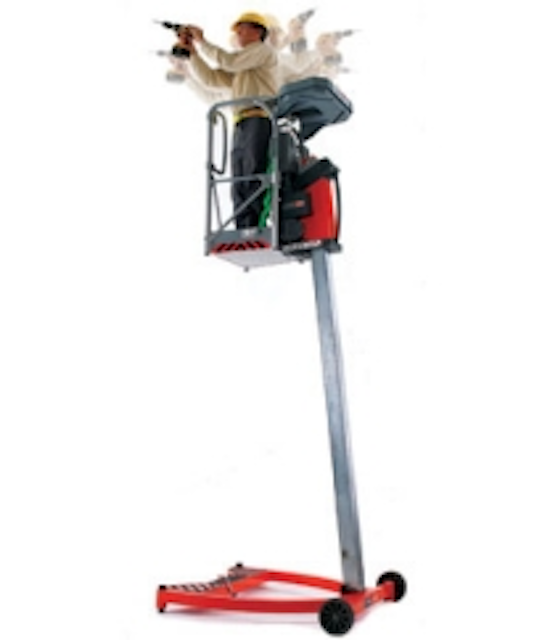 The LiftPod by JLG is cited to be the first personal and portable aerial work platform designed as an alternative to the ladder. Powered with any common 18V cordless drill and easily transportable in the back of a van, pick-up truck or SUV, the LiftPod provides users a 360-degree range of motion and the ability to work with both hands at a working height of up to 14'.
The lightweight design and compact size of the LiftPod allow a single person to move it around on the work site with its non-marking polyurethane wheels. It also can be assembled by one person in less than 30 seconds. The LiftPod is operated with a typical 18V cordless drill or an optional power pack and a pair of two-hour quick-charge NiMH batteries to allow continuous work, with about 20 up-down cycles per battery.
The LiftPod weighs 145 lbs and consists of three main sections: the base, the mast and carriage, and the platform. The heavy-duty, powder-coated steel base's castor mechanism locks when the LiftPod is in use and provides mobility when it is set up.
JLG Industries Inc.
CIRCLE 144 ON READER SERVICE CARD
Thermoplastic Rubber Hose Extracts Fume and Dust in Confined Spaces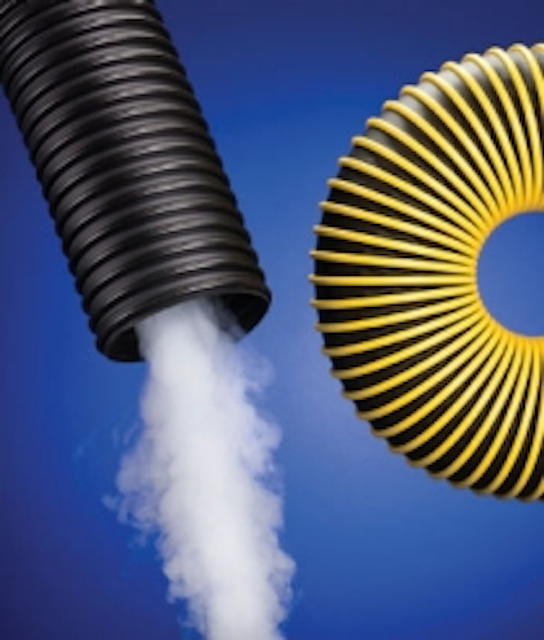 A new coextruded thermoplastic rubber hose that contains no wire; is moisture-, chemical- and crush-resistant; and has a tight bend radius for use in confined spaces is being introduced by Flexaust.
Flexaust FlexTube TR Thermoplastic Rubber Hose features a smooth interior and a rigid polypropylene exterior helix that resists abrasion and crushing. Ideally suited for fume and dust removal, where moisture and chemicals are present, this rugged and flexible hose operates over -60°F to 275°F range.
Available in 4" to 10" I.D. sizes and standard 25' lengths, Flexaust FlexTube TR Thermoplastic Rubber Hose is offered in black, black with a high-visibility yellow helix and in optional custom OEM colors. This hose provides a 20% better airflow than traditional TPR hose, claims the firm.
Flexaust
CIRCLE 145 ON READER SERVICE CARD
Multimeter Certification Program Improves Job Skills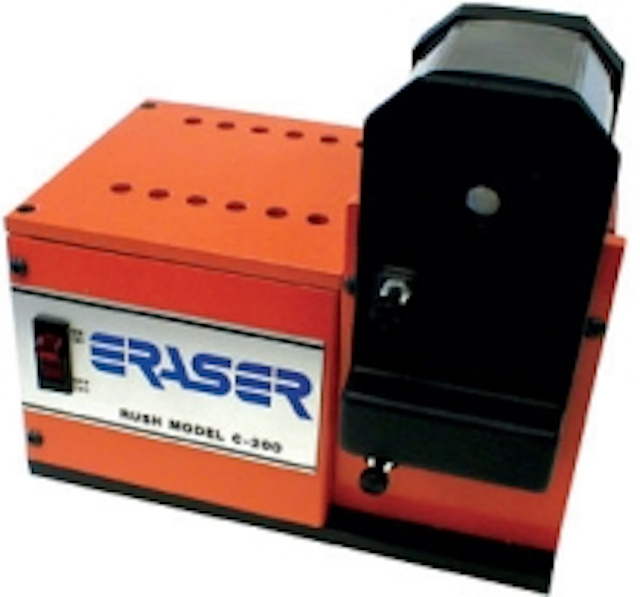 Snap-on Industrial's new multimeter certification program meets the electrical monitoring requirements for technicians working in a variety of industries. The program focuses exclusively on the multimeter, the standard device used to determine the level of electrical current, usually ac and dc voltage, amps and resistance (ohms) present in a given application.
The certification is designed to give employers a widely recognized qualification that shows a graduate has both a base knowledge of electricity characteristics and demonstrated expertise in using a multimeter. The Snap-on Industrial program is turnkey, meaning the company will train and certify instructors as part of the certification process.
The multimeter certification program gives students familiarity with the same technology they will use in industry. The program includes advanced lab exercises, as well as hands-on practice in an observed, supervised environment.
The four-hour certification course augments existing curriculum used in technical schools and junior colleges across the United States and North America.
Snap-on Industrial
CIRCLE 146 ON READER SERVICE CARD
More Utility Products Current Issue Articles
More Utility Products Archives Issue Articles