New Products Showcase: Part 4
Mar 1st, 2010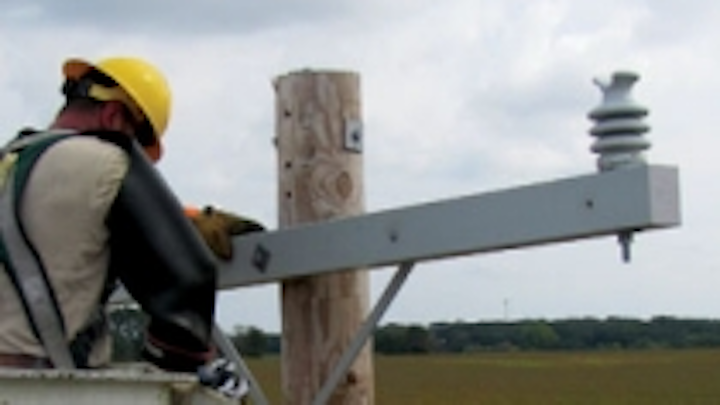 Cost-effective Fiberglass Crossarm is Lightweight, Easier to Install
PUPI, a manufacturer of fiberglass crossarms for the utilities industry, announces their newest fiberglass crossarm–the PUPI Series 22. It's designed for the standard crossarm load capacity required by the industry, yielding a lighter, easier to install and cost-effective alternative to the standard wood tangents currently used by the industry.
PUPI fiberglass crossarms and deadends have long provided distinct advantages to wood beams which, because of natural variances, are difficult to accurately predict field performance and are susceptible to insects and woodpeckers and deteriorating in as little as 20 years of exposure. PUPI crossarms are manufactured to provide uniform and predictable performance in any climate and are impervious to insects and woodpeckers.
Leveraging its patented advantages and manufacturing innovations, PUPI is able to produce the PUPI Series 22 at a lower cost without compromising on any industry-required performance features. PUPI Series 22 can be installed with fiberglass braces or with a center mount.
PUPI
CIRCLE 136 ON READER SERVICE CARD
Durashell Slip-on Truck Body
Fleetwest Transferable Truck Bodies has released Durashell, a new line of fiberglass composite utility bodies to the Load'N'Go steel body line. The Durashell truck bodies are lightweight yet durable service bodies that come in six models: Durashell 140/170 (short bed/long bed), Durashell 165, Durashell 230 and Durashell 325/365 (short bed/long bed). The features include easy point clamping system (no holes drilled installation), brake light, interior lighting, jack receptacles, double rear doors, side doors and compartments, front and rear windows, and ladder racks.
The Durashell slip-on truck bodies include the following features: cost-saving benefits because of universal fit for all major brands, standard pickup trucks, perfect fit for both new or existing used fleet vehicles, extra security with standard key locks plus pad-lockable security, lifting jack receptacles for easy installation and removal or optional built-in forklift tunnels, and models available for both long bed and short bed pickup trucks.
The slip-on truck body can be transferred to a leased vehicle in an emergency without completely unloading/reloading, in a matter of minutes.
Fleetwest
CIRCLE 137 ON READER SERVICE CARD
Safety Breaker Lock Regulates Power
Fortress Interlocks has worked closely with ABB to develop an interlock suitable for use on the SACE Emax circuit breaker. Fortress has considerable expertise in designing complex switchgear interlocking schemes and the Breaker Lock forms an essential part of a sequential interlocking system that ensures the safe operation of switchgear. Fortress can supply interlocks to suit all makes and model of switchgear.
The lock is constructed of zinc alloy with internal contact surfaces made of stainless steel. It is heavy duty and suitable for high frequency applications, tested to a million operations. Fortress Breaker Locks offer in excess of 200,000 non-masterable combinations, although a limited number of masterable locks is available for some applications.
The key moves the spindle clockwise with smooth and effortless rotation, and the key is freed at the 12 o'clock position for ease of operation.
Fortress Interlocks Ltd.
CIRCLE 138 ON READER SERVICE CARD
Compact 1U High, 400W ac/ac Power Supplies
Power Sources Unlimited announces the NXT-400 Series of compact (3.9" x 8" x 1.5") ac/dc power supplies that pack 400W of power into an 8.5W/cubic inch power density–fitting easily into 1U high OEM applications or any application where space is critical.
The NXT-400 Series is available in eight models–providing adjustable, single outputs from 2.5 Vdc to 48 Vdc. Standard features include 85% efficiency (typical), 0.5% line and load regulation, operating temperatures up to +70°C with airflow and a power factor corrected, and universal 90-264 Vac input. Options include remote inhibit/enable, cover and chassis, and isolated 5 Vdc standby power.
Worldwide safety compliance to both EN60101-1 (Medical) and EN60950-1 (ITE) standards, RoHS compliance, a two-year warranty and a high MTBF make the NXT-400 Series very useful for numerous applications. Units are in full production with deliveries from stock in 6-8 weeks and are competitively priced.
Power Sources Unlimited Inc.
CIRCLE 139 ON READER SERVICE CARD
New Van Storage for Ford Transit Connect
WEATHER GUARD is introducing new van storage solutions for the Ford Transit Connect van. The new storage solutions are designed and crafted to fit the Transit Connect, a very successful commercial vehicle in Europe that is now available in the U.S. market.
The van storage solutions can be adapted to almost any business that needs van storage. WEATHER GUARD equipment offers the most options for specific trades and professions such as general contracting, plumbing, HVAC, electrical, telecom, parcel delivery, the locksmith trade and many more.
Special features of the storage solutions include a custom bulkhead, space-maximizing design, and a wide-range of shelving and accessory options. The custom bulkhead provides excellent protection against shifting loads, minimizes rattling and optimizes space. For greater visibility, a wire mesh bulkhead is available along with wire mesh window screens. Shelving units fit tightly to the Transit Connect's walls, freeing up floor space while 12" and 14" shelf widths provide storage flexibility.
WEATHER GUARD
CIRCLE 140 ON READER SERVICE CARD
Continue to New Products Showcase: Part 5

More Utility Products Current Issue Articles
More Utility Products Archives Issue Articles