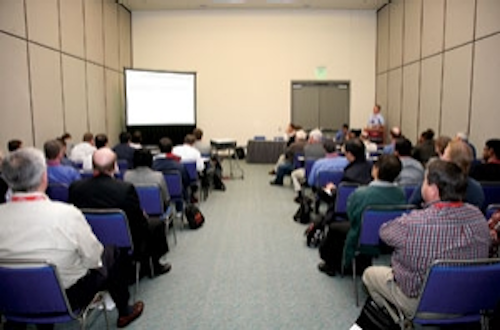 Bringing You the Latest Products, Demonstrations, Training and Much More!
You won't want to miss this year's Utility Products Conference & Exposition (UPCE), sponsored by PennWell's Utility Products magazine. Held March 23-25, 2010 at the Tampa Convention Center, this event will provide you with an opportunity to increase your product knowledge and network by bringing together buyers and sellers of CATV, telecom, water and power equipment in one place.
Showcasing the latest products and services available, UPCE will be co-located with DistribuTECH and allow the hands-on worker to discuss and learn about practical solutions to everyday problems. In addition, this intimate event will allow attendees to be a part of product demonstrations, training and conference sessions, and breakfast roundtables. With indoor and outdoor exhibits from companies offering solutions and products for the workplace, UPCE will provide everything you need in a show–new technologies/products, educational opportunities, networking opportunities and hand-on training.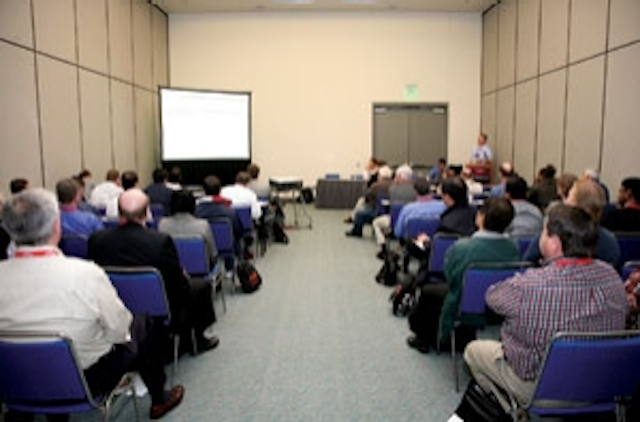 UPCE attendees will also have access to the DistribuTECH exhibit hall and can freely explore between the two trade show floors. To attend conference sessions at both shows, you can easily upgrade your registration.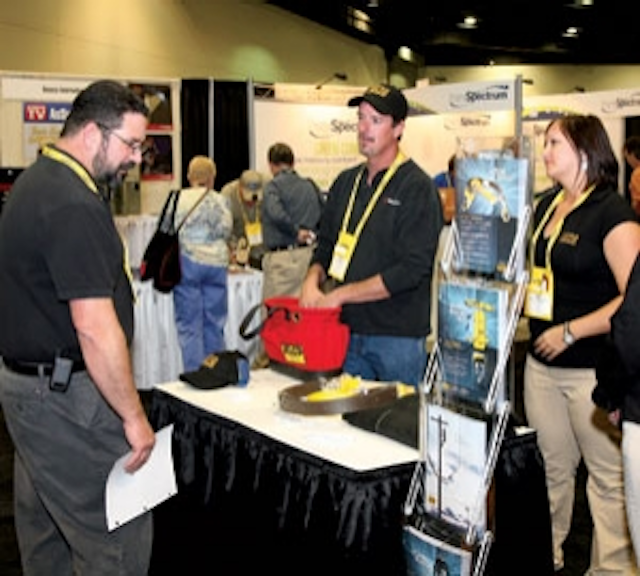 Who Should Attend this Event?
- Electric utilities
- Fleet management
- Telephone companies
- Cable/CATV companies
- Utility contractors
- Overhead/underground contractors
- Telecom contractors
- Dealers/distributors
- Service/repair/maintenance
- Engineers: design, specifying, safety
- Rural electric cooperatives
- Public power companies
- Water & wastewater systems and plant engineering & operations management
- And others
Products and Services Displayed:
- Safety products
- Tools & supplies
- Repair/maintenance/testing
- Wire, cable & fiber optics
- Wire & cable handling equipment
- Lineman tools
- Test & measurement equipment
- Transmission & distribution
- Utility vehicles & accessories
- Overhead distribution equipment
- Metering devices
- Power monitoring
- Network design/installation services
- Cabinets/enclosures/pedestals
- Fiber cleavers & splicers
- Connectors
- Data communications equipment
- Telecommunications equipment
- And more
UPCE Conference Sessions
Beginning Tuesday, March 23, 2010, the UPCE Conference will offer three tracks with 14 sessions.
Track 1, Safety & Training:
- Temporary Grounding Practices
- NESC Safety Update
- The Performance Characteristics of FR Clothing and the Value of Layering
- Fleet Safety
- Creating a Step Change in Safety
Track 2, New Equipment & Technology:
- Fall Protection–Who Needs It?
- Metering Installation & Maintenance
- Mobile Workforce Management
- T&D Technology Implementation & Installation
- Rubber Glove Safety
- Trenchless Technology
Track 3, Storm Restoration:
- Emergency Preparedness: Staging for the Storm
- Communication
- Best Practices in Storm Response on U.S. Distribution Systems.
For full conference session descriptions, please visit www.utilityproductsexpo.com.
Networking Opportunities
Plan on attending the free Opening Reception on Tuesday, March 23, 2010, 5:00 p.m. to 6:00 p.m. Enjoy hors d'oeuvres and drinks while visiting with friends, industry colleagues and exhibitors. On Wednesday, March 24, 2010, 5:00 p.m. to 6:00 p.m., join sponsors at their booths on the exhibit floor for It's 5 O'Clock Somewhere happy hour! Free to DistribuTECH and UPCE exhibitors and attendees, the 20th DistribuTECH Anniversary Networking Reception, March 24, 2010, 6:00 p.m. to 8:00 p.m., will feature live entertainment, food and drinks, and a great fireworks display finale; visitors, guests and spouses need to register for the DistribuTECH Anniversary reception for a fee.
Plan to Attend UPCE
Join other utility workers and exhibitors at this year's UPCE for a rewarding networking and learning experience. And, while you're at the show, try your NASCAR driving skills–the NASCAR simulator will be on the exhibit floor all week. Door prizes will be given to the highest scores! You can also visit the NASCAR sponsors booth and be entered to win tickets to a NASCAR race. We hope to see you there!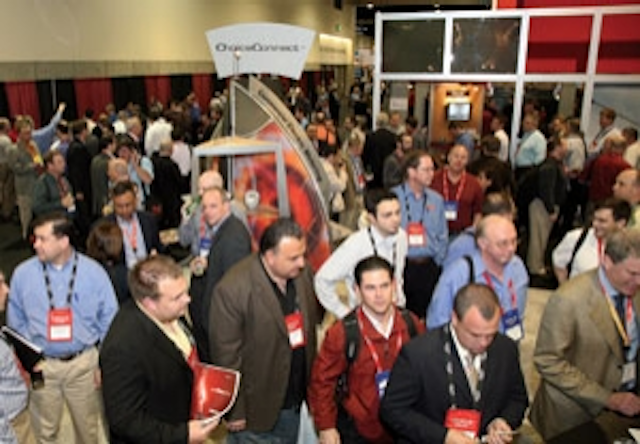 ---
A.R.E.
Booth #2909
A.R.E., manufacturer of fiberglass truck caps and tonneau covers and aluminum truck caps for commercial, independent contractor and fleet use. Distributor of related truck accessories. Exclusive distributor of SpaceKap fiberglass commercial utility body.
Bernsten International Inc.
Booth #2809
Berntsen International Inc. is a major manufacturer and supplier of all types of markers, including utility markers and protection systems, survey monuments, rebar caps and related accessories.
Cabling Installation & Maintenance Magazine
Booth #2815
For more than 15 years, Cabling Installation & Maintenance has delivered in-depth technical and business insights focused exclusively on the information needs of structured cabling professionals. Our approach combines the journalism expertise of our editorial staff with the knowledge of the industry's foremost experts to deliver information that is trusted and respected throughout the industry.
CBS Arcsafe Inc.
Booth #2500
CBS ArcSafe Remote Racking Systems enable service personnel to stand outside the arc flash boundary while racking low and medium voltage circuit breakers, while reducing the need for a full-body arc flash hazard suit.
Cisco
Booth #13
Experience the true power of the grid. Cisco delivers an end-to-end, IP-based secure communications infrastructure for the smart grid from generation to businesses and homes. Cisco smart grid solutions help utilities: optimize grid efficiency through better correlation of power supply and demand; reduce energy network outages and disruptions; increase the resiliency and security of the power system; and increase environmental sustainability. Traditional energy networks contain disparate systems that lack efficiency, introduce risk and increase costs. Designed to meet the requirements of next-generation energy networks, the Cisco smart grid solution takes advantage of a secure, standards-based IP infrastructure for energy providers and consumers.
DistribuTECH
Booth #2815
Join us next year in San Diego! DistribuTECH covers automation and control systems, energy efficiency, engineering, demand response, renewables integration, power delivery equipment and water utility technology. No show provides more educational and networking opportunities than DistribuTECH.
Electric Guard Dog
Booth #3002
Save your assets with the Electric Guard Dog–a proven, effective and economical perimeter security system. No upfront costs. Customized to your site. Integrates with security electronics. 24/7 monitoring. Electric Guard Dog, your security partner.
Electric Light & Power
Booth #2815
Electric Light & Power, published by PennWell Corp., is the authoritative source of electric and gas industry business news for electric and gas utility executives and management. Each issue of Electric Light & Power provides insight into industry news, risk management, financial and regulatory issues, and reviews T&D, generation, CIS/CRM and information systems trends and much more. This single source provides a broad view of the energy industry, with in-depth analysis of key business issues and regular interviews with industry leaders.
Essex Energy Corp.
Booth #3007
Essex Energy Corp. is a dynamic company focused on spearheading a vast array of energy related initiatives. We offer a full suite of energy related products and services including renewable energy systems, a variety of software and consulting solutions.
Hubbell Power Systems
Booth #2910
Hubbell Power Systems manufactures a wide variety of transmission, distribution and substation products including construction, switching and protection products, as well as hot line tools, insulators, arresters, connectors, underground enclosures and capacitance-graded bushings for transformers.
ICORP-IFOAM Specialty Products Corp.
Booth #3104
IML Inc.
Booth #2701
IML is the leading manufacturer and distributor of scientific measuring instruments that are used in the timber industry.
Intellirent
Booth #2906
Anyone can "rent" you a piece of equipment, but can they do it the Intellirent way; pre-selection of the right product, in-stock, delivered on time and field ready, with application support? Intellirent can. Intellirent distinguishes itself from others with a deep knowledge and passion for the industry we work in. We focus on the rental of electrical test and measurement equipment in the power and transmission industries. We rent Doble, Dranetz, Fluke, High Voltage, HV Diagnostics, Manta, Megger, Raytech and Vanguard, just to name a few. At Intellirent, we know that the intelligence before the order is more important than the order itself. We strive for perfection for every customer on every order.
Lakeland Industries/Fyrban Products
Booth #2800
Lakeland Industries/Fryban Products is a manufacturer of FR (flame resistant) and arc flash clothing, high visibility safety vests, safety products and work clothing.
Lightwave Magazine
Booth #2815
Through its integrated media portfolio, Lightwave delivers content focused on fiber optics and optoelectronics, the technologies that enable the growth, integration and improved performance of voice, data and video communications networks and services. Our experienced editorial team provides trusted technology, application and market trend insights to corporate executives, department heads, project managers, network engineers and technical managers at equipment suppliers, service providers and major end-user organizations. Our unique ability to inform our audience's business-critical decisions is based in our 25-year relationship with the entire optical community–technology vendors, communications carriers and major enterprises–and our recognition of the interplay among its members.
MALA Geoscience USA Inc.
Booth #3011
MALA Geoscience is the global leader in the design and manufacture of ground penetrating radar (GPR) systems. We provide high quality, reliable and easy to use equipment to solve your subsurface investigation needs.
Mueller Systems
Booth #3015
Mueller Systems provides smart metering solutions to optimize the delivery and use of energy and water. Our solutions are designed specifically to help municipal utilities increase efficiencies, reduce costs, conserve energy and water, and improve customer service. For more information, visit www.muellersystems.com.
NASCO Industries Inc.
Booth #2801
NASCO manufactures electric arc protective outerwear complying with ASTM F1891. From ArcLite, the industry standard, to MP3, the only breathable, multi-season, arc and flash fire protective product, NASCO has the right solution for your needs.
NAVTEQ
Booth #2712
NAVTEQ provides the robust map data that helps GIS users achieve a competitive edge. With NAVTEQ maps, customers are building applications that optimize processes, manage assets and increase productivity. Available in various formats for easy integration, NAVTEQ data is the choice for GIS applications that seek to make an impact.
PennWell Corp.
Booth #2815
PennWell's Conferences & Exhibitions comprise the fastest growing sector of PennWell's business-to-business communications products. PennWell produces events of all sizes, from Advanced Technology conferences and forums to the largest Power and Fire exhibitions in the world. These events span the globe and are held on virtually every continent where significant technical, training or commercial exhibition needs exist. PennWell publishes more than 40 business-to-business publications, providing technical and business information, news and analysis to key executives and industry practitioners around the globe. These titles are published on weekly, monthly or annual cycles to provide timely, reliable and rich information to their influential readers. PennWell's magazines and people have consistently won numerous awards, including Jesse H. Neal Awards, the highest awards for editorial excellence in business publishing. PennWell's print publications reach key industry influencers around the globe. In addition to PennWell's global English-language magazines, PennWell customers benefit from international editions published in local languages around the world. PennWell accomplishes this through trademark and content licenses to leading publishers in key international markets as well as through its own publishing operations in Europe and Asia.
Peter Parts Electronics
Booth #2601
Peter Parts Electronics is a leading global supplier of electronic parts specializing in OLED, LCD and LED displays, battery products, power supplies and assembly.
Petra Solar
Booth #2802
Petra Solar designs and manufactures the Utility Grade SunWave UP Series, the first smart grid interactive solar system specifically designed for installation on utility distribution poles.
Piratecom LLC
Booth #2811
Piratecom LLC designs and manufactures wireless intercoms which allows users to communicate "HANDS FREE" in work groups as easily and clearly as if they were on a conference call–no matter how severe the external noise level! Products are versatile, light-weight, rugged and water resistant for extreme noise conditions in harsh demanding environments.
POWERGRID International
Booth #2815
POWERGRID International is the power industry's leading source of information on electric power transmission and distribution automation, engineering and information technology. More than 36,000 electric utility professionals, managers, engineers and other qualified subscribers count on POWERGRID International to present the information they need to make on-the-mark business and technical decisions every day. Advertising in POWERGRID International puts your company's name where you want it to be–in front of key industry decision makers every day.
Predictive Technology Inc.
Booth #2807
PTI is a leader in Web-based monitoring solutions with over 20 years of experience in battery and infrastructure monitoring, offering solutions for utilities, telecom, data centers, government, hospitals and other mission critical facilities.
Reel-O-Matic Inc.
Booth #2901
Reel-O-Matic has manufactured reel and cable handling equipment for more than 60 years. Our equipment is designed to accommodate storeroom respooling and coiling applications, as well as meet outside plant requirements when handling reels of material up to 50,000 lb. capacities. See ad, back cover.
Smith System
Booth #2806
For 62 years Smith System's driver training programs have provided a significant ROI to over half of today's Fortune 500 companies by reducing collisions, improving fuel economy and maintenance expenses, measurably reducing fleet operating costs.
Telogis Inc.
Booth #2405
Telogis Fleet gives you real metrics to optimize your fleet functions: driver safety, fuel costs, maintenance programs, vehicle purchase priorities and emergency response capabilities. The result: more accountability, compliance, safety, fuel savings and increased productivity.
Tingley Rubber Corp.
Booth #2714
Turnkey Surveys
Booth #2611
Underwater Kinetics
Booth #2608
For nearly 40 years, Underwater Kinetics, better known as UK, has been in the business of designing and manufacturing lights, cases and accessories for use in harsh or difficult environments. Our waterproof lights are the worldwide standard for fire fighters, utility workers, and health and safety personnel. See ad, page 12.
Utility Products Magazine
Booth #2815
Utility Products, published since 1997, is a monthly magazine that provides influential product information to the decision makers and specifiers in the power, telephone and CATV markets. Our circulation of nearly 35,000 is 100 percent BPA qualified, and includes utilities, municipalities and contractors. Our goal at Utility Products is to provide readers with an interesting, reliable source of information at their fingertips prior to making purchasing decisions. For more information, visit us online at www.utilityproducts.com.
Walls Industries Inc.
Booth #2900
Walls Industries offers durable workwear, rugged outdoor apparel and FR clothing that meets or exceeds the safety requirements for a wide range of industries.
Water World Magazine
Booth #2815
WaterWorld serves 58,957 engineers, managers, consultants, contractors and operations professionals in the municipal water/wastewater industry. Each month, WaterWorld delivers information about products and services, technology, applications, legislation and regulations to help these industry pros successfully plan, design, operate and maintain their systems.
---
Conference & Expo Product Preview
---
InfraMarker–Magnetic Radio Frequency Identification Location System
InfraMarker....the first utility location system to combine the speed of magnetic location with RFID memory. Three times faster than traditional systems, the InfraMarker identifies buried gas, electric, water, sewer, phone and cable utilities on one standard frequency.
Data can be entered into the InfraMarker at any time or place using either the desktop or field versions of our exclusive software. Every uniquely numbered InfraMarker has 512 bits of extended memory. It's designed to read, write and lock in your user-defined customer data, i.e. company name, install date, last serviced by, depth of buried asset, nearby hazard alerts, global position, geographic information system data, etc.
Your crews will always be able to find the InfraMarker using a magnetic locator because the magnetic field is detectable forever. Whether you need to find and keep records on gas or water valves, electric or fiber-optic splices, utility intersections, easements or right-of ways, this system is the one choice that's both universal and cost effective.
Berntsen International, Inc. is a major manufacturer and supplier of all types of markers, including utility markers and protection systems, survey monuments, rebar caps and related accessories.
Booth #2809
Bernsten International Inc.
Circle 107 on Reader Service Card
Waterproof Utility Headlamp for Demanding Environments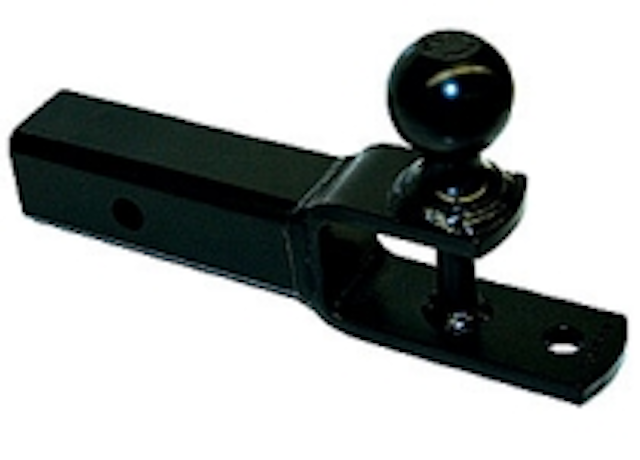 The Underwater Kinetics Vizion I is the world's first utility headlamp, designed for use in demanding environments. The rugged construction of the Vizion I is completely waterproof and perfect for indoor or outdoor utility applications. The rubber strap holds the light securely onto your hard hat, providing hours and hours of hands-free illumination. The large on/off button is easy to operate, even with work gloves on. The long life LED never needs to be replaced and has three settings–Focused (spot), Diffuse (spread) and Red Diffuse. Best of all, it is made in the USA and covered by the famous UK Warranty of Total Quality.
Booth #2608
Underwater Kinetics
Circle 108 on Reader Service Card
Piratecom Introduces Industries' First "Hands Free" Wireless Crew Intercom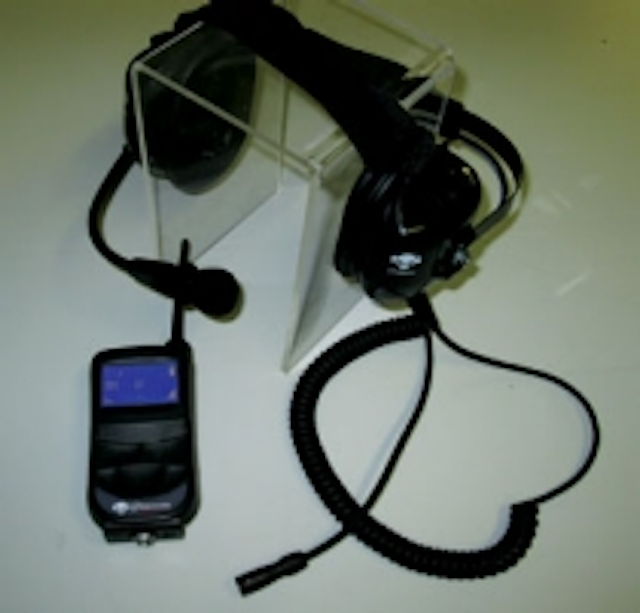 Piratecom is pleased to announce the industries' first "hands free" wireless communications intercom (part # VL6) for extreme noise conditions in harsh construction environments. The VL6 is a versatile, light-weight, rugged and water resistant wireless hands-free communication system designed to meet the most demanding communication situations.
Before Piratecom's VL6, work crews were required to "push a button" to speak on radios. This substantially decreases work place safety and increases liability risks because: hands are removed from equipment during vital operations; crews can only speak one at a time (half-duplex)–even during emergencies; and attention and focus is reduced due to the lack of clear, crisp and instantaneous directions from fellow crew members.
The VL6 is full-duplex which means all crew members can speak at the same time. This enhances work place safety while increasing work productivity and efficiency while reducing employer's risk of liability suits due to hearing loss or work place accidents.
Piratecom is incorporating a modular design to all of their products. Modularity allows customers maximum flexibility in using all of Piratecom's products. The modular design approach allows customers to easily interchange headsets from VL6 kits to crane and portable radio uses and eliminates the need of any kind of base-station.
Booth #2811
Piratecom LLC
Circle 109 on Reader Service Card
Decay Detection Measuring Devices
IML Inc., the leading manufacturer of scientific decay detection measuring devices, offers the Resistograph Power Drill for testing wood poles above and below ground level without excavating. This advanced technology is superior to the conventional boring methods that have been used over the years.
The Resistograph drills a small hole (less than 1/8" in diameter) into the pole and measures the density of the wood structure. If there is any decay or rot present, the graph profile falls flat and shows the inspector at a scale of 1:1 how much remaining wall or shell thickness you have left in the pole. The data is stored on a Bluetooth electronic unit and then downloaded to a hand held or computer so data can be reviewed and compared very quickly.
Booth #2701
IML Inc.
Circle 110 on Reader Service Card
A.R.E. Deluxe Commercial Unit Caps Available for 2010 Trucks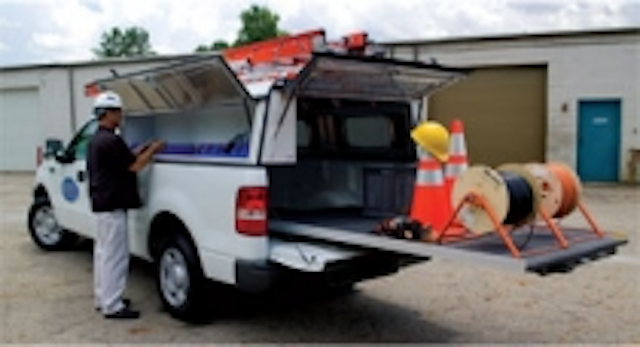 A.R.E offers its popular Deluxe Commercial Unit (DCU) truck cap to outfit a wide selection of 2010 trucks, including the Dodge Ram, Ford F250 and Toyota Tundra.
The DCU, an ideal solution for professionals serving the utility products industry, is made of fully welded aluminum frame construction and has more than 100 options to give professionals the power to create a customizable solution for their work trucks. Truck owners can choose from a variety of door and window configurations, toolboxes, ladder racks, interior fabric liners, side panels and cap heights from 23" to 36". In addition, A.R.E. provides organizational solutions–such as a full selection of plastic storage bins to hold small parts, tools and extension cords in the side compartments of the DCU.
A.R.E. truck caps come with a three-year warranty on materials and workmanship. All DCUs feature Strattec lock cylinders in folding t-handles on all doors for added security, as well as Suspa gas props on all doors.
Booth #2909
A.R.E. Accessories
Circle 111 on Reader Service Card
Certified Test Cable Ensures Accuracy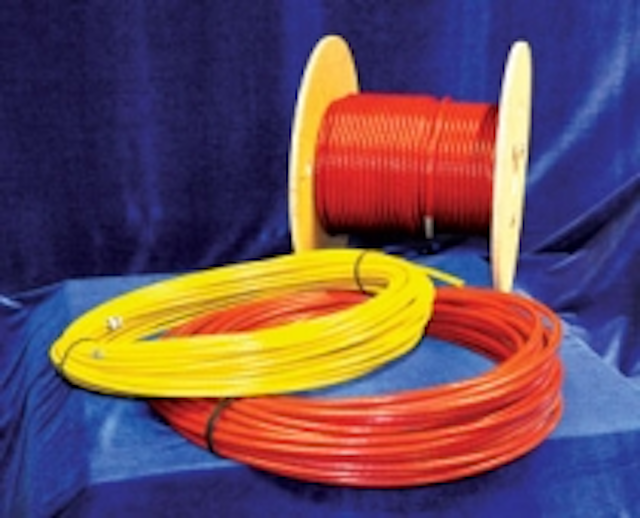 Reel-O-Matic offers certified test cable to ensure the accuracy of your measurers.
The Reel-O-Matic test cables are available from stock in standard lengths of 50' and 100', as well as 50m and 100m. The company's certified test cables are made from high-strength durable nylon coated galvanized steel wire rope that eliminates stretching, and the test cables are visibly marked at start and stopping points. The test cables are shipped to you with a certificate of calibration documentation for your records. Great for ISO certified facilities! The test cables will help increase your profit margin!
Booth #2901
Reel-O-Matic Inc.
Circle 112 On Reader Service Card
Fyrban Flame Resistant (FR) Shirts and Pants with Everyday Work Comfort Built In!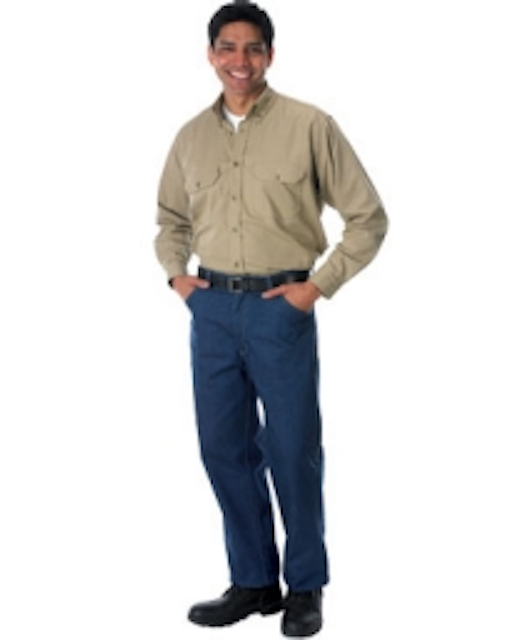 No matter what the job is' our flame resistant work shirts and pants add plenty of comfort to your work day. But, don't let the casual fit and soft fabric fool you–they're built tough enough to handle any heavy lifting on your to-do list. These shirts and pants are guaranteed flame resistant for the life of the garment.
Booth #2800
Fyrban Protective Apparel, A Division of Lakeland Industries
Circle 113 on Reader Service Card
Electrical Test and Measurement Equipment Rental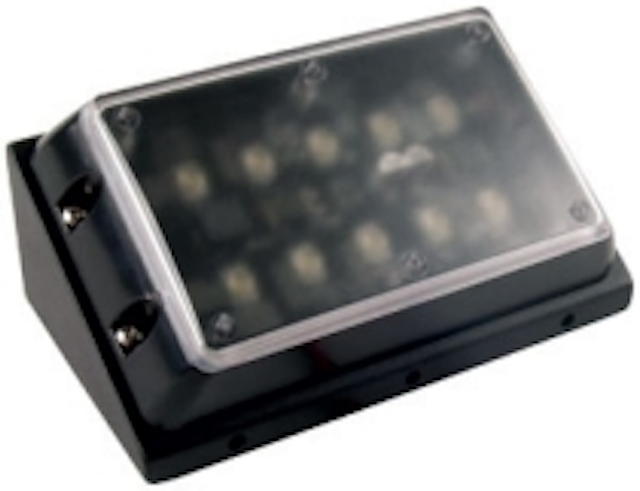 Anyone can "rent" you a piece of equipment, but can they do it the Intellirent way; pre-selection of the right product, in-stock, delivered on time and field ready, with application support? Intellirent can.
Intellirent distinguishes itself from others with a deep knowledge and passion for the industry we work in. We focus on the rental of electrical test and measurement equipment in the power and transmission industries. We rent Doble, Dranetz, Fluke, High Voltage, HV Diagnostics, Manta, Megger, Raytech and Vanguard, just to name a few.
At Intellirent, we know that the intelligence before the order is more important than the order itself. We strive for perfection for every customer on every order.
Booth #2906
Intellirent
Circle 115 on Reader Service Card
Flame Resistant Clothing is Affordable and Comfortable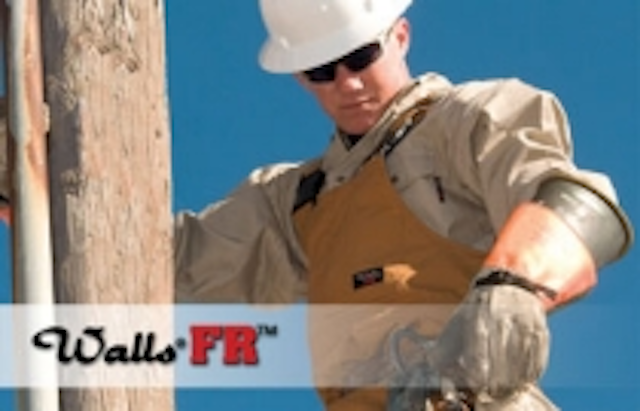 Walls FR is the value proposition of Flame Resistant Clothing (FRC). Continuing the 70 year heritage of Ft. Worth, Texas based Walls Industries, the quality Workwear and Outdoors Apparel brand. Walls FR brings quality life saving personal protective apparel to affordable levels. Designed to be as comfortable as your weekend blue jeans and as warm as that broken in denim jacket, Walls FR continues the Walls heritage as The Wearable Tool.
Booth #2900
Walls Industries Inc.
Circle 114 on Reader Service Card
Stop Vandalism with Electric Perimeter Security System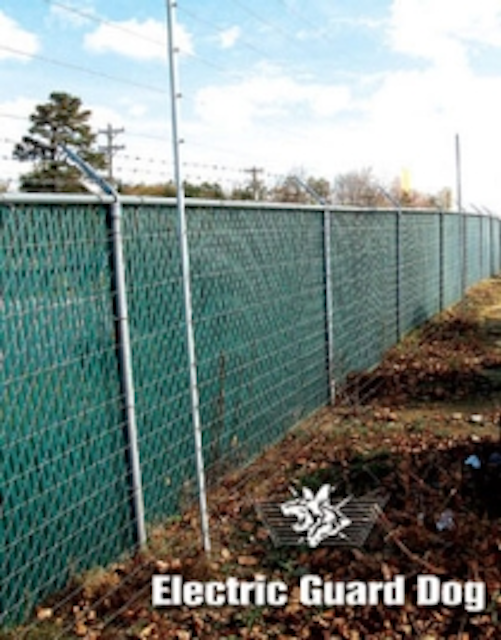 Stop vandalism and theft at your substations with the Electric Guard Dog perimeter security system. Proven efficient and economical–lower overall costs than other available options–the Electric Guard Dog's 24/7 monitored security reduces your liability, ensures safe working environments for your employees, and, by stopping damaging theft, ensures your customers' satisfaction.
Custom built to site topographic and use specifications, the solar-powered Electric Guard Dog is erected inside any structurally sound perimeter fence. It is durable, weather repellent and secured with corrosion-resistant contacts and fasteners. With the perimeter security system, 7,000 volts pulse every 1.3 seconds–safe, but very uncomfortable–just long enough to jolt a person off the fence.
Booth #3002
Electric Guard Dog
Circle 116 on Reader Service Card
Perfection Through System Modeling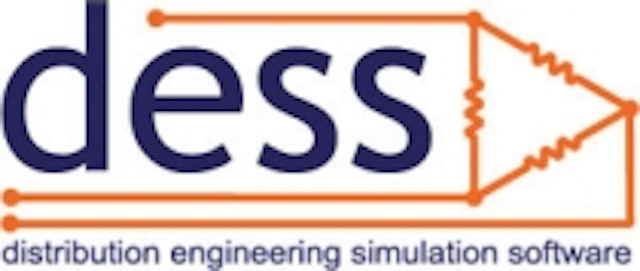 With the fast changing electrical industry, it has become imperative to understand how distribution systems operate. As complexity increases with the growth of the smart grid and pressure to connect embedded generators (solar and wind), an accurate and efficient process to monitor your network is needed. DESS, Distribution Engineering Simulation Software, is the solution.
The user friendly interface of DESS allows for simple yet powerful analysis, allowing your staff to focus on modeling the system and not struggling to understand the software. Models can be created quickly and easily when importing from existing GIS data. DESS has the benefit to integrate seamlessly with many GIS platforms and CAD systems.
DESS creates an analytical model that behaves in the same way as a real electrical system so you can understand, plan and operate more effectively.
Analysis tools include, but are not limited to, load flow, short circuit, protection coordination, capacitor optimization, phase balancing, open point optimization, load loss, SCADA load flow, arc flash analysis and switching order.
Booth #3007
Essex Energy Corp.
Circle 117 on Reader Service Card
Smart Grid Interactive Solar System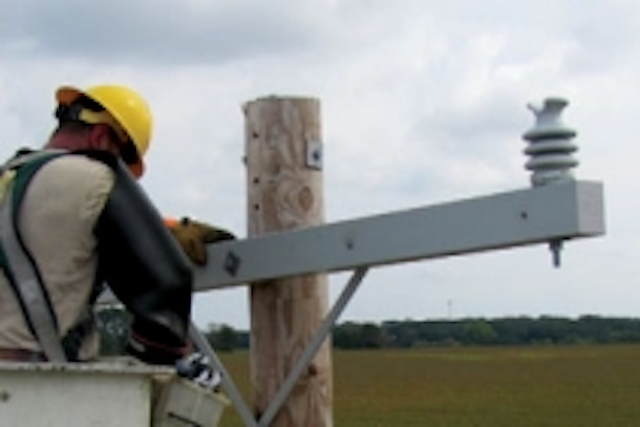 Petra Solar designs and manufactures the utility grade SunWave UP Series, the first smart grid interactive solar system specifically designed for installation on utility distribution poles. This innovative technology allows our utility partners to simultaneously address Renewable Portfolio Standard (RPS) requirements and invest in a smart grid technology.
SunWave systems are compatible with existing grid infrastructure, and our intelligent communications system is compliant with emerging smart grid technology. These systems can be remotely upgraded to leverage future applications and standards as they emerge. SunWave brings solar on-line faster, enabling our utility partners to deploy meaningful generation utilizing existing assets and time tested deployment strategies.
Petra Solar's shovel-ready systems are operating on streetlight and utility poles in the field and provide unsurpassed value for utilities. The system mounts directly on utility poles and connects to the grid secondary at the pole. The mounting system produces a rapid and safe installation. The price of a SunWave is comparable to traditional PV technology, yet a SunWave solution provides a measurably better return when installed behind the fence.
Booth #2802
Petra Solar
Circle 118 on Reader Service Card
Satellite Battery Monitoring System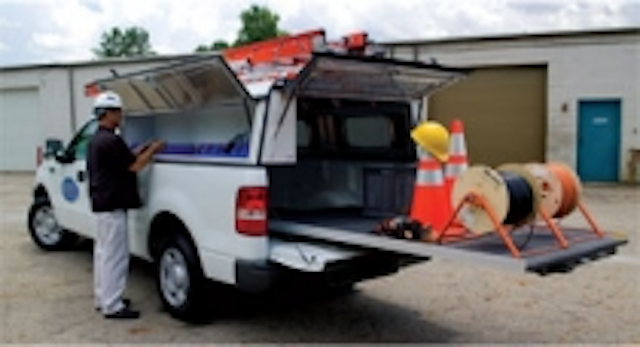 Predictive Technology Satellite is the premier battery monitoring system for any utility or telecom battery installation where the loss of battery power is simply not an option. Implementing Satellite monitoring will eliminate unplanned outages due to battery failure. Satellite allows the user to take charge of battery systems through 24x7 monitoring. Cellwatch has been specifically designed to monitor ohmic value of every battery or cell on a daily basis. Satellite eliminates potentially dangerous and/or time-consuming manual testing of your batteries. Satellite will provide voltage, ohmic, dc, ac and temp values. Satellite interfaces to any system via simple Dry Contact Alarm or Modbus. Easy graphic software allows customer to set up Satellite from any laptop. Satellite can work with any battery type or voltage.
Remember, it is not truly battery maintenance unless maintenance includes daily monitoring by PTI Satellite!
Booth #2807
Predictive Technologies Inc.
Circle 119 on reader Service card
Omega FR Outerwear System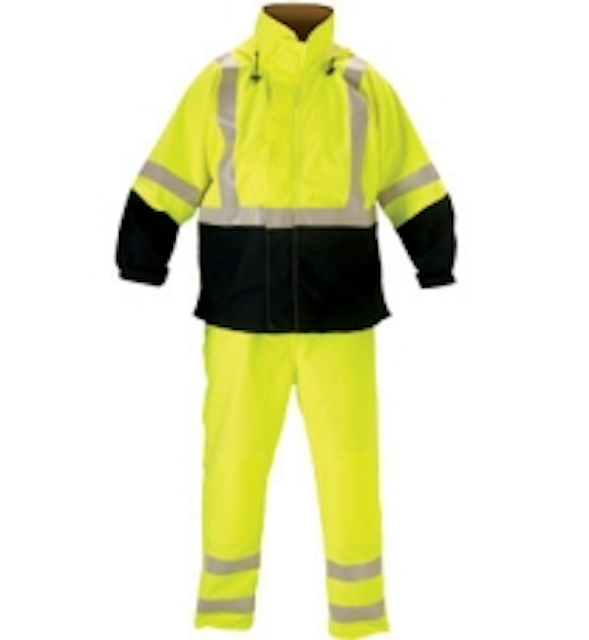 The Omega FR is an all season, waterproof, breathable and windproof insulated outerwear system. The Omega FR offers protection from multiple hazards including electric arcs (ASTM F1891), flash fire (ASTM F2733), traffic hazards (ASNI 107) as well as cold weather (ASTM F1868).
For winter wear, the Omega has two removable liner options. A 150g FR Thinsulate insulated liner is very good for maximum warmth in sub-zero temperatures. For added versatility, an FR Nomex fleece provides winter warmth while also being a great FR jacket in cool temperatures.
The Omega FR is designed with features to allow the wearer maximum comfort and user effectiveness. With features such as a hood in collar, patch pockets, tool belt access zippers, fall protection, 3M reflective trim and many others, the Omega FR will meet the needs and expectations of the workers who work in it.
Omega FR is the first product available that combines the multi-hazard protection with the ANSI 107-2010 compliance. Now, your workers can be safe yet still be comfortable.
Booth #2801
NASCO Industries Inc.
Circle 120 on reader Service card
More Utility Products Current Issue Articles
More Utility Products Archives Issue Articles