Voltgard Test Lab Earns Industry Accreditation

Saf-T-Gard International's Voltgard Test Lab has recently joined the ranks of the NAIL-accredited labs. North American Independent Laboratories for Protective Equipment Testing (NAIL4PET) helps develop uniformity in the testing of electrical workers' personal protective equipment and works in close association with the American Society of Testing Materials (ASTM) and the American National Standards Institute (ANSI). NAIL accredited laboratories are charged to promote service, candor, justice and the public welfare in safety.
NAIL4PET accreditation and membership also gives Voltgard the opportunity to network with test lab peers and share best practices.
Voltgard started in the early 1980s as a rubber insulating glove and blanket testing lab. Today, that lab has become the largest independent dielectric test lab in the United States, and Saf-T-Gard's Voltgard branded electrical safety items, including rubber insulating blankets and leather protector gloves, are recognized worldwide.
Saf-T-Gard International Inc.
CIRCLE 131 ON READER SERVICE CARD
Air Purifying Respirator is Lightweight, Safe and Comfortable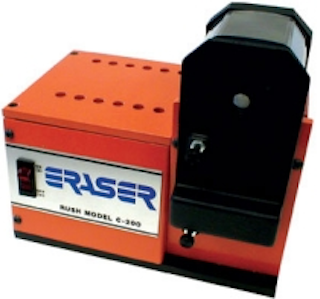 Miller Electric's Arc Armor Powered Air Purifying Respirator (PAPR) features a blower that is 1.3 lbs lighter than the leading competitor and incorporates a Miller-exclusive belt/shoulder strap design for maximum comfort. The Arc Armor PAPR features a lithium ion battery with no memory retention from frequent charging, dual air speeds for maximum comfort in varied work environments, and audible and vibrating alarms for use in noisy workplaces.
The PAPR comes with a Miller Elite Series auto-darkening helmet (non-auto-darkening lens model also available) and is certified by the National Institute of Occupational Safety and Health (NIOSH, 42 CFR Part 84), which covers requirements for respiratory protective devices. Miller's PAPR has an assigned protection factor of 25.
The PAPR is the latest addition to Miller's growing line of Arc Armor welding safety products, which includes welding helmets, apparel and gloves. As with the rest of the Arc Armor line, the PAPR was designed to maximize safety and comfort in welding applications.
Miller Electric Mfg. Co.
CIRCLE 133 ON READER SERVICE CARD
Pipe Saw and Track Makes Perfectly Square Cuts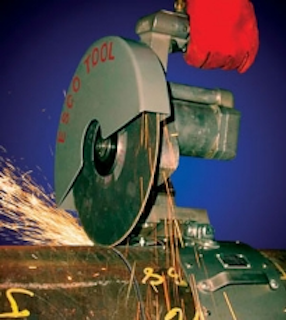 A pneumatic pipe saw and wrap around track system that is self centering and self aligning to let users make perfectly square cuts on heavy-wall pipe up to 60" diameter is available from ESCO Tool.
The ESCO APS-438 Universal Air Powered Saw and WrapTrack system lets one person make perfectly square cuts to within ±1/16" on heavy-wall pipe from 6" to 60" diameter and 4-3/8" thick. Featuring a stainless steel band assembly that wraps around the pipe, the saw is fully supported by four "V" grooved roll guides and rolls smoothly to reduce strain on the operator.
Ideally suited for cutting inspection windows in pipe for final fit-up work in power plants, the ESCO APS-438 Universal Air Powered Saw and WrapTrack system requires no special operator training–unlike clamshell tools. Powered by a 3-hp air motor, the saw uses fiberglass reinforced blades and cuts concrete lined pipe, ash pipe, super duplex SST and other hard alloys.
ESCO Tool, A Unit of ESCO Technologies Inc.
CIRCLE 132 ON READER SERVICE CARD
Heavy Duty Stiff Spine Conduit Cleaners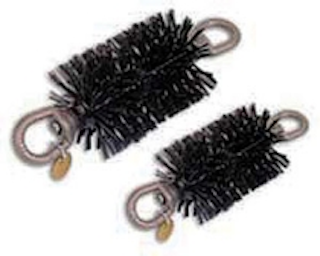 General Machine Products' new Heavy Duty Stiff Spine Conduit Cleaners have been added to their complete line of underground cable placement tools and equipment. The conduit cleaners are the perfect tool for removing the toughest obstructions easily, such as dirt, ash, sand, oxides and debris, from utility conduits. These conduit cleaners are constructed with hundreds of resilient, oil-tempered spring steel bristles that can handle any cleaning job without damaging the conduit's surface.
The conduit cleaners are offered in sizes that range from 2" to 6" in diameter (50 to 153 mm) and 4" to 5.25" in length (102 to 134 mm), making them useful in a variety of utility conduit cleaning applications. Their durable construction provides a workload capacity of up to 1,250 lbs (567 kg). The conduit cleaners come with pulling eyes conveniently located on either end for pulling line attachment–making cleaning fast and easy in either direction.
General Machine Products Co. Inc.
CIRCLE 135 ON READER SERVICE CARD
Upgrade Fall Protection Rigs to Productivity Rigs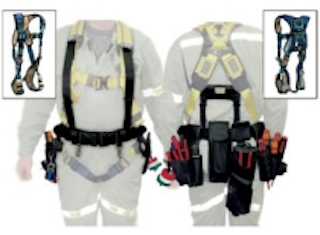 Duckbill LLC manufactures stable, comfortable, high performance occupational carrying rigs and modular carrying gear designed, engineered and built on the principles of comfort, ergonomics, safety, choice and maximum functionality. These core principles can move between platforms.
In work situations where hand tools are always required along with fall protection, there has always been a question about how best to integrate fall protection compliance while wearing tool belts. Wearing a tool belt under the harness is inconvenient, uncomfortable and risks secondary trauma in the event of a fall. Wearing a tool belt over the harness risks harness failure or premature wear due to the tool belt abrading on the harness webbing.
Duckbill's heavy duty MobilityMax platform and the over 150 rugged, interchangeable, lightweight, tool carrying modules eliminates the false priority decisions. The company's MaxCon module docking technology allows any combination of more than 150 bog and small, complex or standard tool-carrying modules to be docked on or off, and exchanged or repositioned anywhere on the harness.
Duckbill LLC
CIRCLE 134 ON READER SERVICE CARD
Continue to New Products Showcase: Part 4

More Utility Products Current Issue Articles
More Utility Products Archives Issue Articles