New Products Showcase: Part 3
Jan 1st, 2010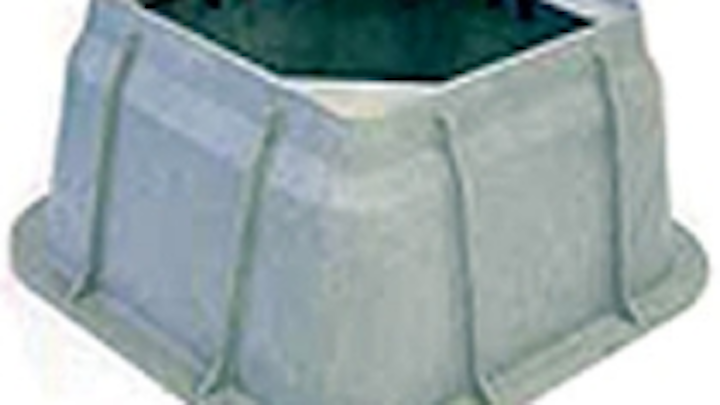 New EDGE Chain Drive Augers and Auger Bits
CEAttachments, Inc., an international supplier of attachments for compact equipment, announces all new EDGE chain drive augers and new 4" auger bits to their lineup of auger attachments.
The new EDGE Chain Reduction Drive units are designed for medium to heavy-duty applications and are a very popular alternative to the planetary drive augers. These auger drives feature pre-stressed, fully adjustable reduction drives and the strongest connecting links available.
These new auger drives feature all of the same great features as previous models, with an additional enhancement to the housing unit. The new chain drive housing unit now features two bolt-on panel doors that can be removed for easier access to components when conducting seasonal maintenance.
These new EDGE high torque chain-reduction drives are capable of digging holes from 24" to 48" in diameter and the mounting ensures perfect balance of the auger.
The lineup of EDGE chain drive augers includes 16 new units with models available in 2-9/16" round and 2" hex output shafts complete with a universal skid steer mount, 100" hoses and flat face couplers or without mount. Auger bits are sold separately.
In addition, new 4" auger bits are available in 2-9/16" round and 2" hex output shafts. The full line of auger bits are now available in sizes ranging from 4" to 36", including tree and shrub auger bits, and rock and frost bits. The tree and shrub auger bit is designed with small diameter auger flighting at the bottom to leave space for root balls, fertilizer or mulch. Rock auger bits have conical (also called "bullet") teeth to cut through the toughest ground, and are available with standard, "fishtail," or conical center points.
CEAttachments
CIRCLE 138 ON READER SERVICE CARD
SCADA Meters
Bitronics, a NovaTech company that supplies high-performance measurement instruments to the electric utility industry, has released the M650 family of three-phase multifunction meters. The M650 is the first of the new 50 Series of SCADA meters and indicators for local indication and SCADA communications. The M650 has an easy-to-read display, simple setup, and superior communications flexibility. Among the key features is the standard Ethernet service port that allows connection to the meter via a standard web browser. Easy installation and start up is provided with universal wiring, configurable RS-232/RS-485 port, selectable DNP3 or Modbus protocol, pre-set point lists, and universal power supply. Serial, Ethernet and transducer output options provide communications flexibility.
Bitronics
CIRCLE 137 ON READER SERVICE CARD
A.R.E. and Kargo Master Universal Truck Racks
Now, when contractors visit an authorized A.R.E. dealer, they can transform their ordinary pickup into a more functional work truck by having an A.R.E. Deluxe Commercial Unit (DCU) and a Kargo Master Pro II Series universal truck rack installed together. The DCU is cited to offer contractors a safe and secure place to store tools and other valuable equipment, while the Kargo Master rack allows them to easily transport large items necessary to complete a job. The addition of a Kargo Master Pro II Series rack also frees up space inside the DCU for hauling more gear.
The rack has a 1,700 pound cargo capacity and is available for most pickup trucks. It is specifically designed to work with pickup trucks that are being outfitted with fiberglass or commercial truck caps. Kargo Master's Pro II Series racks have 6" extensions to the legs in order to accommodate truck caps with extra height.
The A.R.E. DCU is constructed from a rugged, fully welded aluminum frame for years of reliable service. And, with more than 200 options, including a variety of door and window configurations, toolboxes, custom ladder racks, interior fabric liners, side panels and overall cap heights, A.R.E. has a commercial cap to meet virtually any job need. A.R.E. can also custom build a DCU to exact customer specifications in less than 14 days.
DCU units and Kargo Pro II Series racks installed by authorized A.R.E. dealers are backed by the customer satisfaction warranties of A.R.E. and Kargo Master, respectively.
A.R.E.
CIRCLE 139 ON READER SERVICE CARD
Bench Wire Stripper
Eraser's Model L1 Bench Wire Stripper removes film insulations including enamel, Formvar, ML, armored poly-thermaleze, epoxy and more from round wires 29AWG to 13AWG. A high-speed rotating insert strips insulation from the surface of the wire. Close-up stripping is possible flush to a coil body or bobbin. Model L1 can also be used for other applications such as deflashing wires, cleaning legs of electronic components and cleaning pins on transformers and coils. The unit may also be used to clean round pins on transformers, wire wrap sockets, DIP sockets and relay sockets. The L1 can also remove oxidation, flashing, epoxy, and even contaminated solder.
Eraser
CIRCLE 140 ON READER SERVICE CARD
Kenworth Adds Allison Transmission Load-Based Shift Scheduling Feature
Kenworth Truck Company now offers Allison Transmission's Load-Based Shift Scheduling (LBSS) as a standard feature on select Allison transmissions with Kenworth Class 8 and medium duty trucks for enhanced fuel economy and performance.
Allison LBSS is included on the company's fully automatic Highway Series (HS) and Rugged Duty Series (RDS) transmissions when configured with a 2007 and later emission model engine. LBSS automatically selects between economy and performance shift schedules based on the vehicle's actual payload and its operating grade. The economy mode is used when the truck travels on level terrain with an empty or diminishing load. The performance mode is used when the vehicle is heavily loaded or on a grade. The system helps enhance fuel economy, while also maintaining high productivity, even during heavily loaded situations.
The addition of LBSS to Allison 3000 and 4000 series models allows the mode button on the transmission's shift selector to be programmed for controlling other vehicle functions, such as body builder functions or power takeoff operation. On trucks with Allison 1000 and 2000 series transmissions without a shift schedule dash switch, LBSS automatically performs the shift schedule selection for the driver – eliminating the need to manually select the transmission shift schedule for economy operation.
Kenworth Truck Company
CIRCLE 141 ON READER SERVICE CARD
Parker Chelsea Introduces New PTO
Parker Chelsea, a power transfer solutions provider to the work truck market, makes PTO installation simpler and more cost-effective with its new 238 Series PTO. Chelsea's new 238 series is designed to fit directly to the eight-bolt opening on the transmission eliminating the need for an adapter plate. The new unit features four output speed ratios for broad coverage, 12 output options allowing you to remote mount or direct mount a variety of driven devices. One key feature available on this unit is the patented shaft brake option.
Parker Chelsea
CIRCLE 142 ON READER SERVICE CARD
Continue to New Products Showcase: Part 4

More Utility Products Current Issue Articles
More Utility Products Archives Issue Articles