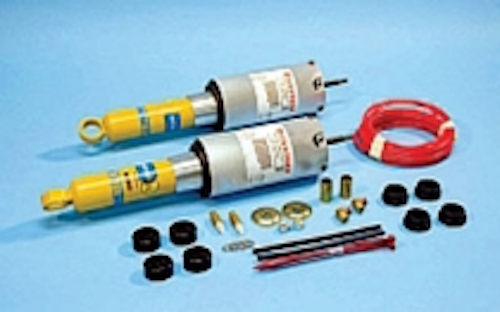 Air Helper Springs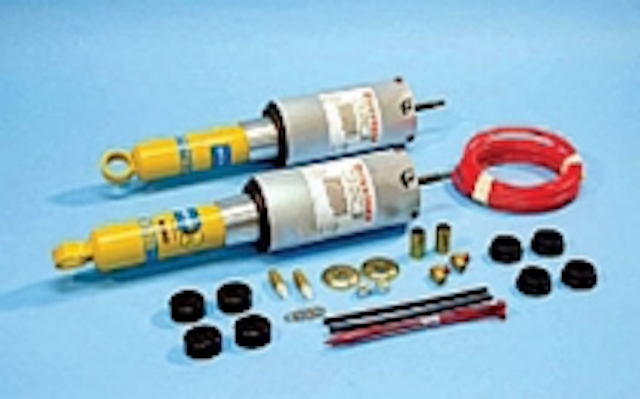 Firestone Industrial Products Company, LLC has introduced its Level-Rite air spring over damper suspension for the 2009 Dodge Ram 2500 and 3500, both 2WD and 4WD (part #1004).
The new Level-Rite system helps level the front end of vehicles that carry additional weight on the front such as winches, snow plows, slide-in campers and Texas Style bumpers. Featuring a fully protected air spring paired with a high-performance shock absorber, Firestone's Level-Rite kits are designed to improve vehicle control and stability, reduce bottoming and suspension fatigue, and allow for control of front ground clearance.
Firestone offers the Dodge Ram Level-Rite kit with everything needed for an easy, no-drill installation that takes less than an hour. The kit includes air springs featuring aluminum pistons and restraining cylinders, high-performance shock absorbers, polyurethane bushings, air line tubing and fittings and all necessary hardware. Level-Rite comes with a two-year limited warranty and optional air accessories, such as the Air-Rite air accessory system.
Firestone
CIRCLE 143 ON READER SERVICE CARD
High Conductivity Rod and Wire for High Current, Hostile Environments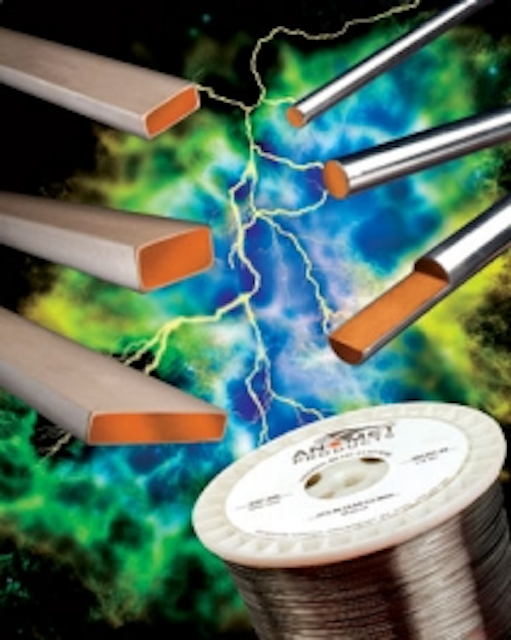 A full range of copper-cored titanium and nickel clad high conductivity rod, wire, and bus bar for high current applications in hostile environ-ments is available from Anomet Products, Inc. of Shrewsbury, Massachusetts.
Anomet High Conductivity Rod & Wire features a copper core with a metallur-gically bonded, clad outer layer to combine high current carrying capability with the ability to operate in hostile environments. Titanium clad copper (100 percent IACS) handles up to 1000 Amp/in2 current with superior corrosion resistance and nickel clad copper can withstand temperatures up to 1400°F— with specific performance dependent upon the application.
Suitable for a wide range of applications, Anomet High Conductivity Rod & Wire is available with various ratios of metal to copper. For small high current hermetic switch applications, copper-cored glass-to-metal sealing wire is offered from 0.5 to 10mm dia. and for large conductors and electrodes, bus bars up to 12.7mm x 101.6mm are available.
Anomet
CIRCLE 144 ON READER SERVICE CARD
Light Duty Anchoring of Objects to Poured Concrete, Concrete Block and Brick
The Con-Sert #8 Tool and #8 Con-Sert Screws are for moderate to light duty fastening of CATV hardware, SDU boxes, cable clips, splitters, conduit straps and electrical hardware. This system is faster and will hold stronger than plastic screw anchors or lead anchors. This tool works with hammer drills and cordless drills. The CS#8 Tool is a "combo" drill and driver that drills through wood or light steel into concrete in one operation. When you pull back on the drill bit, it automatically retracts–freeing up a hex driver on the end of the tool to drive the screw–attaching the object. The CX#8 Tool is made of cold rolled steel with a replaceable 1/4" hardened hex end. The tool has a 3/8" shank with machined flats for a solid fit in the chuck. All Con-Sert drill bits have hand-brazed tungsten carbide tips drilling at least 100 holes during normal operation. All screws are packaged 100 per box, will drill bit included (fits in the #8 Tool).
DFS/USA, Diversified Fastening Systems Inc.
CIRCLE 145 ON READER SERVICE CARD
Heavy-duty Actuators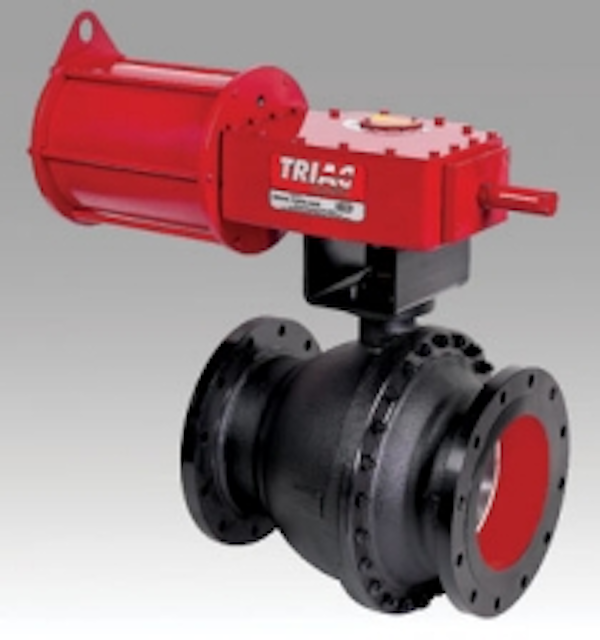 A-T Controls' expanded line of Triac THD heavy-duty scotch yoke actuators is engineered for the most demanding liquid and air handling applications, powering quarter-turn dampers and valves with up to 1,600,000 in. lbs. (180,800 nm) torque. Capable of operating ball, butterfly and plug valves, dampers or louvers, THD actuators use a symmetrical-design yoke that delivers maximum torque at both ends of the 90-degree cycle. The THD Series meets comprehensive application needs with six basic body groups, each available in spring-return or double-acting versions and operating air pressures from 40 to 100 PSIG, plus a complete line of accessories. Modular design allows mixing power groups and spring cartridges with different center body sizes to suit different air pressures and requirements for fail-clockwise or fail-counterclockwise operation.
A-T Controls
CIRCLE 146 ON READER SERVICE CARD
Storm Security Grounding Bars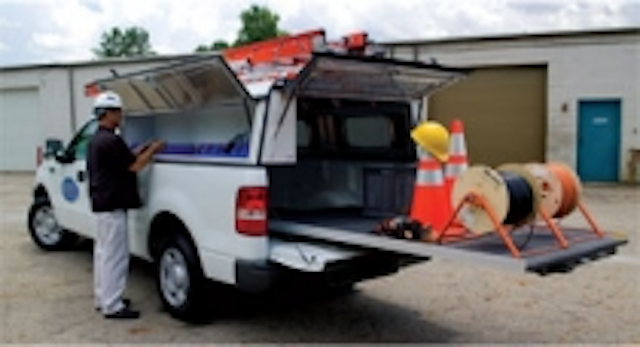 To assist customers in curbing the increasing cost of copper theft, Storm Copper Components Co. now offers a three-pronged solution as an affordable and practical means to curb ground bar theft, available at its online electrical grounding store, StormGrounding.com.
Storm's Security Grounding Bar Kits are used to prevent theft of copper in cell towers, telecom central offices, and other indoor and outdoor installations. Security kits include one .25" thick grounding bar made of high-quality, solid, cold-drawn copper (110 electrolytic tough-pitch). Two standoff insulators, two mounting brackets and stainless spring-lock washers are also included, but it's the special truss spanner security bolts and the #14 truss bolt drill bit that are the heart of this system. These security bolts are engineered with a very low profile. Storm's Security Grounding Bar Kits also include a truss bolt drill bit to install or remove the security bolts quickly and easily.
While this solution isn't 100 percent guaranteed, it can certainly increase the difficulty factor. Raising the "aggravation factor" is often the only deterrent necessary to divert thieves that want to strike quickly and get out, and those that choose to spend the time also extend the time for security personnel to respond to their intrusion.
The second option Storm offers for securing electrical copper is camouflage. We're not talking about the traditional concept of brown and green colors painted in irregular shapes to simulate bushes and trees; but this sort of camouflage is color based. Storm offers Tin-Plated Grounding Bars that add an extra layer of security and can be a better choice for outdoors or other harsh environments. In addition to disguising the copper color that attracts recycling thieves, tin electro-plating reduces the chance of corrosion interfering with the ground connection. Tin plating also makes copper less valuable to thieves because it no longer is classified as number 1 bright copper scrap when they sell it to a recycler.
The third point in this three-pronged theft-deterrent approach is stamping. Storm Copper can stamp a company name, logo, phone number, or a "Do Not Recycle" message into each ground bar. Bars that get stolen despite the ownership stamp continue to serve by increasing the potential for recyclers to report the theft.
Storm Copper
CIRCLE 148 ON READER SERVICE CARD
Cordless Power Duct Slitter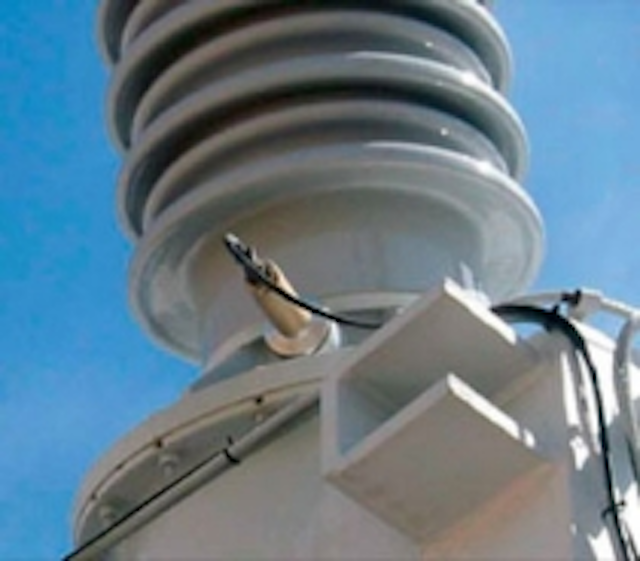 General Machine Products Company Inc. has introduced the Cordless Power Duct Slitter to its line of over 1,100 power utility, telecomm and CATV tools and equipment. The rugged Cordless Power Duct Slitter features a battery-powered blade that offers a mechanized method for trimming and slitting innerduct utility conduit, providing a fast and easy alternative to the brute force typically required when cutting innerduct by hand. Because it is cordless, there is no power cord to get tangled in, and its portable capability allows the tool to be operated anywhere on the job site.
The Cordless Power Duct Slitter features a blade diameter of 3-3/8 inches (85 mm), and is adjustable to cut innerduct of 1 to 2 inches (25.4 to 50.8 mm) in diameter. In addition, the Cordless Power Duct Slitter's compact design is easily maneuverable and fits comfortably in a worker's hand. At 12-3/8 inches =313 mm) long and weighing 6 lbs. (2.72 kg), it stores conveniently in most toolboxes.
The Cordless Power Duct Slitter comes with a rechargeable 9.6-volt battery and a battery charger.
General Machine Products
CIRCLE 147 ON READER SERVICE CARD
More Utility Products Current Issue Articles
More Utility Products Archives Issue Articles